THIS NEW SLING PACK FROM ALPS OUTDOORZ DOES MORE THAN TALK TURKEY
I don't like to feel helpless. As a result, when I am considering a purchase, I'll often opt for the more portable model so that I'll always have the ability to have what I need with me when I need it.
Naturally, this obsessive need to carry it with me, whatever the "it" might be, presents its own problems. While what I deem necessary to bring along might vary according to the situation and my expectations, often I know I can't fit everything in my pockets.
So, over the years, I've accumulated a good number of full-size backpacks (some with frames, some without), smaller daypacks, shoulder sacks, lumbar packs, duffels, fanny/waist packs, and belt pouches. Most of the pants I own have cargo pockets too.
Now, I'm testing the ALPS OutdoorZ Ambush Sling Pack, and I can see it quickly becoming a great option for me when I'm keeping the gear load relatively light so I can move fast or far if necessary.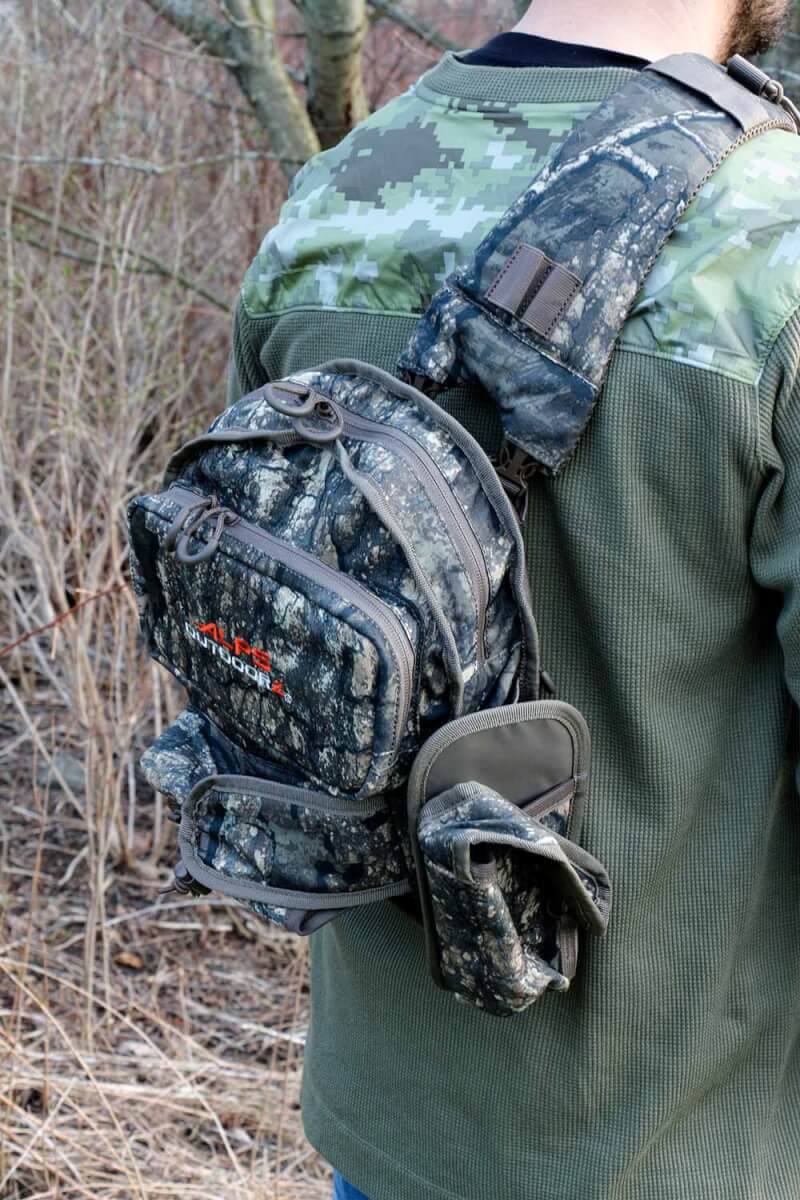 TESTED FOR TURKEYS
ALPS is an acronym for Active Lifestyle Products and Services, and it sums up the company's various brands pretty well. I've been using an ALPS Mountaineering Radiance Camping Quilt for about a year, and it's excellent. The ALPS OutdoorZ brand specializes in gear for hunters.
The Ambush Sling Pack was designed for turkey hunters, especially those involved in a run-and-gun style of hunting. This involves using your turkey calls in one location after another until you get a response from an interested tom turkey. Then you'll hurry to a strategic position to set up for a shot. You have to be prepared to travel light and move quickly. While this sling pack is ideal for turkey hunters, it would be just as useful for anyone on the move in the woods, hunter or not.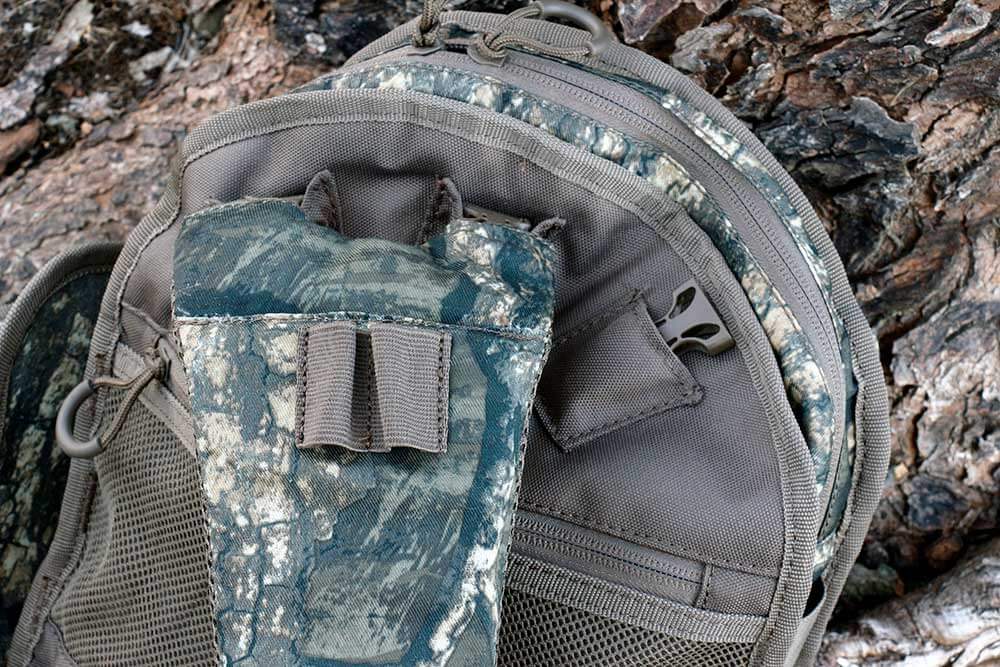 LOTS OF CLEVER FEATURES
The sling pack I'm testing features the Realtree Timber camo pattern. The pack is available in Mossy Oak Obsession too. As with any sling pack, this one has a single shoulder strap that is positioned cross-body. There are a couple of advantages to this. First, the single strap makes this type of pack easy to get on and off. A second advantage of a single strap is that it frees one shoulder so that there's nothing to interfere with mounting a rifle or shotgun when you're ready to shoot.
The Ambush Sling Pack shoulder strap is padded and has mesh on the side that contacts your body to keep you cooler. The strap is fully adjustable. Another great thing about this Ambush pack is that it features quick-release buckles on both the right and the left, top and bottom. That allows you to position the shoulder strap easily on the left or right side as well as for wearing the pack either on your back or up front across your chest.
The shoulder strap has elastic loops for carrying two spare shotgun shells. A small plastic case to store diaphragm calls is fastened to a D-ring on the shoulder strap with a short length of paracord too. The case also features a belt clip for additional mounting options. I'm thinking it might be good for tinder storage too.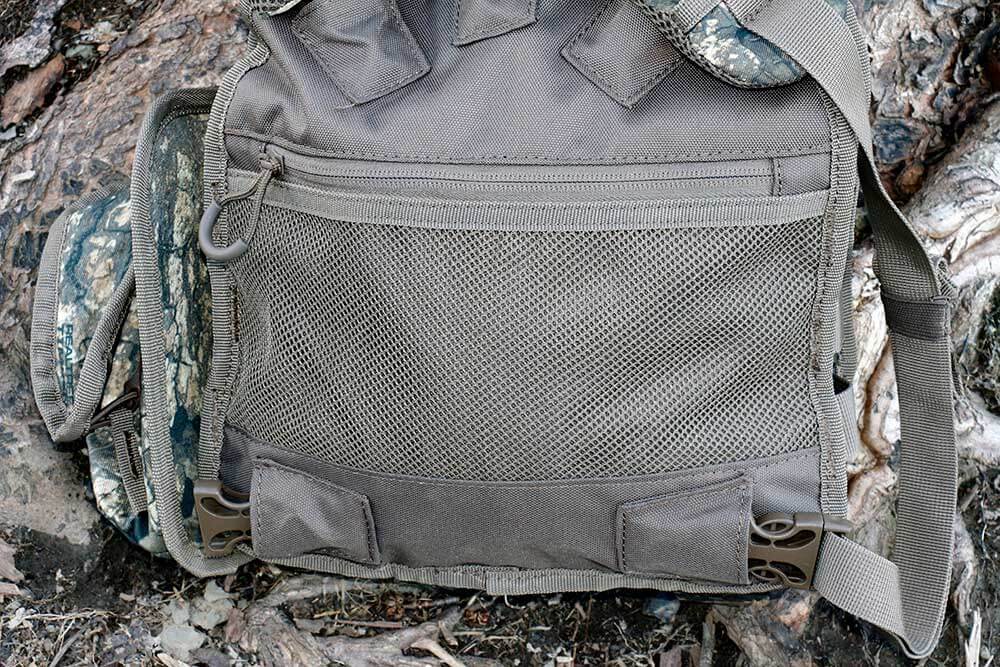 The main zippered pack compartment has two organizational mesh pockets inside. One is zippered. There's a secondary outside zippered pocket on the front of the pack that features two mesh pockets and more elastic loops. This pocket is designed to hold slate calls, with the loops intended to secure the strikers. But the loops could easily be used for shotgun shells, rifle cartridges, ferro rods, a small flashlight, or other gear.
"While this sling pack is ideal for turkey hunters, it would be just as useful for anyone on the move in the woods, hunter or not."
Below that on the front of the pack is an outside flapped compartment with a cinch strap. It's meant to secure a box call so that it doesn't "talk" as you walk, but it could be used for many other things as well.
There's MOLLE webbing on each side of the pack. Attached to that webbing on one side is a removable pouch with flap that's sized to fit a Thermacell Portable Mosquito Repeller.
Again, that pouch could be used for a wide range of things, including a small water bottle. There's one last zippered mesh pocket on the back of the pack that might be a good place to store an ultralight poncho that could be used for a dry place to sit as well as for rain gear.
The main unit measures 12 x 10½ x 2½ inches not counting the outside pocket and pouches. It's large enough for a day's hunting needs but could also serve a day hiker well with room for survival and navigation basics along with a lunch. The pack weighs just a bit over a pound.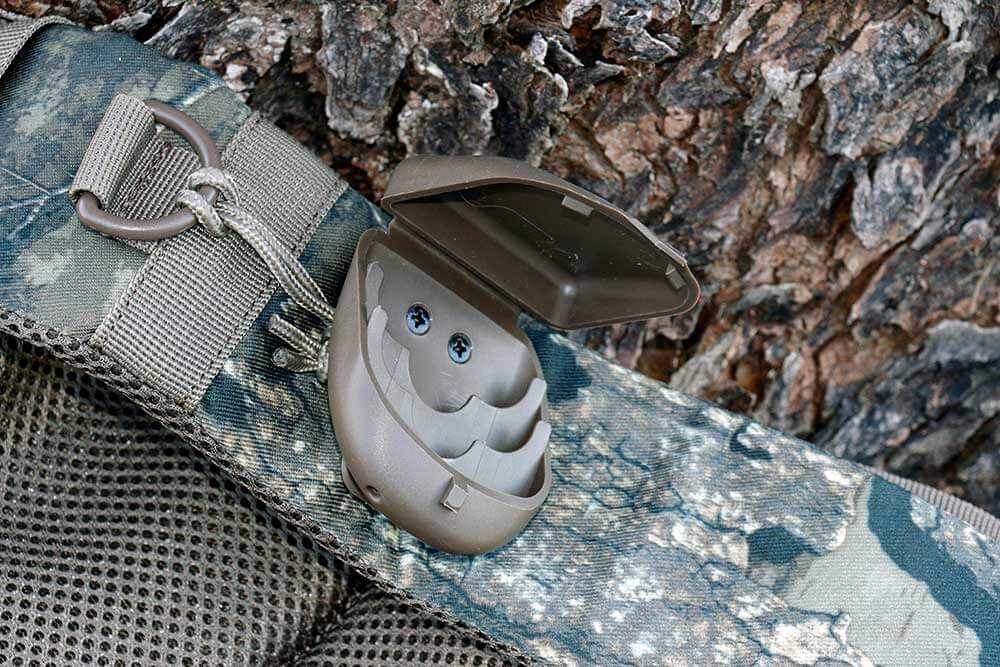 VERY VERSATILE
I like this pack for several reasons:
1.   I don't have to be a contortionist to get it on and off.
2.   It's sized big enough to carry what I need without being so big that I'm tempted to bring more than I need.
3.   Its camo pattern ensures that I can wear this pack any time of the year—during any hunting season—without being mistaken for a game animal.
4.  It has plenty of pockets and pouches for me to keep my gear organized.
5.   I can expand the capacity by adding pouches if desired.
6.   I have the option of carrying it on my back or across my chest where I have quick, easy access to whatever I'm carrying. Carried across the chest, I can see this as being a workable substitute for my flyfishing vest too.
If you're a turkey hunter, you'll find this pack ideal. If you're a hiker or general woods wanderer, you'll find this pack very much to your liking as well.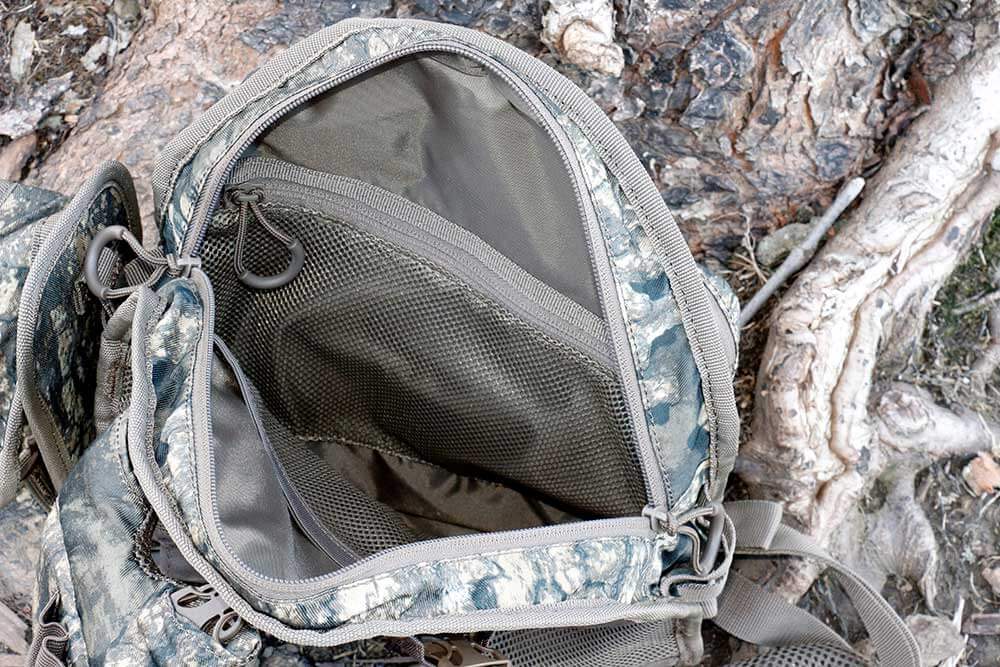 ALPS IS A GROWING COMPANY
ALPS had its beginning in 1993 when ALPS Mountaineering was formed. Today, ALPS Brands include ALPS OutdoorZ, Cedar Ridge, Browning Camping and Hunting Blinds. ALPS OutdoorZ—the hunting gear moniker for ALPS Brands—made its mark several years ago by offering packs purposefully designed for remote wilderness hunting. Today, ALPS OutdoorZ products cover everything from day and expedition packs to waterfowl blinds and turkey hunting vests, as well as furniture, gun cases, and sleeping bags.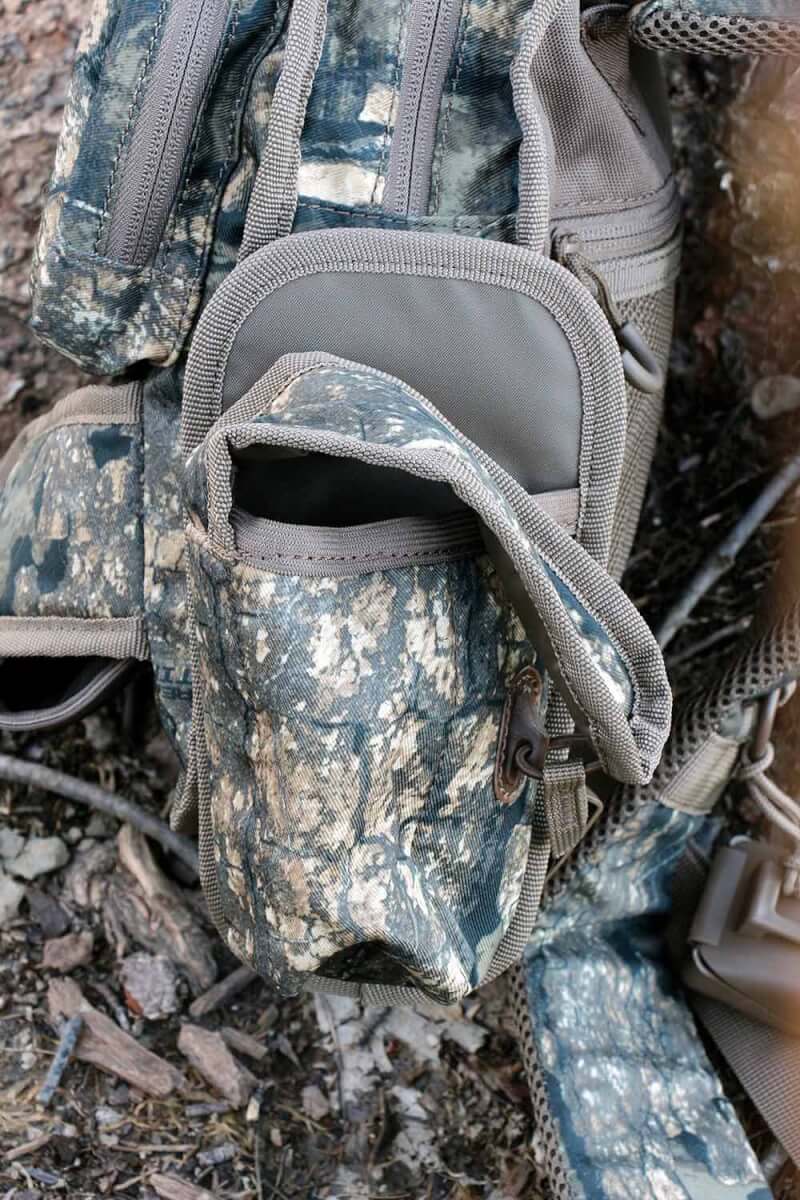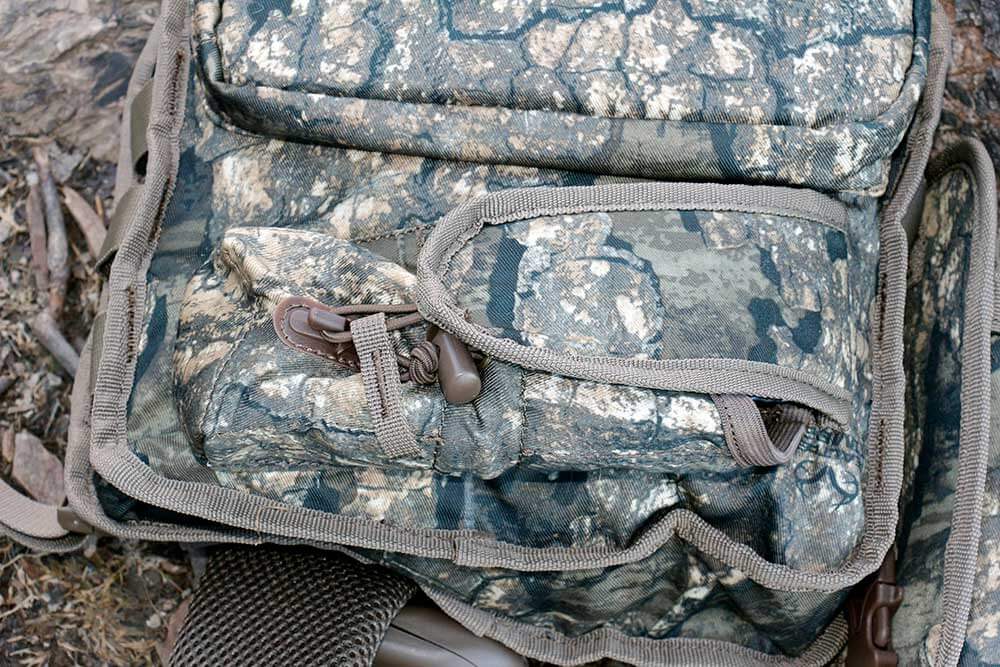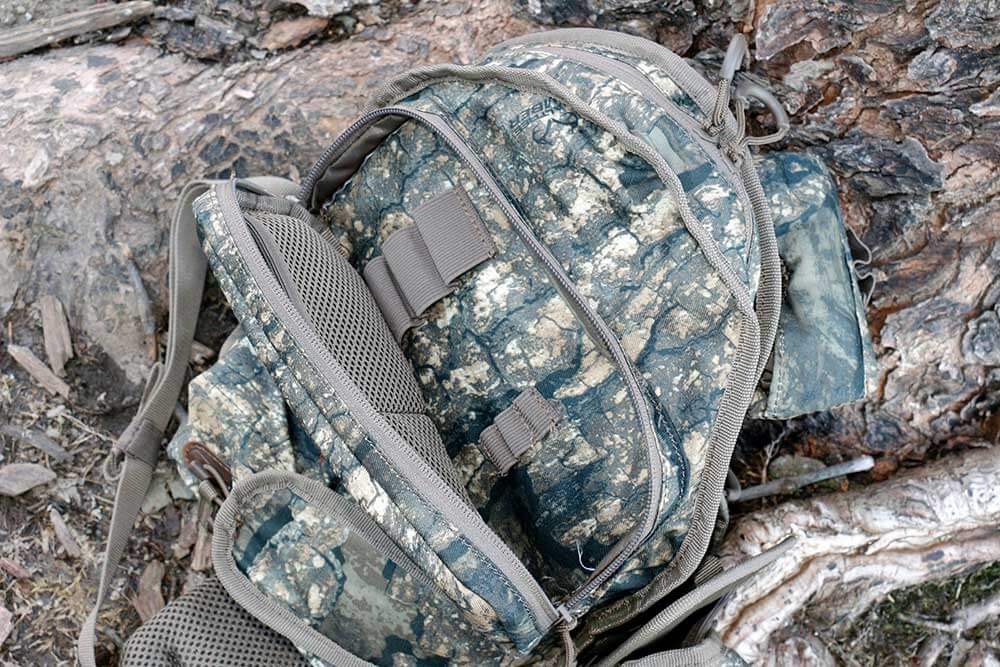 THE SPECS
ALPS OutdoorZ Ambush Sling Pack
»  Nylon construction
»  Ambidextrous, multi-position shoulder strap
»  Adjustable accessory Thermacell pocket
»  MOLLE system on both sides for attachment points
»  Interior mesh pockets
»  Slate call pocket for two slate calls and three strikers
»  Removable, protective diaphragm call pocket
»  Silent box call pocket
»  Shoulder strap shell loops
»  Exterior, zippered mesh pocket
»  Camo Patterns: Mossy Oak Obsession or Realtree Timber
»  Weight: 1.1 pounds
»  Dimensions: 12 x 10½ x 2½ inches
»  MSRP: $59.99
A version of this article first appeared in the May 2022 issue of American Outdoor Guide Boundless.