This Gerber folds like a butterfly, swings like a machete.
It draws the best from three different types of blades: The Gerber Doubledown works like a machete, handles like a knife and folds like a balisong.
Often, when a company introduces a product that's a crossbreed of diverse design elements, the result is something that offers more compromise than true multipurpose utility. It's true of the crossover SUV I drive, and it's true of big blades. And that's why I was a bit skeptical when I first saw the Doubledown.
But, after spending some time in the field with this tool, I'm now convinced of its usefulness on several fronts. (Don't tell my four kids, but I'm putting the Gerber Doubledown on the list of what I'm getting each of them for Christmas.)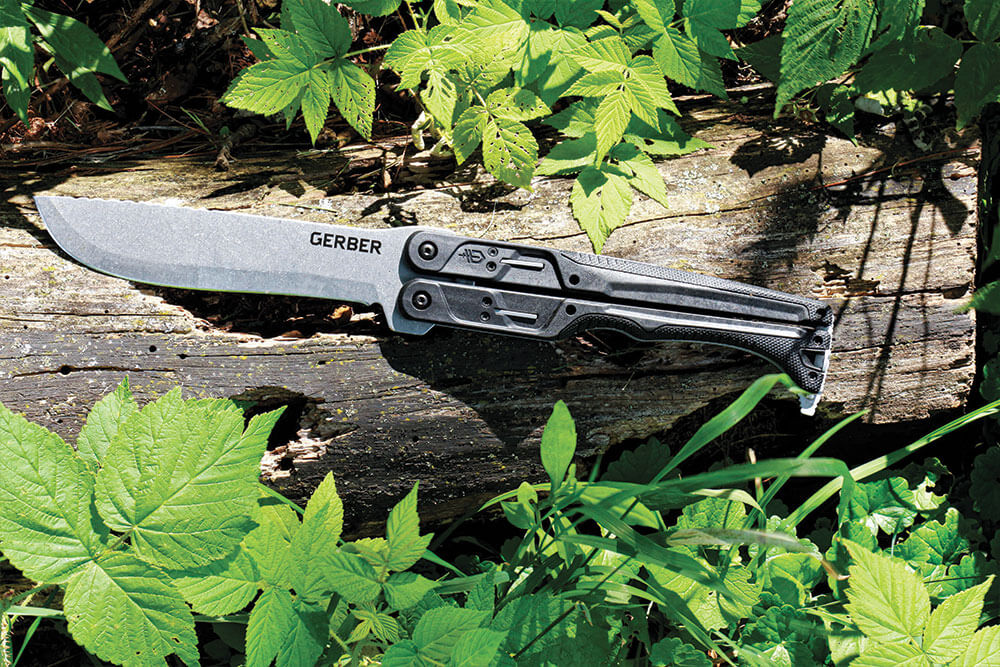 A LOOK AT THE BLADE
Okay; so why am I so impressed? Well, let's see what the Doubledown has to offer.
Gerber "pigeonholes" the Doubledown as a folding machete, but you could just as easily call it a survival knife or a large folder. It sports a 7-inch blade of 420HC steel that has a slight recurve in the edge, which proved to give the tool excellent cutting and slicing power. That blade has a non-flashy, stonewashed finish—great for a tool that's geared more toward work than display (note that the blade did become a bit shiny in spots after considerable use).
"Of course, the most notable feature of the Doubledown is its folding mechanism. It consists of two steel-lined polymer handles connected by interlocking gears on the blade tang."
The jimping on the blade spine is placed more toward the tip, because it's intended to serve as a nonslip strike point for a wooden baton and not as a place to rest your thumb. I found this jimping especially helpful for chores such as splitting wood or taking down a sapling.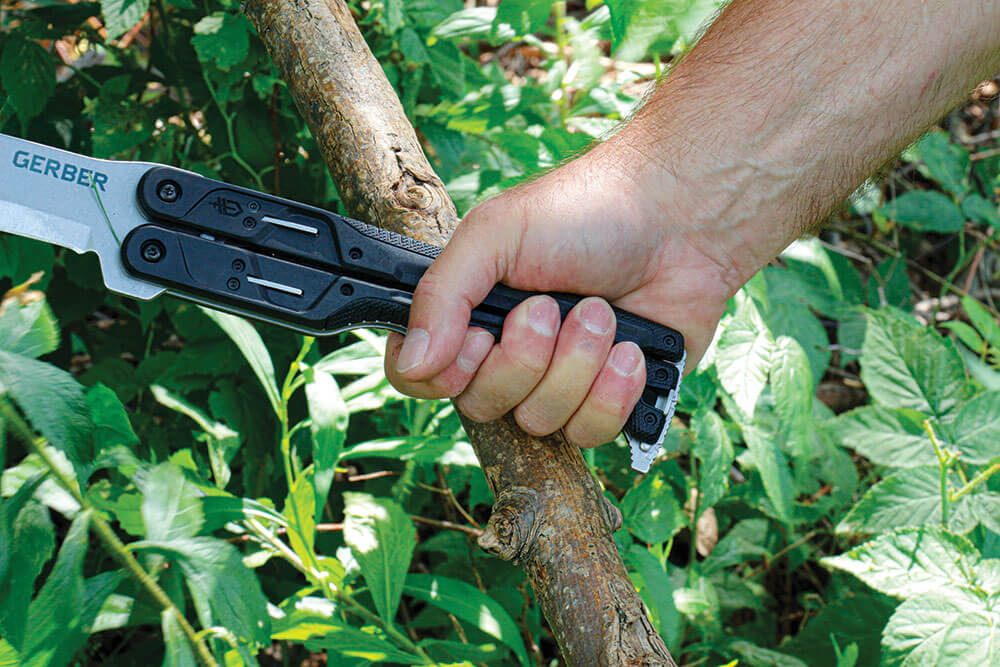 UNUSUAL FOLDING DESIGN
Of course, the most notable feature of the Doubledown is its folding mechanism. It consists of two steel-lined polymer handles connected by interlocking gears on the blade tang. Instead of both handles and a blade that swing freely and independently (as you'd find on a balisong), the Doubledown's handles rotate together along those gears to open the blade or to fold them together to enclose the blade.
"Gerber 'pigeonholes' the Doubledown as a folding machete, but you could just as easily CALL IT a survival knife or a large folder."
This mechanism works with Gerber's patent-pending QuadLock system that locks the Doubledown open, closed and at the halfway point. This system uses four metal locking bars: two in front and two in back. All of them must be depressed at once to either open or close the Doubledown.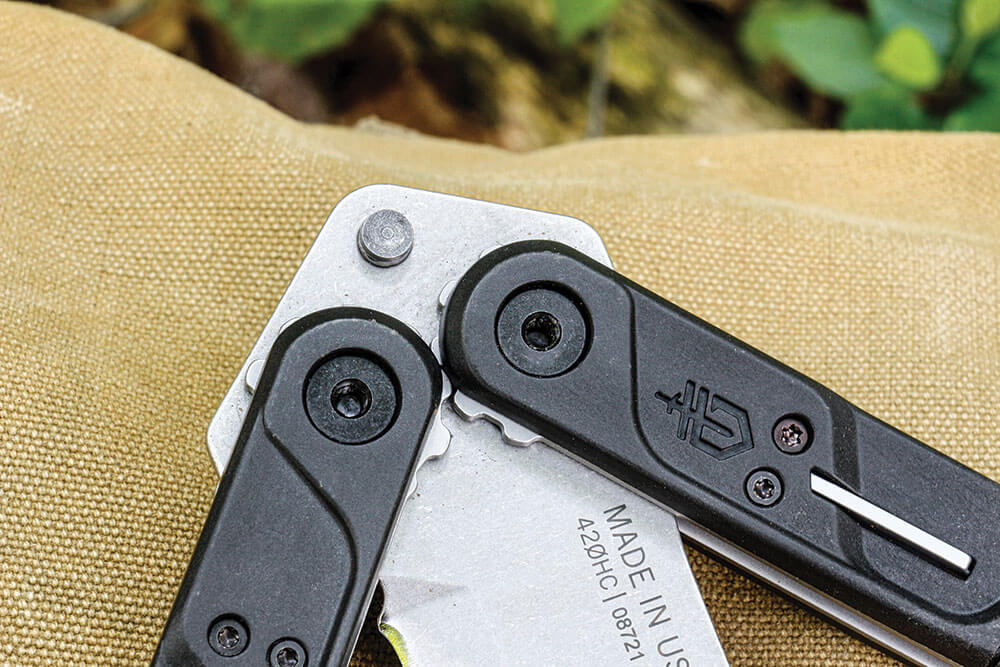 Because the locking bars also engage at the halfway point, the user has to depress all four locking bars again to disengage the lock. That helps ensure you're keeping your fingers away from the path of the blade when closing it. As a result, there's no ability for any would-be martial arts enthusiast to try to swing the Doubledown around with one hand to open or close it like a butterfly knife and risk chopping off a finger or two in the process. It's a clever, safe system.
I found that it took a bit of practice to become familiar with opening or closing the blade. In addition to being a physical, mechanical safety, the QuadLock system requires you to maintain your focus on the process of closing the knife; that's a good thing. There's also a manually operated latch at the end of the handles that locks the handles together, both when the blade is open and closed, as you'd find on any butterfly knife. However, with the Doubledown, this latch becomes more of a secondary safety to the QuadLock.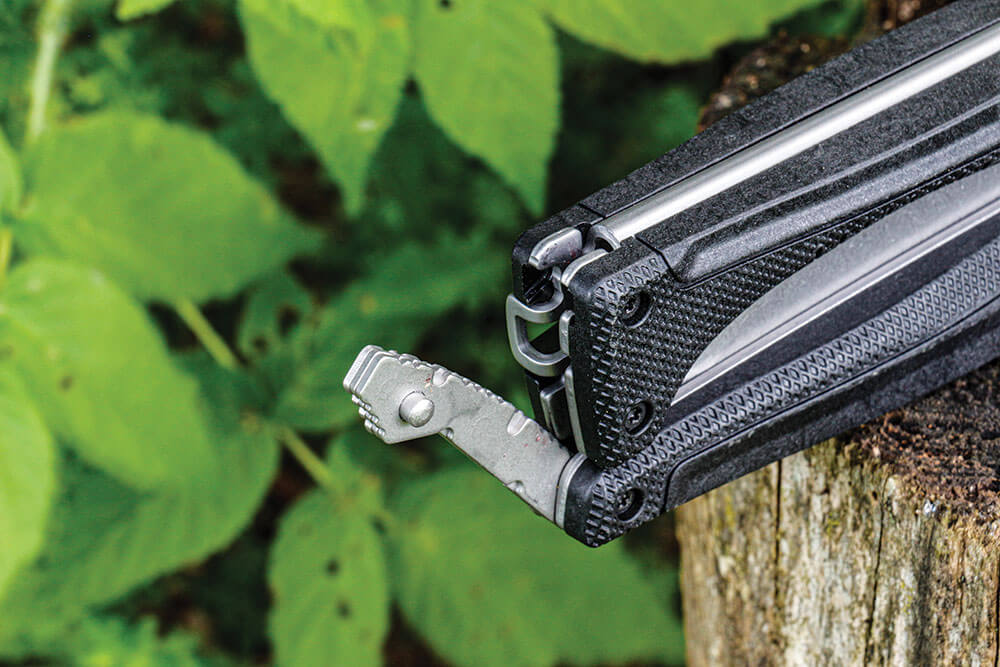 GAINING SOME REACH
Another good thing about the Doubledown is that its handle is sufficiently long (about 8.25 inches long) to provide multiple gripping options. That's important for a tool that purports to be effective on a wide and varied range of tasks. So, even though the Doubledown's blade is just 7 inches long—short by machete standards—the tool is 15 inches overall, which is longer than many large, fixed-blade survival knives. The Doubledown's blade was sharp on arrival, which is more than I can say about some fixed-bladed machetes I've tried.
" … when it comes to batoning, the Doubledown is well suited for it; in fact, more so than with many of my other knives."
Take a grip far back on the handle, and you have additional reach and chopping leverage that can be used to good effect when clearing trails or shooting lanes or chopping pine boughs for an emergency shelter. Inch your grip up closer to the blade, as you would with a conventional knife, and you have better control for detail work.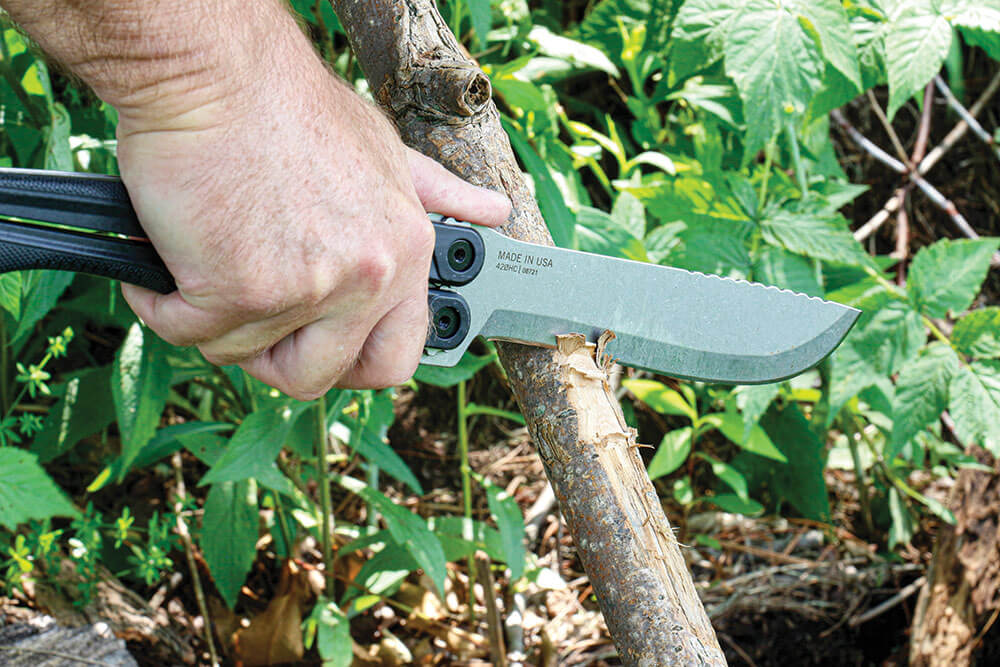 POUNDING THE SPINE
By some accounts, using a wooden baton to pound on the blade spine of a big knife seems to be a mandatory task.
To be honest, I don't do that much batoning, although I could see it being useful for splitting one end of a stick to make certain camp kitchen utensils or to fashion a torch or a pronged lance for hunting frogs or fish.
Rather than chopping sapling-sized branches for shelter-building, I'd rather saw them with a lightweight folding saw that I carry regularly. And, instead of chopping a 4-foot branch into firewood, I often find it easier to just stick one end of a long branch into the fire and feed more of it in as it burns. That way, I'm conserving energy—an important consideration in any survival situation. Also, I don't want to risk damaging the end of my primary cutting tool on jobs more suited to a hatchet or axe.
That being said, when it comes to batoning, the Doubledown is well suited for it; in fact, more so than with many of my other knives. Usually, the forest floors where I travel most often are littered with tons of small-diameter deadwood for kindling. But, in wet conditions, when everything around me is soaked, it can be helpful to get a fledgling fire introduced to the drier inner surface area of newly split wood. So, should you have to reduce big wood to smaller wood for fire-starting, the Doubledown does a good job at it.
" … after spending some time in the field with [the Gerber Doubledown], I'm now convinced of its usefulness on several fronts."
The location of the jimping on the spine worked as advertised. It was an excellent spot on the spine to target my blows with a baton, and there was no slipping or glancing off the mark.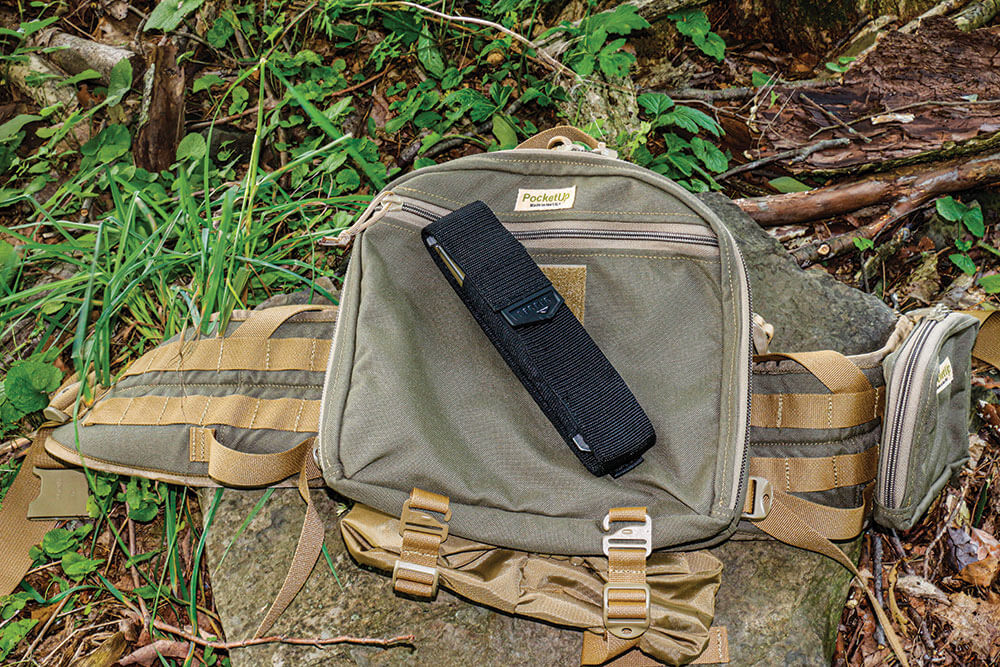 HANDLE CONSIDERATIONS
Of primary concerns to me whenever I'm using a blade, large or small, are the security, ergonomics and comfort of the handle. This is especially important on tools used for extended sessions of cutting or chopping: I don't want to struggle to maintain my grip; I don't want to fight the blade to make my cuts; and I don't want blisters.
Both handle halves of the Doubledown are appropriately textured where your hand is likely to engage them. In fact, you don't want too much texturing. That can cause hot spots or, in my case, instant blisters on my "delicate writer's hands." What becomes the bottom of the handle when the Doubledown is opened is also contoured. There's a curved section and a pronounced finger groove that can act to "lock in" any one of your fingers, depending how far up the handle you decide to take your grip. The end of the grip is flared to provide a hand stop when chopping.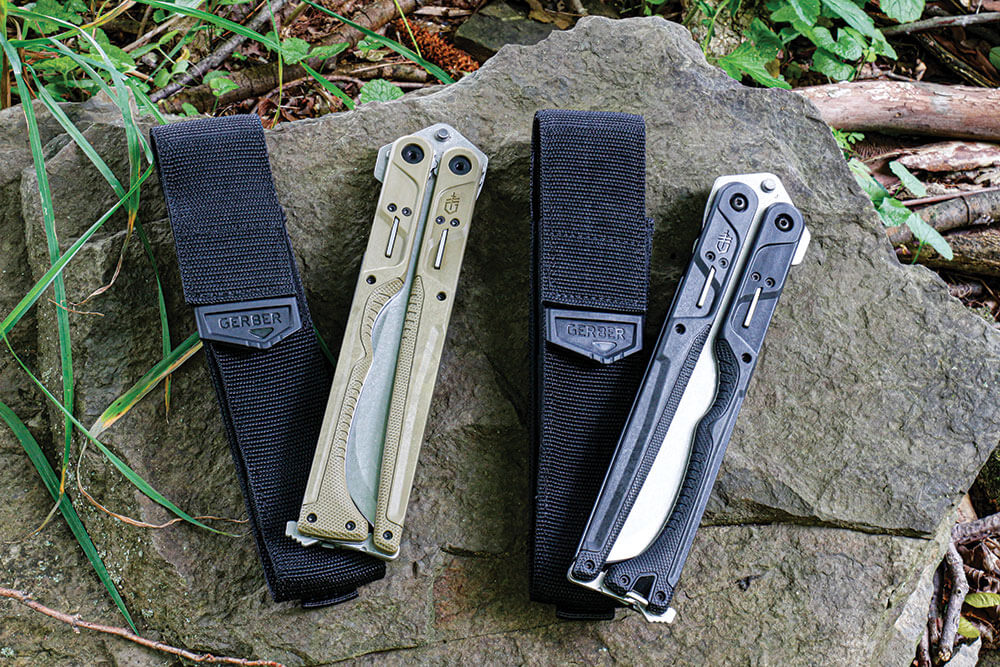 I did find that the Doubledown wasn't as comfortable to use as some fixed-blade knives when taking an extreme forward grip to get my thumb out over the top of the blade for making precision cuts. However, to be fair, I'd probably experience the same thing with many other machetes. And, when carrying either a typical machete or the Doubledown, I'd likely have other knives available as well. That's right; I don't harbor the delusion of ever facing the world with but a single knife and a smile.
The Doubledown features a metal lanyard loop too. Even so, please don't loop a lanyard around your wrist when swinging any chopping tool. Lose your grip, and that blade will come back at you in a hurry, and your flesh can't win that battle. If you must, loop a lanyard over the handle so it forms two finger guards. Better yet: Use a lanyard to hang the tool between uses or to secure it when you're traveling over water.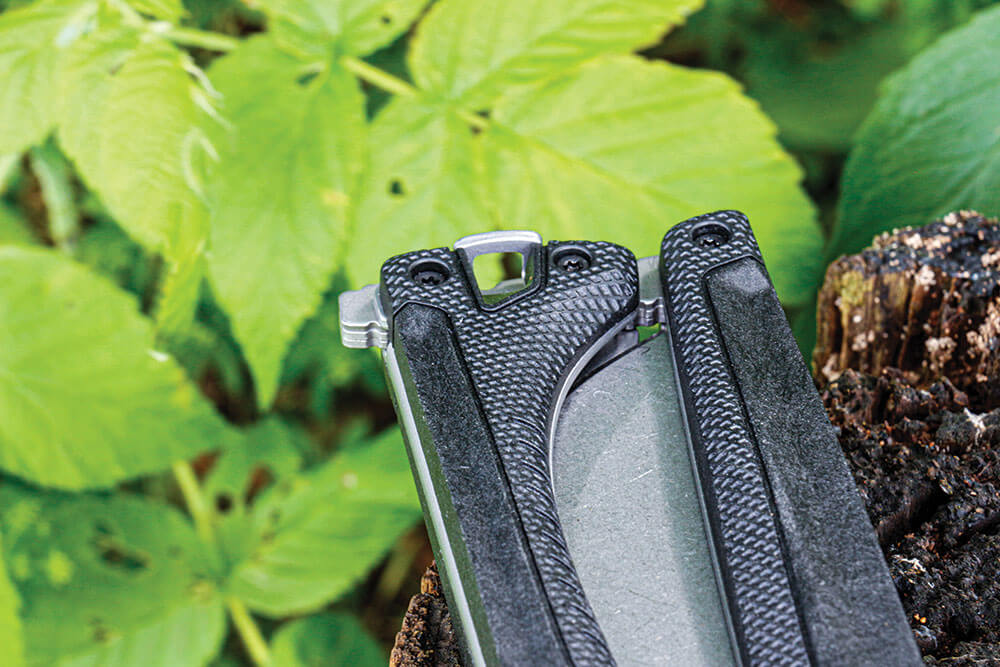 The Doubledown blade stayed sharp throughout my work with it. When it comes time to touch up the blade on an EDC knife, I usually just run the blade lightly across the rough bottom of a ceramic coffee mug. However, for larger blades (such as the Doubledown), I prefer a sharpening system that keeps the blade stationary while the sharpener, itself, is moved across the blade. One I've used for many years with good results is the Gatco 5-Stone Knife Sharpening System. It's still available through Bear & Son Cutlery (BearandSon.com; $64.99).
INTO THE KIT
A big consideration when choosing to carry such a tool is its size. With its 18-inch blade, the Ontario Military Machete has the advantage of being a full-sized machete, but it measures 24 inches overall. The KA-BAR/Becker Knife & Tool BK7 (Becker Combat Utility), one of my favorite big knives, has a 7-inch blade—the same as the Doubledown—but an overall length of 12.75 inches. By comparison, the Doubledown folds and carries in its included, MOLLE-compatible nylon sheath at just a bit more than 9 inches.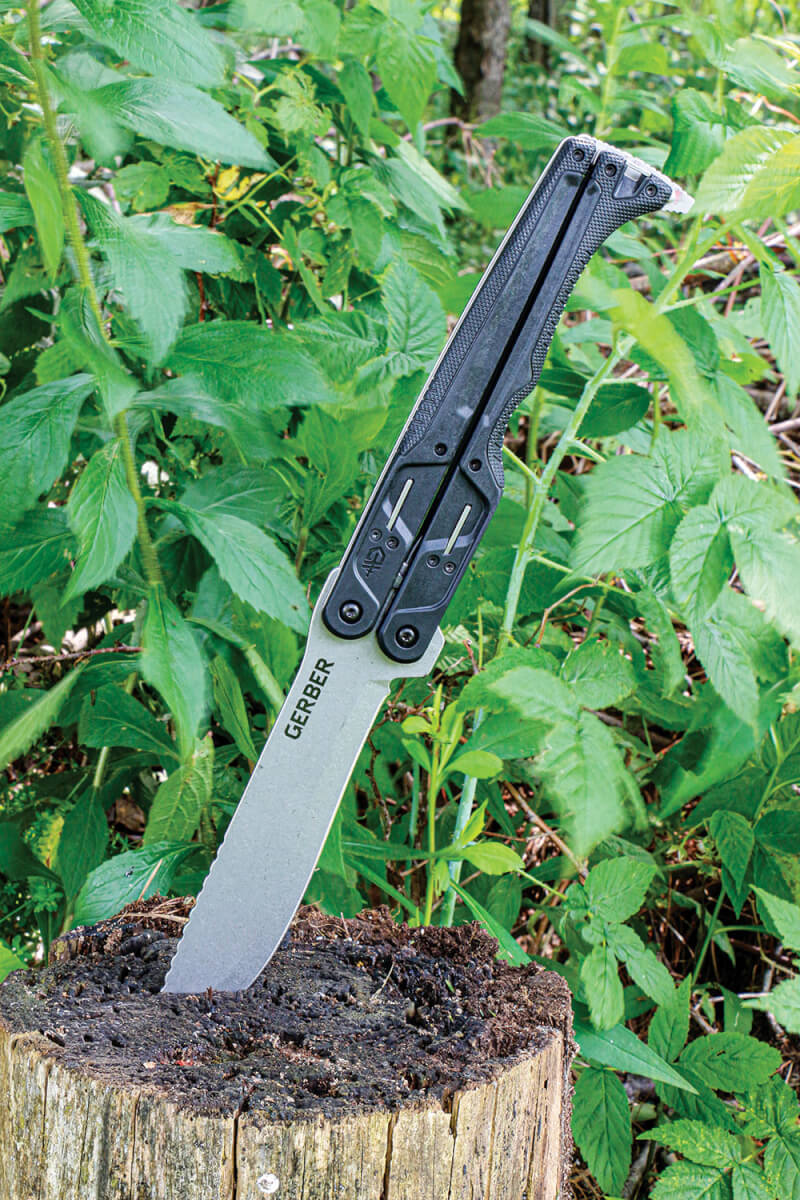 I usually decline the option of walking miles with a long machete dangling from a waistbelt. Lashing one to a large pack is fine, but I'm often traveling light with a small daypack, shoulder sack or lumbar pack. The Doubledown's compact size means I'm apt to carry it when leaving other large tools behind, even if that means giving up the advantages of a longer blade. That's why I'm keeping one in my kit.
You can choose a Gerber Doubledown with a stonewashed blade and either green or black handles, as well as a model with a black blade coating and black handles.
The Doubledown has more reach than a typical knife with same blade length. And, while I might choose a longer machete when I need to slash through dense vegetation, even then, I'm mostly using the limited "sweet spot" section of the long blade.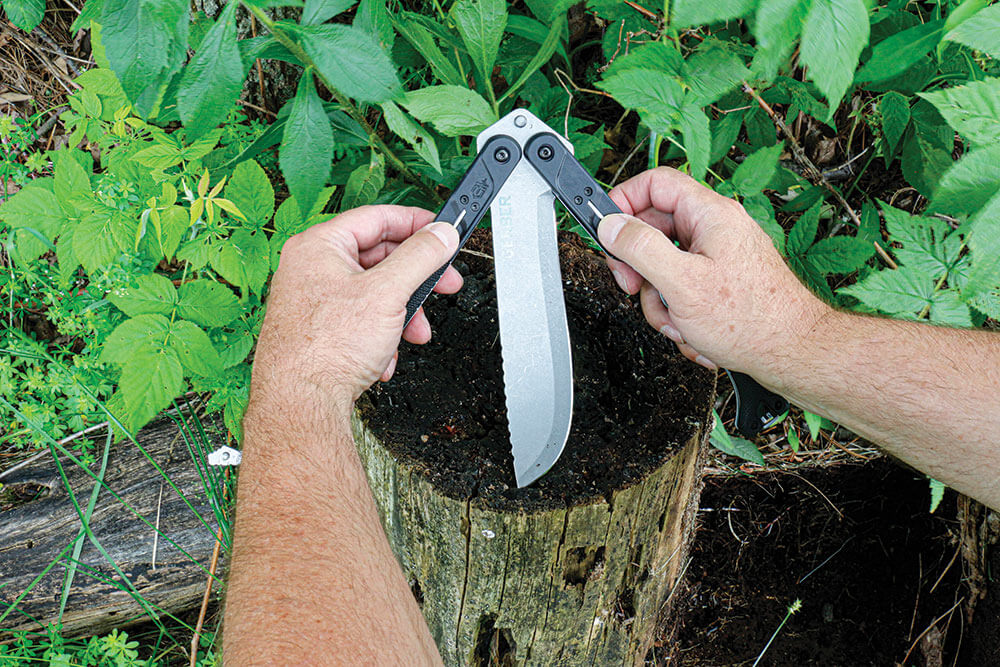 The Gerber Doubledown isn't a gimmick dreamed up by a marketing team. It's a tested, versatile tool made here, in the United States, that combines the utility of a small machete with that of a large knife—and, it can be carried easier than either.
So, if your time off the pavement might entail chopping branches, slashing through brush and splitting firewood, as well as more-detailed knife work, the Doubledown is worth bringing along.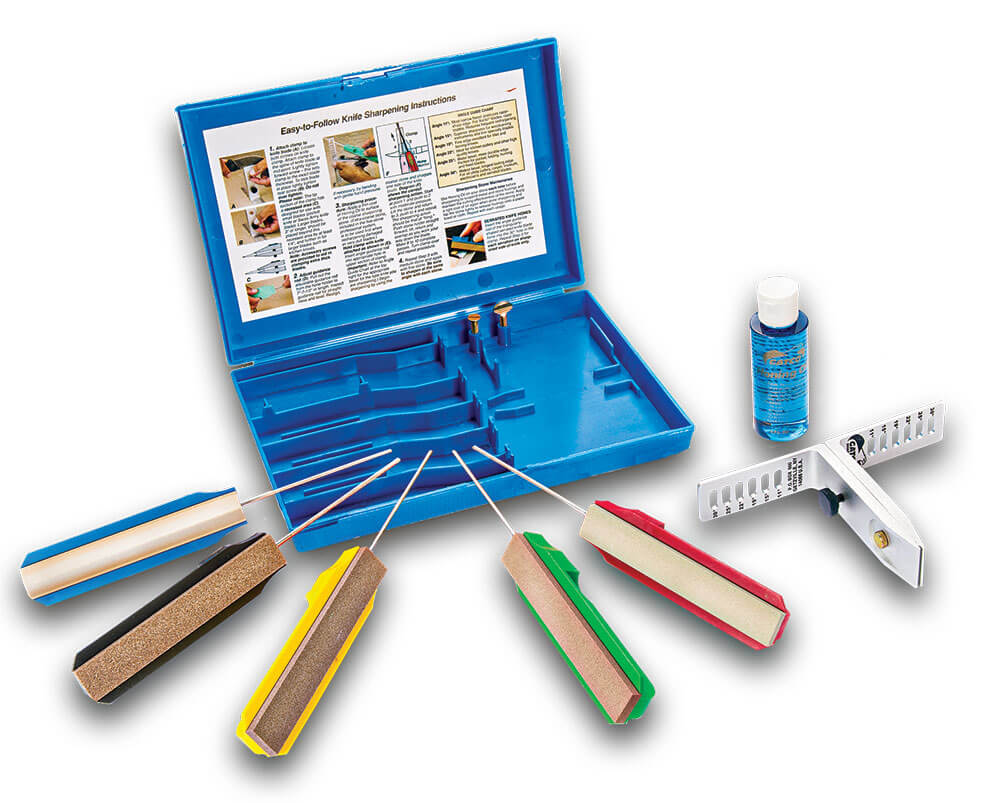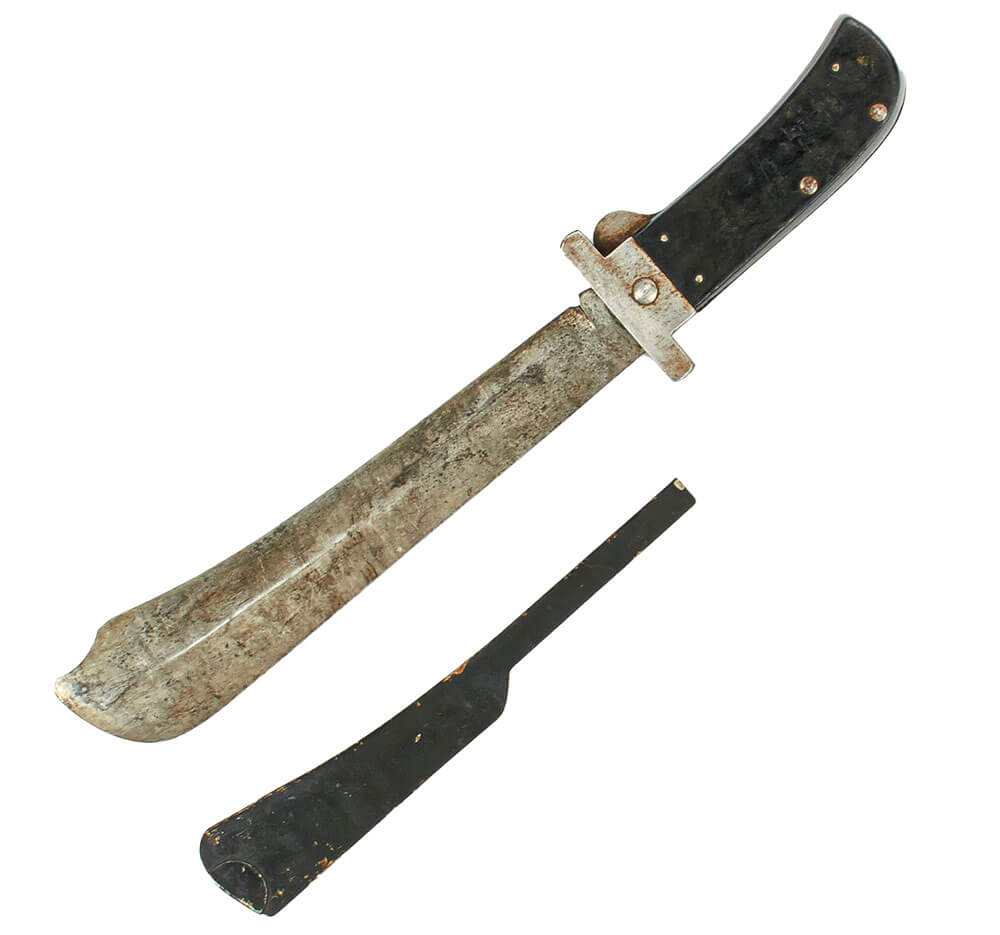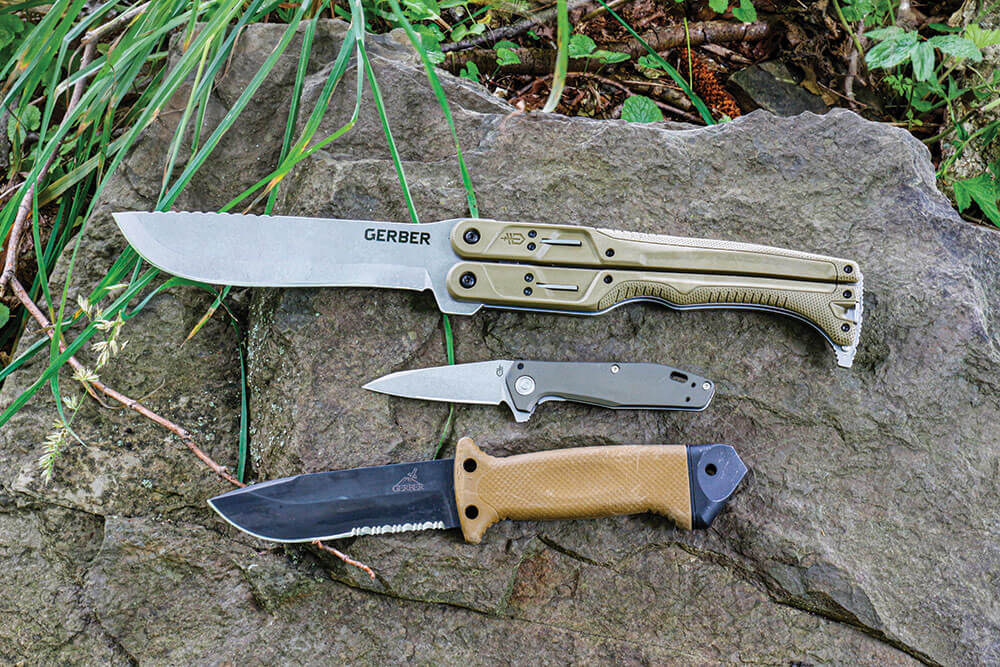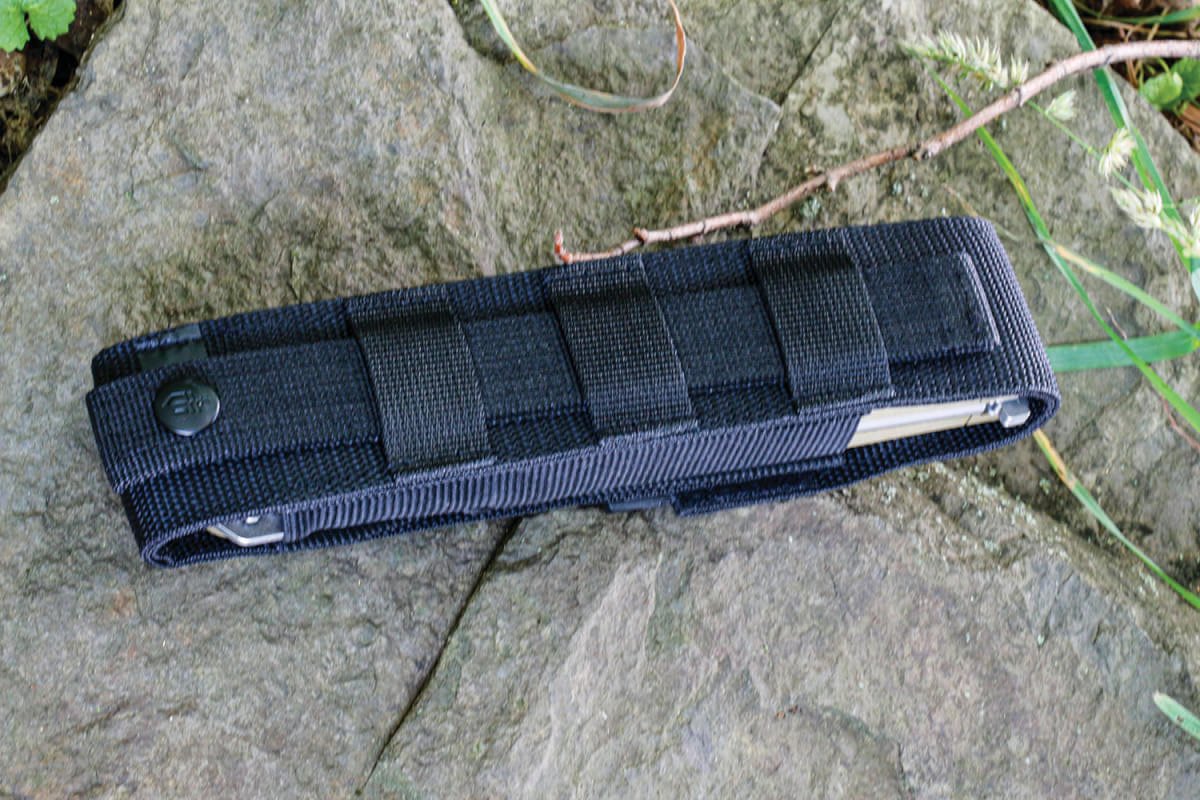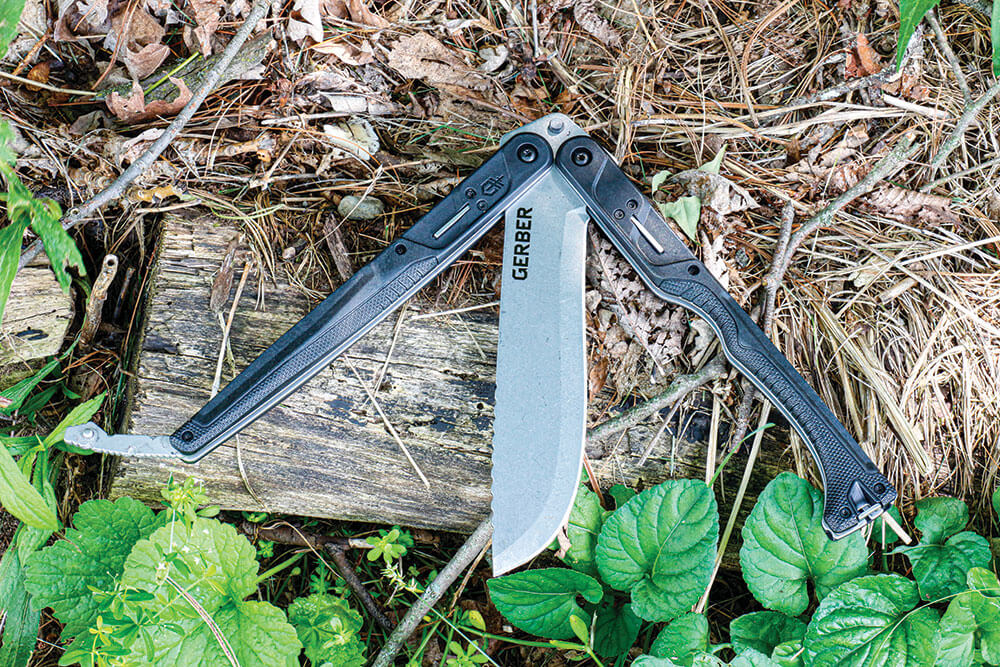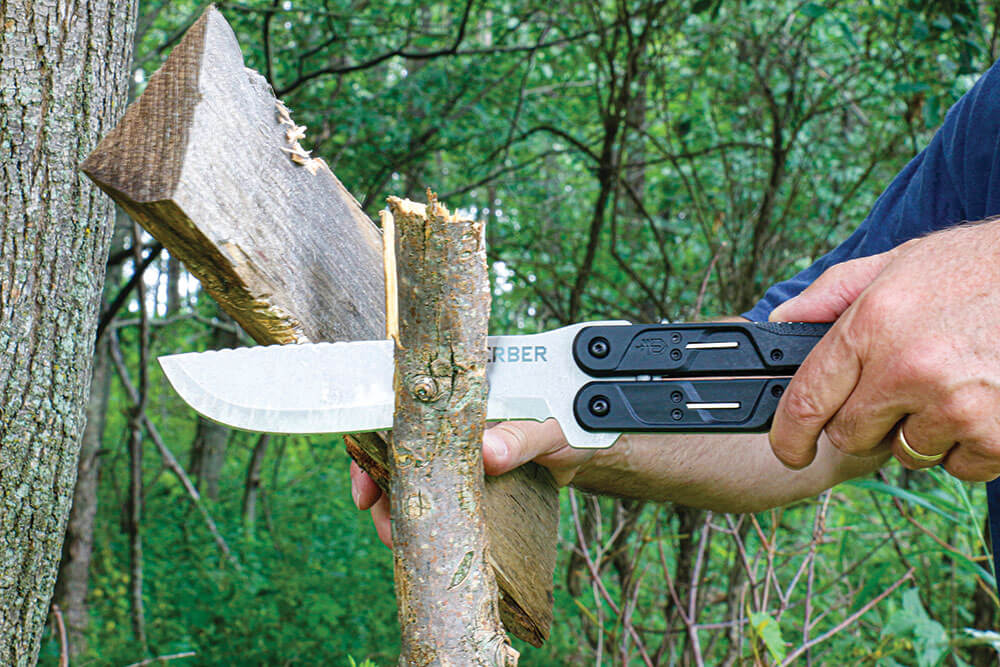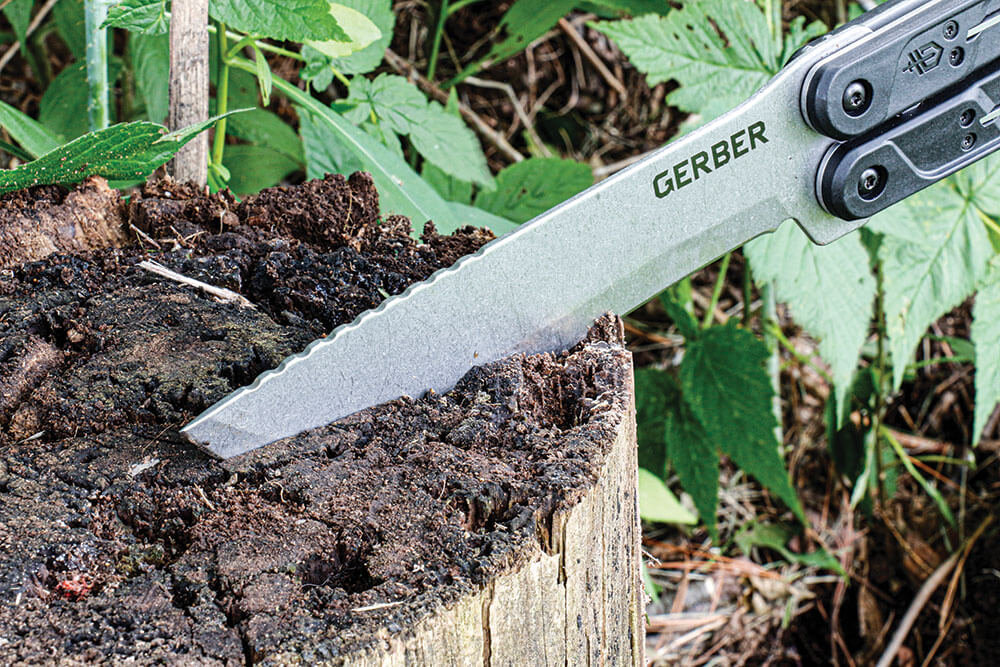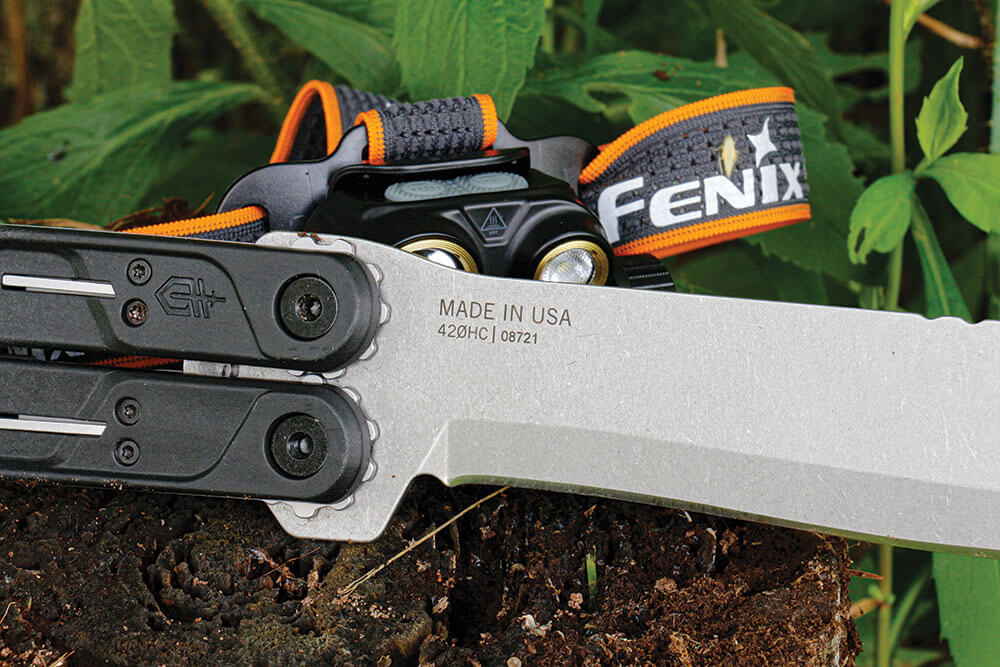 The Doubledown Isn't The First Folding Machete
During World War II, the U.S. Army Air Forces issued an "airmen's folding machete" to be part of a pilot's bailout kit. It was intended to be used as an escape tool, hunting implement, weapon, brush-cutter and for improvising whatever else was needed, such as splints and stretchers.
I haven't had a chance to handle one of these airmen's folding machetes, but I do know they were made by the Case, Camillus and Cattaraugus knife companies. Legendary Arms, Inc. (LegendaryArms.com) of Conyers, Georgia, currently offers a replica of this historic tool with a 10-inch blade and linerlock. A canvas belt sheath—an updated design not unlike the original—is included for the $94.95 MSRP.
Nevertheless, a big advantage with the Gerber Doubledown design over the World War II machete is that the handles of the Gerber fold to completely enclose the blade, and the blade doesn't depend on the sheath to protect the user from accidental cuts to either flesh or gear.
SOURCE
Gerber Gear
GerberGear.com
Gerber Doubledown (Specifications):
Type: Folding knife
Overall length: 15.1 inches
Blade length: 7 inches
Length closed: 9 inches
Weight: 18 ounces
Steel: 420HC
Blade style: Recurve with stonewashed finish
Lock mechanism: QuadLock with safety stop
Handles: polymer, green or black
Origin: U.S.A.
Other: Nylon belt sheath with MOLLE attachments; overstrike guard; stability bar; baton jimping; lanyard ring
MSRP: Starting at $129
A version of this article first appeared in the November 2021 issue of American Outdoor Guide Boundless.