THESE MICRO-SIZED WAZOO SURVIVAL TOOLS WON'T WEIGH YOU DOWN
Most stories you hear about lost or stranded hikers who must be rescued have several things in common: the hikers didn't have the necessary gear and supplies, didn't have the necessary survival and navigation skills, and didn't make sound tactical decisions – they left marked trails, over-estimated their physical abilities, etc.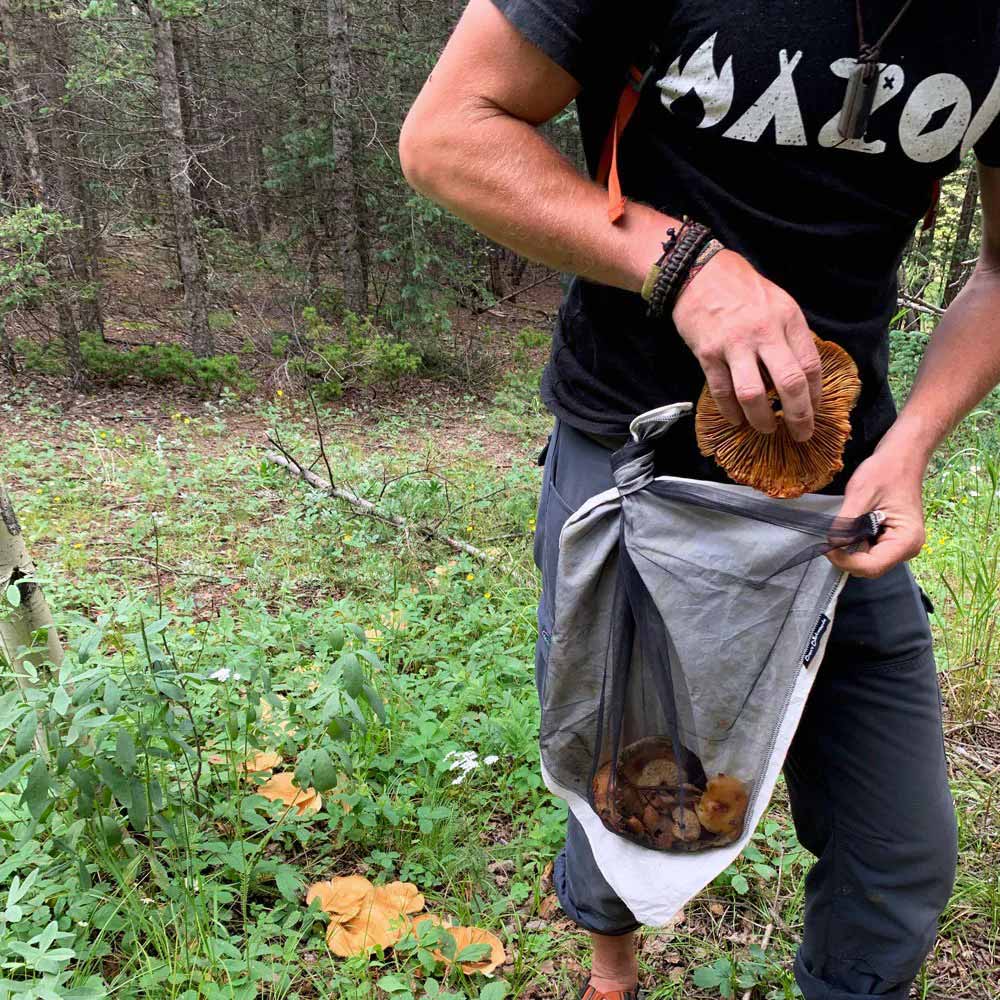 BIG REASONS TO GO TINY
One reason I like micro-sized gear is that it's not a burden to carry with you whenever you leave home. It's there without you needing to think about it until you need it. Wazoo is one of my favorite companies when it comes to micro-sized gear and ways to carry it.
Wazoo products are handy as emergency gear if an impromptu outing turns into an ordeal, and as Plan B backup gear to your primary equipment should that become lost or damaged or if you're somehow separated from your main pack. It's great, too, for when you simply want to travel as light as possible or you wish to be a bit discreet.
Here are some of the Wazoo products I've come to know and love.
ADVENTURE KIT
The Wazoo Adventure Kit is a bit on the pricey side with an MSRP of $110, but it's of good quality and not the junk you find in cheap kits. All of it can be priceless if you're in a critical situation.
The Adventure Kit contains 23 valuable gear items, including: button compass, ferro rod, ceramic striker/knife, 2 Fire Plug tinder pieces, 3 fish hooks, 3 split shot sinkers, 40 feet of 50-pound fishing line, 15 feet of brass wire, 1-liter plastic bag water container, water pre-filter, 2 water purification tablets, 3 ranger bands, 2 safety pins, magnetized needle, 25 feet of cordage, 6 orange twist-tie trail markers, 2 zip ties (5.5 inches), whistle, signal mirror, aluminum foil (12 x 6 inches), 24 inches of Gorilla tape, LED flashlight, wire saw.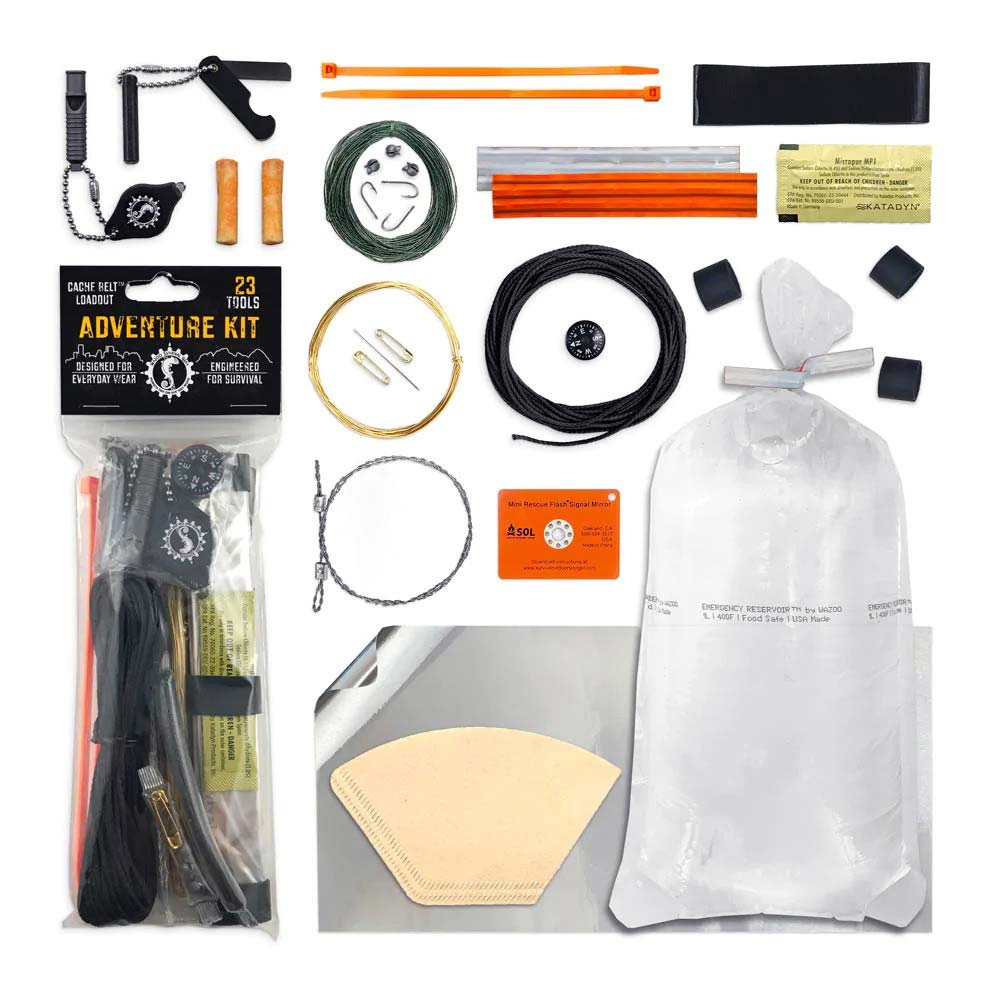 So, what you have is a way to navigate with the compass or by floating the magnetized needle. You have a way to start fire with the ferro rod, ceramic scraper/knife, and tinder. You have a way to treat and carry water. The whistle and mirror allow you to signal for help. The fishing gear and snare wire might help you to acquire food. The other items can help you to repair gear or improvise things you might need.
Some of the items in the kit can also be purchased separately. I plan on buying a few more of the Wazoo button compasses, for instance, as it's hard to find a button compass that actually works. This one does. I want to add them as lightweight backups in all my kits and packs because I've been turned around in the woods more than once and I don't like that feeling.
So, what's the best way to carry all of this compact, lightweight gear so that you can always have it ready? I'm glad you asked.
CACHE BELT
When I first looked at the Wazoo Cache Belt, I said there was no way everything in the Adventure Kit would fit inside it. Naturally, in this instance I was entirely pleased to be completely wrong.
Money belts have been around and used by travelers for many years, but the Wazoo Cache Belt takes the concept to a much higher level. The belt is 1.5 inches wide and is made of sturdy Mil-Spec nylon webbing. More of the belt's length than not is available for gear storage. It's a top-loading design, so you can access most of your gear without removing the belt.
The entire length of the gear compartment is secured by hook-and-loop closures at the top. In order to get the use of the total width of the belt, you can tuck gear under those hook-and-loop strips.
"Money belts have been around and used by travelers for many years, but the Wazoo Cache Belt takes the concept to a much higher level."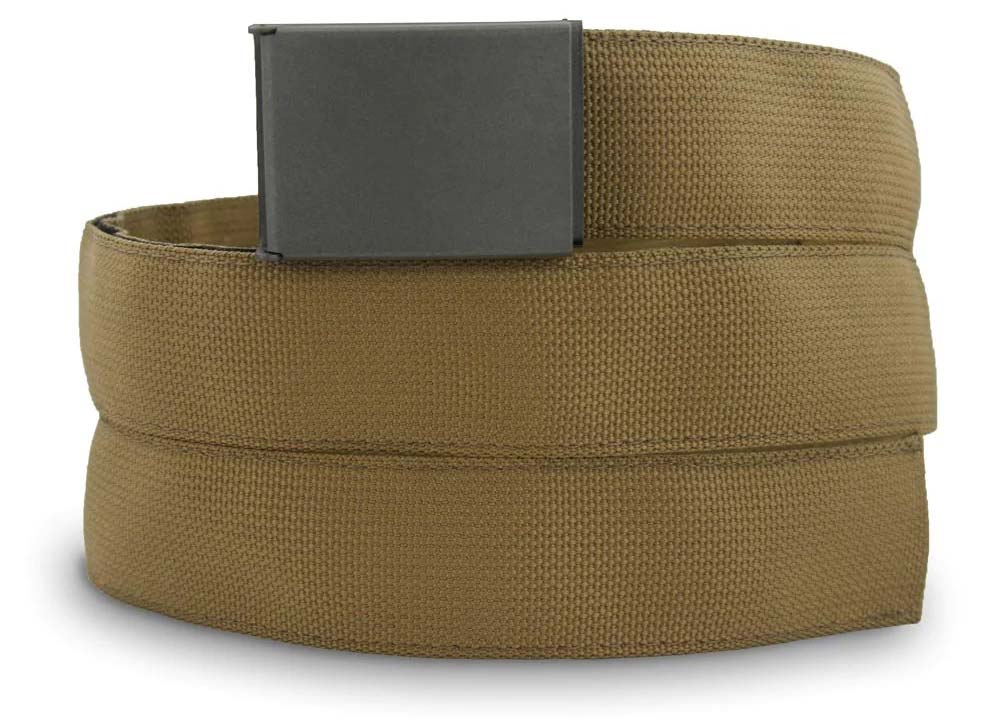 There are two paracord cord loops sewn into the belt pocket (one with a small carabiner), that allow you to clip items such as a key, flashlight, or firesteel to them. Those loops can be stored inside the belt or worn on the outside for easier access to items attached to the loops.
The steel buckle has a Cerakote finish, features an integral bottle opener on the back and a storage compartment on the inside for the signal mirror that's included in the Adventure Kit.
On arranging the micro-gear from the Adventure Kit into the belt, I cheated a bit by watching the good advice from a Wazoo video on YouTube that demonstrated the best way to do it. Yes, all the gear fit with room to spare. I plan on adding some emergency cash and maybe a spare key. The belt is comfortable and it fulfills its primary function of keeping my pants from falling down.
The Wazoo Cache Belt is available in four sizes and several colors. Each belt can be sized down, too, by adjusting the buckle. The suggested retail price on the belt is $75. It's made in the USA.
CACHE CAP
Another way to store some of your micro-gear is with a Wazoo Cache Cap. For quite a while now I've had one of the company's original caps with six secret pockets. I have a fire kit in the brim with ferro rod, tinder and ceramic striker/knife. On one side dome pocket, I have a disposable lighter and on the other side, I have a small pocket knife.
The only problem I found on the original cap is with the flap pockets in the dome. Sometimes when I tossed the hat down, the items in those pockets would slip out. That problem has been solved with the updated version of the Cache Cap.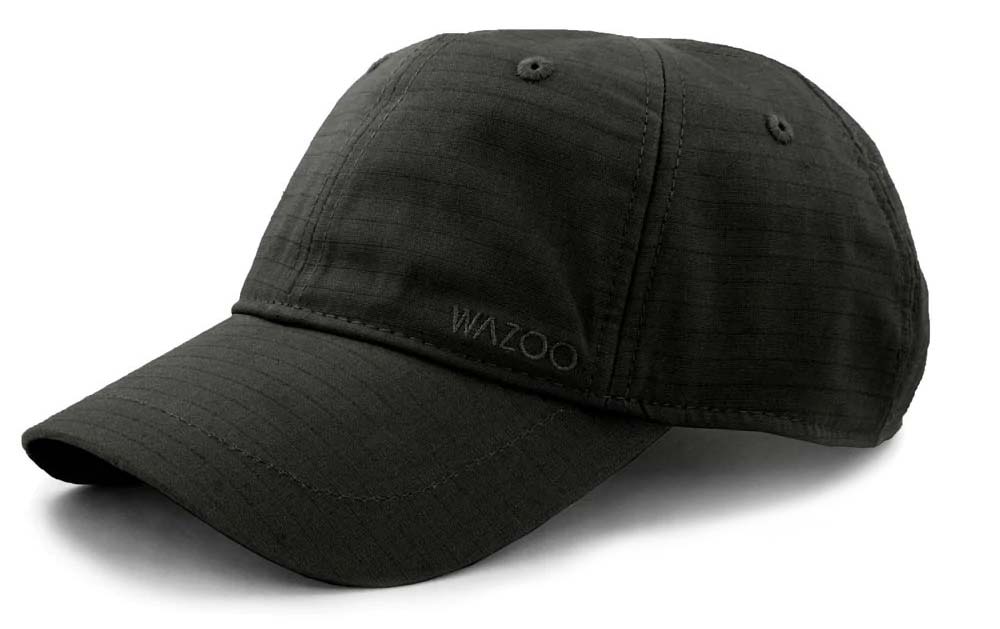 In the updated versions, all of the compartments – a larger one in the underside of the brim and three inside the dome – are now all secured with hook-and-loop closures. The newer caps also have reflective material forming an "X" inside. Turn your cap inside out and you can use that "X" for signaling, or you can hang the hat on a branch to mark a location. That's handy for spotting the hat easily with your headlamp when you're trying to find your way back to camp after wandering off on a bathroom break.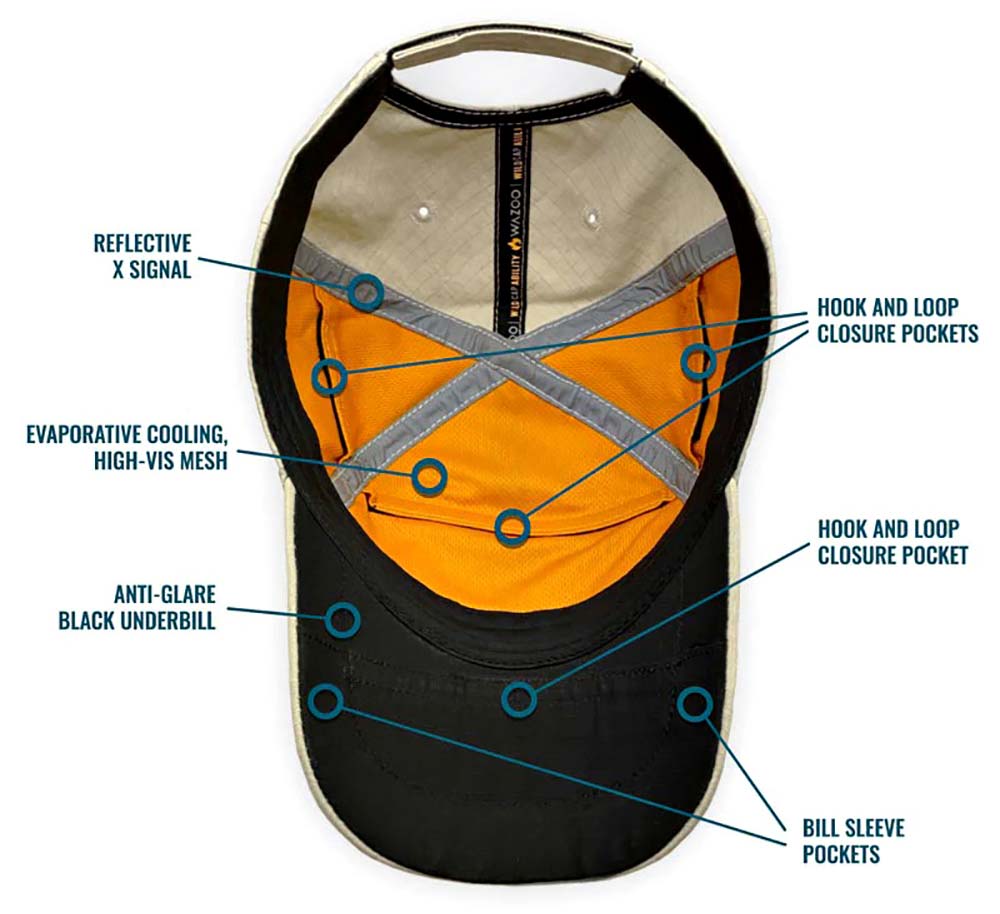 The insides of the newer caps are also lined with high-visibility orange mesh that can be dampened for evaporative cooling in hot weather. The underside of the visor on the caps is black to eliminate glare. These caps are available in blue, black or tan. They're adjustable, so one size fits most. The suggested price is $36.
BANDANAS AND BANDANETS
I've been using bandanas for years as pot holders, dish cloths, handkerchiefs, improvised storage pouches and more. Leave it to Wazoo to figure new uses for these handy hunks of cloth. Instead of just printing a pretty pattern on their bandanas, Wazoo provides some added usefulness with their Foraging Bandana and Tracking Bandana.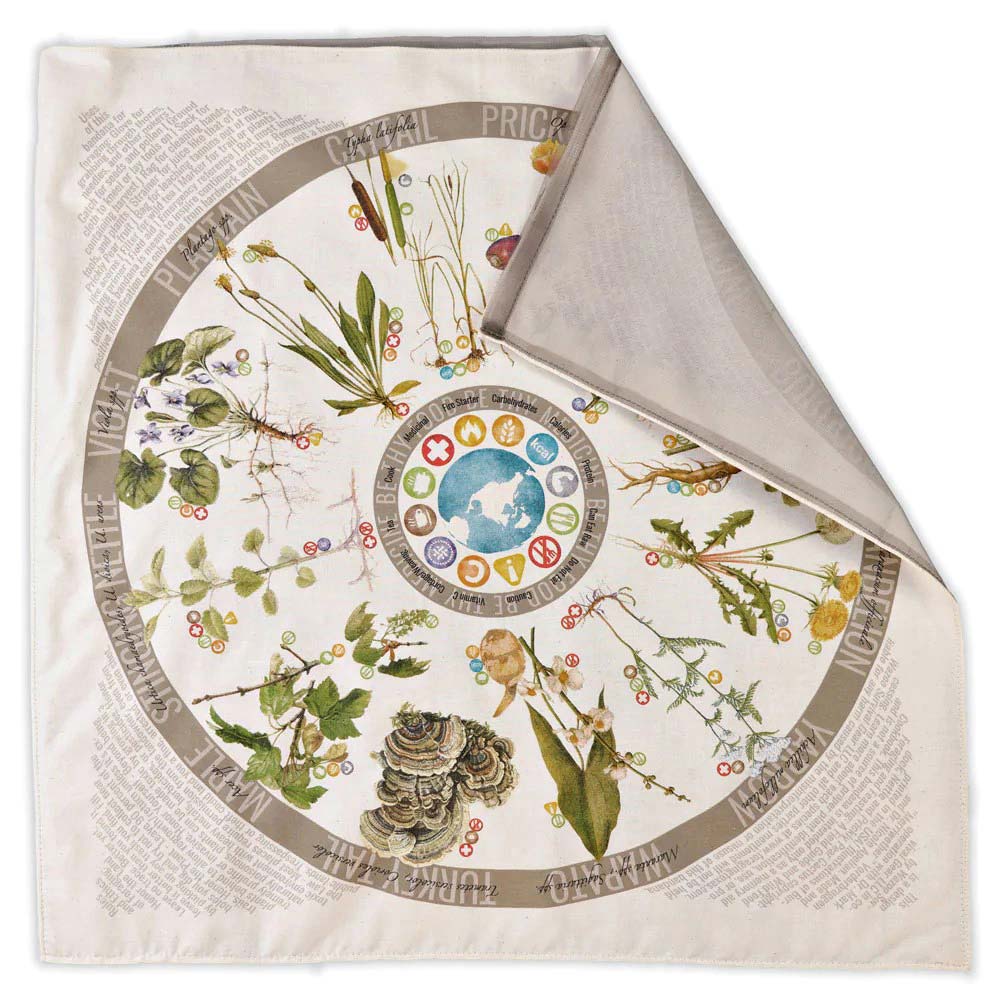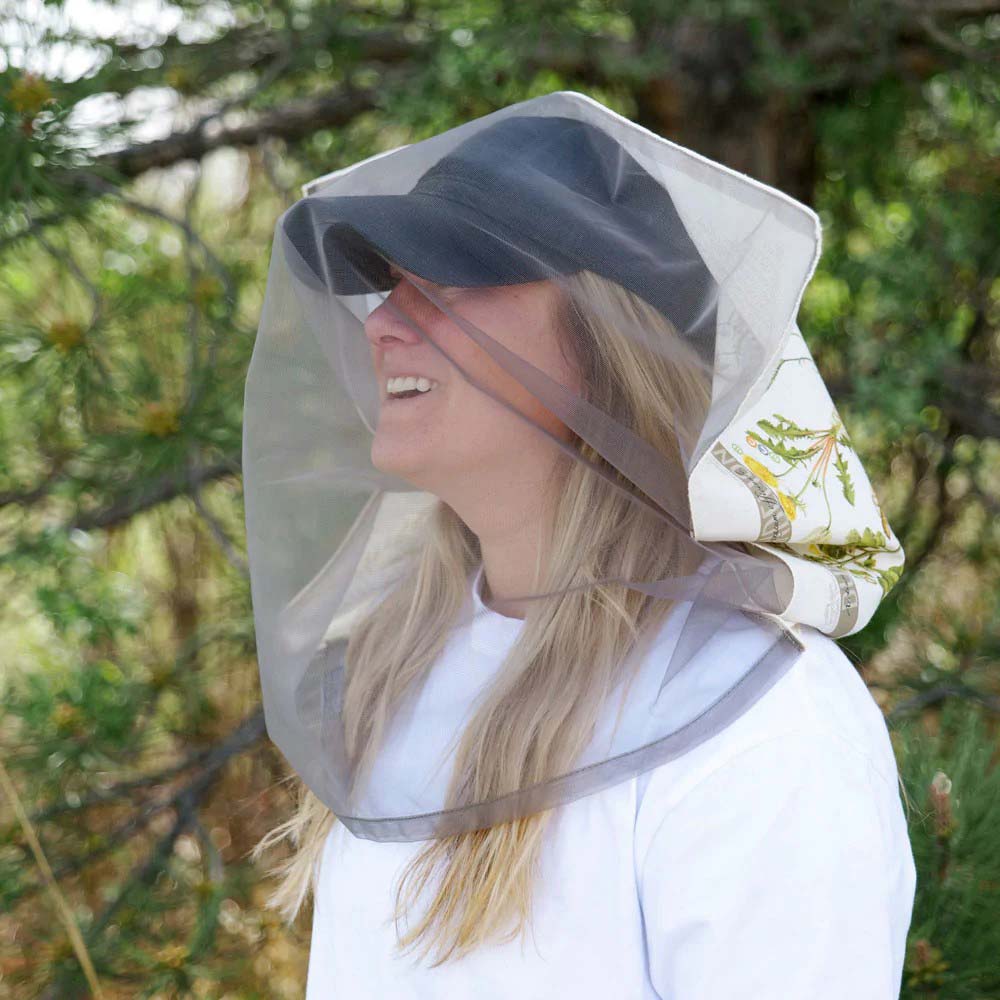 The Foraging Bandana ($15) features illustrations that can help you to identify some common edible plants. The Tracking Bandana ($13) features illustrations of animal tracks, so you'll know what critters you might encounter on your travels.
What's a Bandanet? The Wazoo Bandanet is a bandana with added netting to the back side. This creates a lightweight, compact piece of gear with lots more function. You can put the Bandanet over your head for protection against biting insects or you can tuck the top of the Bandanet into your belt and use it as a handy container as you forage for edibles or gather tinder. If the tinder is damp you can attach the Bandanet to your pack as you move and let the air flow help to dry it out.
"You can put the bandanet over your head for protection against biting insects or…use it as a handy container as you forage for edibles or gather tinder."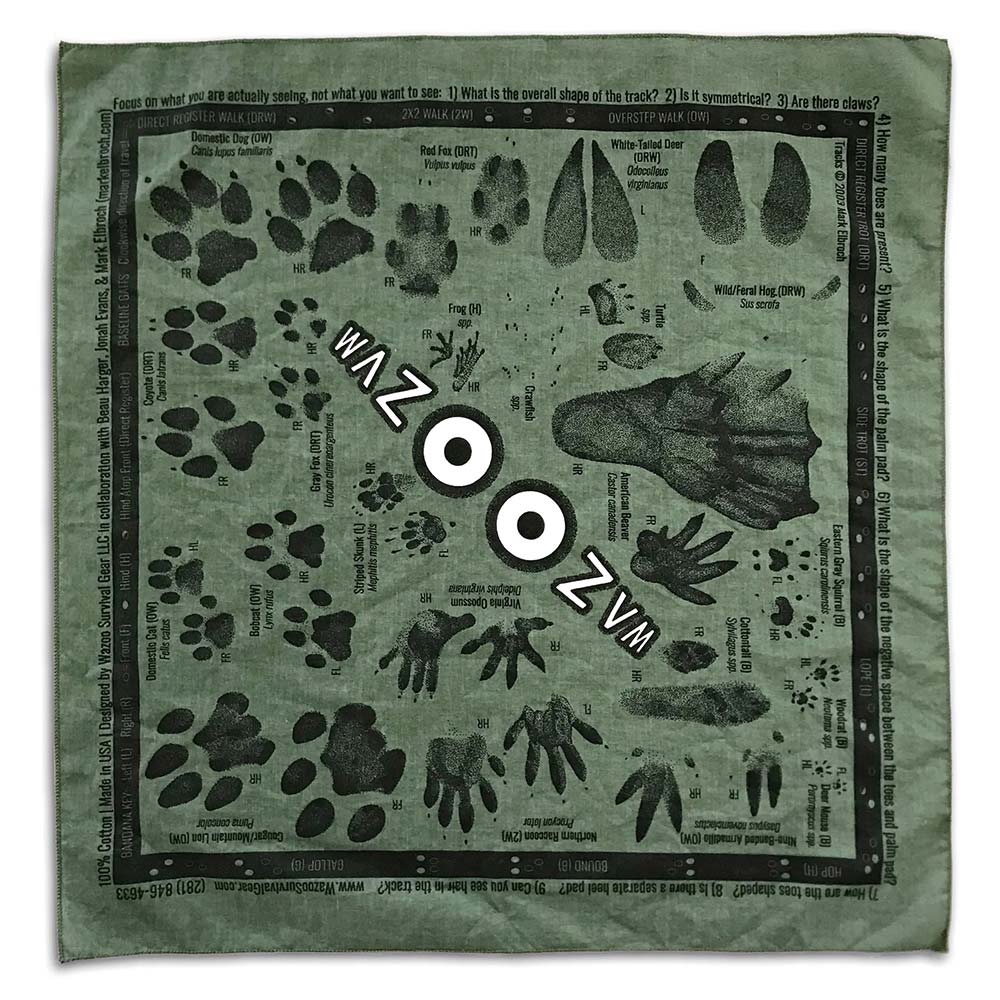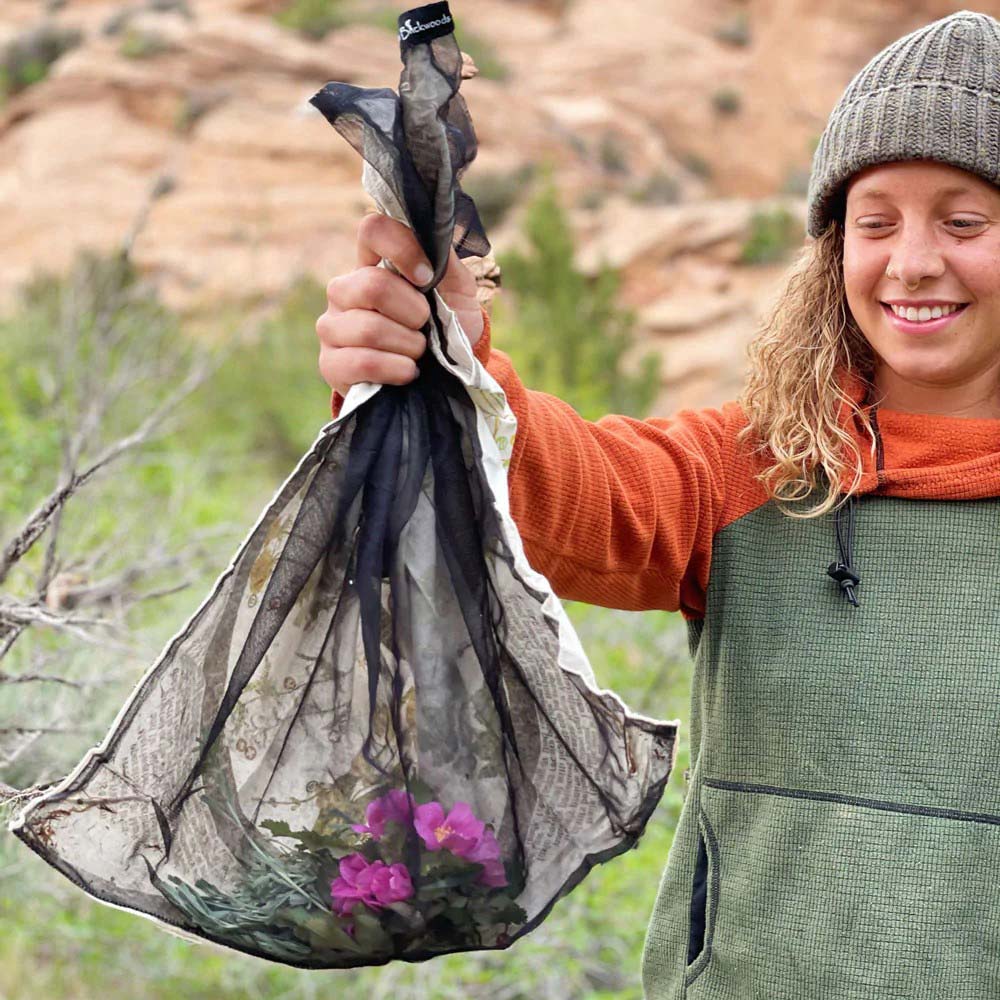 You can use the Bandanet to scoop minnows from the water for fishing bait, or load it with cans or bottles of your favorite beverages and plop the Bandanet in a stream to keep the drinks cool. You can stuff it with pieces of clothing for use as a pillow, and yes, you could use the Bandanet as you would a regular bandana, too. The Bandanet measures 21 x 21 inches and sells for $30. It's made in the USA.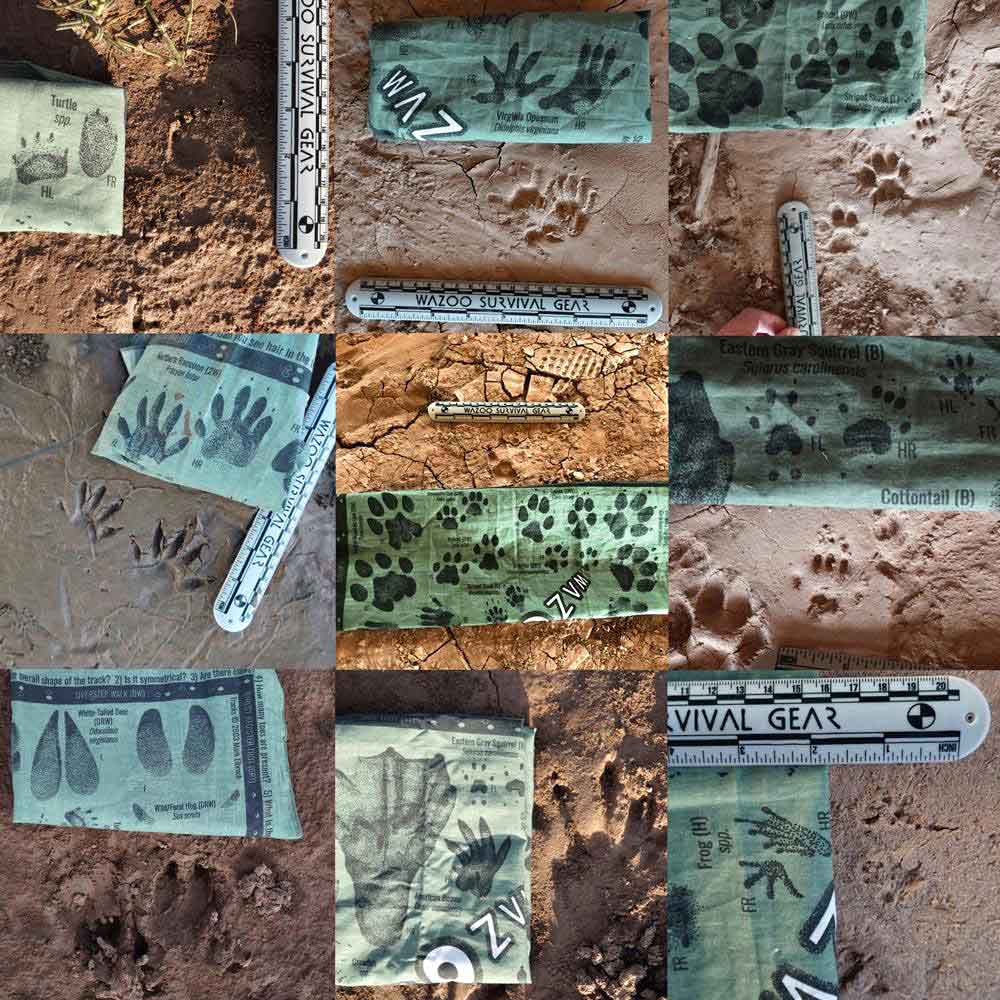 NECK GAITERS
You might want to check out the Wazoo Neck Gaiters, too. A neck gaiter is a lightweight option for keeping the face and neck warm on the chilly mornings when you start your hike. These are available in Wazoo's Foraging and Tracking patterns as well. The MSRP is $25 and they're made in the USA.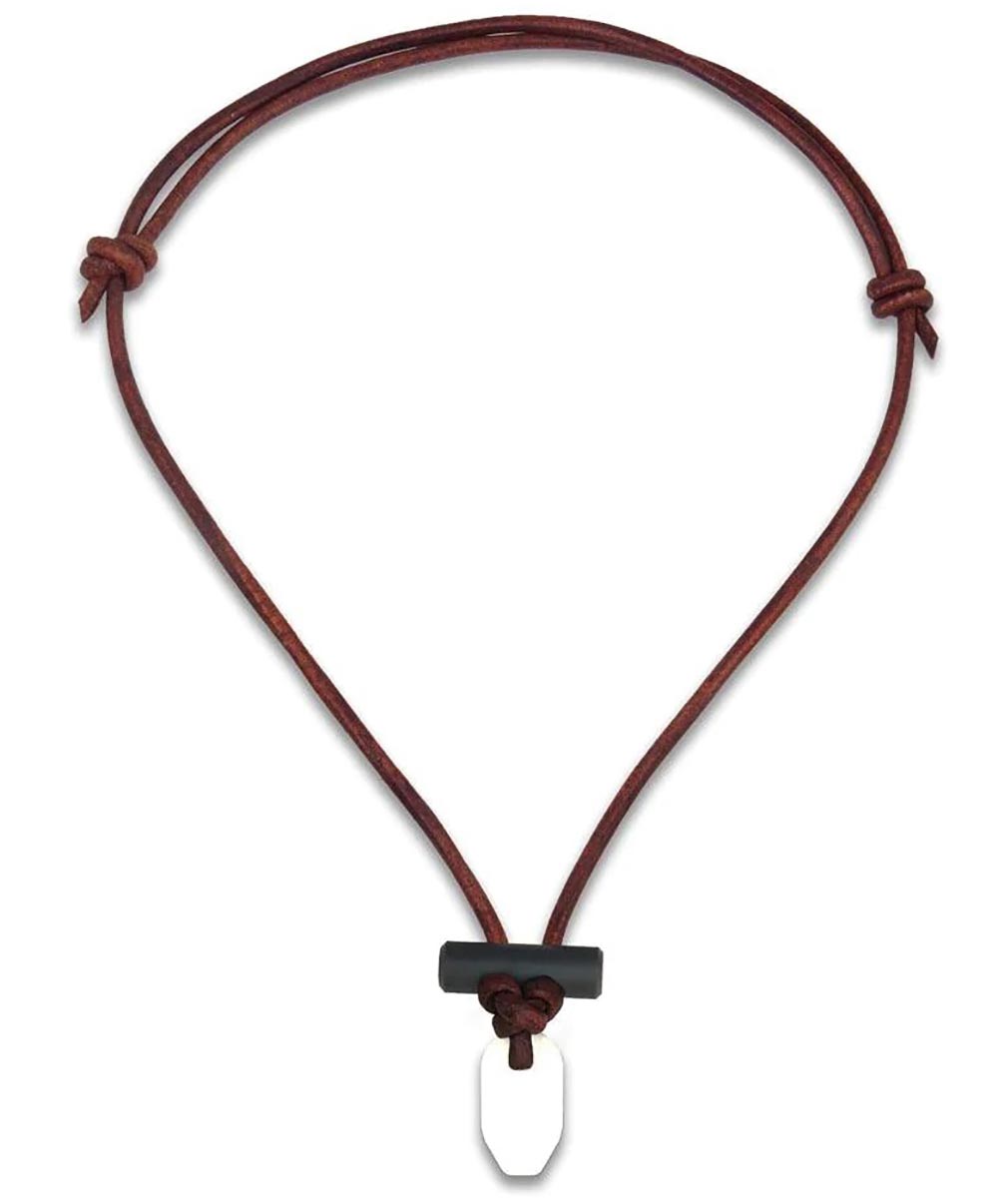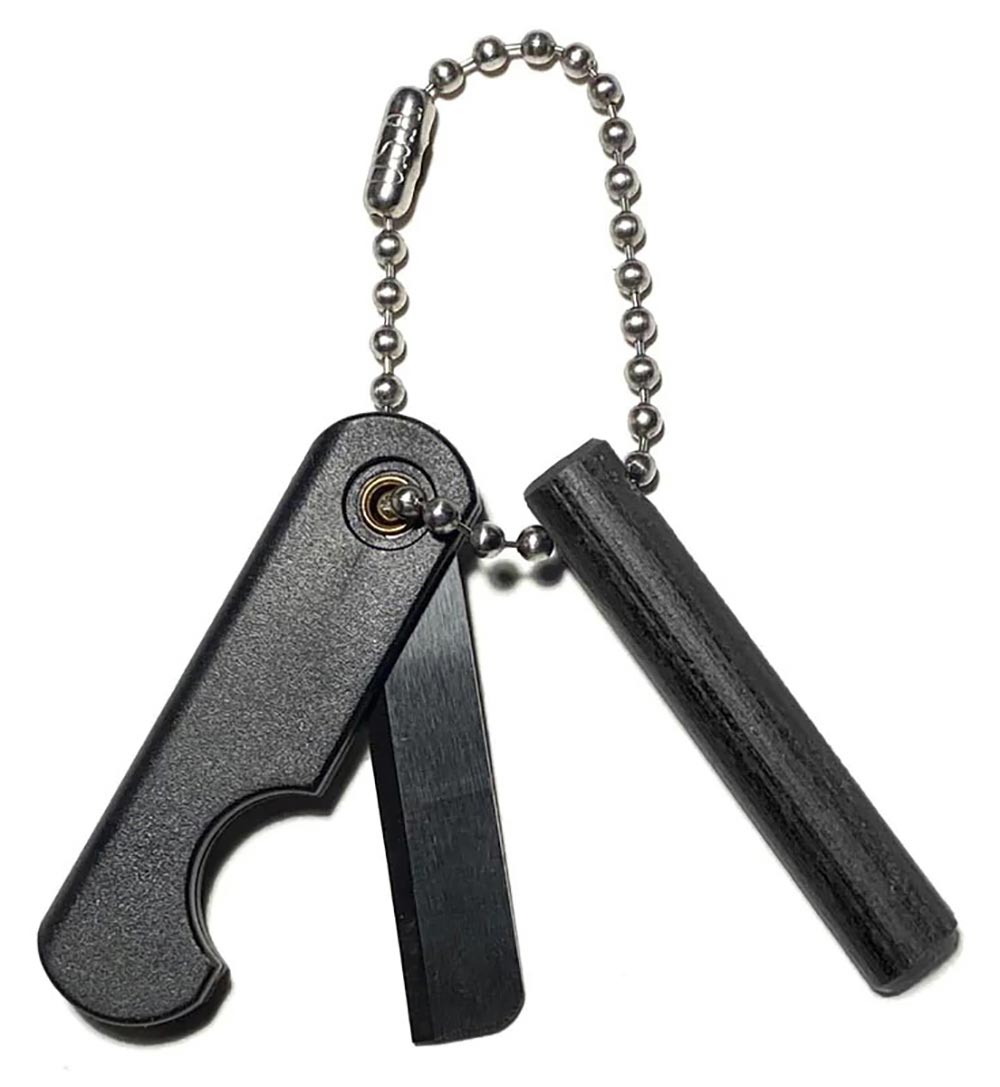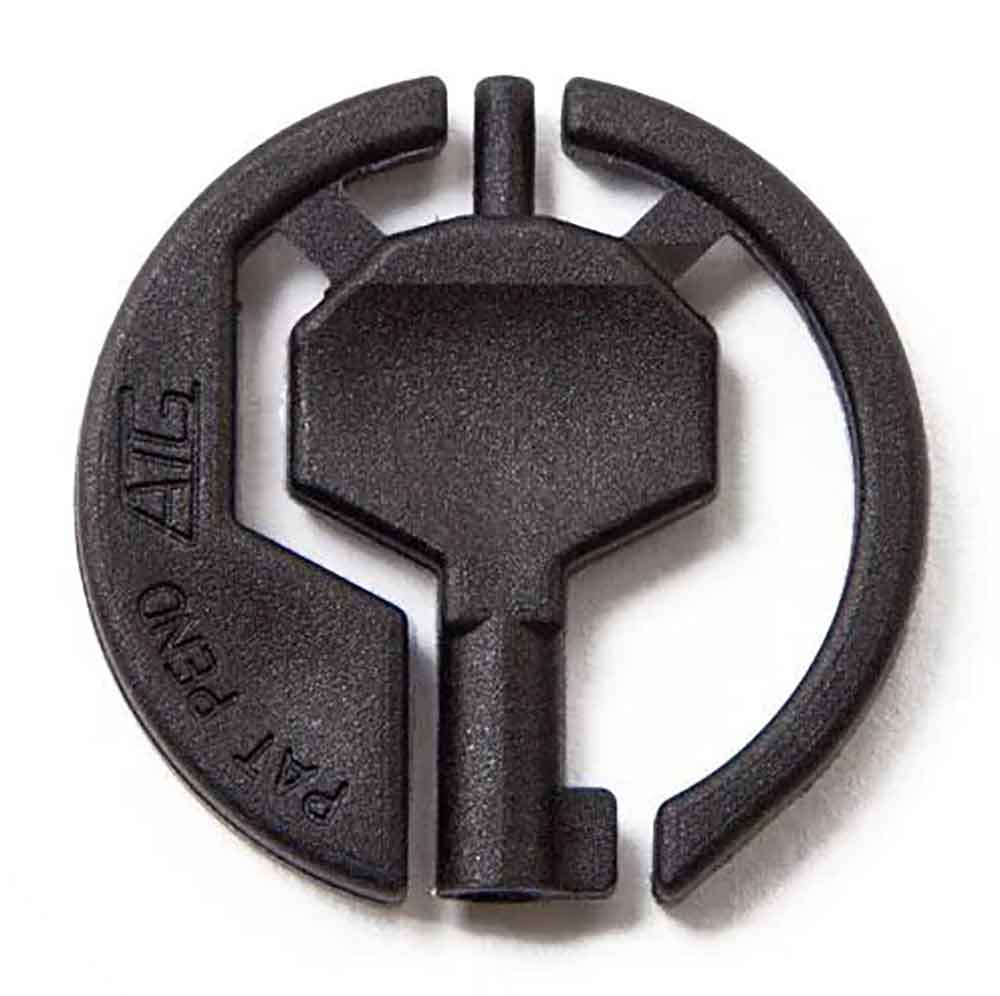 ---
FUNCTIONAL FASHION: WAZOO BUSHCRAFT NECKLACE, VIKING WHETSTONE
Some Wazoo gear is wearable. One example is the Bushcraft Necklace. It's a two-part pendant that includes a one-inch ferro rod and a ceramic striker. It's available with either a white or black ceramic striker and 1/8-inch diameter leather cord that's mahogany brown. The leather necklace features sliding double fishman's knots so it can be adjusted to various lengths from 14 to 26 inches without untying it. It's fashion with a function. It sells for $24. Wazoo offers a keychain fire starter, if you prefer, with either a ceramic striker ($8) or a folding ceramic striker/knife ($18).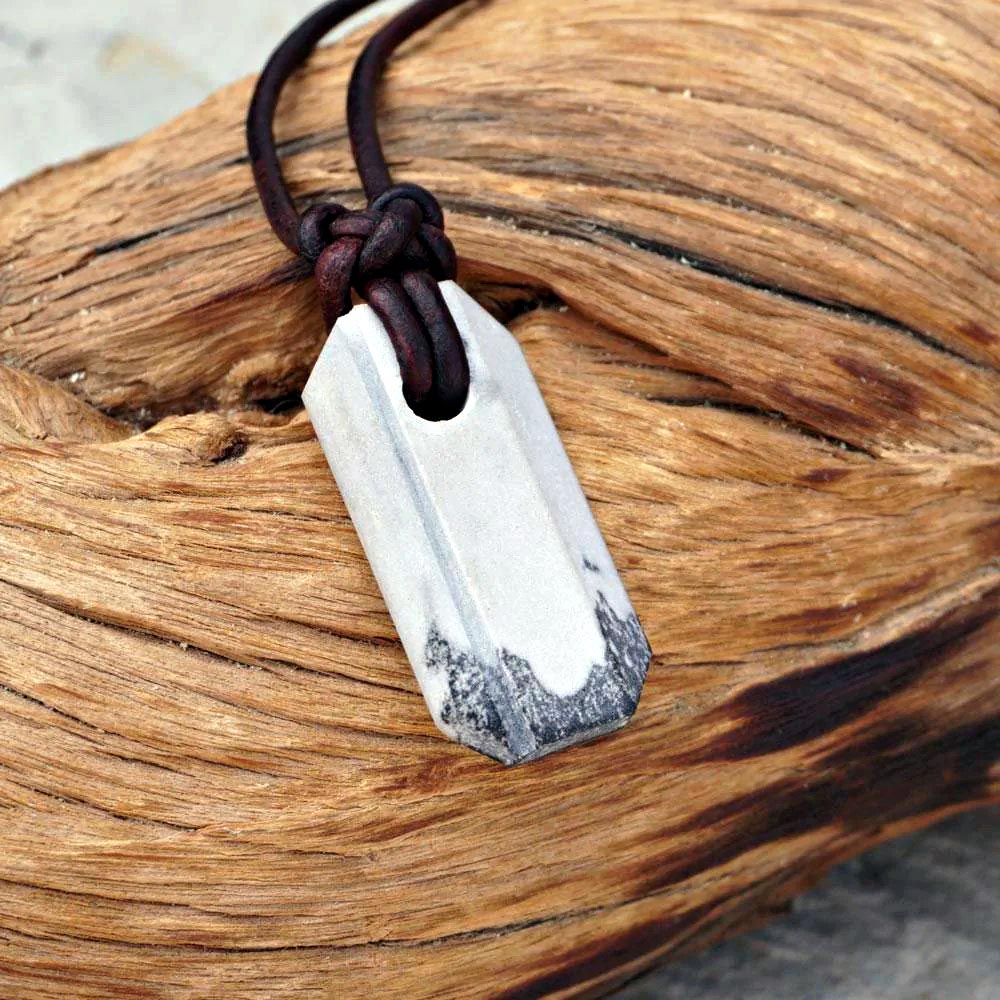 Another Wazoo utility ornament is the Viking Whetstone. This pendant consists of a hand-cut Arkansas novaculite stone on a leather cord. The whetstone has medium abrasiveness, equivalent to about 600-800 grit, and is shaped to provide four different types of grind surfaces.
The rounded edge is suitable for sharpening spoon/hook knives, gouges, seatbelt cutters, fingernail cutters, concave blades, and large serrations. The beveled edge is for use on saws, deburring, and small serrations.
The hook groove can be used to sharpen hooks, needles, awls, spearpoints, and gigs, while the flat lap is intended as a general-purpose sharpener for plain-edge knife blades. The Viking Whetstone Necklace sells for $45.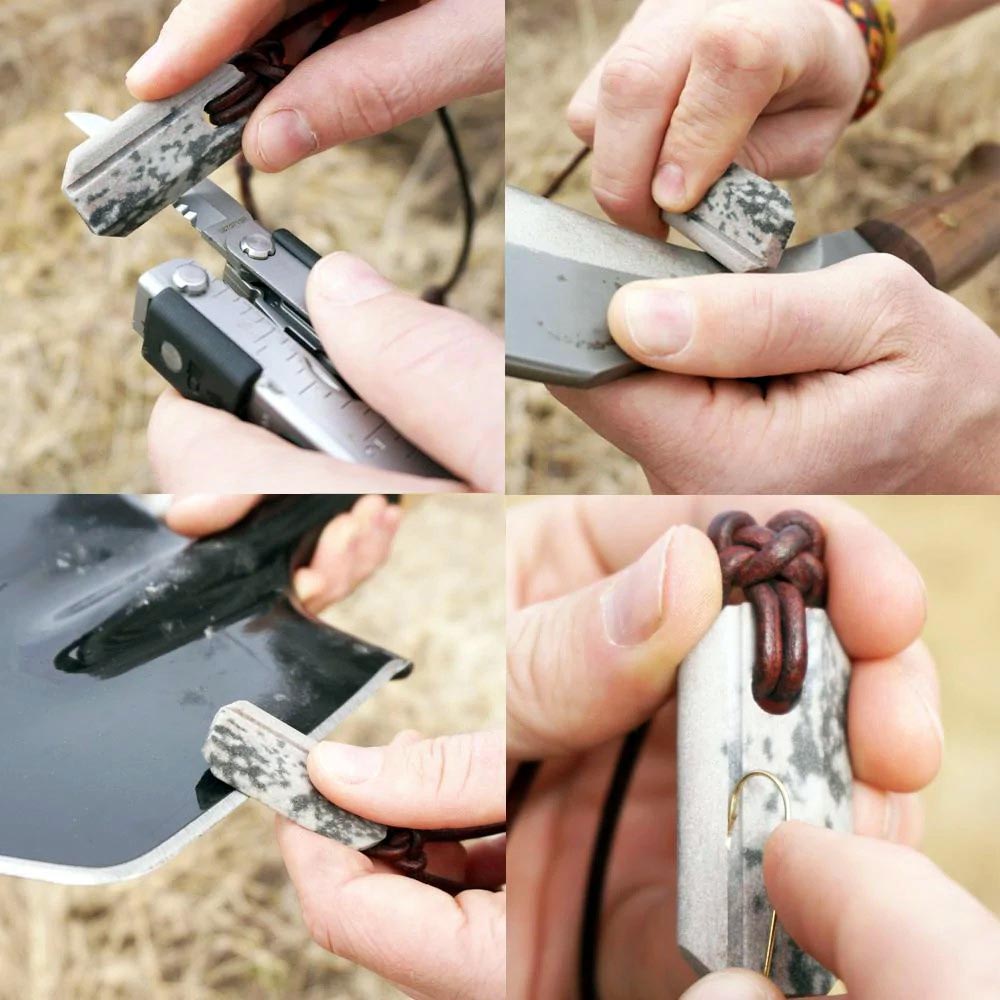 SOURCE
Wazoo
www.WazooGear.com
---
A version of this article first appeared in the August 2022 issue of American Outdoor Guide Boundless.