Tuff Possum Gear Lets You Focus On The Adventure.
It's amazing how things get their start; for instance, how a seed gets planted and nature takes its course, not fully knowing what the outcome will be.
In this case, one could say it's taken decades for Tuff Possum Gear to come to full fruition. The Missouri Ozarks' Jayberry Miller follows in the footsteps of his father—camping, hunting, fishing, hiking, digging up herbal roots and trapping. History repeats itself in his love of the outdoors, and he's the "engine" that powers Tuff Possum Gear.
In 2012, at the age of 13, he began making projects with the help of his mom, just as his grandmother did for his father decades earlier. In 2015, Miller started making products with quality fabrics such as Cordura 500D nylon and ripstop. And in 2017, he dedicated himself to making trustworthy gear for adventure-minded folks by launching Tuff Possum Gear.
Here are some of Miller's Tuff Possum Gear products.
One of the principal figures of the period known as the "Heroic Age of Antarctic Exploration," Sir Ernest Henry Shackleton was an Irish explorer who led three British expeditions to the Antarctic.
The Shackleton EDC Satchel was designed for those adventurers who "go and do." It's an over-the-shoulder, messenger-style satchel made of bombproof Cordura 1,000D and 500D nylon. Some important features include the Pouch Attachment Ladder System (PALS) inside panel, which is a grid of webbing (invented and patented by United States Army Natick Soldier Research, Development and Engineering Center) that's used to attach smaller equipment onto load-bearing platforms such as vests and backpacks. This allows for modular organization using MOLLE, hook-and-loop or even belt clip-equipped pouches and gear. There are two pockets on the interior of the front panel for additional organization.
A 1/8-inch-thick, padded back panel provides some comfort when the satchel's resting against the hip and ribs. The comfortable shoulder strap is made with an adjustable, 2-inch-wide length of durable webbing. The weather flaps at the top of the side panels can be secured together with a side release buckle. They, and the ITW Cobra side release buckle on the main flap, have been saviors on a couple of outings for which I had my Canon DSLR and it was sprinkling.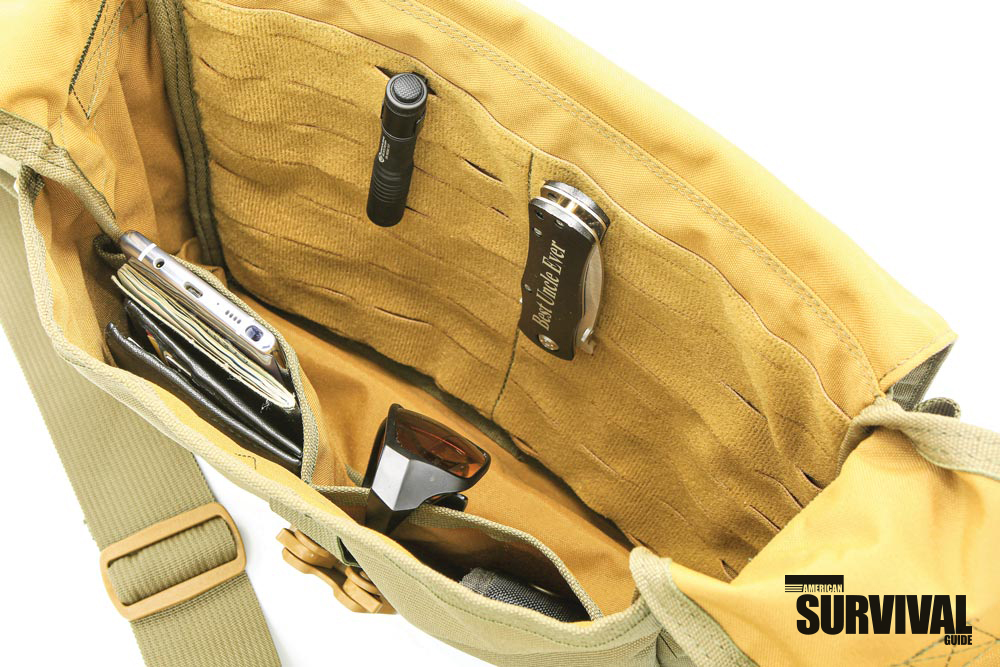 The Shackleton EDC Satchel's PALS loop panel inside allows modular organization using MOLLE, hook-and-loop or even belt clip-equipped pouches and tools. The satchel also has two interior pockets on the front panel for additional organization. As an avid hiker/backpacker, I'm more accustomed to carrying weight equally on both shoulders. The Shackleton EDC Satchel is the second of its kind I've used in the last few years that features a single shoulder strap. I do appreciate the convenience of fishing out gloves or my hiking gaiters without having to stop and take off a backpack. The adjustable ITW Cobra buckle closure is an added plus. One-handed access and adjustments were appreciated—all the more so the longer I used it. I was able to adjust the satchel on the fly without having to stop. Every 10 minutes, I found myself shifting the weight and even switching shoulders (I guess I'm still a newbie at this carry method).

The slip pockets on each end of the satchel were convenient and secure because of their depth. The wide shoulder strap was helpful in providing overall comfort. Another nice feature is that because of the back padding and the satchel's size, the Shackleton EDC Satchel can be used as an insulated seat on a cold log or boulder.
Shackleton EDC Satchel
Specifications 
Material: Cordura 1,000D and 500D nylon
Dimensions: 12x9x4 inches
Pockets: 2 interior, 2 side
Shoulder strap: 2 inches wide; adjusts from 36 to 60 inches long
Weight: 1 pound, 3 ounces
Available in black, Coyote Brown and Ranger Green
MSRP: $150
Imagine a coin purse built with self-defense in mind. That's the essence of the Tuff Possum Gear SlapSack. Designed by Delta2Alpha Designs and made here, in the United States, this item removes the weak point of zippers by offering an open pouch that folds over twice, securing in place with a heavy-duty hook-and-loop fastener. Tuff Possum uses its tried-and-true Cordura 1,000D nylon and adjustable hand strap, along with seven coated-brass DOT snaps. The 3×4-inch pouch can be loaded with coins and/or folded bills and rolled up securely. You can also to use it for your ID, credit cards, SD cards and other small items, all of which can be stored inside and strapped out of sight on an ankle or an arm under your clothing.
"Imagine a coin purse built with self-defense in mind. That's the essence of the Tuff Possum Gear SlapSack."
For self-defense use, the SlapSack can be filled with sand, salt or even ball bearings that can double as slingshot ammo and personal protection. In self-defense mode, it's meant to be used in a palm striking position or palm slap. When filled with heavy materials, it can be left to hang unrolled, and the strap can be used as a handle to swing—delivering a real wallop—if the need arises. However, remember to check your local laws before buying a SlapSack if you're thinking of using it for self-defense purposes, because this type of weapon is illegal in many areas.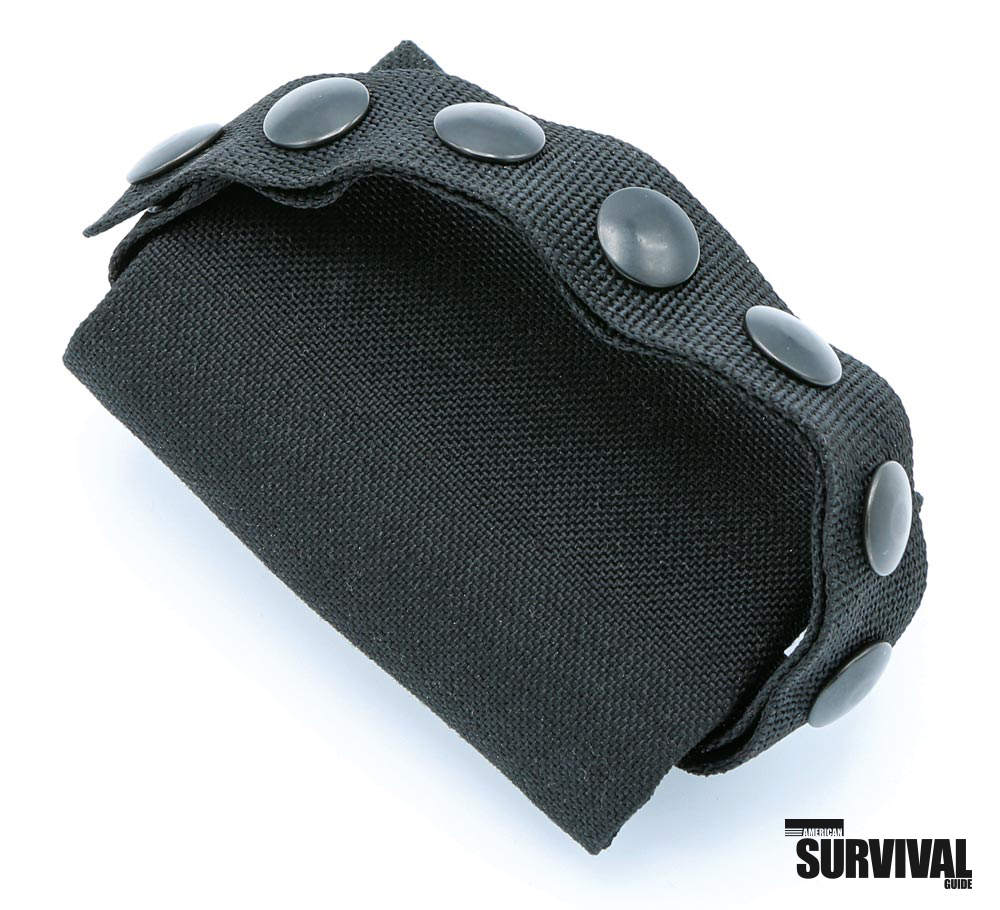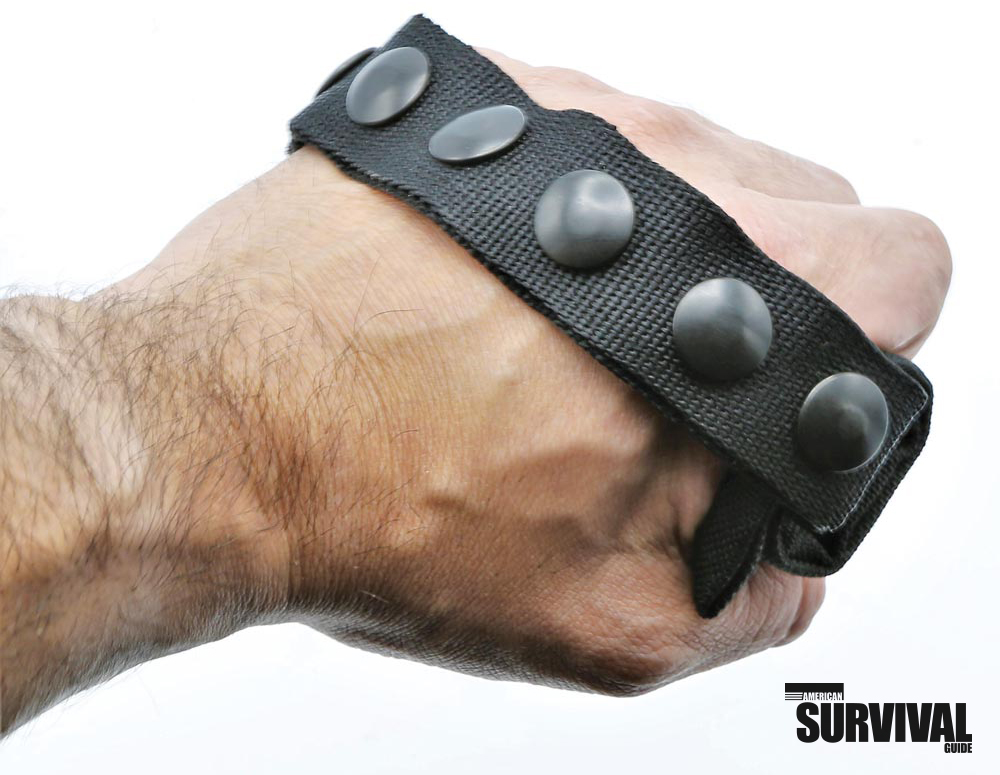 The SlapSack can be used in a powerful palm strike, a slap or as a fist support if the user is punching—a unique way of combing self-defense with a coin purse. Currently, the SlapSack is only offered in black and is completely "sterile" (no tags or logos). In my opinion, this is a new take on self-defense and travel gear.
SlapSack
Specifications
Material: Cordura 1,000D nylon
Pouch dimensions: 3×4 inches
Hand strap adjusts with 7 DOT snaps
Weight: 2 ounces
Available in black
MSRP: $34.95
Tuff Possum makes a wide variety of pouches and bags for wilderness travel and everyday carry (EDC). I've been a longtime advocate of carrying a small pouch that holds a handful of important items; it makes me feel comfortable when I walk away from my pack and camp. When I'm camped, it's the last thing I take off before sleep and the first thing I put on in the morning. I refer to it as a "possibles pouch."

As with EDC, what goes into a possibles pouch will differ, depending on the person and location. To avoid an exhaustive list of what I carry or what I feel should go into one, I'll share what George Washington Sears (better known as "Nessmuk") wrote about in the early 1900s. He described his possibles pouch as being 4×6 inches in size and weighing 2½ ounces (empty). It held 12 hooks and a sharpening file, four 6-yard lines, sinkers, three darning needles and a few common needles, sewing silk and thread, a dozen buttons, a ball of yarn, sticking salve, shoemaker's wax, beeswax, vials of pain killer and fly medicine, two or three "gangs" of hooks on brass wire snells, string, bits of linen and other light duffel, a waterproof match safe, a compass, scarlet flannel for frogging and copper tacks. So, basically, a possibles pouch is a kit that includes items you can keep handy for quick access for emergency situations.


I've looked for pouches that match that weight or less, if possible. The Tuff Possum Belt Pouch is pretty close, measuring 5x4x3 inches. It's made from durable Cordura 1,000D nylon and sports a heavy-duty #8 YKK zipper with 550 cord zipper pulls. Needless to say, this pouch is durable; maybe it's even overbuilt for a pouch that's meant to attach to your belt.
I don't wear my possibles pouch on my belt (because it sure gets in the way when "nature calls"). I use a carabiner that attaches to two belt loops on my left side for quick access and easy on/off. In the hammock, I can attach the pouch to my ridgeline above my head when rain is imminent. And, although I'm not a fan of zippers in the outdoors, this pouch has certainly made me a believer. I'm confident this is a solid pouch that will give me years of service.
Belt Pouch
Specifications
Material: Cordura 1,000D nylon
Dimensions: 5x4x3 inches
Two webbing loops fit up to 2-inch belts
Weight: 3 ounces
Available in Coyote Brown and Ranger Green
MSRP: $37.50
Tuff Possum Gear mentions bushcraft and survival guru Mors Kochanski as an inspiration for the Multipurpose Survival Scarf. Over many years and having gone through innumerable experiences, Tuff Possum's Miller experimented with quite a few variations of his own designs. Basically, this scarf is a tubular piece of material that's sealed at one end. This construction offers multiple options: Use it as a bag, a lashing means, a cold-weather clothing accessory and signaling device, to name just a few.

The Multipurpose Survival Scarf measures 17×58 inches and weighs about 6 ounces. When I first saw this item on the Tuff Possum Gear website, my mind reeled with all the possibilities that weren't listed. For instance, despite the outer color, these scarves all feature a "safety orange" interior, allowing them to be turned inside out and used as a signal panel or to be worn during hunting season as a sash or belt. Whatever the end user decides to do with the Multipurpose Survival Scarf heavily depends on where they are, what they already have with them and the weather.
When I received my scarf, it was early spring and still cold. Naturally, I tried it out as a scarf by folding it in half, making it narrower. Then, I folded it in half, wrapped it around my neck and passed the free ends through the loop end to secure it. I opted to wear the scarf with the green side out in order to attract less attention in the forest, where the trees were starting to grow new leaves.


Because it was springtime, this meant wild edibles were popping up around the forest. Wild spring onions and ramps were sprouting. So, in addition to my regular wood foraging, I was also on the lookout for these treats. The Multipurpose Survival Scarf was my foraging go-to sack for collecting forest offerings. I also used it carried over my shoulder as a large gathering sack for heavy firewood.
For warmth and part of my woods bedding, I used the Multipurpose Survival Scarf in my hammock underneath my legs to fill the void between my torso-length foam pad and the foam pad for my feet. Having the ripstop material under this vulnerable area provided a little more protection from drafts and acted as a thermal barrier. I recall that on one unseasonably cold night, I only had my summer bivy and needed to slip the Multipurpose Survival Scarf over my feet and legs for additional warmth.
Another way it came in handy as part of my sleep system was as a pillowcase for the Tuff Possum Multipurpose Sit Pad, which I use as my hammock pillow. A few wraps around the pad adds some warmth and loft.
Some other uses include transporting my semi-permanent camp gear from one camp to another. I simply shove in as much kitchenware and shelter equipment as I can and fling it over my shoulder, Santa-style, and carry it to camp. On one occasion, I used the Multipurpose Survival Scarf as a stash bag, storing a few items inside and hiding it in some green thickets, where it blended right in.
The most useful way I use the Multipurpose Survival Scarf is as a head and neck covering. On cold mornings, I wrap the scarf around me as one would a throw blanket. My favorite way to use it is a way I learned years ago in Peru: I fit it over my head and ears like a beanie and then wrap the remaining length around my face and neck to seal in precious body heat. Obviously, this truly multipurpose garment has earned a permanent place in my camp!
Multipurpose Survival Scarf
Specifications
Material: Ripstop nylon
Dimensions: 17×58 inches
Weight: 7 ounces
Available in 5 solid colors and MultiCam
Reversible to "safety orange"
MSRP: Starting at $42.50
Another useful Tuff Possum Gear item is its Multipurpose Sit Pad. It keeps your butt warm and dry by putting a layer between you and the ground. It measures 15×11 inches overall, and its dual-sided Cordura construction, along with a removable, ½-inch-thick, closed-cell foam pad and grosgrain attachment loops along the perimeter, makes it a terrific multi-use item.
"The Sit Pad is one of the most versatile pieces of gear manufactured by Tuff Possum Gear." 
I use this pad for kneeling and, of course, sitting. It also pulls double duty as a work station for fatwood shavings. And, when I use it as a fan to stoke the coals, it's the perfect mix of lightness and rigidity, as a fan should be. I also put collected tinder that's stored in plastic bags inside the pad by opening the hook-and-loop closure on the top, thus making the Sit Pad into a large pouch.


Three loops are attached to each side. Reverse the pad so the orange surface faces out and use the loops to mount the pad to a pack during hunting season or in rescue situations. Alternatively, rig it as a temporary shoulder bag.
The Sit Pad is one of the most versatile pieces of gear manufactured by Tuff Possum Gear.
Tuff Possum Gear makes equipment for both daily life and exceptional adventures. This company believes a "good" product is a combination of well-thought-out designs and high-quality manufacturing. If you find yourself preparing for an outdoors excursion and you need trustworthy equipment, look for the Tuff Possum Gear label.
Multipurpose Sit Pad
Specifications
Dimensions: 15×11 inches
Weight: 4 ounces
Available in Coyote Brown, MultiCam, MultiCam Black, Ranger Green, Woodland Camo
Reversible to "safety orange"
MSRP: Starting at $33.95
Editor's note: A version of this article first appeared in the March, 2021 print issue of American Survival Guide.