The XD-M ELITE 4.5″ OSP 10MM handgun is Springfield Armory's new powerful addition to their ergonomic XD-M Elite series of full-size pistols.
The XD-M Elite 4.5″ OSP 10mm Handgun
Featuring a META (Match Enhanced Trigger Assembly) trigger, removable magwell, 22+1 capacity (20+1 with short magwell models) and slide serrations, the XD-M Elite series is already an impressive lineup of intuitive, easy-to-use striker-fired pistols. Now, Springfield has added the high-velocity stopping power of the 10mm round to the mix.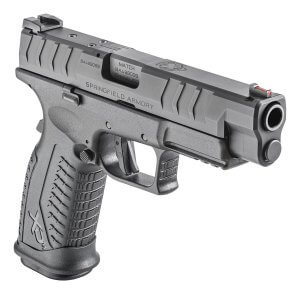 The new XD-M Elite 4.5" OSP (Optical Sight Pistol) sports two stainless steel magazines, each with 16+1 capacity, a META system with a flat face, crisp break and integral overtravel stop. It has a forged steel, Melonite-treated optics-cut slide, milled with a "Springfield Standard"
optical footprint that's ready to pair with any mainstream red dot optic on the market through the use of available mounting plates. The handgun also features an extended/removable flared magwell, improved slide serrations and an ambidextrous slide stop. All features combined, the result is a highly shootable—and remarkably powerful—polymer-framed pistol.
The 4.5" OSP 10mm is outfitted with a strip of Picatinny 1913 rail along the bottom of the dustcover, as well as three grooves for accommodating most any kind of pistol accessory. The frame has chunky, scale-like grip texture anywhere you'd want it that grabs the hand snugly. Springfield has also added a "short" magwell to the bottom of the grip. This magwell is shorter than the standard flared magwells found on the XD-M precision and Tactical OSP models. Such a design makes for an all-around shorter gun, but allows for plenty of flare to seat magazines into the pistol with ease.
Check out our handgun recommendations for the backcountry: BACKCOUNTRY PROTECTION – American Outdoor Guide
THE SPECS
Caliber: 10mm
Slide: Forged Steel, Melonite Finish, Optics Ready
Recoil System: Captive
Weight: 31 ounces
Color: Black
Frame: Black Polymer
Grip Width: 1.2 inches
Length: 7.6 inches
Barrel: 4.5-inch Hammer Forged Steel, Melonite Finish, 1:16
Sights: Fiber Optic Front, Tactical Rack U-Dot Rear
Magazines: 2 (16-round)
Height: 5.75 inches
MSRP: $653