Three power-packed blades with desert roots by Bear Forest Knives
Story and photos by Reuben Bolieu
Garrett Tremblay, founder and creator of Bear Forest Knives (BFK), poses the question, "Is there any greater feeling than finding self-reliance and solitude among the mountains and valleys?"
"All Bear Forest knives and sheaths are proudly made by hand. In fact, the entire supply chain comprises American-made components, and the designs blend traditional practicality with some modern adjustments."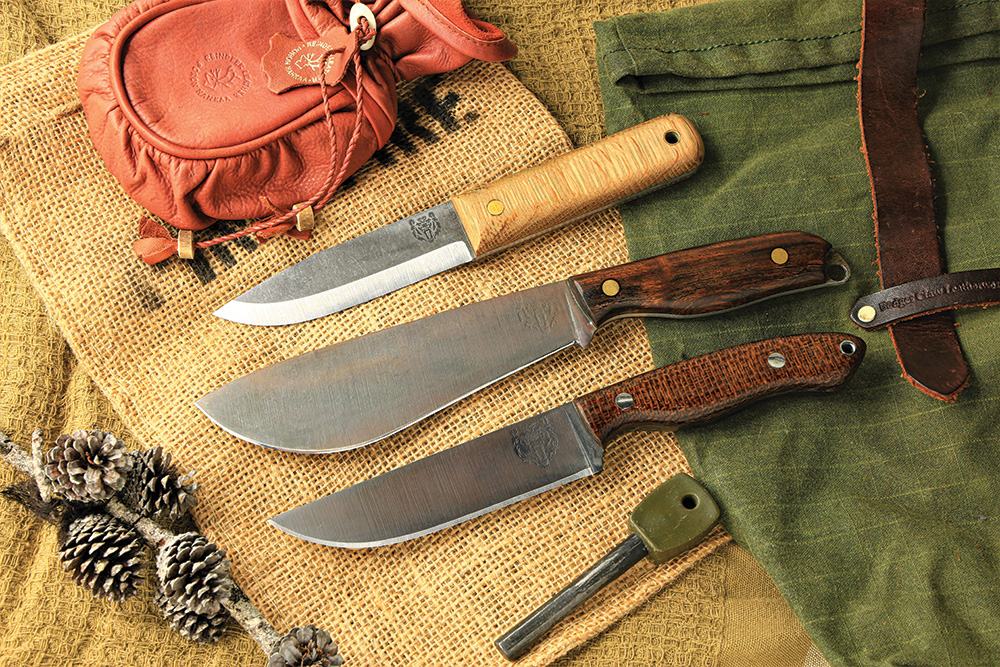 BFK
Bear Forest Knives is based in Palm Desert, California. Working with metal as a fabricator, Tremblay is no stranger to hard work. He's made tools for himself and friends to use on camping and hunting trips, which became his passion. Eventually, he became a full-time knifemaker. Good, honest handcrafted knives made in America are what you get with BFK. He uses a variety of high-carbon steels such as 80CrV2, 1095 and 52100.
"I love these steels because of their strength and durability in real-world applications and the ease of re-sharpening," Tremblay said.

I've been fortunate to use several different Bear Forest Knives models, both prototypes and one-offs, for over a year. However, these three gems are from the company's production lineup. Although there are standard features and colors, everything can still be tweaked—with a little communication with the folks at BFK.
Tremblay sent me two prototypes for his new rustic, puukko-looking knife with a 4-inch blade. Two thicknesses are offered: 1/8 and 3/32 inch. I also received the Sierra Trekker, a stout, 3/16-inch-thick knife with a nearly 5-inch blade. Going bigger, the Mini-Bolo is nearly 6 inches long and is based on a Filipino-shaped bolo knife.
SIMPLE
Indicative of its name, the Bear Forest Knives Simple is just that. It's 8 inches overall with a 4-inch handle and a 4-inch-long blade—simple! It's still in the prototype phase. The company sent both the 1/8- and 3/32-inch-thick versions. This model uses white oak scales, which take on an amazing patina over time. The sheath is a standard, high-quality BFK creation. It's flawless.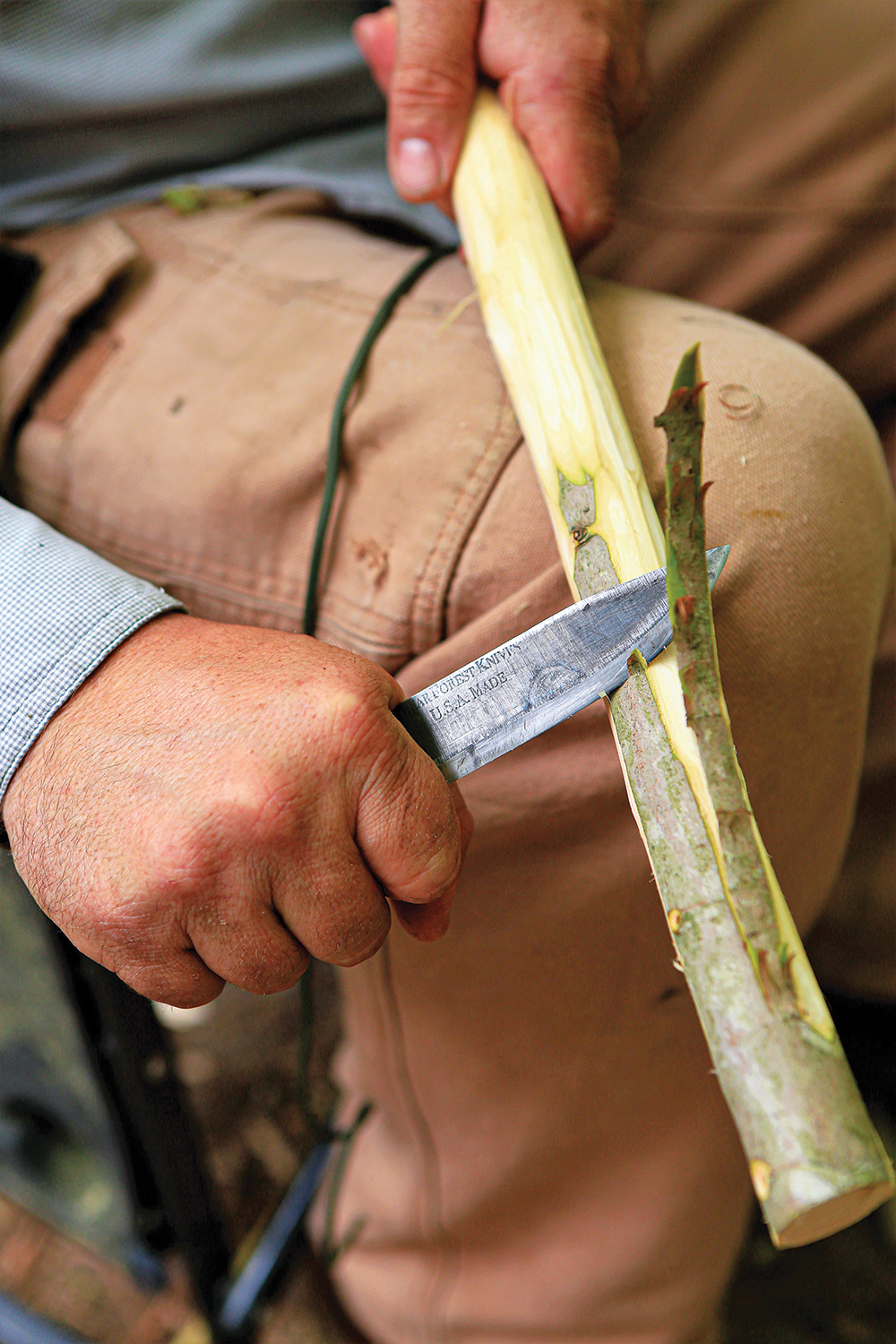 During the months I tested the Simple knives, I was also hanging out with the Randalls Adventure & Training/ESEE Knives crew for a series of classes. That meant that not only did I get to test and use these knives, but so did any interested students. And try they did.
Patrick Rollins was leading these classes in Alabama, and he used the Simple for knife safety and use, as well as crafting. During the school's Advanced Bushcraft Class, the Simple was used to make a bucksaw. All the pieces were carved with the knife as the demo saw. It performed well on greenwood to lightly baton and carve notches.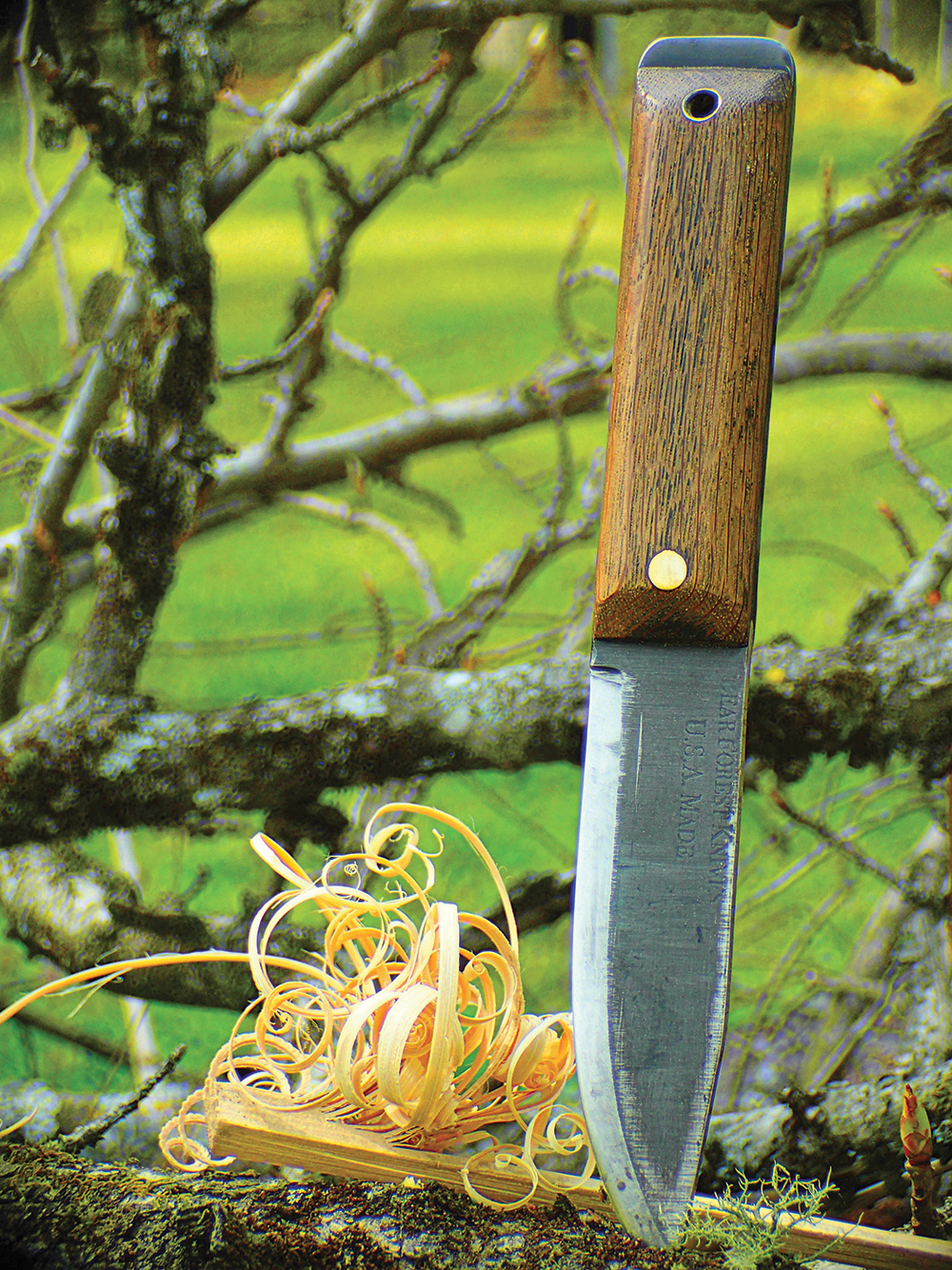 During the fire portion of the class, Rollins made a bow drill set using the Simple to carve dry cedar to make the spindle, fireboard and notch. In addition to that, he showed the students how to process down wood using the knife to get kindling and shave thin feather sticks for tinder. The Simple performed like a champ.
At the Rollins residence in Georgia, it was time to grill. The Simple was used to make some Taiwanese-style kabobs, cutting bacon, green onions, asparagus and mushrooms. Beef stew was also on the menu, and the Simple was called on for some culinary work. Slicing onions, carrots and beef was no problem for its zero-ground Scandinavian blade.
Sitting around while cooking allows plenty of time to work on other crafts. Fire prep for the grill is always welcomed: Poplar, oak and hickory were shaved thin for the next fire and kept dry.
While waiting for the coals to be established for the grill, we used the Simple to make a try stick, which is a practice stick for the variable notches one would use for traps and camp crafts, such as making pot hangers, stakes and fletching.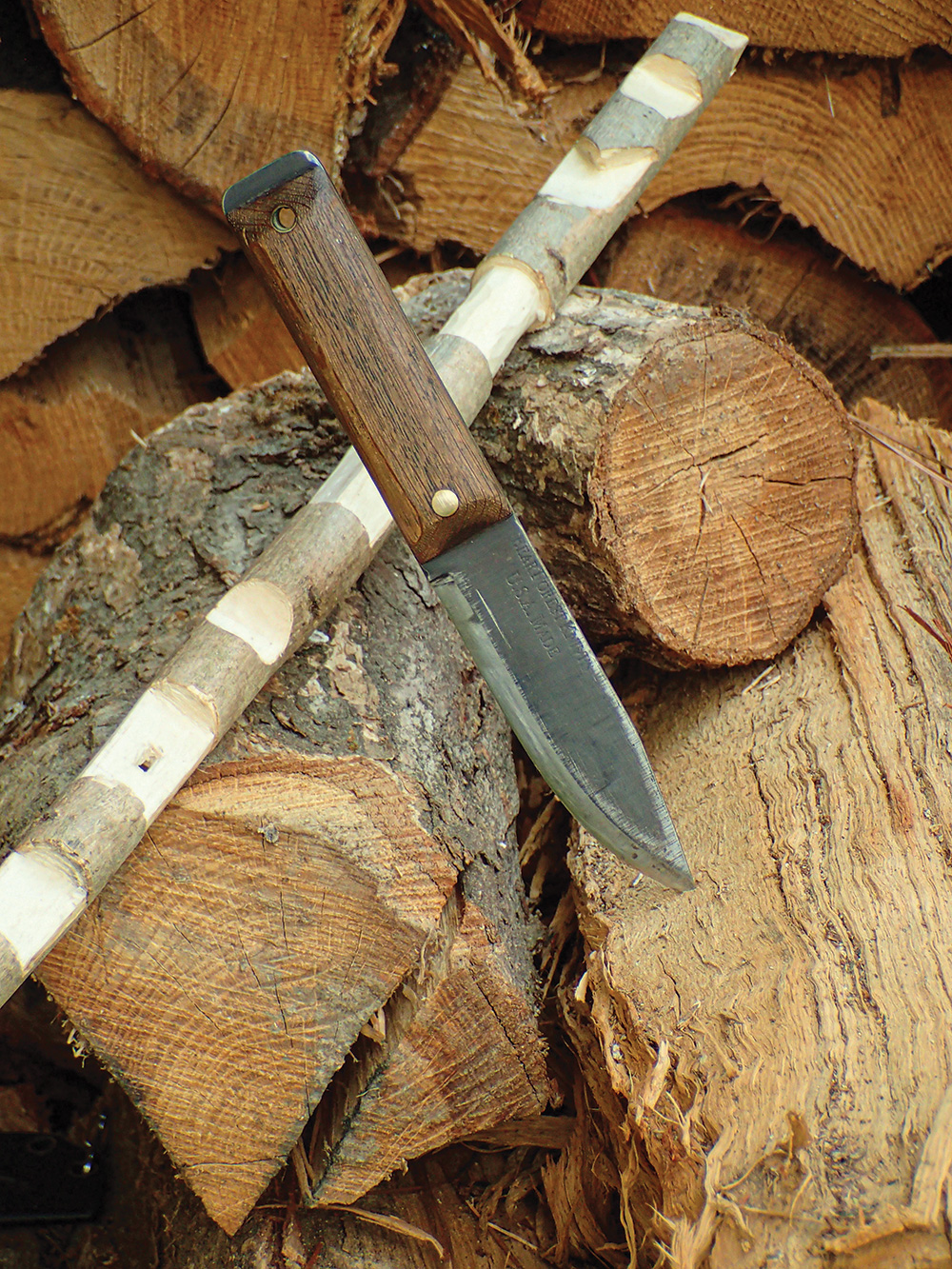 The handle on the Simple mimics popular Scandinavian puukko knives: It features a plain, oval grip without any finger grooves or guard. This type of handle serves as a blank canvas, allowing users to hold the knife however they see fit. This type of knife doesn't need a guard, because stabbing isn't a task regularly associated with these crafting knives; they are slicers/carvers.
The Simple has a versatile sheath that's easily clipped over a belt or a pocket (as a folder does), allowing the knife to ride lower. The thumb-assisting ramp deploys the knife quickly, yet it holds it securely.
BFK managed to create a lightweight, simple, rustic knife full of character and that can keep up with any knives of its size and punching weight—even those in the higher-priced range.
MINI-BOLO
I read years ago that a good woods knife should pull double duty, performing camp crafts and kitchen work. And that includes being able to reach the bottom of … a peanut butter jar. In that case, the Mini-Bolo can rise to the occasion because of its 5 7/8-inch blade and an overall length of 10 inches.
"The BFK Mini-Bolo was used for countless cutting and utility tasks in the kitchen … it was used on whatever was on the cutting board. It excelled at every task and sharpened up with a simple ceramic hone."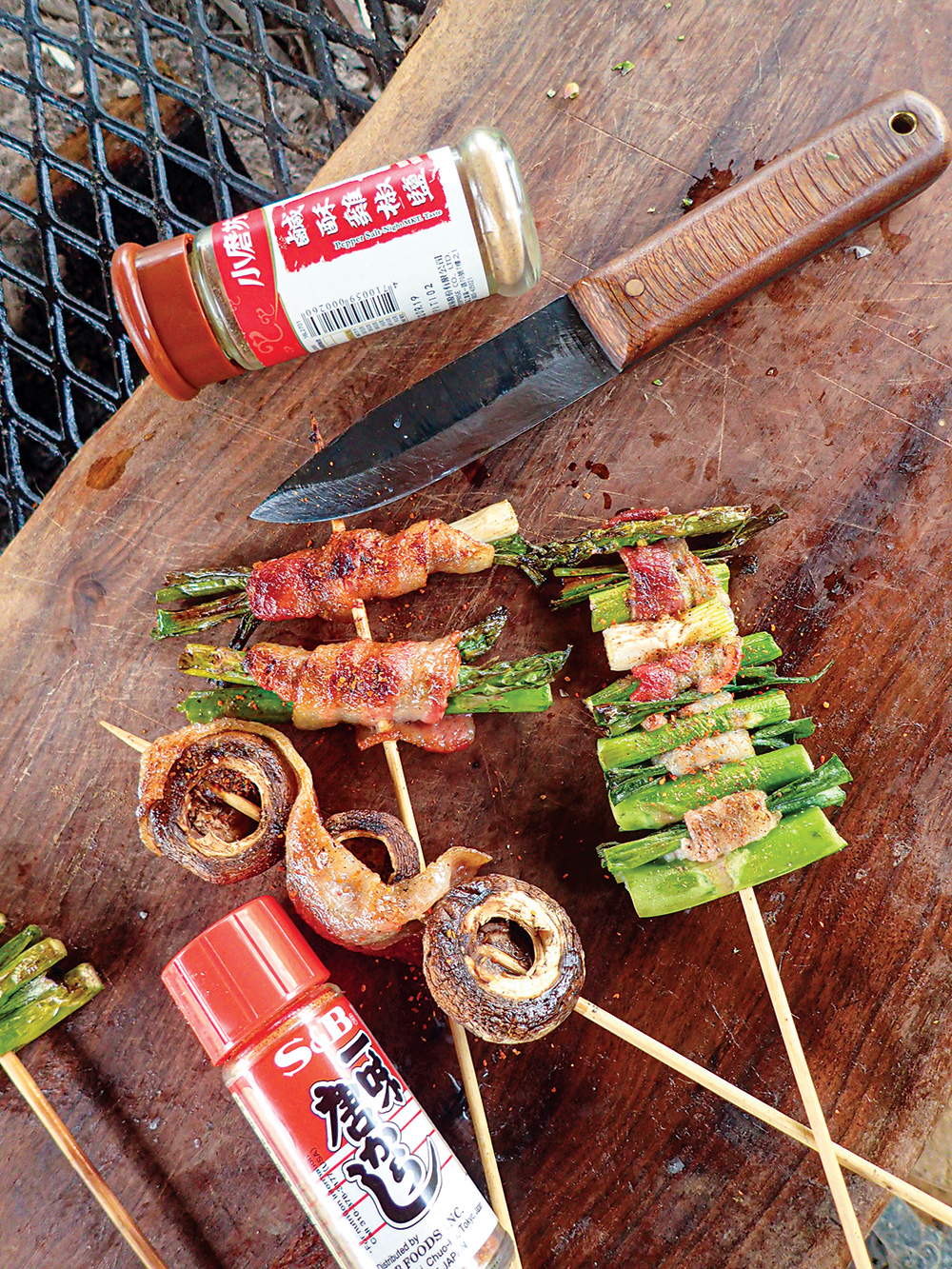 The bolo-style knife has a drop to the blade, making it weight-forward and wider toward the tip. Traditionally having its roots in the Philippines, the bolo is a long utility knife used around the forest and in the yard. In marketplaces, the bolo can be seen cutting fish, meat, coconuts and butchering animals. It's the Filipino equivalent to a Latin American machete. However, it's thicker and often has a stick tang.
The Bear Forest Knives Mini-Bolo takes the general bolo shape and makes it into a medium-sized, fixed-blade knife.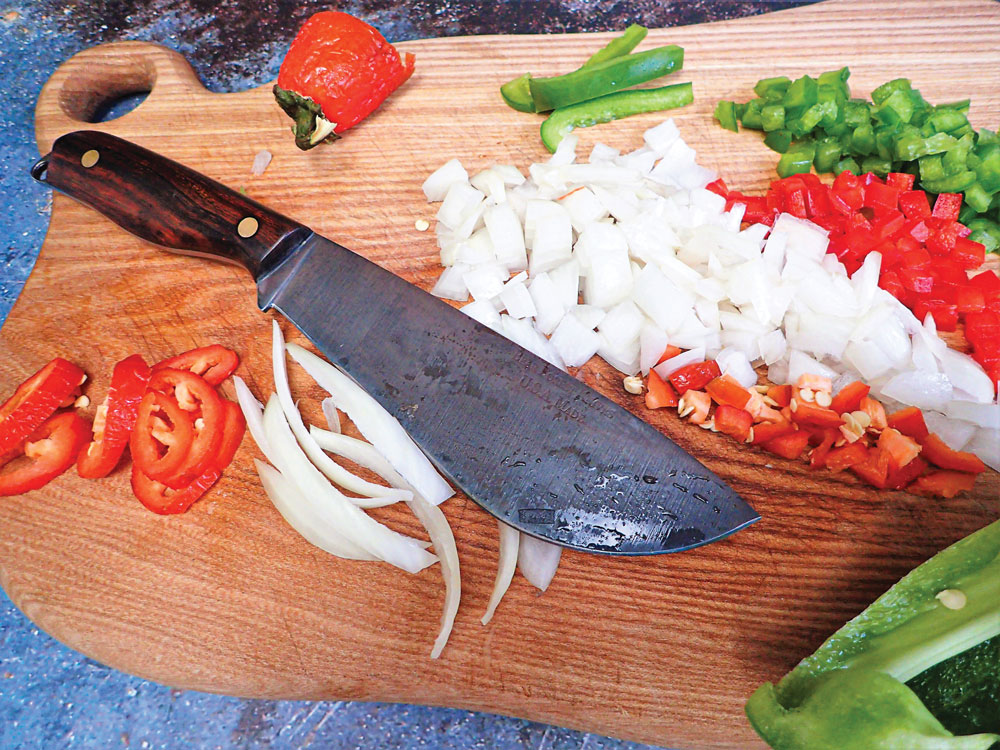 Having spent ample time in the Philippines, I gravitated toward this style as a food prep knife in the kitchen. The large belly calls out to slice and dice. The high saber grind performs like a flat grind, and there's plenty of knuckle clearance because of the large belly. I used a pinch grip, as I do with a chef's knife (or, in my case, a Chinese cleaver).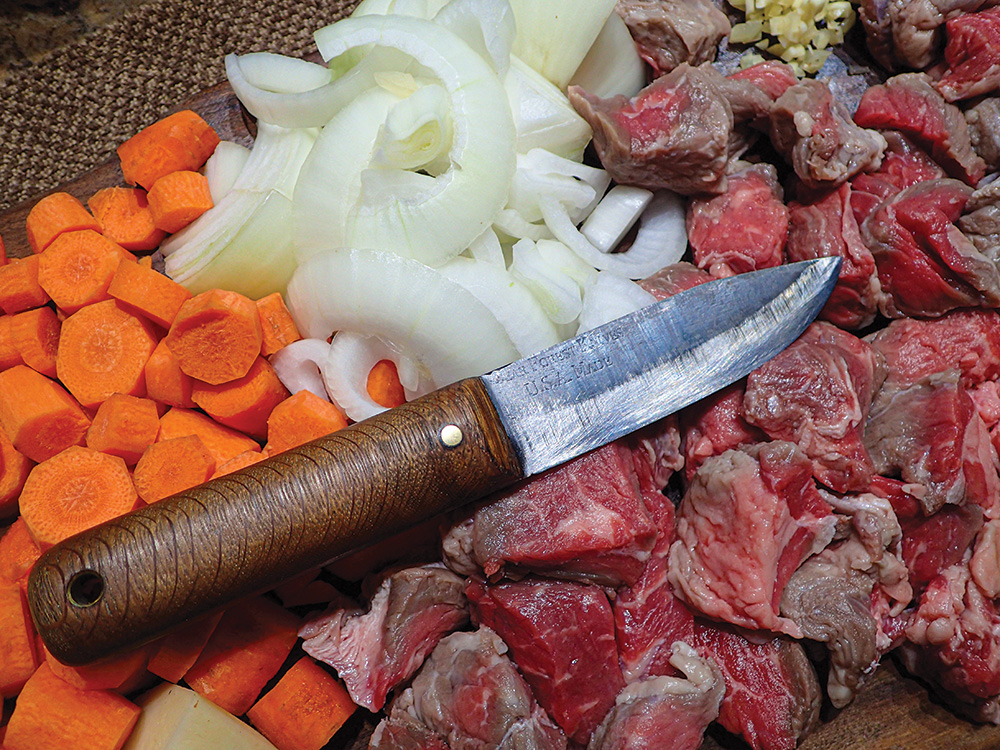 Chili was on the menu, so onions, peppers and jalapeños had to be diced. The Mini-Bolo's blade is wider than most fixed-blade knives in this size category, so sweeping up a pile of diced veggies with the blade and my free hand was a plus. Oven-roasted vegetables were next, so this knife was also used to prepare larger pieces of pumpkin squash, along with wild, foraged oyster mushrooms, peppers, onions and garlic.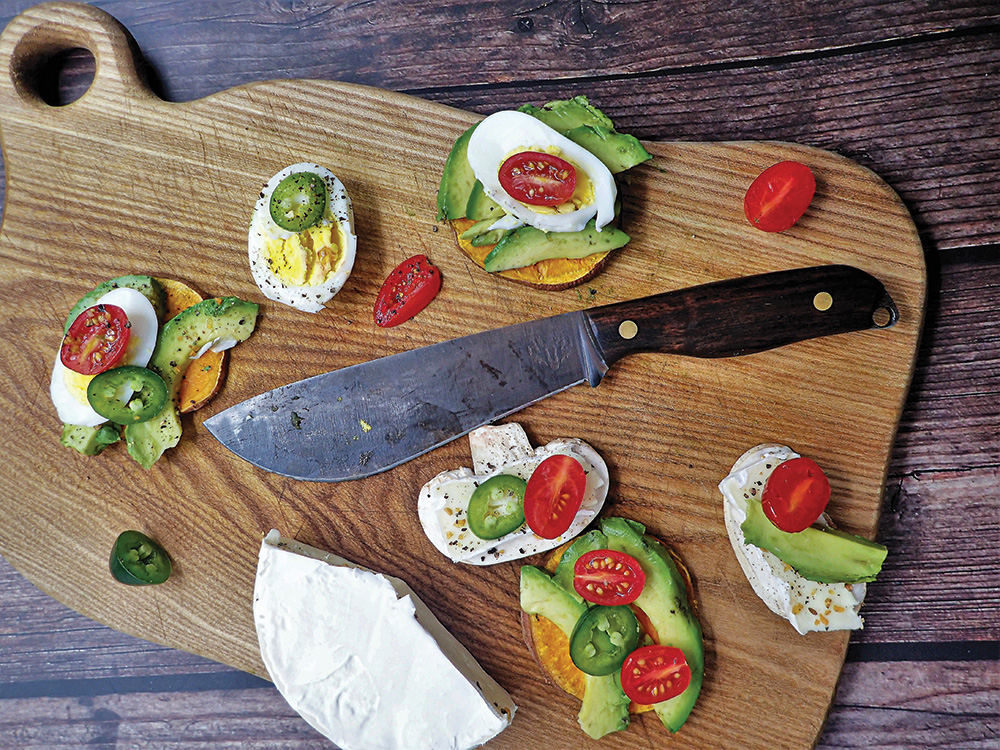 By this time, a nice patina was forming and doing its job in protecting the knife. (And keep in mind that when it comes to carbon steel in the kitchen, it's essential to wash and completely dry the blade before putting it away.)
This brings us to the handle scales.
The Mini-Bolo comes standard as a production knife with natural or black Micarta scales. However, Tremblay had attached desert ironwood scales on my early prototype. It's one of the hardest, rarest and most stable woods on Earth. It won't shrink or move. This naturally stable wood is a bit harder to work, especially on the tools that are needed to cut and shape it.
Ironwood would be an upgrade, which is one good reason to deal with a company such as BFK. An upgrade is easier than with a production company. This type of wood won't be affected by water, humidity and soap in a sink. You can't say that about birch or softer woods. I never noticed any swelling or warping over the two months I used the Mini-Bolo as my main house kitchen knife.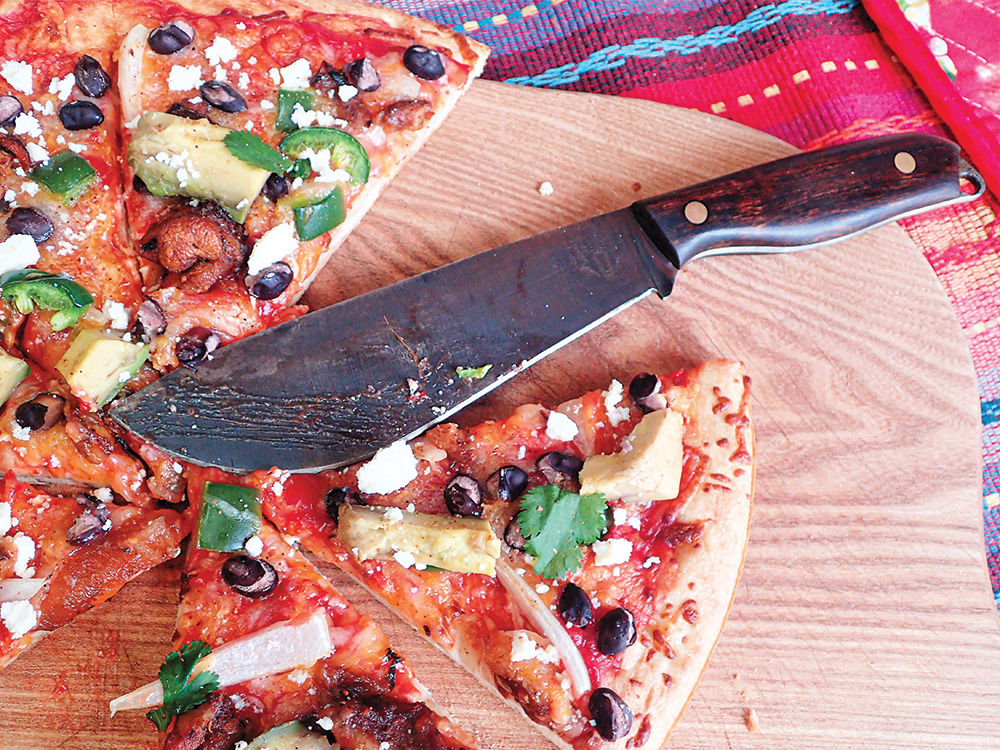 The BFK Mini-Bolo was used for countless cutting and utility tasks in the kitchen—cleaning chicken, slicing meat, acidic vegetables, pizza, avocados, cheese, etc. During testing, it was used on whatever was on the cutting board. It excelled at every task and sharpened up with a simple ceramic hone.
SIERRA TREKKER
Solid and elegant, the Sierra Trekker knife is thick: 3/16-inch-thick 80CrV2 high-carbon steel with a black oxide finish. Its overall length is 9¼ inches, with a 4¾-inch-long, flat-ground blade.
Its handle scales, much as on the other BFK knives, are altogether stunning. Tremblay used brown burlap Micarta on mine, but BFK offers various colors of Micarta and G10 for scales. The sheath is a well-made, taco-style, textured Kydex sheath with a thumb push-off point. It's secure and solid, with many carry options for belt or pocket carry.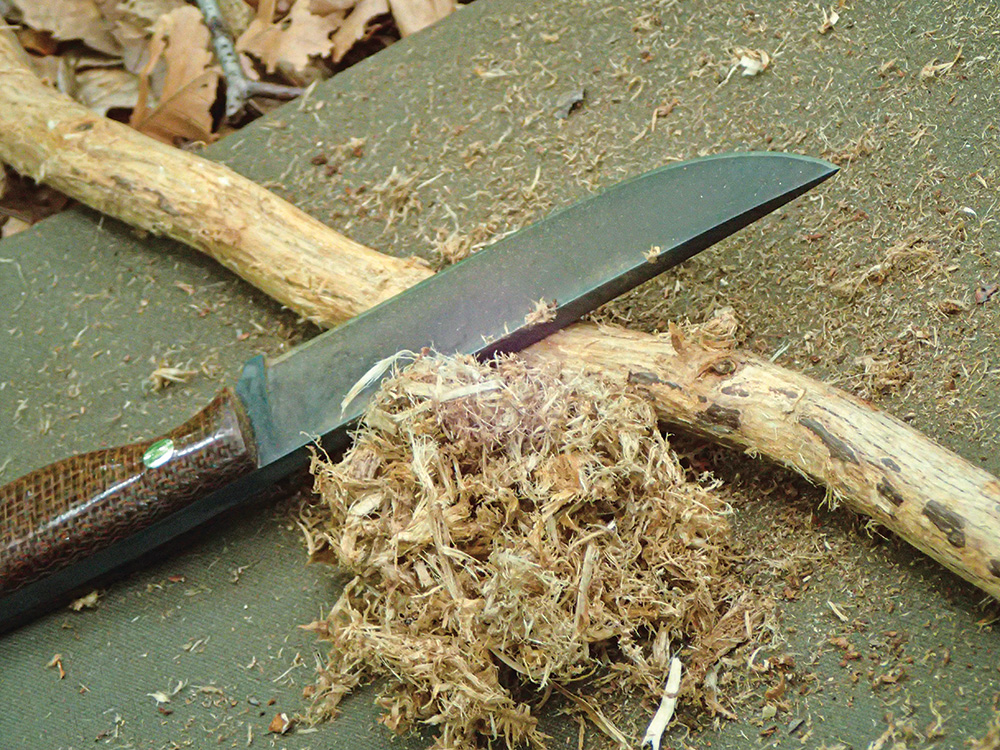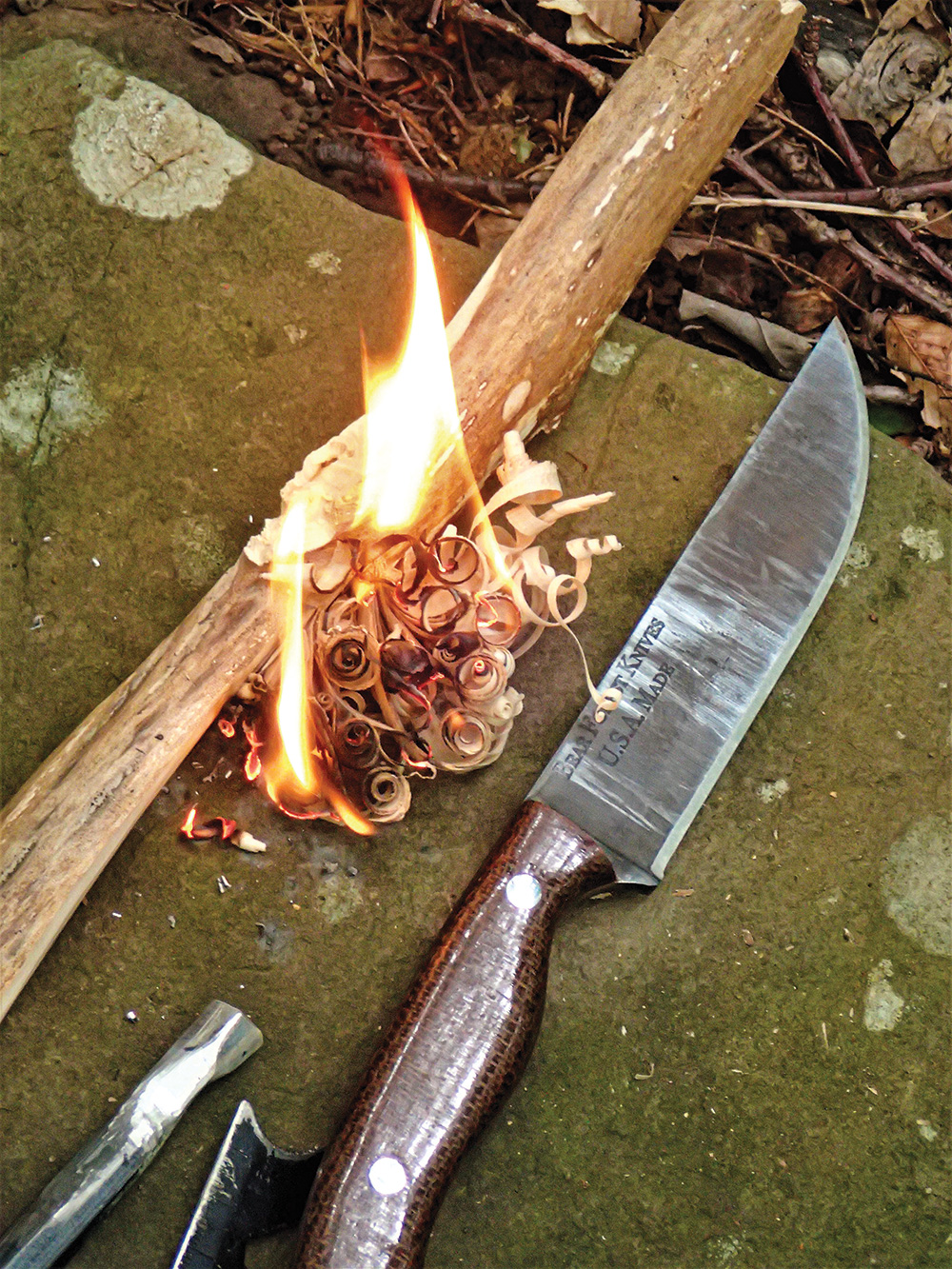 I made a figure-four trap to see how the flat grind would do making crafts. Although the blade stock is thick, the edge was ground nicely and bit deeply into wood. Carving semi-green wood wasn't a problem. I also made a couple of quick stakes for my windblown tarp for a little camp maintenance. I wanted to see how the knife would do with fire preparation tasks such as batoning and splitting wood and shaving it to make feather sticks.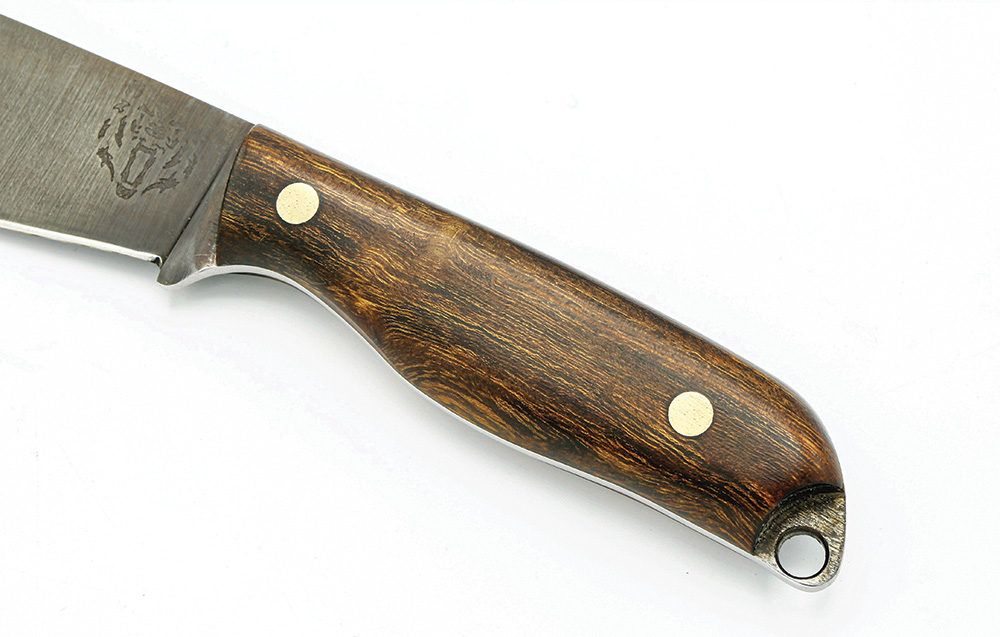 After sawing some wrist-thick pieces of wood, I used the Trekker's long, thick blade to baton the wood into smaller kindling pieces. The extra length and thickness were quite obvious. Aside from large choppers, I generally prefer to use thin knives. However, the benefits of the Trekker's longer blade being able to tackle wider pieces of wood and wedge them easier due to its 3/16-inch thickness was apparent.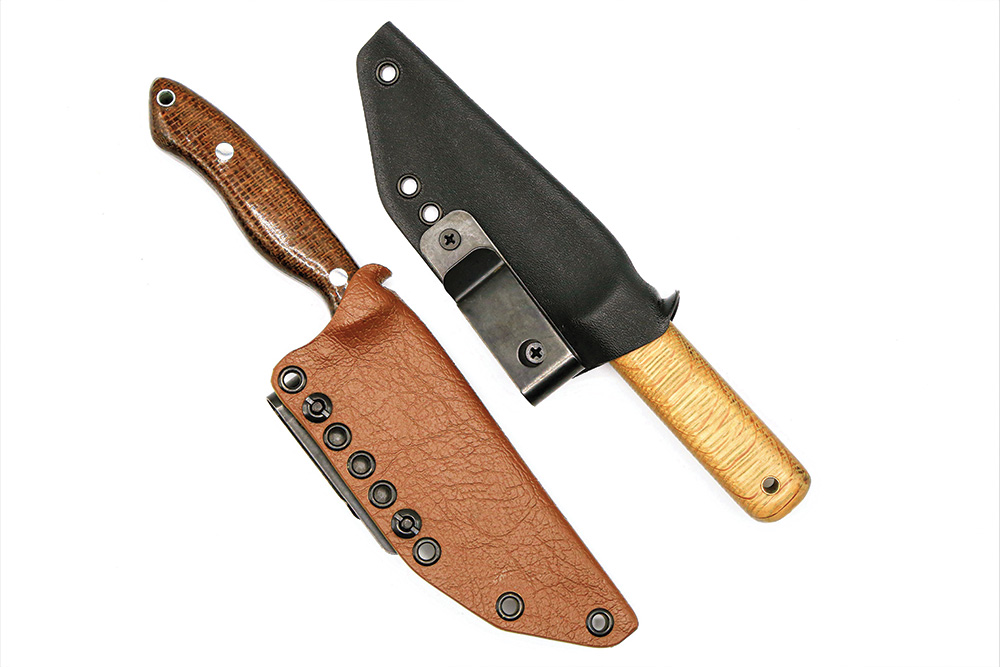 I split thinner, longer pieces using the knife in an icepick grip and contact-splitting them by placing the tip in the far end of the wood, raising the knife and wood together, and then bringing them down together on a solid wood surface. Once the knife tip penetrated the wood, it only took a quick lateral twist of the wrist to split the wood.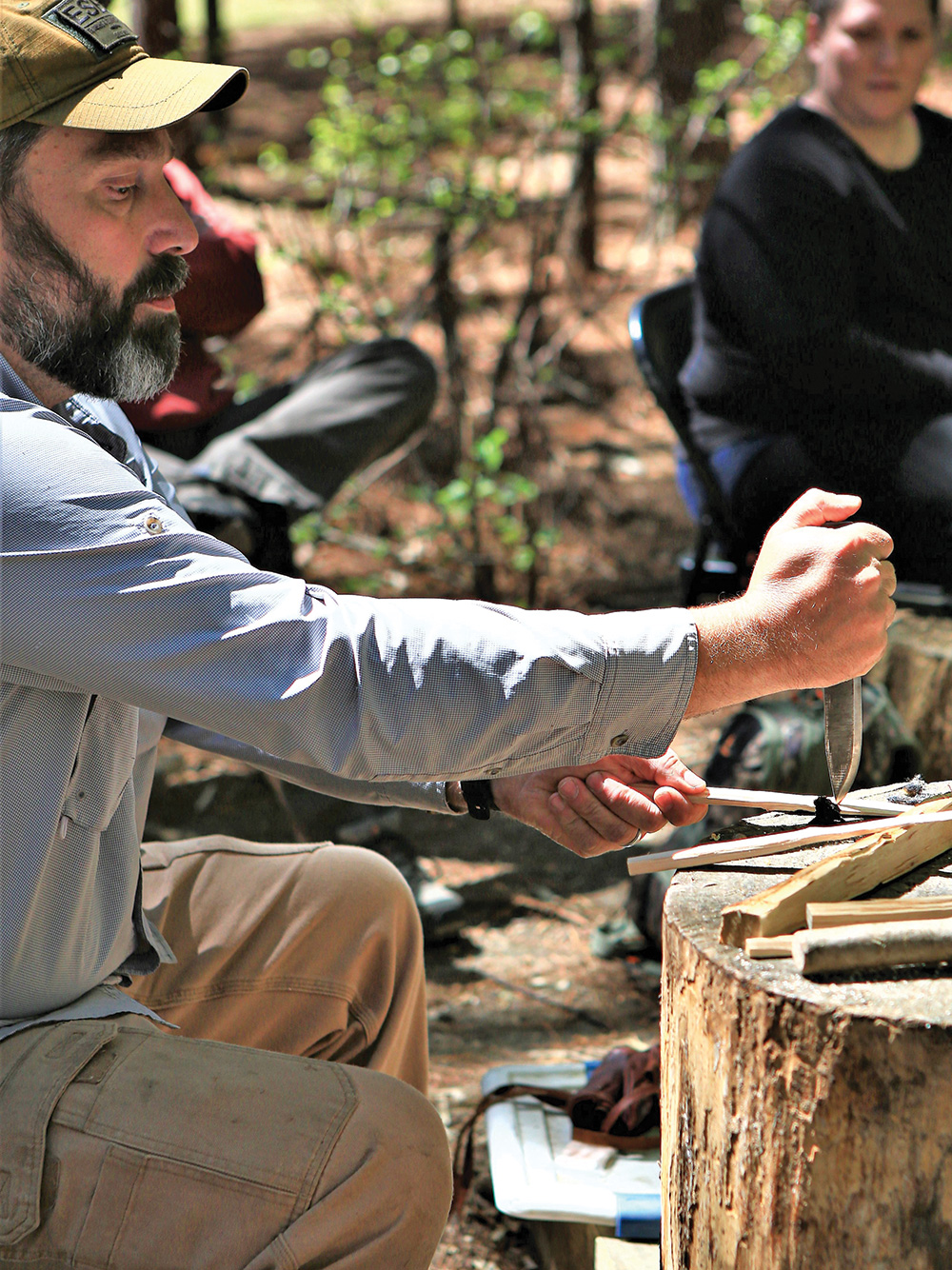 Processing it down further, I made feather sticks for kindling, along with even thinner feathers as tinder. The spine of the Sierra Trekker is straight-backed. However, the blade has a constant curve toward the tip, which makes very curly shavings that are ideal for igniting with a ferrocerium rod. To process even finer tinder, I used the spine to scrape poplar bark while it was still on the wood. This resulted in a pile of very fine poplar bark ready to ignite with a spark. Both tinders made with the Sierra Trekker easily ignited with a ferrocerium rod—as expected.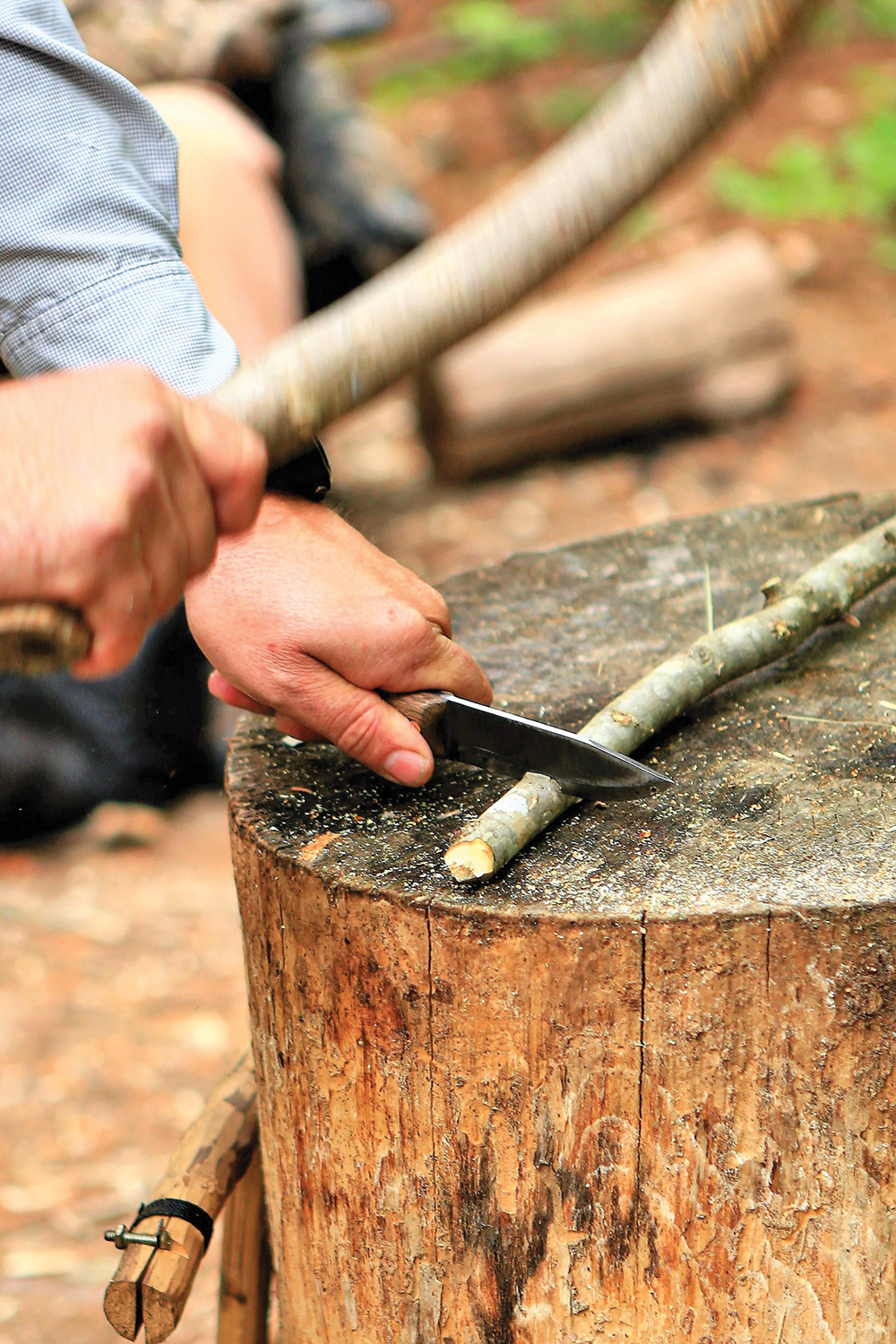 The black oxide finish isn't a coating. It looks like a patina at first, but it's up to the user to either oil the knife or let a patina form to protect the steel in humid or wet conditions. Of course, a forced patina is always an option as well.
MADE BY HAND
All Bear Forest knives and sheaths are proudly made by hand. In fact, the entire supply chain comprises American-made components, and the designs blend traditional practicality with some modern adjustments. Bear Forest knives are purpose-built for these moments, as well as for all the daily tasks that happen in between.
"Solid and elegant, the Sierra Trekker knife is thick— 3/16-inch-thick 80CrV2 high-carbon steel with a black oxide finish. Its overall length is 9¼ inches, with a 4¾-inch-long, flat-ground blade."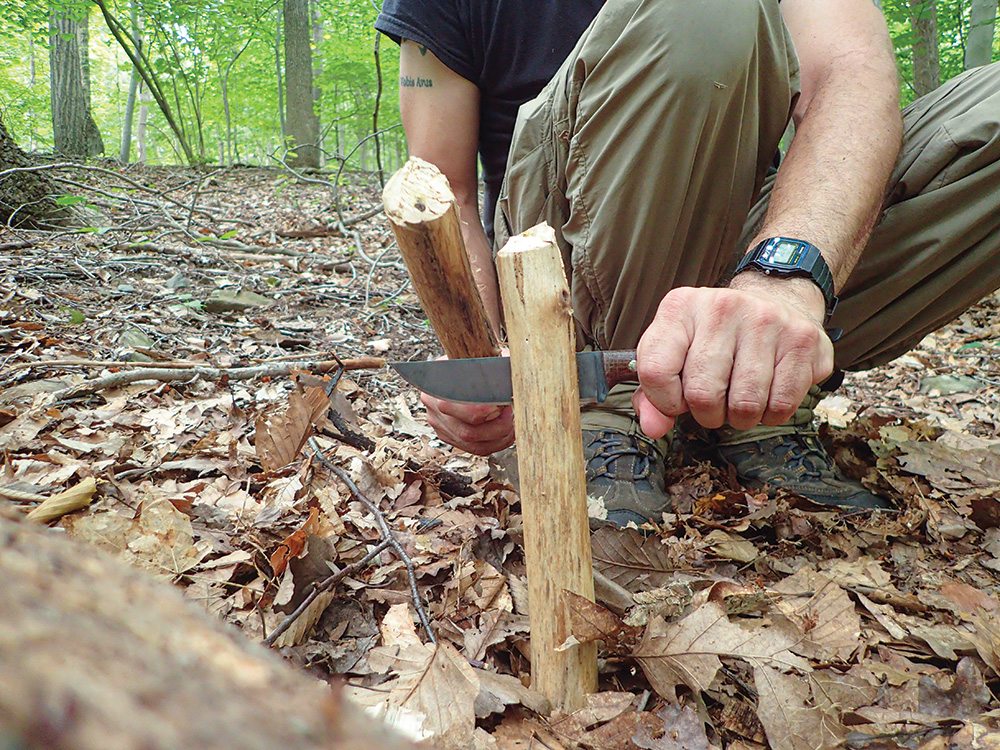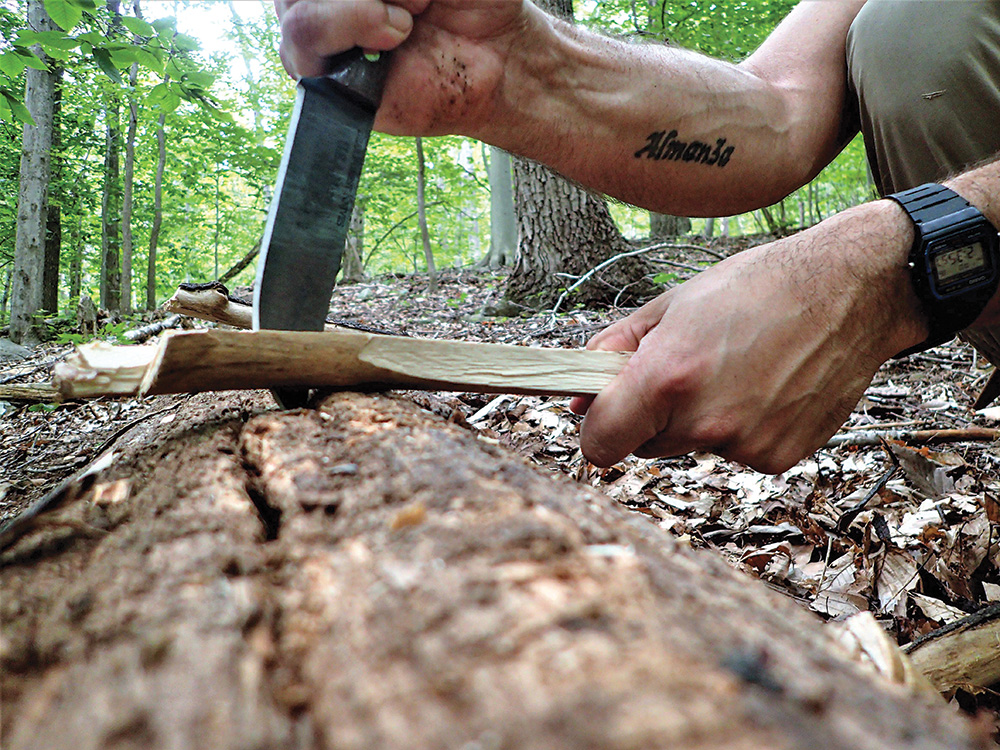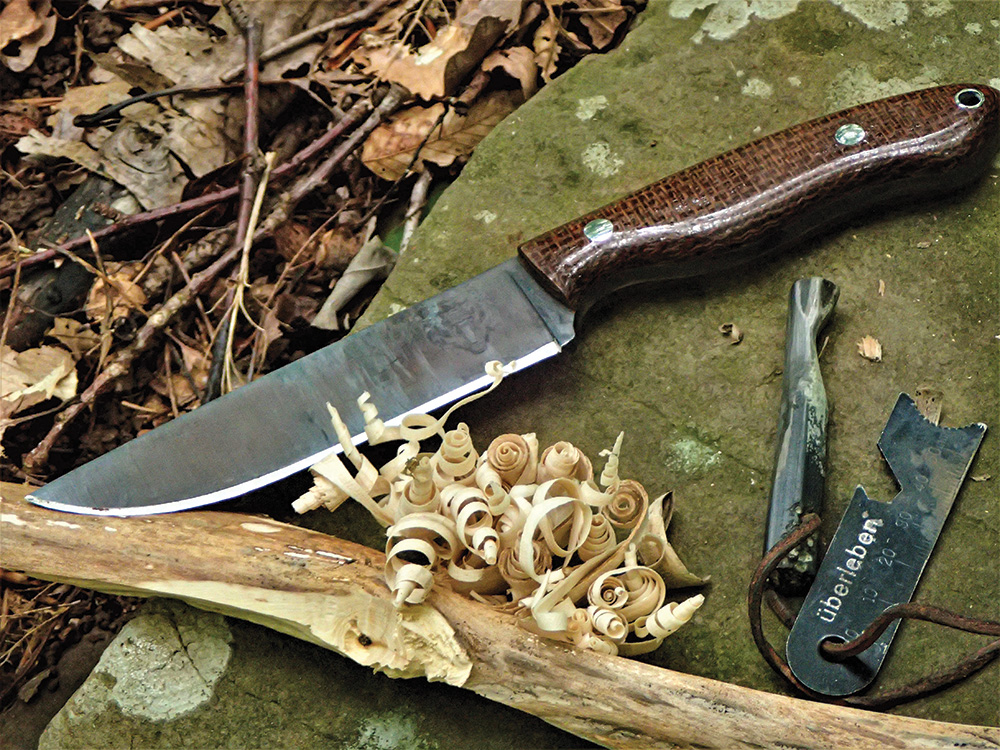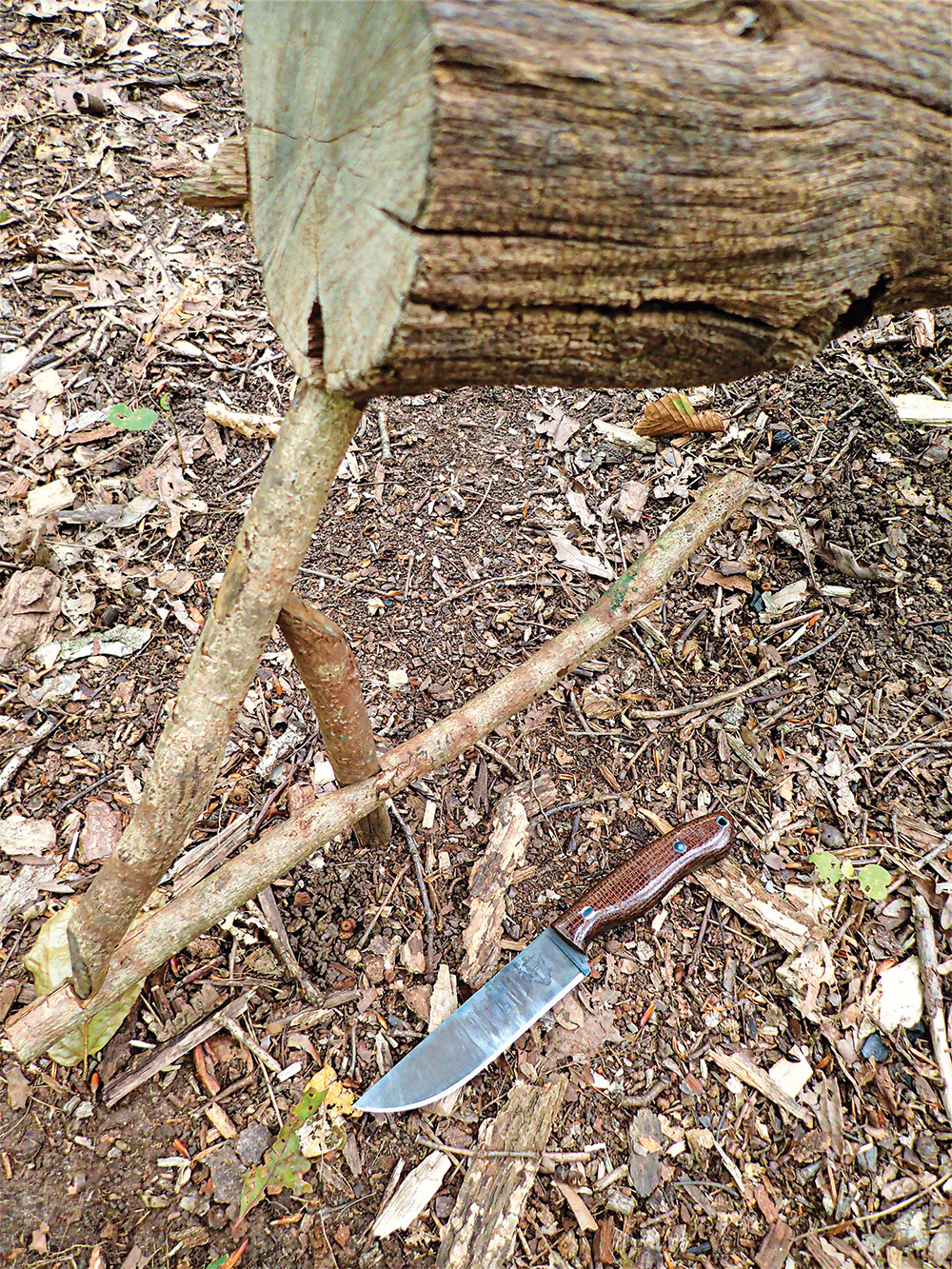 Specifications 
Simple Knife
Overall length: 8 inches

Blade length: 4 inches

Thickness: 0.125 inch

Steel: 52100 high carbon

Grind: Scandinavian zero grind

Finish: Rock-tumbled acid wash

Handles: White oak

Sheath: Kydex

Origin: U.S.A.
MSRP: $99
---
Sierra Trekker
Overall length: 9.25 inches

Blade length: 4.75 inches

Thickness: 0.187 inch

Steel: 80CrV2 high carbon

Grind: Full flat

Finish: Black oxide

Handles: Brown burlap Micarta

Sheath: Kydex

Origin: U.S.A.
MSRP: $189
---
Mini-Bolo
Overall length: 10 inches

Blade length: 5.875 inches

Thickness: 0.187 inch

Steel: 1095 high carbon

Grind: Saber

Finish: Worn black oxide

Handles: Desert ironwood

Sheath: Kydex

Origin: U.S.A.
MSRP: $229
DESERT IRONWOOD HANDLE SCALES
Bear Forest Knives is located in the California desert, so it seems fitting that the company's founder, Garrett Tremblay, would use something local and authentic.
His scales have always been impressive, but the company's knives that feature desert ironwood are something special.
Desert ironwood grows predominantly in the deserts of Arizona and California, as well as in Mexico. Its coloring can vary from an orange-ish yellow to darker red or brown with dark violet-to-black streaking.
Desert ironwood is considered one of the most highly regarded woods for knifemaking due to its unparalleled density, stability, unique coloring and natural luster. Processing this wood requires very sharp tools as a result of its considerable hardness and density.
Desert ironwood handle scales offer a stunning finish similar to glass and are silky smooth to the touch.
SOURCE
BearForestKnives.com
ContactUs@BearForestKnives.com
---
A version of this article first appeared in the February 2022 issue of American Outdoor Guide Boundless.