New Adamas blade steel nudges them from venerable to invincible.
When Benchmade was first incorporated in 1980 under the company name, Bali-Song, Inc., there was no way to know what the company would produce. However, throughout the sometimes-storied history of the company, one thing has remained constant: The ethos of the Benchmade product line has always revolved around producing the highest-quality cutlery possible. Since its humble beginnings producing handmade butterfly knives in a small, rented shop in California, the Benchmade product lineup has matured to encompass an incredibly diverse assortment of cutlery.
"While the Adamas fixed blade was a minimalist design, the Adamas folder embodied the term, 'overbuilt.' The Adamas folder was big for a folding knife, and it was designed to stand on its own."
Benchmade roughly divides its lineup of knives into three classes:
The Blue Class of Benchmade knives encompasses a wide range of products that are in regular production. This includes everything from fixed-blade hunting knives to EDC folders … and everything in between.
The Gold Class takes carefully selected Benchmade designs and hand fits them with premium, specialized materials. While this class of knives is as capable as the rest of the Benchmade lineup, Gold Class knives are designed for the discerning collector.
The final class of knives is Benchmade's Black Class. These knives are designed and built for military, law enforcement and public safety users. Knives given a "Black Class" designation are made from premium materials using rugged, functional designs and are intended to be trustworthy companions when lives are on the line.
Adamas Series
It's this class to which the Adamas series of knives belongs.
When the Adamas line was introduced, these knives were intended to provide their users with two options for a lightweight, durable, general-purpose knife. The blade steel used for both the folder and the fixed blade was D2 tool steel. D2 has been around since World War II and has a reputation as a hard-use steel capable of holding its edge better than other blade steels.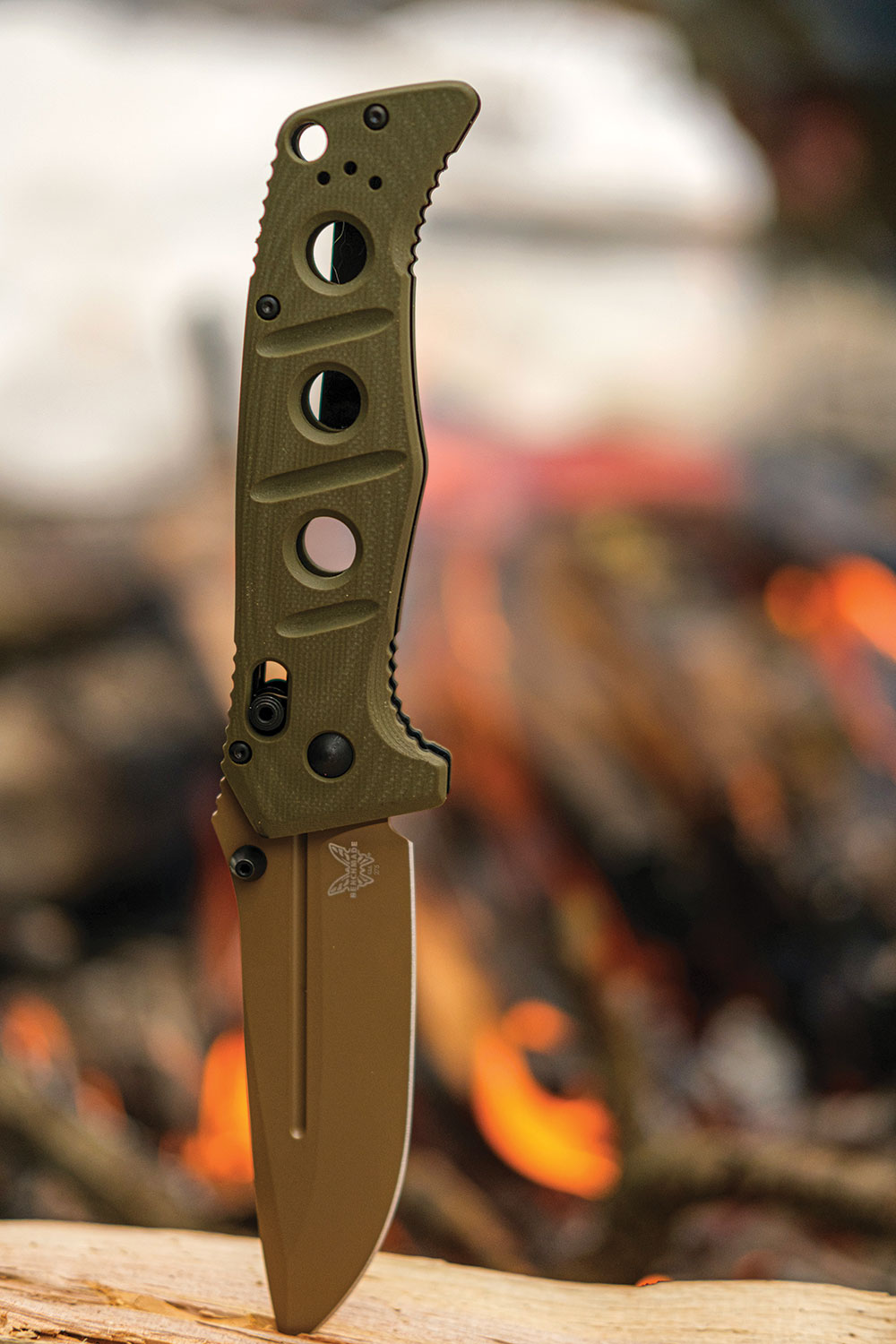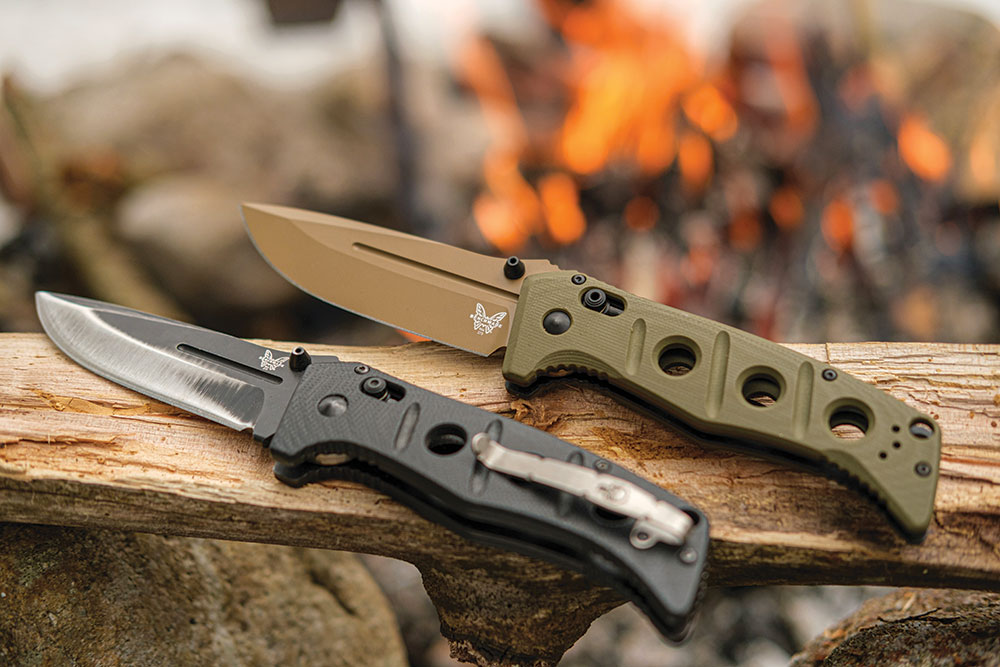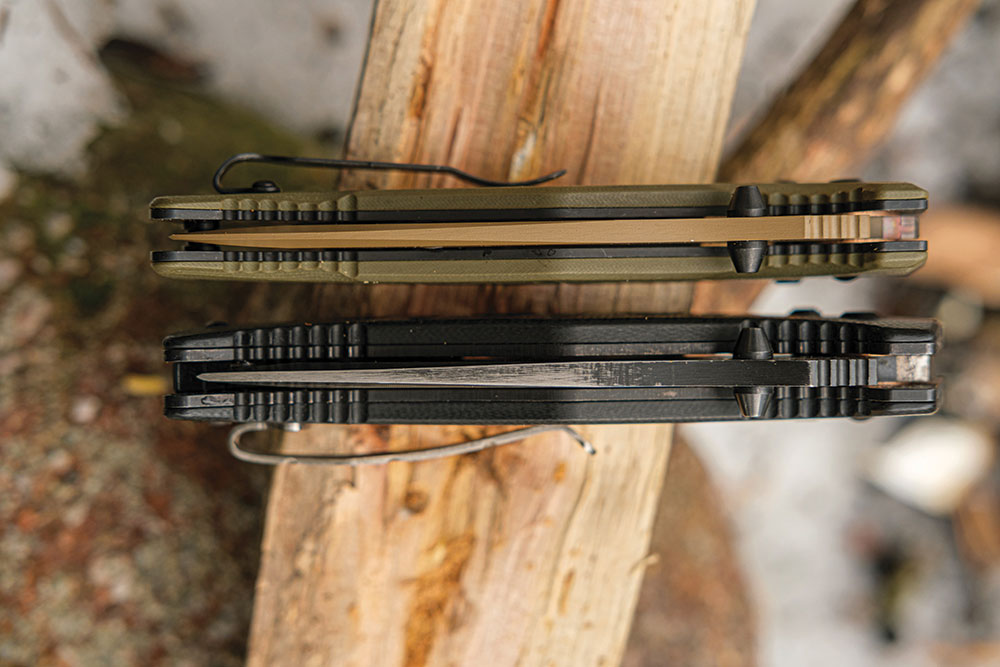 While the Adamas fixed blade was a minimalist design, the Adamas folder embodied the term, "overbuilt." The Adamas folder was big for a folding knife, and it was designed to stand on its own. The Adamas line was designed to provide maximum capability in austere environments while adding minimal bulk and weight to the user's loadout.
21st Century Steel
While D2 was, and continues to be, an excellent blade steel, it's not without its drawbacks. D2 blades are tough and resistant to major damage, but they can be prone to developing chips in the edge in extreme circumstances. This leads to D2's other drawback: It can be a major chore to sharpen.
D2 served the Adamas line well for many years, but Benchmade chose to refresh the line with a brand-new steel: CPM (Crucible Particle Metallurgy) CRU-WEAR.
This steel is now the official steel of the Adamas knife line. A relatively new steel from Crucible Industries, CPM CRU-WEAR is considered an advanced offshoot of D2 that's tougher and more wear resistant than D2. That means it's less prone to damage and will hold an edge longer. It also means that blade stock and edge geometry can be made thinner while retaining the same amount of strength.
Additionally, CPM CRU-WEAR is easier to sharpen and, while not a stainless steel, is highly corrosion resistant. (To learn more about this steel, check out Crucible's CPM CRU-WEAR data sheet at https://www.crucible.com/PDFs/DataSheets2010/dsCPM%20CruWear2015.pdf.)
Adamas 275 Folder
While no folding knife can ever fully replace a fixed-blade knife in terms of sheer strength, the Adamas 275 comes pretty close! From its inception, the Adamas 275 folding knife was designed to be a strong, hand-filling folding knife that was capable of almost any task a knife would be needed for.
While the Adamas 275 has always been intended to be a compact, lightweight, hard-use utility folder, those descriptions are relative to the intended mission of the knife. To create a folding knife capable of performing reliably in extreme conditions, certain design parameters must be met.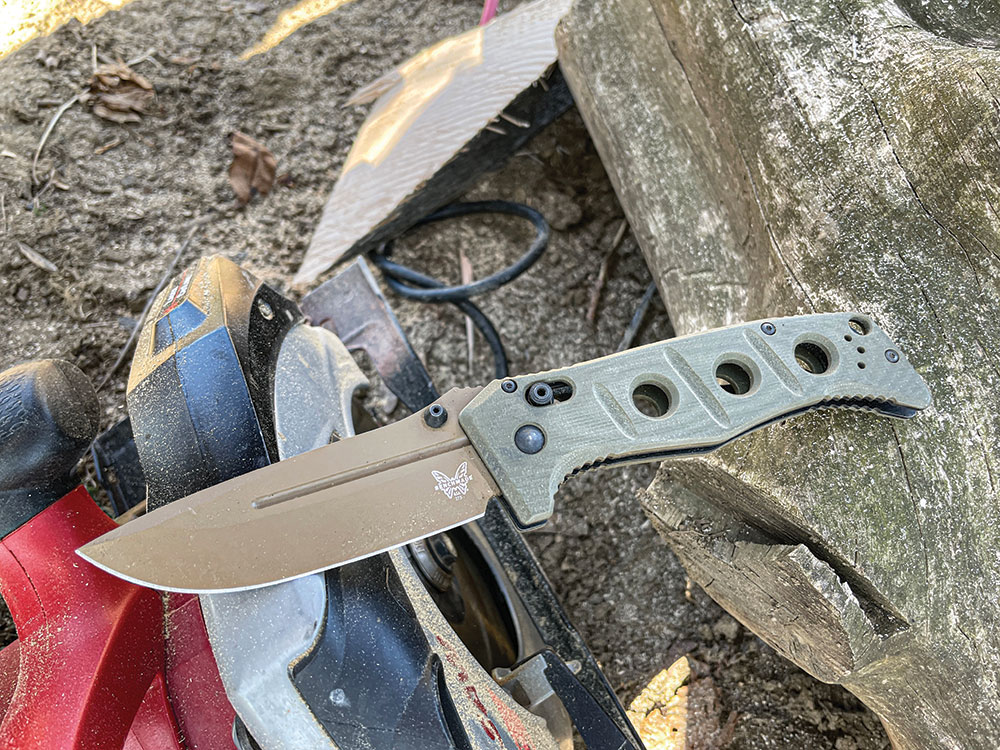 The original Adamas 275 construction can be summed up as being "built like a tank." Everything was thick, solid and substantial. I am friends with Scott Gossman, the knifesmith behind Gossman Custom Knives. Scott is well-known in the knife industry for making heavy-duty, hard-use, fixed-blade knives. The Adamas 275 has been his go-to folding knife for many years. I've personally witnessed him pry, baton and chop wood with his Adamas 275; it's never failed.
While the construction of the new Adamas 275 is still tank-like, it's more akin to a sleeker, slimmer, state-of-the-art "tank" that relies on the strength of modern materials rather than the heavier, "brute-force" construction of the original.
The new Adamas 275 still feels solid and substantial. However, when handling it side by side with Scott's original, the difference in weight and thickness is noticeable.
I generally prefer carrying larger folding knives in my pocket. Whereas the original Adamas 275 felt as if it was a bit too much knife for comfortable pocket carry, the new model is much more pocketable. For those whose preferences lean toward small, EDC-style pocketknives, the included carry pouch could be a welcome addition. For those like me who don't mind a larger blade in their pocket, the new Adamas 275 carries very well.
---
Benchmade Adamas 275 Folder 
Specifications  
Blade length: 3.82 inches
Open length: 8.93 inches
Blade steel: CPM CRU-WEAR (HRC 60-65)
Handle: G10 panels
Weight: 6.45 ounces
Blade lock: Reinforced, ambidextrous Axis
Reversible, deep-carry pocket clip
MSRP: Starting at $280
---
Adamas 375 Fixed Blade
The Adamas 375 was designed to provide a full-sized, rugged, general-purpose utility knife in a lightweight, low-profile package. With no locks or moving parts to contend with, the design approach to the Adamas 375 is able to be much more aggressive.
"The Adamas 375 was designed to provide a full-sized, rugged, general-purpose utility knife in
a lightweight, low-profile package."
The blade is a single-piece design with an integral, skeletonized tang. On the original Adamas 375, the tip of the D2 blade had a small section of sharpened swedge. Additionally, the spine was characterized by deeply cut, scalloped serrations. A length of paracord was delivered with the knife, along with a link to a video tutorial on how to wrap the handle. The polymer sheath was thin, well-constructed, had two levels of retention and was delivered with a Tec-Lok belt clip.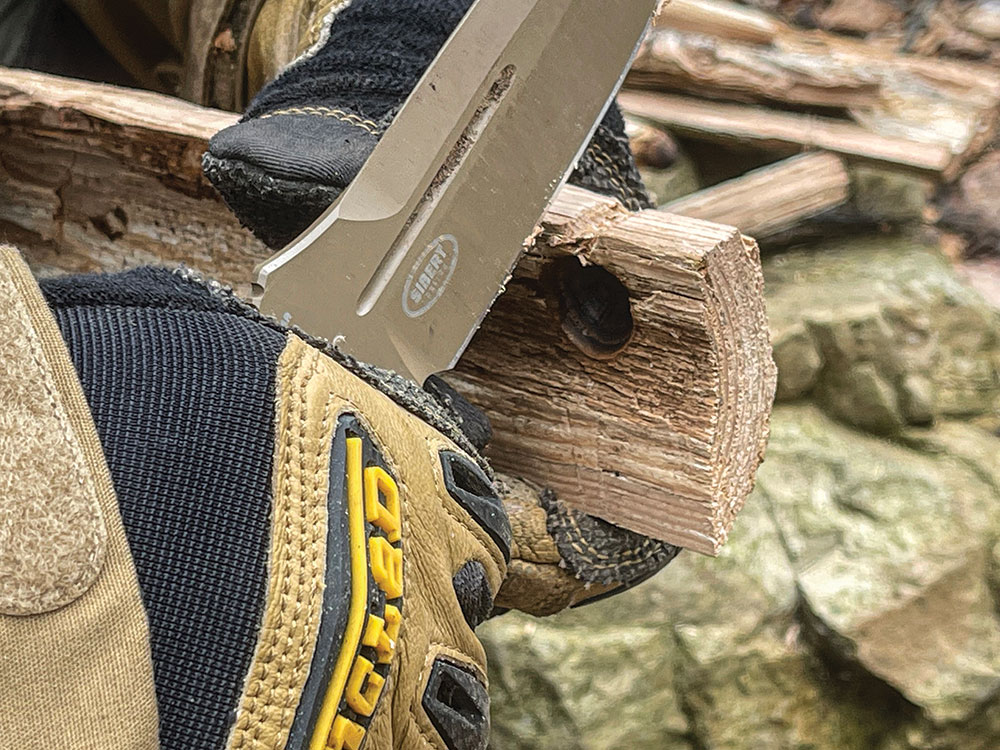 The profile of the new Adamas 375 remains the same. It's now made from CPM CRU-WEAR and features a 4.2-inch blade with a 9.17-inch overall length, just like the original. The skeletonized handle is the same pattern as the original, and the blade is still delivered with paracord and a link to the instructional video. The sheath appears to be unchanged, and the old and new models can be interchanged with no fitting issues. The new Adamas 375 is now issued with a Malice clip for mounting it to a pack, belt or other gear.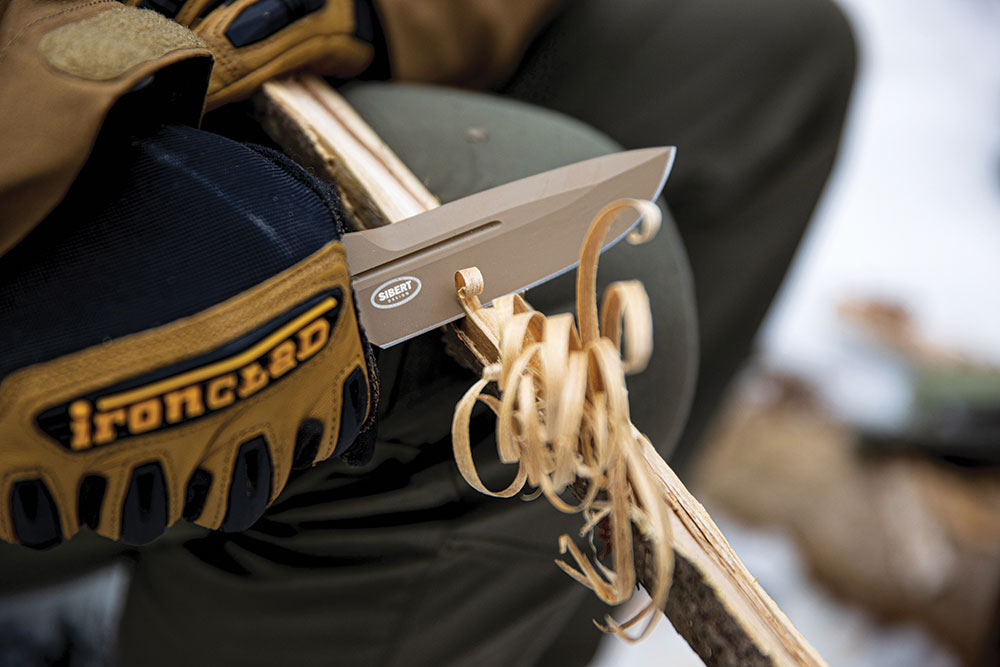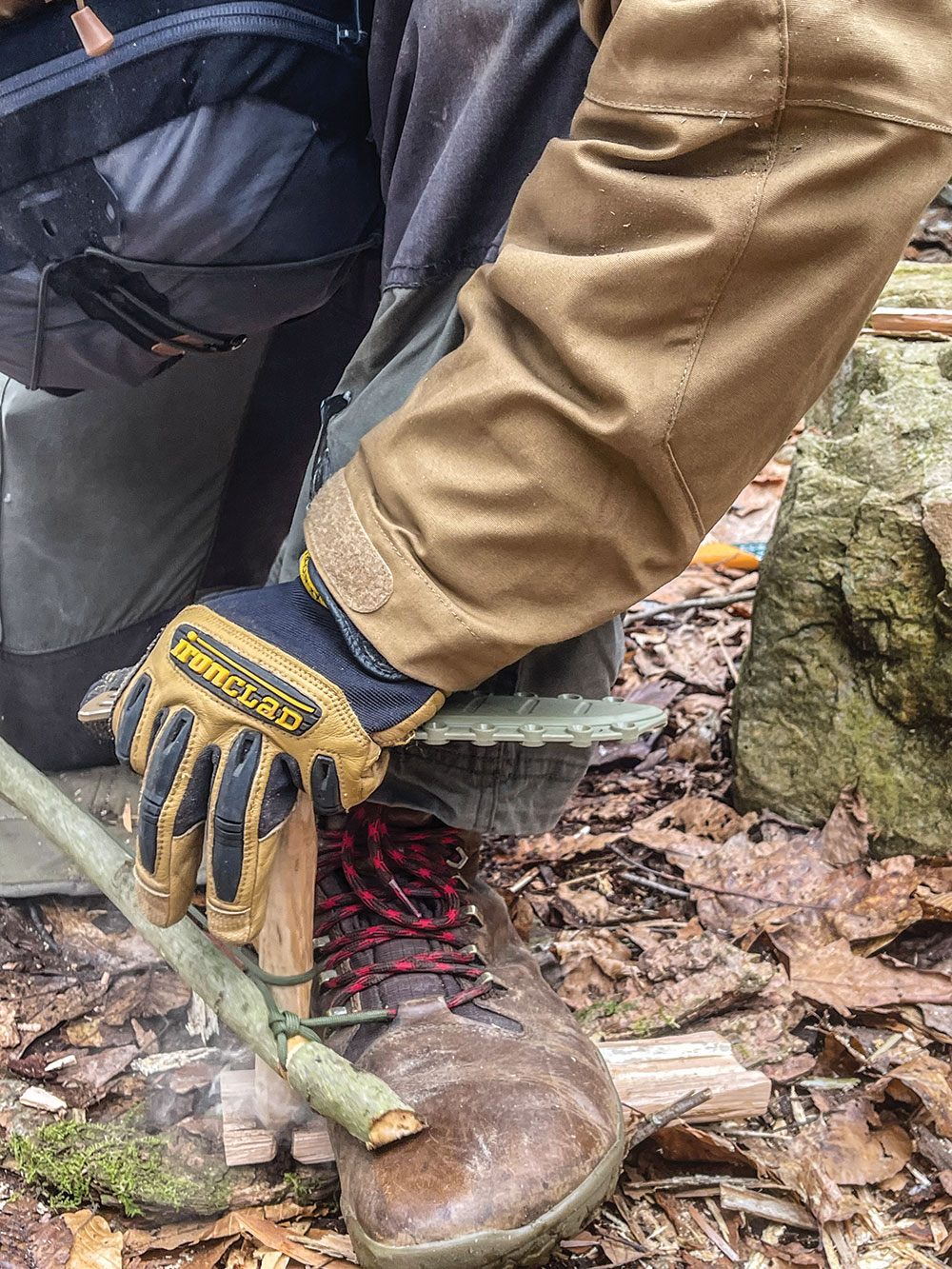 The biggest difference is the elimination of the aggressive serrations on the knife's spine. For me, this makes a huge difference in the useability of the knife. I never understood why the original had the serrations and always wished there was an option to buy the knife without them. Additionally, I thought the edge on the original 375 was left too thick from the factory, making it a less-efficient cutter. Benchmade must have been listening, because the new 375 has no serrations and much better edge geometry.
---
Benchmade Adamas 375 Fixed Blade
Specifications 
Blade length: 4.20 inches
Overall length: 9.17 inches
Blade steel: CPM CRU-WEAR (HRC 60-65)
Handle: Skeletonized; includes paracord for wrapping
Weight: 5.66 ounces without sheath
Includes Malice clips for mounting in customary locations
MSRP: Starting at $250
---
The Adamas Family at Work
I recently took both the 275 and the 375 into the woods for a day of camp-building, fire-making and bush cooking. The weather was damp and cold—perfect for testing some blades.
Adamas 275 Folder. While I prefer using a fixed blade for outdoor use, I often resort to using the folding knife in my pocket out of convenience. For this reason, when I know I'm going to be venturing into the great outdoors, I will often choose a folding knife that has an especially strong lock, a thicker handle and a blade that'll excel at carving and food prep.
The Adamas 275 ticks all those boxes! While the new version is not quite as hand-filling as the original, it's still very comfortable. Thin knives ride well in the pocket but can quickly get uncomfortable in the hand during heavier cutting tasks. The 275 doesn't have this problem. The ergonomics of the handle are excellent. All corners of the G10 grips have been radiused for comfort. The G10 is smooth, although not highly polished, and provides a good grip while not being overly aggressive. The handle features five separate sections of jimping. I'm not typically a fan of this design feature, but the 275 manages to make them useful while not creating the usual "cheese grater" effect.
The Axis lock is well balanced and lends itself to easy, one-handed operation. Opening and closing the 275 is so smooth that it feels as if the blade is riding on roller bearings and not the large, phosphor-bronze washers that provide maximum lateral support.
The new CPM CRU-WEAR blade needed no reprofiling or edge-tuning out of the box. It's proven to be a very efficient cutter and has performed well in the woods, the kitchen and around the homestead. While few knives should be used as a pry bar, especially folding knives, I've used the 275 for some light prying tasks—with no issues.
Adamas 375 Fixed Blade. I've had a love/hate relationship with the original Adamas 375 fixed blade for years. While I've always appreciated its thin, light design, I needed to thin the edge to make it perform to my expectations. The thinner, D2 edge was then prone to chipping on occasion and even lost its tip while freeing some fatwood from an old pallet. And then … there were the serrations along the spine.
The new Adamas 375 retains everything I love about the design and fixes almost everything I disliked. The edge is sharp and thin right out of the box, making it a very good woods knife. I used the knife to baton small logs to access the dry interior wood; I hammered the tip into wood to help split it for small pieces of kindling; and I used the knife to create feathersticks to make tinder for a fire and to do some small carving chores.
I wanted to see how the 375 would do making a bow drill set and use the stripped-down handle as a bearing block. The knife carved out the set with ease, quickly creating a hearth board and spindle from some dead standing wood. I removed the paracord wrap from the handle to create the bow and inserted the knife back into the sheath to prevent any accidents.
The 375 performed admirably at this task. I was able to quickly burn a divot into the hearth board, carve out the notch and build up enough dust to establish a coal. Other than some minimal damage to the finish where the spindle contacted the handle, the 375 was no worse for the wear.
A Lifetime of Use
I've been extremely impressed with the new Adamas line from Benchmade. The company has taken a series of knives with a solid track record and refined them with better steel, better ergonomics and better cutting abilities. As of this writing, I haven't touched up the edge on either knife. Yes, they might have lost a very small amount of their factory edges; yet, they're both extremely sharp.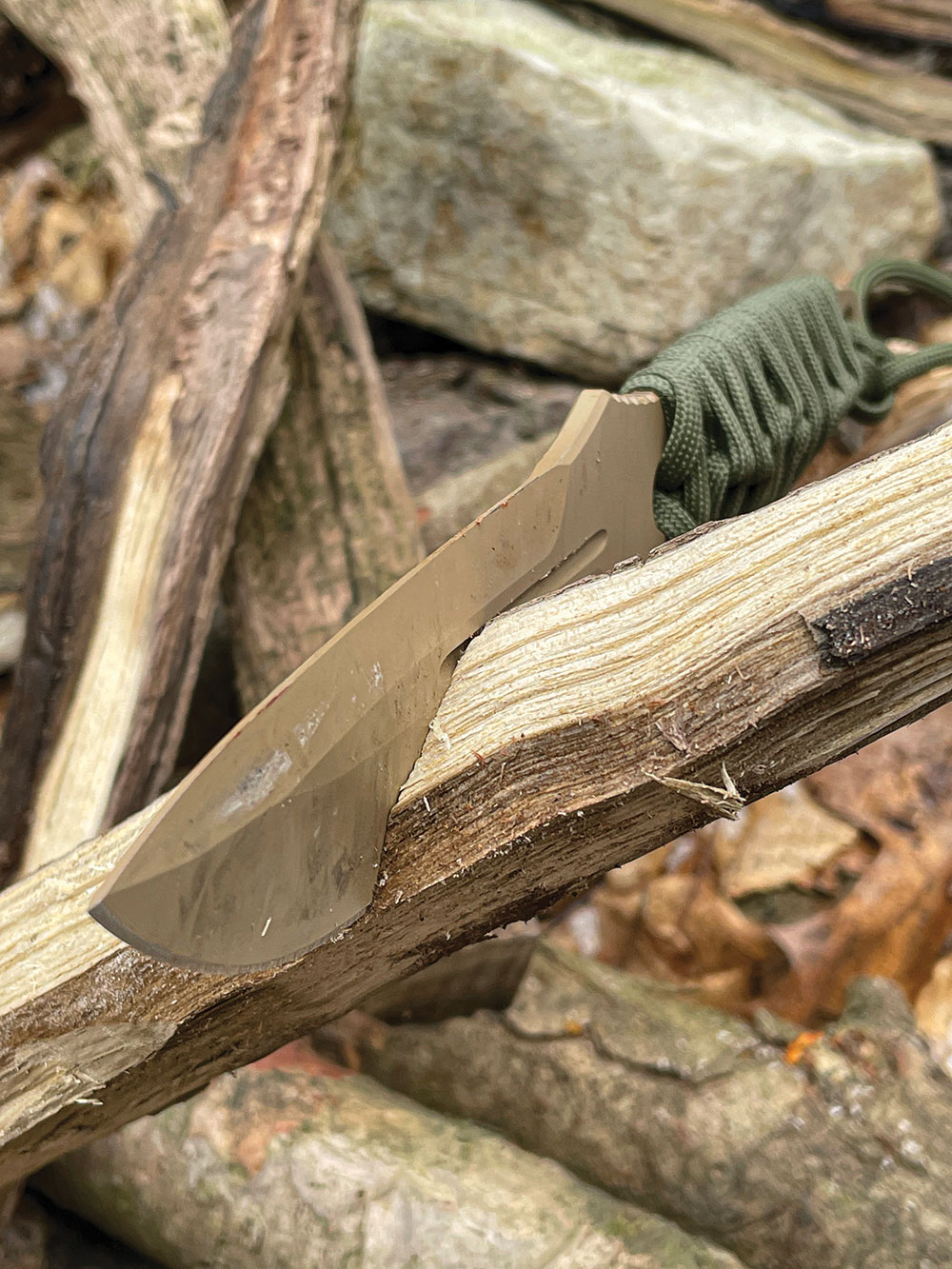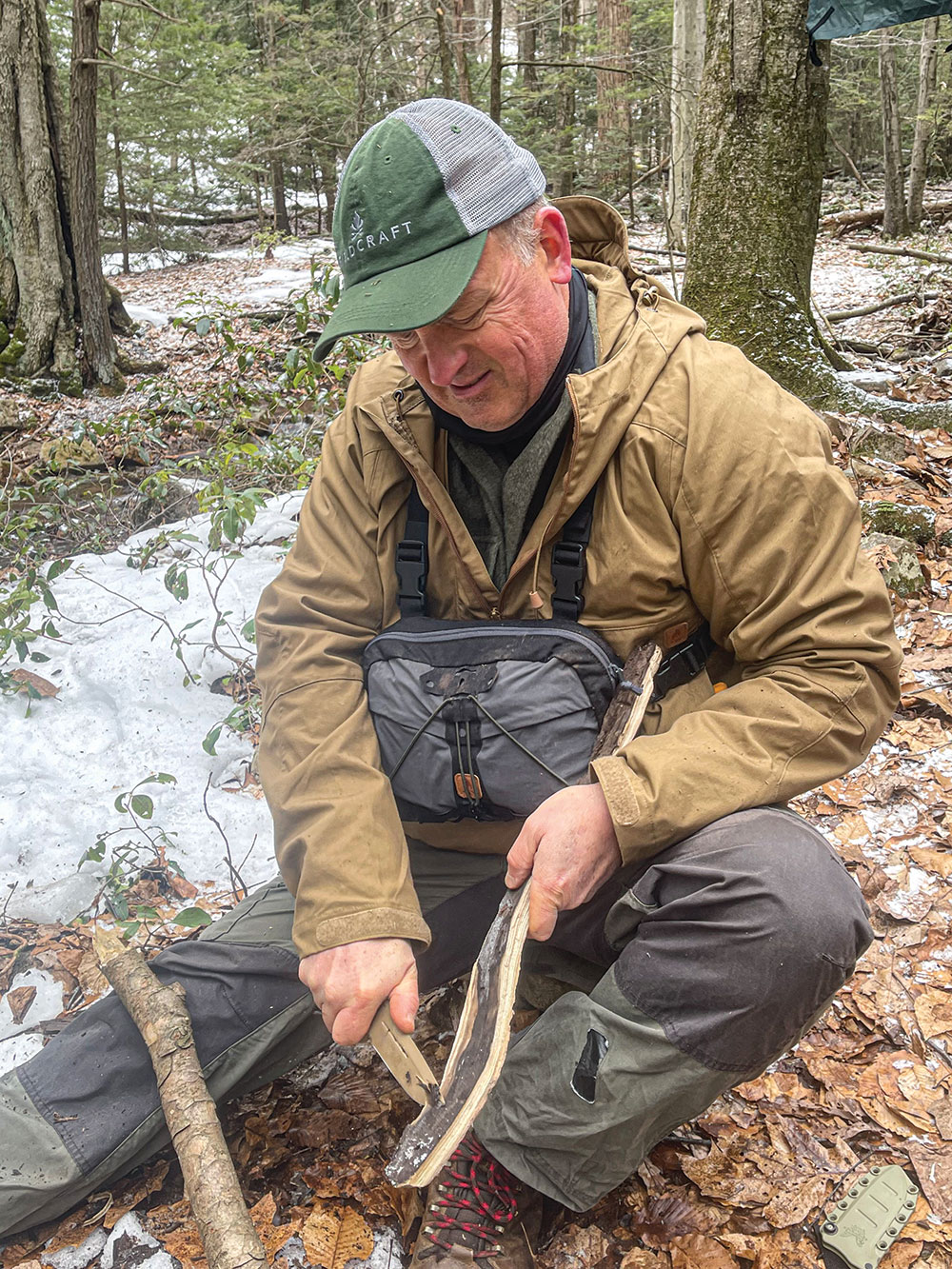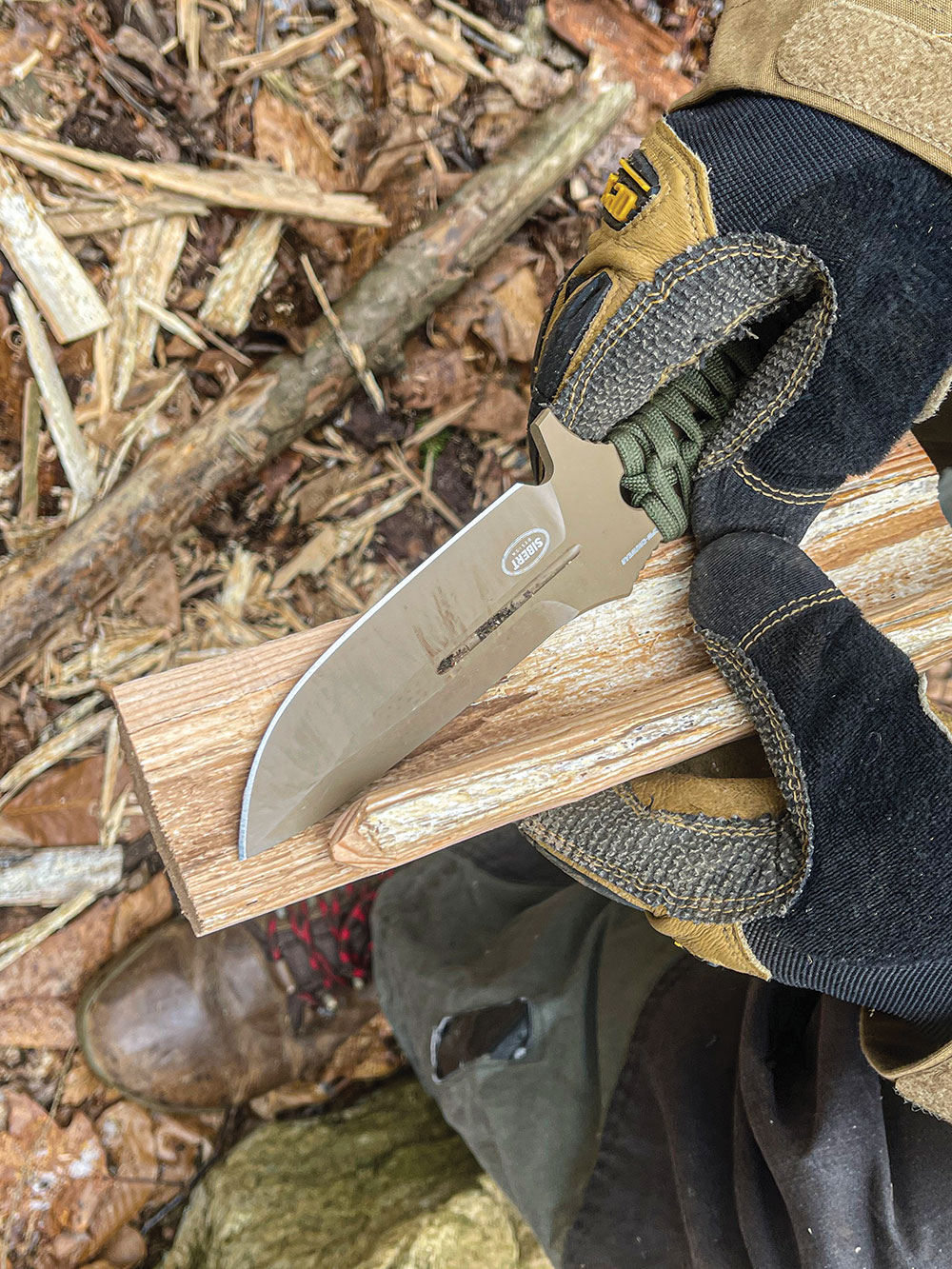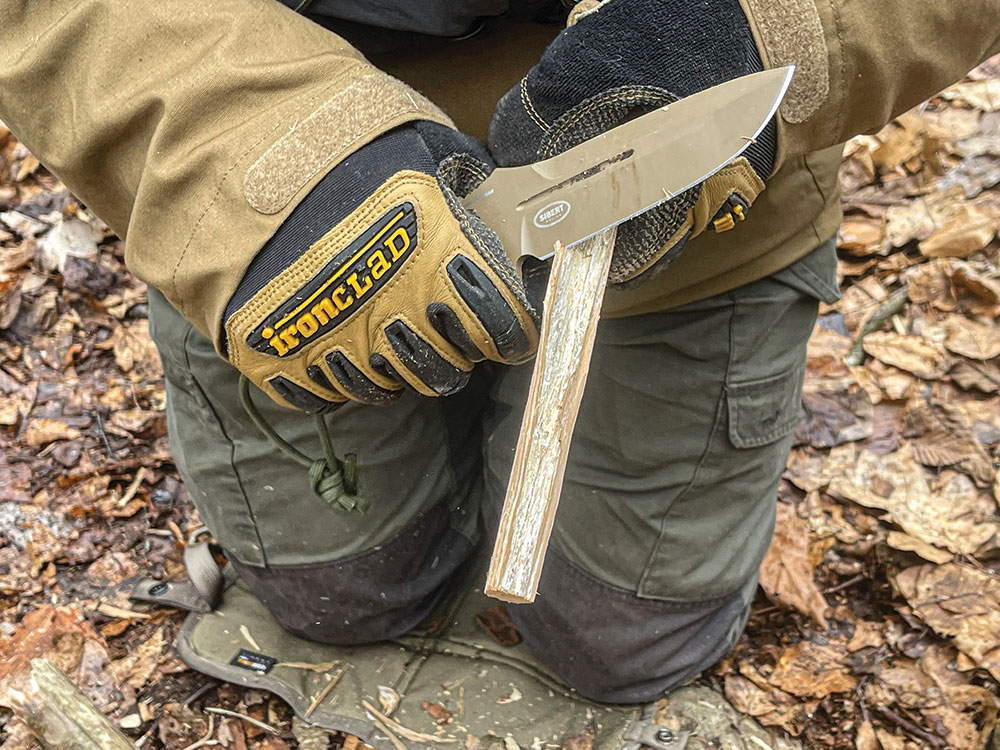 The Adamas line is still intended to be used in a more "tactical" environment and, in that role, there are few better options. The improvements made to both knives not only make them viable, they also result in excellent options for the sportsman, woodsman, hunter or anyone who needs a tough, efficient cutting tool designed to last a lifetime.
---
Entrepreneurial Grip Options
While the cord-wrapped handle of the Adamas 375 has been a hallmark feature of the design, it's not without its detractors.
Having a length of paracord at your disposal can be invaluable in a survival situation. That said, while it makes a decent handle, it's not ideal. Paracord can be damaged; it will retain fluids; and it doesn't provide ideal ergonomics.
There are no factory options to deal with these complaints. However, a talented member of the private sector has stepped up to fill the void.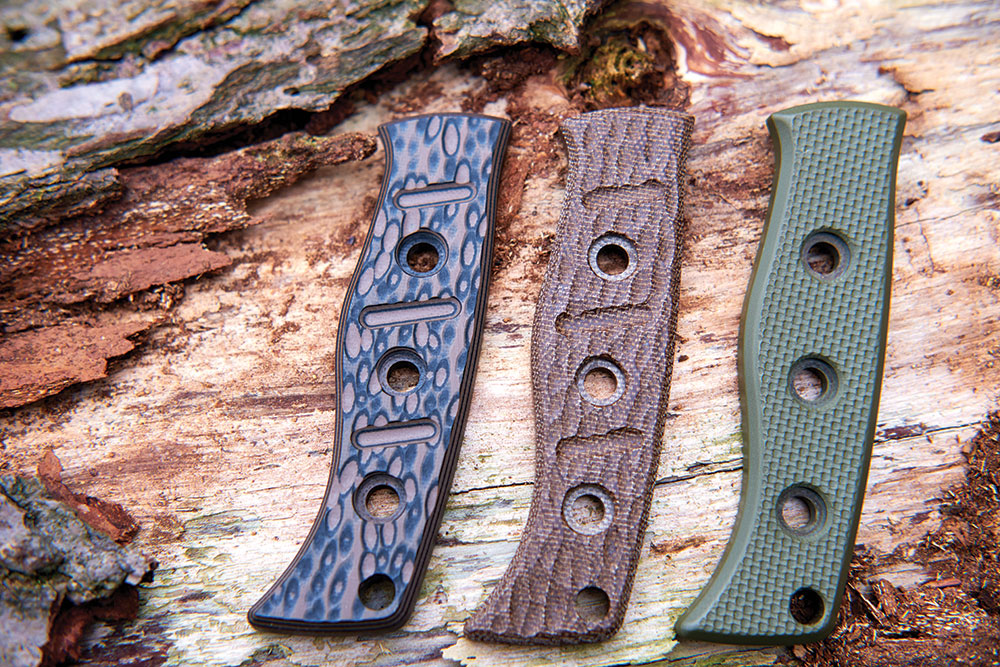 Enter entrepreneur Tony Palita. While researching information for this article, I stumbled upon a YouTube video reviewing bolt-on, aftermarket handles for the Adamas 375. They looked perfect … but we all know that items on YouTube can be deceiving.
As a result, I reached out to Palita via his eBay store and discovered that both he and his shop were local.
Palita has spent a lifetime as a commercial machinist and professionally programs and runs large-scale CNC equipment. When he bought his first Adamas 375, he discovered that while he loved the knife, he hated the handle. He found that there were no grips available for the knife, so he used his professional training and made his own.
Ultimately, Palita discovered that there was a lot of demand for his product. He now offers custom grip options for the Adamas 375 and the Benchmade Nimravus 140 and 141.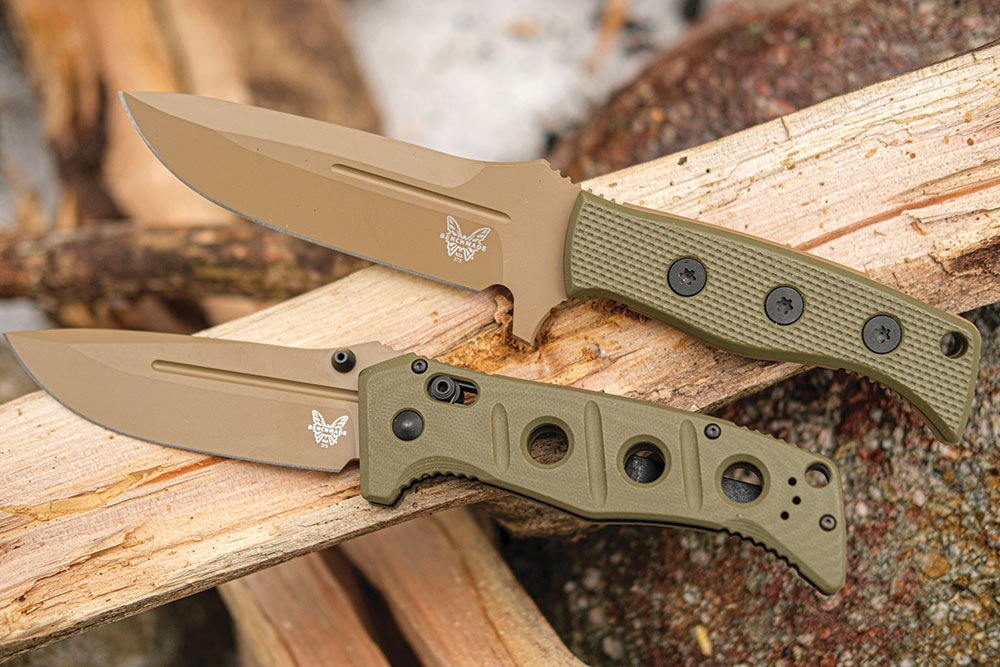 Each set of grips is precision CNC machined from either G10, canvas Micarta or carbon fiber. Because of all these materials, Palita offers a mixture of grip textures, colors and styles.
In addition, each set of grips is supplied with all the mounting hardware needed to install your chosen grips, as well as the bit needed for installation. The mounting screws are stainless steel and include custom bushings to keep everything locked in place.
Palita's background as a machinist shows in his products. Every piece is fitted to perfection. There's no slop or play to be found anywhere. In fact, there's only one word that describes these grips: "precise."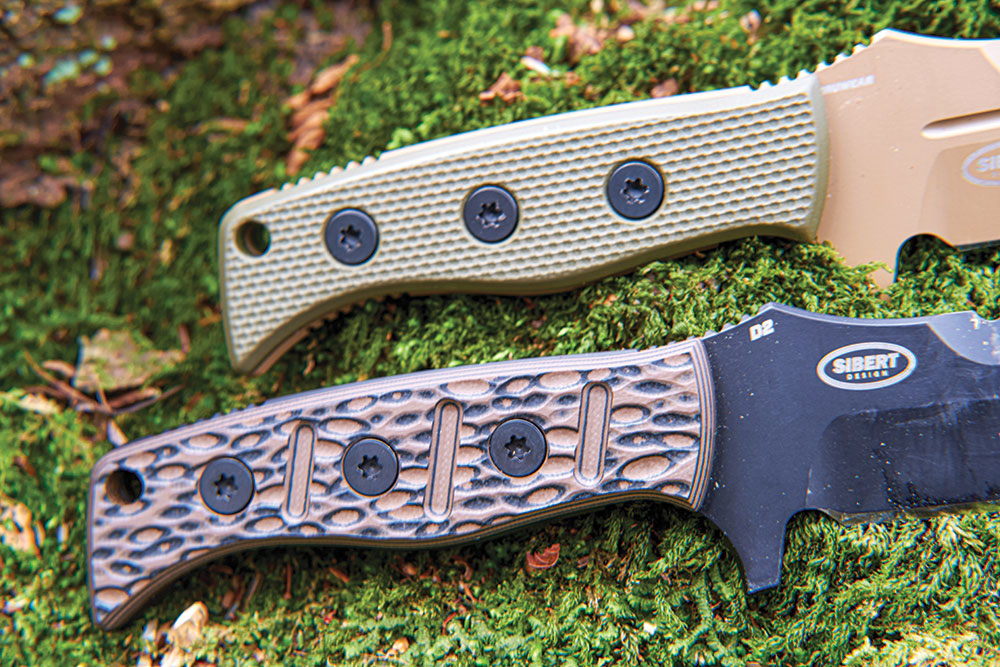 Palita provided me with a few sets of grips for the Adamas 375 to try on both the new and old models. All the grips fit both knives perfectly. (Personally, I think they also greatly enhance the look of the blades.)
While esthetics can be important, the true measure of Tony Palita's products can be found in using them. These grips transform the knives they're placed on.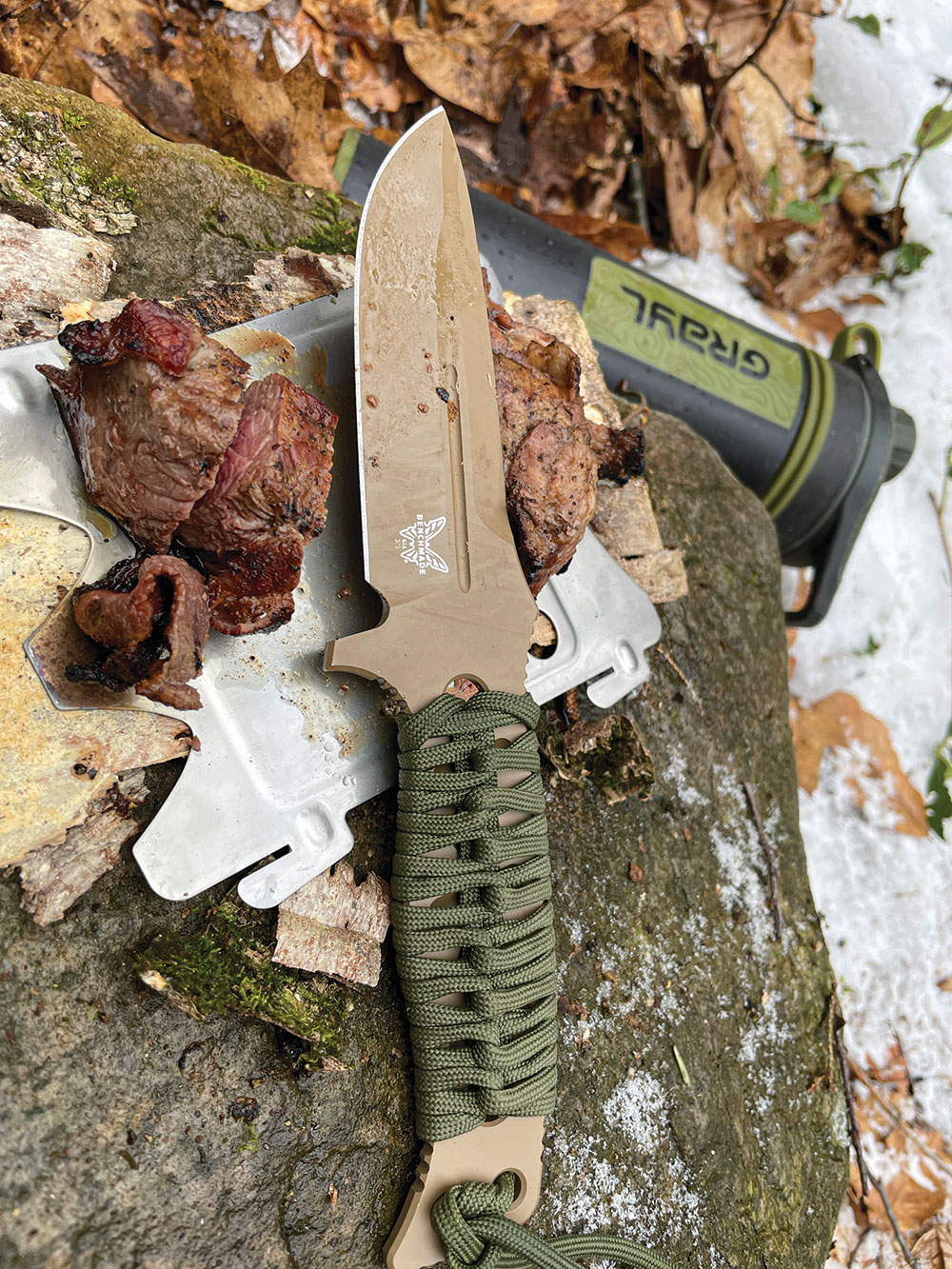 Ergonomics can be highly subjective. That said, these handle scales greatly increase my level of grip, comfort and control during real-world use.
Contact Information
Tony Palita
eBay store apal5501
Editor's Note:
 A version of this article first appeared in the August 2021 print issue of American Outdoor Guide.