Whether it's true to the design or inspired by it, the kukri makes a great one-blade option.
What do video games, reality television, the British Army, Nepal, zombie-killing and post-apocalyptic movies have in common? The kukri knife. The reason? The kukri is quite possibly the most respected and emulated tool and feared edged weapon.
Officially known as a khukuri, it's been shortened to khukri by the British and eventually, to the more widely known kukri name. In this article, I'll explore three kukri knives: one production, one custom made and one authentically made in Nepal. The goal isn't to compare any one kukri to another; rather, it's to point out the many variations and features found in these legendary knives.
KUKRI KNIFE
The history and tradition of the famed kukri trace back to the Nepalese people—namely, the Gurkha regiments that used this large chopping blade for combat and general utility. In the world of knives, a kukri is easily picked out of the crowd because of its lengthy, drastically recurved, weight-forward blade.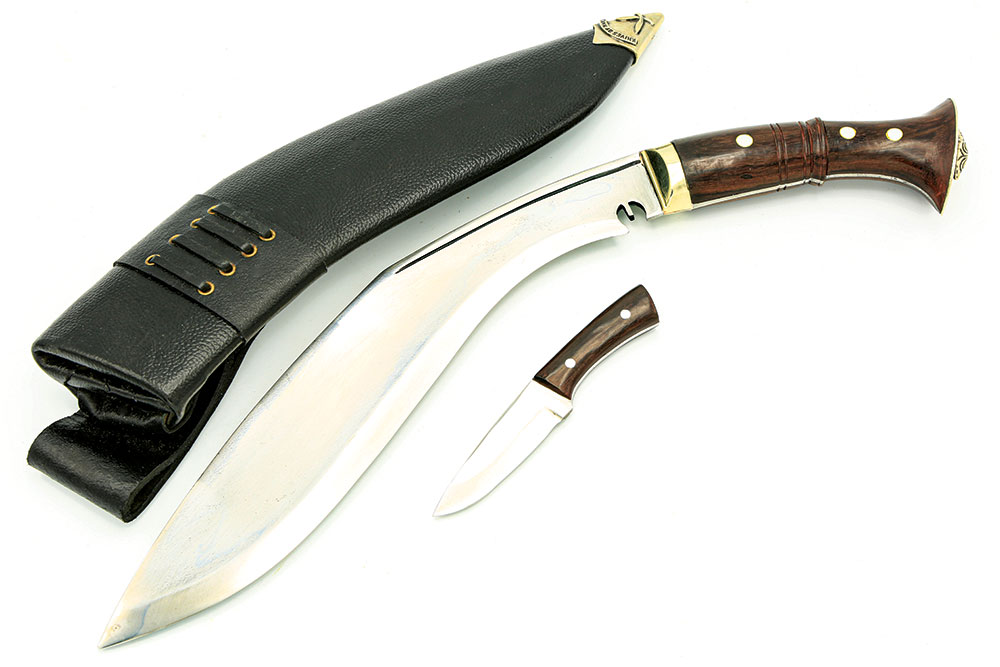 The kukri is the most commonly used multipurpose tool in the fields and homes in Nepal. Uses vary from clearing, chopping firewood, digging, slaughtering animals for food, cutting meat/vegetables, skinning animals and opening cans.
This recurring blade pattern has been copied, modified and reproduced by many custom knifemakers, as well as production companies that all love the legendary pattern. These are considered kukri-shaped and -inspired blades. Seeing a wide array of companies pay homage to the kukri by making their own versions is a sign that the design isn't going anywhere. In fact, the kukri seems to be gaining momentum.
---
1. Knives By Hand 12-Inch Survival Kukri
Specifications
Overall length: 17 inches
Blade length: 12 inches
Thickness of Blade: 0.250 inch
Blade steel: Leaf spring steel (5160)
Blade finish: Satin
Handle material: Rosewood
Knife weight: 22 ounces
Sheath material: Wood/black buffalo leather
Designer: Frank Gonzales
MSRP: $152
---
ONE-TOOL OPTION
Years ago, online survival and knife-based forums were obsessed with the big question, "If you could bring one knife/tool with you, what would it be?" This would usually spark a barrage of arguments and opinions, as well as some good points.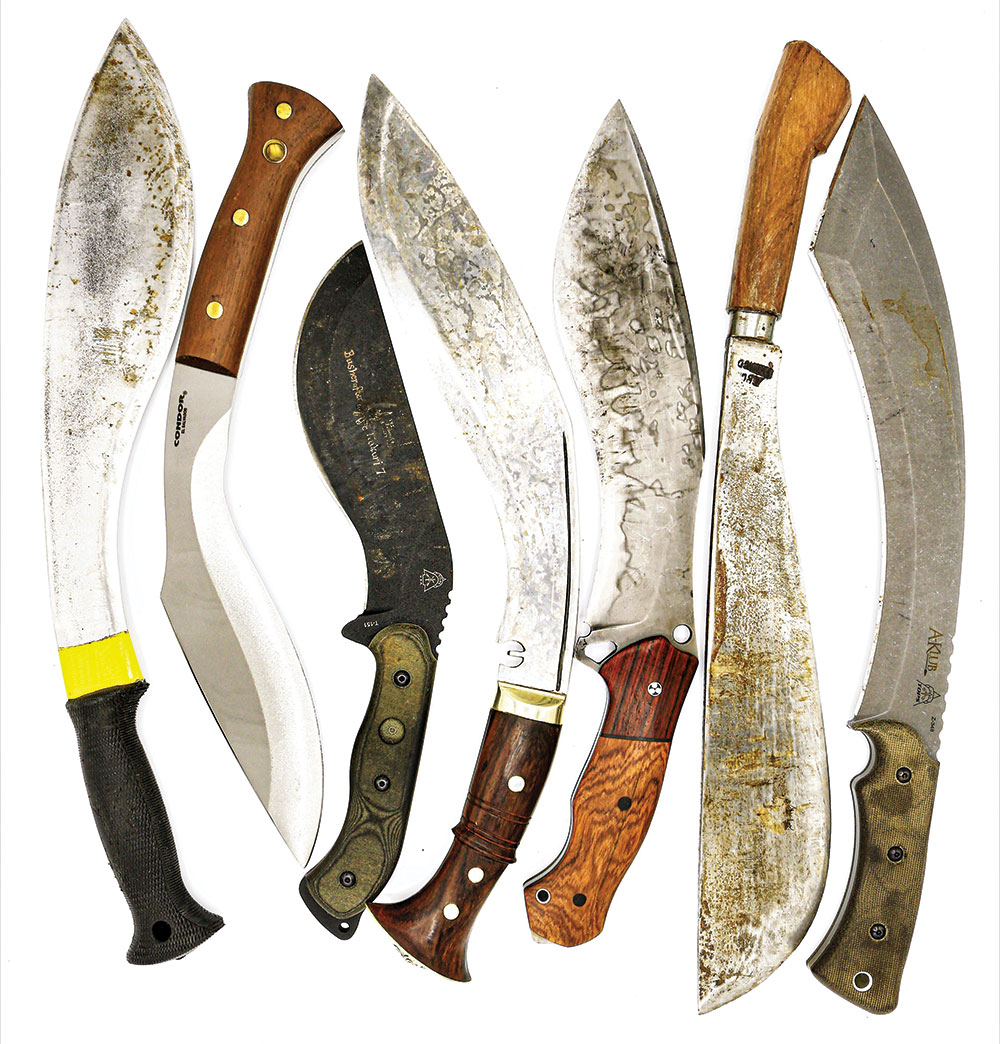 While I have no desire to invoke that question again, I have my own thoughts and spoke about this with Alan Kay, winner of the History Channel's Alone, Season 1. He gets asked that particular question quite often.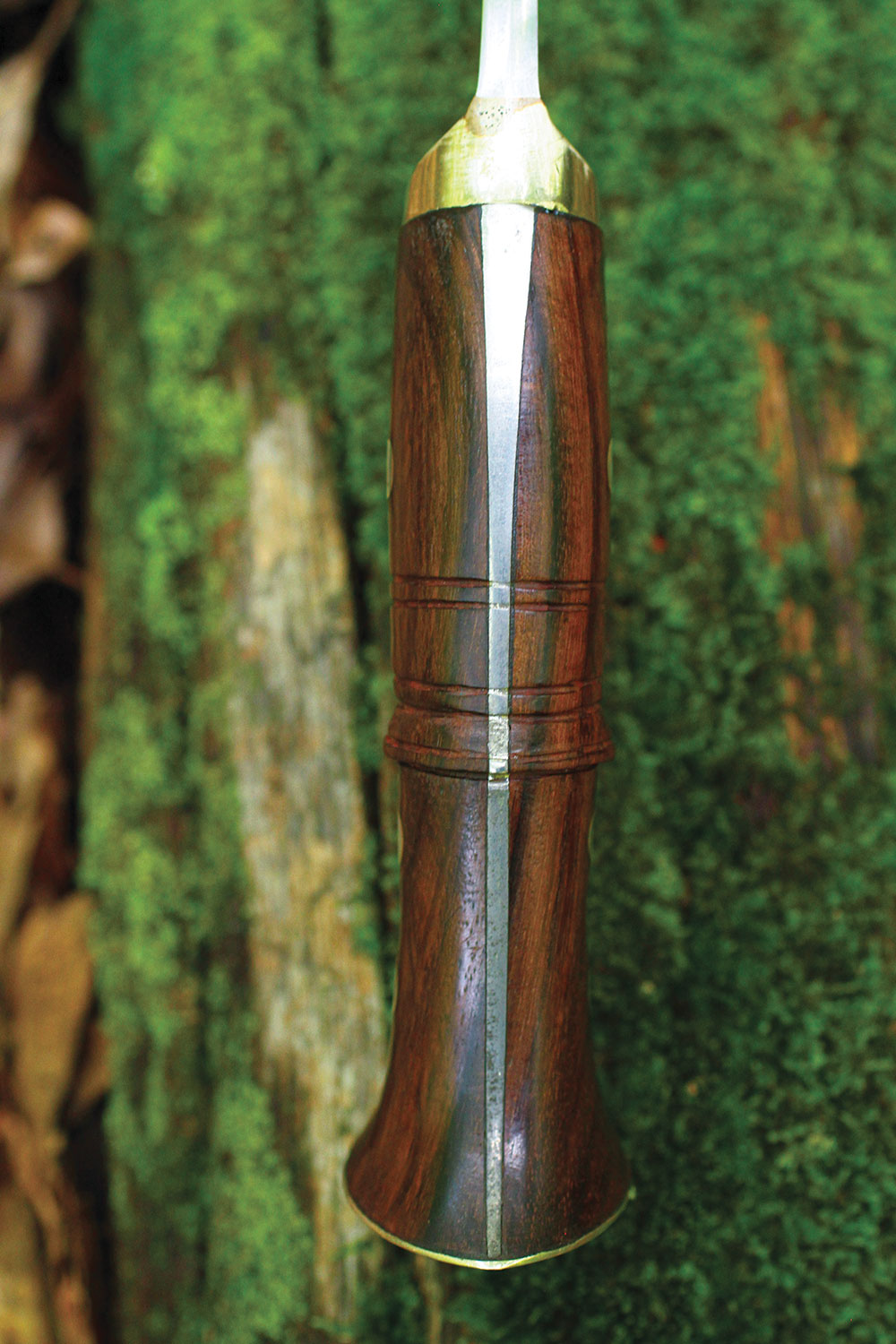 "End of the world, you get one choice: It would be a kukri." Kay said. "With one hand, I can chop down trees, I can gather grasses for my mattress, I can construct shelters, and I can butcher, quarter and chop up game."
As for the argument that smaller knives can do more-intricate work that the big knives can't, he has done that same small work with a kukri.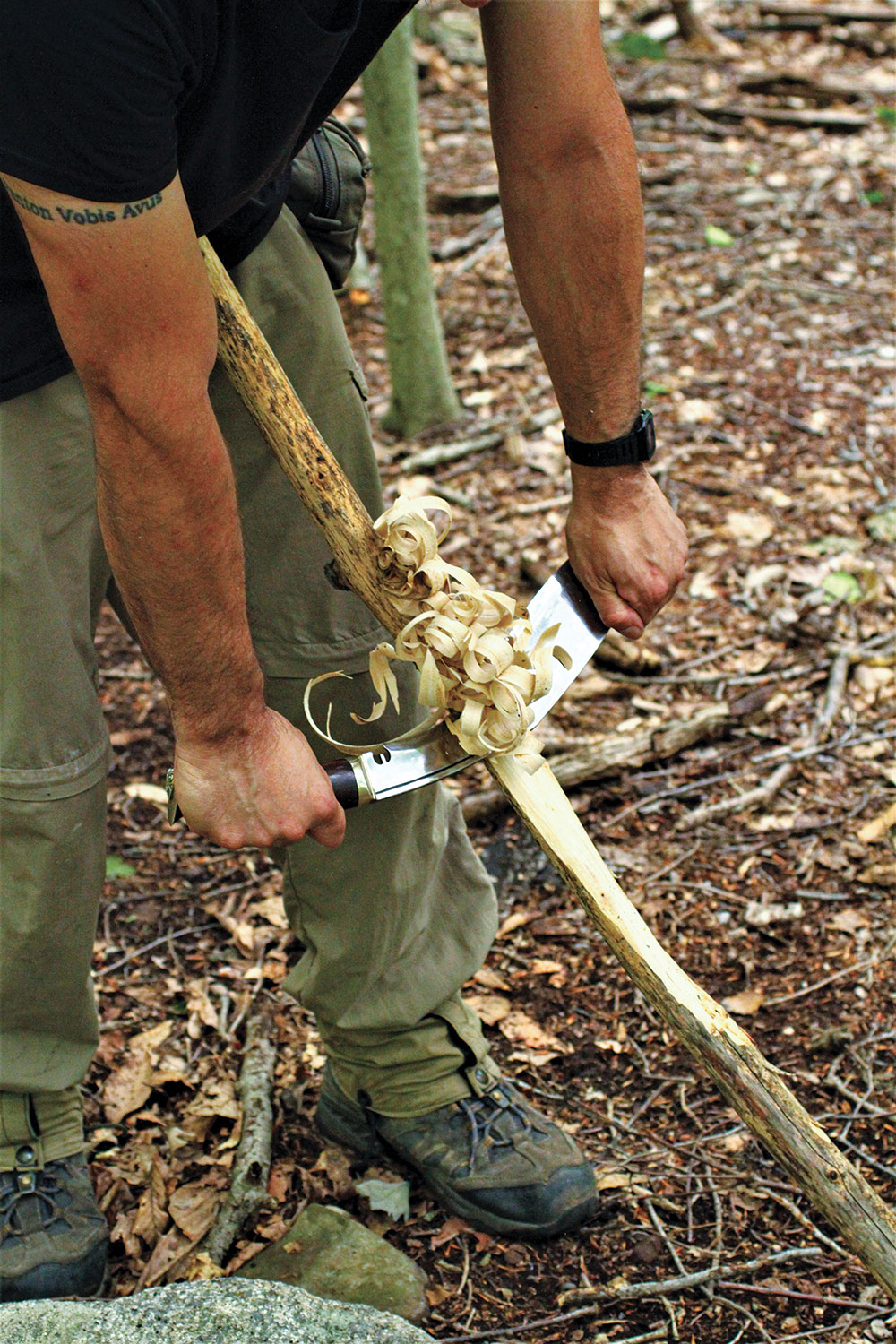 "You can't say the opposite," he said. "You can't take a smaller knife and chop down a tree in as few strokes as I can with a kukri. I know it could be done, but it's much more work, many more calories and much more predisposition to injury."
"The great romance and the extraordinary accounts of bravery that a kukri knife evokes are legendary."
I agree with those points. Regarding the one-tool option and being able to make whatever tool you have with you work, Kay said in one video that a previous trainer told him, "If you will do, it will do."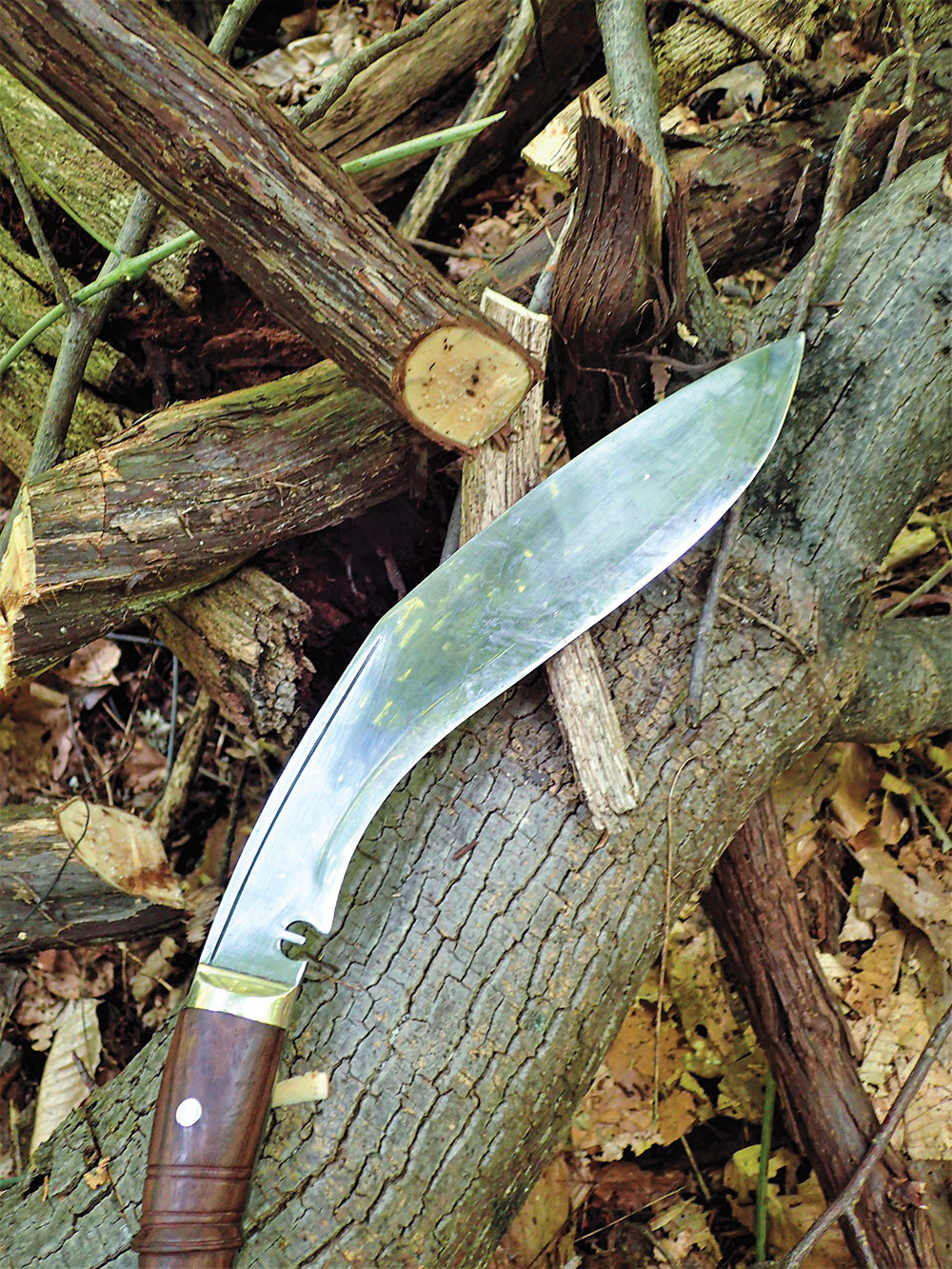 I've spent enough time in what I call "blade culture" countries, in which using one long-bladed chopper is rooted in daily living. They're the ones that do it all with one tool. They aren't surviving. They're simply living.
NEPALESE KUKRI
When I was searching for an authentically made kukri from Nepal, I saw a video with kukri guru Kay, who showcased a Nepalese kukri he uses that's designed by knifemaker Frank Gonzales of Knives By Hand. Gonzales served with the Gurkha soldiers in the military as a forward observer and has a vast knowledge of the kukri.
This video prompted me to contact both Gonzalez and Knives By Hand. I was holding a Nepalese kukri from Knives By Hand in no time.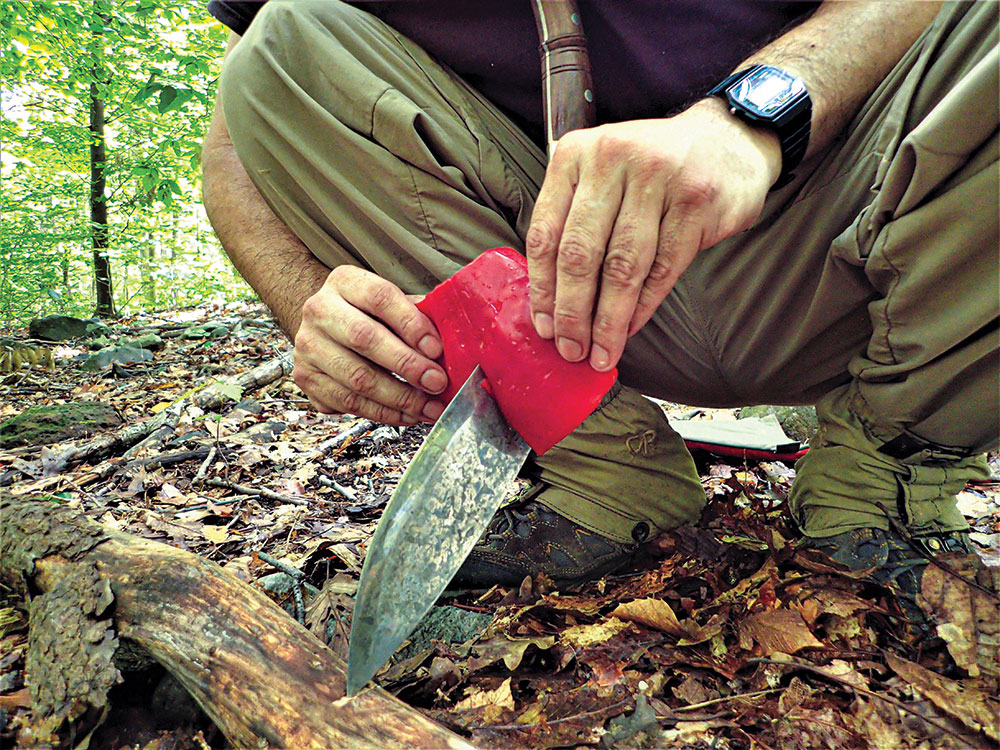 The model I received was the 12-inch Survival Kukri, which has an overall length of 17 inches and is made of 5160 leaf spring steel. It's absolutely stunning in appearance and feel! I've been to forges in several countries, but nothing ever came out this polished. For a large, thick blade, it had lots of finesse and charm.
This kukri has a sweet spot that makes it feel as if you're chopping with a hatchet or small axe. I wasted no time exploring that and took to some hard maple and oak. The convex edge made big chips and cleaved through wood with authority. (There's a different technique when chopping with a kukri. It's like learning a new tool, but it's worth it.)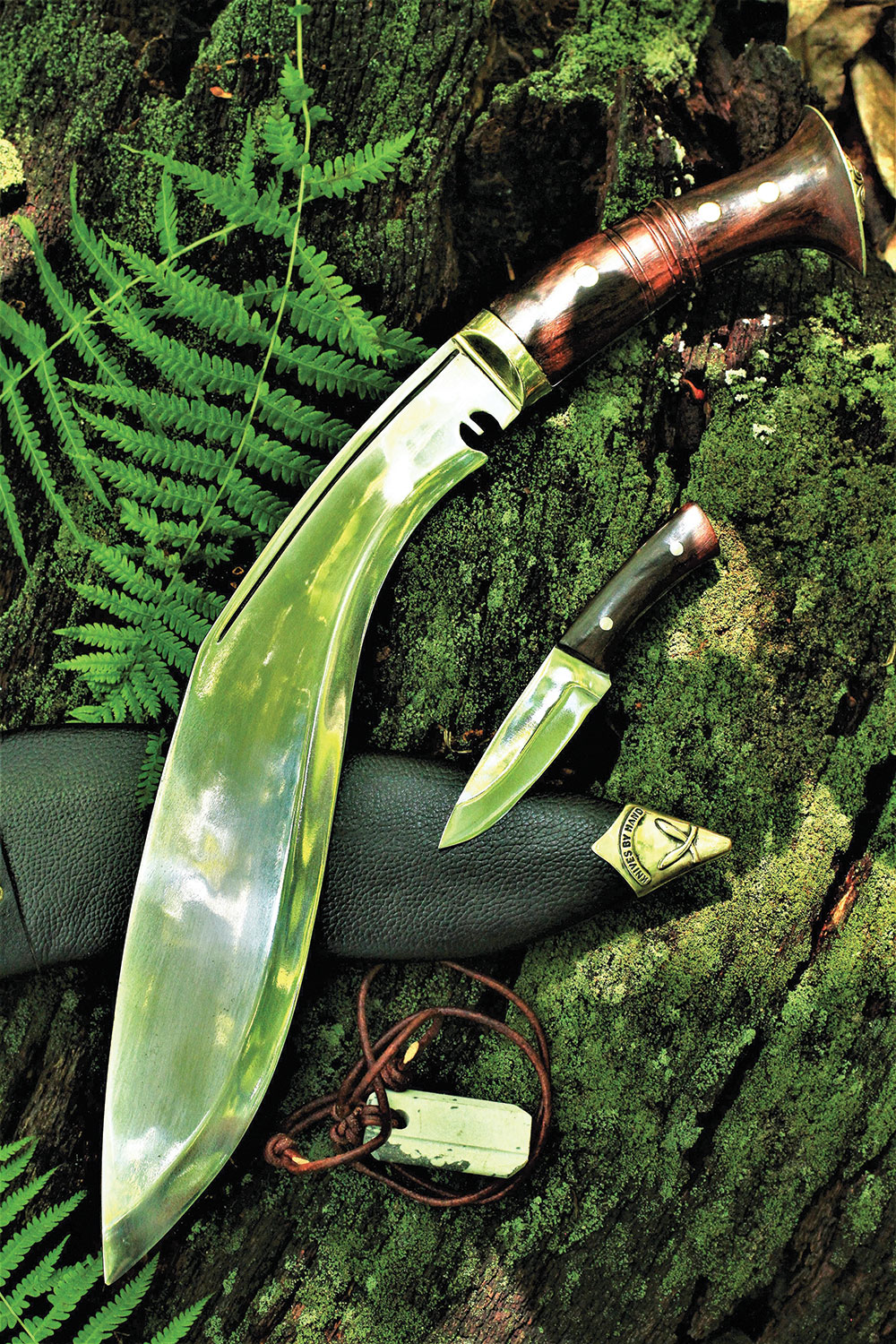 The kukri has many uses: It's the consummate chopper, yet it can also deliver a certain amount of finesse when doing fire preparation and bushcraft. For instance, Alan Kay made a spoon with his kukri and feather sticks for his fires on Vancouver Island, Canada, during his experience on Alone.
With that in mind, I used the Survival Kukri for fire preparation, chopping dry wood, splitting it down for kindling and also used it as a drawknife to shave large curls for kindling in wet weather. Gripping the larger part of the blade and handle for drawknife work was an easy affair.
In addition, it chopped and batoned wood for my small wood stove and kept my campfires full of split wood. However, making tinder that was thin, fluffy and curly enough to accept a spark took a different touch to make them ignite from a ferrocerium rod.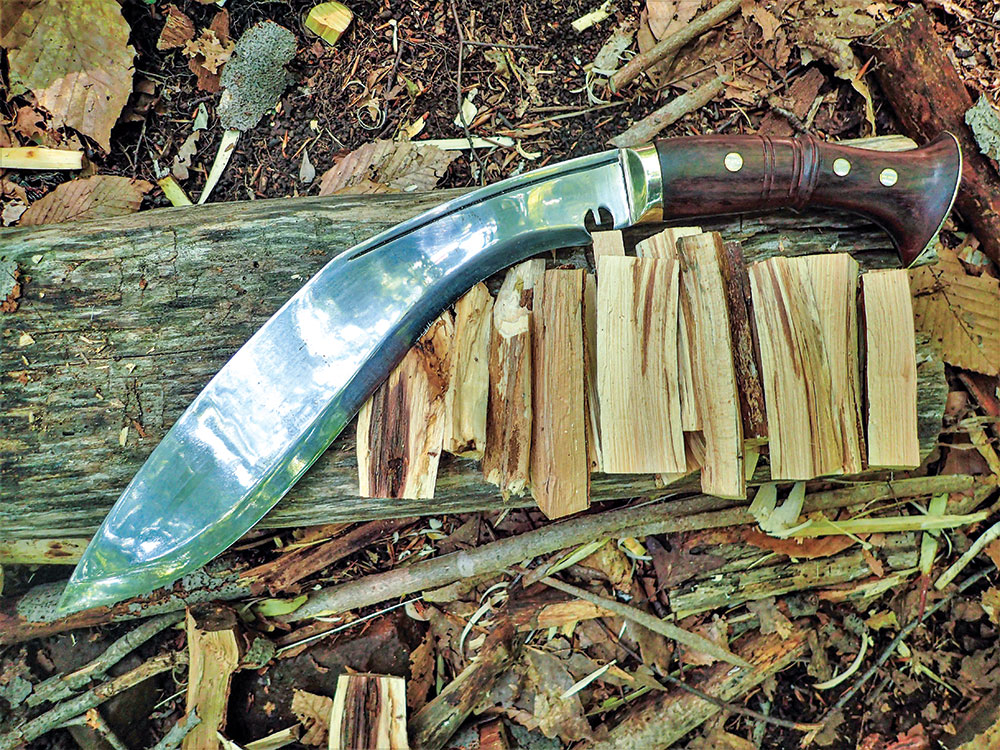 This knife did a fair amount of food-cutting. In the Nepalese style of slicing without a cutting board, I cut onions and peppers for the rock fryer by standing with my foot on the handle, spine down. This took full advantage of the blade and naturally propped it up—securely. I did this with a small log to support it, but I found it wasn't necessary.
Holding the veggies with two hands and drawing down on the edge, I used the belly portion of the blade to slice and then set the pieces aside.
The same idea, but using a different knife position, was what I observed more commonly in Nepal for cutting food: You kneel or squat, bending forward.
"There are many chopping tools available that specialize in their environment and tasks. The kukri, however, outdoes them all."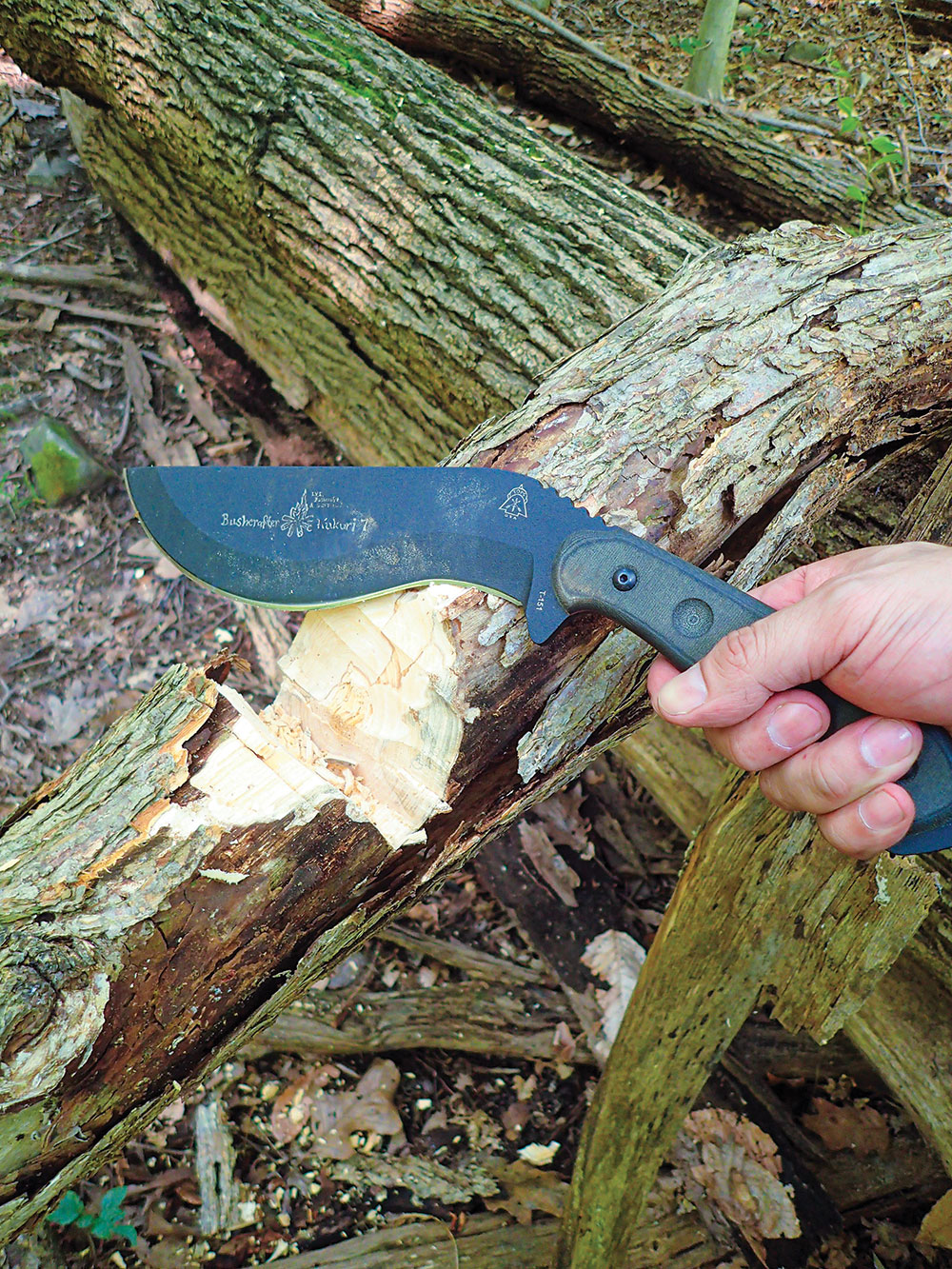 The knife tip sticks into a piece of wood or the ground, the blade facing out, while the handle rests on the user's torso area. The bend of the blade seats and balances the knife, and then meat, veggies and herbs are cut by drawing the food down the recurved area, which naturally slices. The first time I saw this, I couldn't believe how clever it was, because I've never seen this technique anywhere before (try doing this with a straight-spined blade!).
The Knives By Hand 12-inch Survival Kukri excelled in all tasks, from chopping to food preparation, and will be the new standard to which I compare any kukri from now on.
TOPS BUSHCRAFTER KUKURI 7.0
First off, the spelling of this knife is printed on the blade as a result of some decision-making with the late founder of TOPS Knives, Mike Fuller. He told designer Nicholas Fury III (of L.V.I. Bushcraft and Survival) that because it wasn't an authentic Nepalese kukuri—which is how TOPS spells it—to do it differently, as compared to the other manufacturers making these knives.
Fury said he designed this kukuri with strength, reliability, resilience and adaptability in mind—based on his experience with a Nepalese kukuri knife.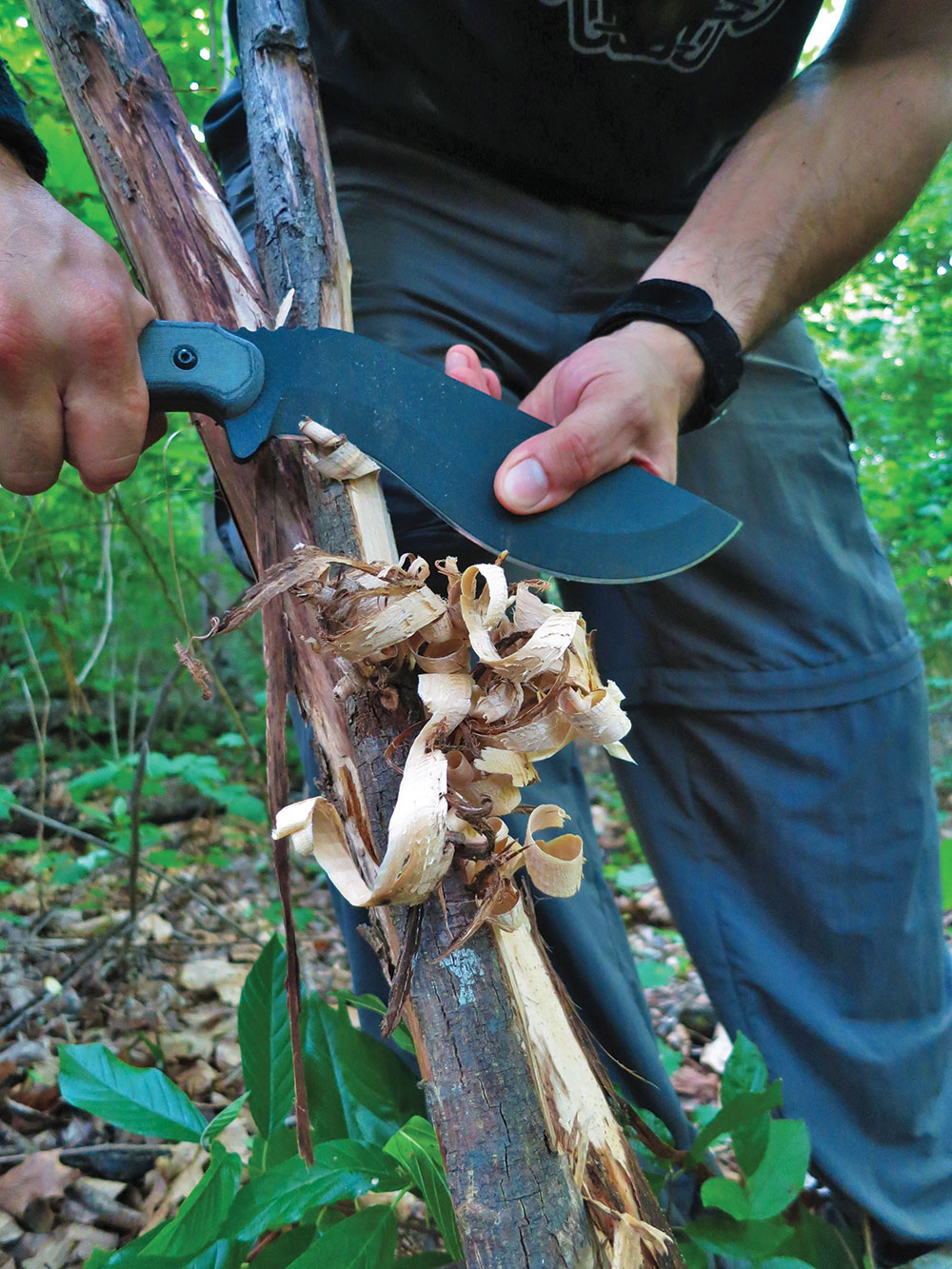 The Bushcrafter Kukuri is 14 inches long overall, donning a 7¾-inch recurved blade, hefty, ¼-inch-thick blade and classic TOPS Knives black linen Micarta with black traction coating. The steel is the mainstay of TOPS' products: 1095 high carbon with an RC of 56–58. The sheath is an olive drab Kydex with a removable leather dangler.
The Bushcrafter Kukuri has a deeper belly than a traditional kukri. It aids in slicing and game processing. It instantly felt "at home" chopping through hard oak, maple, beech and poplar. The hardwoods of the Northeast are better suited for an axe when chopping, although the Bushcrafter Kukuri's compact size, weight and curved blade made it feel as if I were using a small hatchet. It was about the same weight as a hatchet/tomahawk but had more versatility because of its pointy tip and medium-length blade.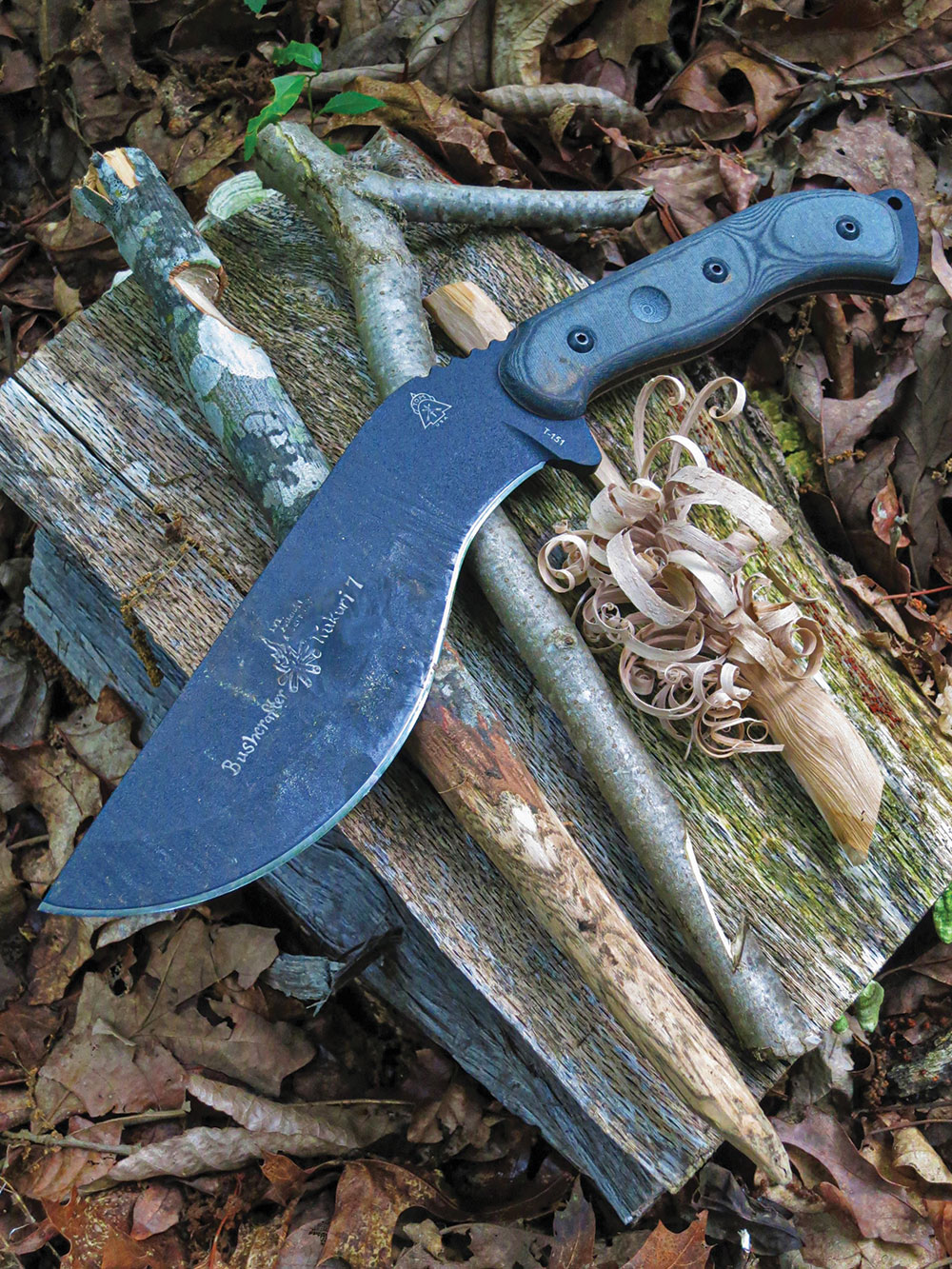 After chopping a length of dead poplar wood, I propped it between myself and the ground and began shaving tinder by utilizing the handle and gripping the spine (the back) of the blade, pinching it to smoothly guide the brawny blade down the length of soft poplar.
This is where the recurve of the blade shines brightly: Any curvature of a blade will result in curly shavings, which are perfect for making a tinder bundle. It's also important to keep the curly shavings on the stick. Losing the shavings to the damp ground should be avoided as much as possible. I made smaller lengths and proceeded to split them down to finger-thick-sized pieces.
I used the Bushcrafter Kukuri to make a few more bushcraft items needed for the day—a pot hook and tarp stakes. Control wasn't an issue as a result of its weight-forward blade. Making a point on the end of a stick was easy and felt natural, because long blades have always been my preference.
Making the notches for the pot hook and stakes was easy by using the blade section closest to the handle, in the recurve area. The Bushcrafter Kukuri is versatile for chopping, splitting and carving wood. Together, TOPS and Nicholas Fury have done justice to this time-honored design.
---
2. TOPS Bushcrafter Kukuri 7.0
Specifications
Overall length: 14 inches
Blade length: 7.75 inches
Blade thickness: 0.250 inch
Blade steel: 1095 RC 56-58
Blade finish: Black traction coating
Handle material: Black linen Micarta
Knife weight: 22.2 ounces
Sheath material: Olive drab green Kydex
Designer: Nicholas Fury III
MSRP: $270
---
KHUK FIGHTER
Custom Utah knifemaker Ryan Weeks is no stranger to the kukri knife or its appeal. His design has features that resemble more of an American-styled fighting knife but with the essence and honor of a kukri knife. His Khuk Fighter's 10½-inch-long blade is made with W2 high-carbon steel and has a hamon that visually pops. Adding to the visual "wow factor," Ryan used two-toned wood scales made of Honduran rosewood and cocobolo with black liners and one mosaic pin. There's a lanyard hole and a striking pommel for "attitude adjusting," if needed.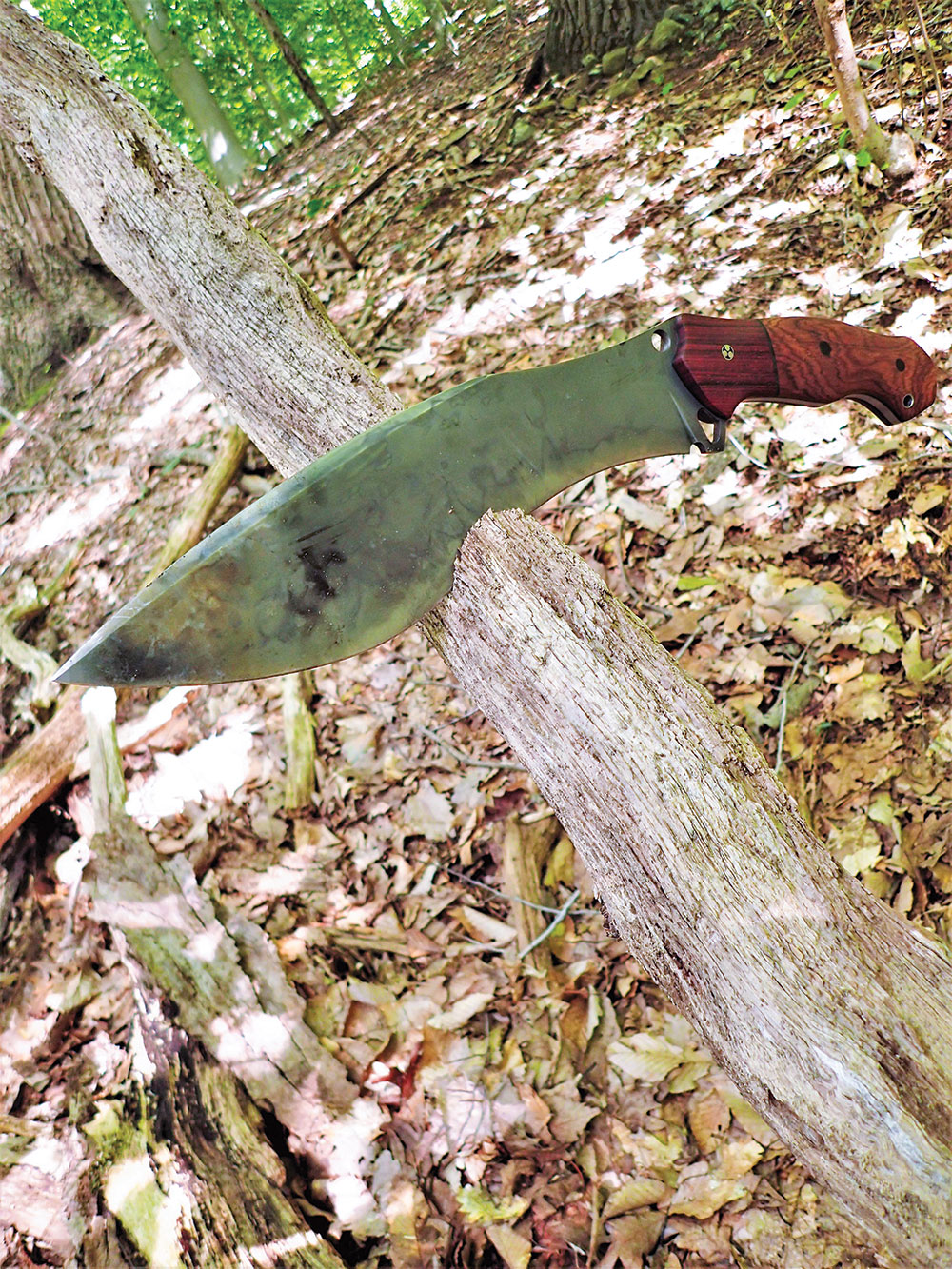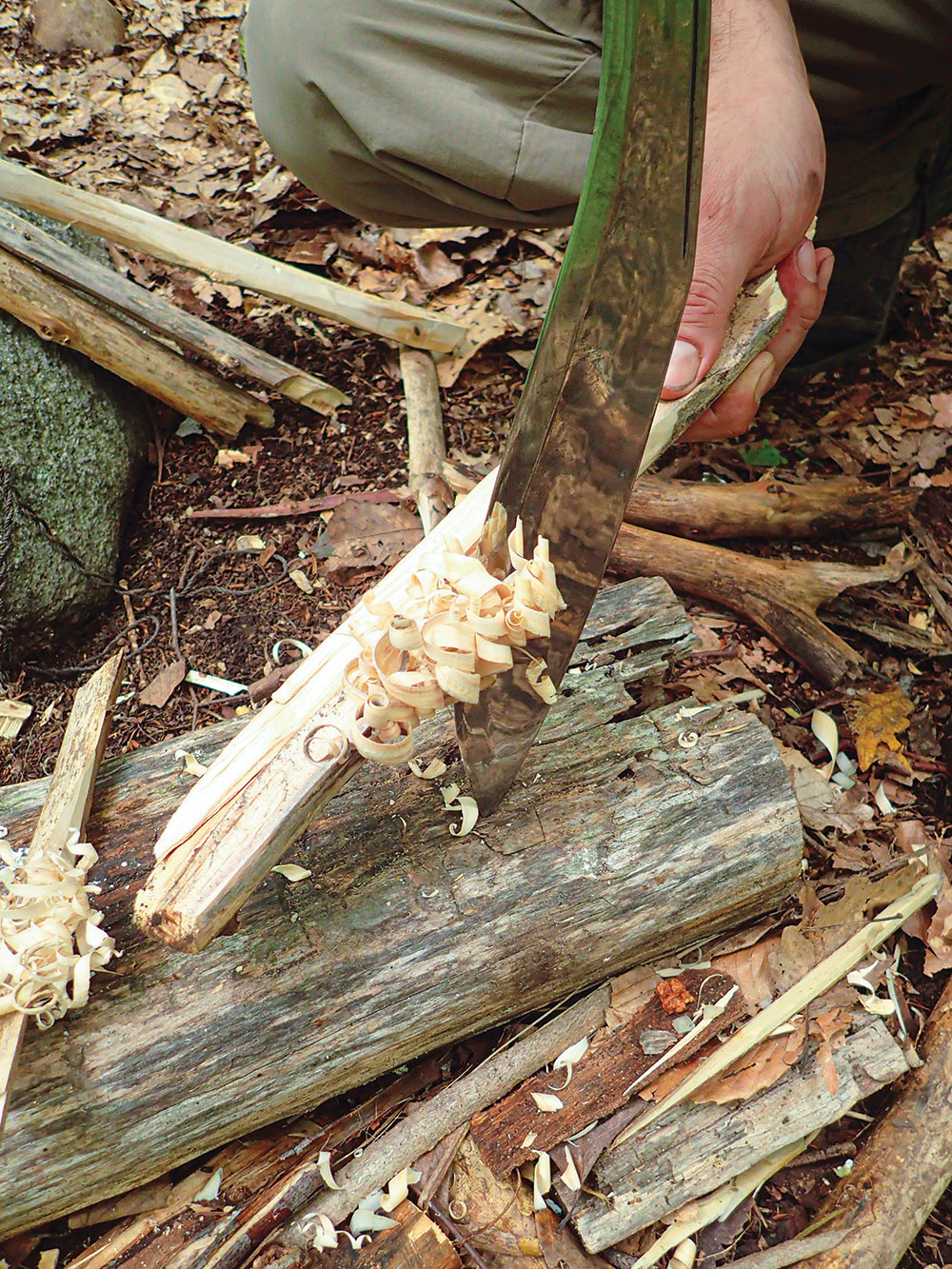 While most kukri knives start with a ¼-inch thickness (6.35mm), Weeks started with a thinner, 3/16-inch thickness (4.76mm). The general shape, blade drop and recurve are prominent features, just spread out a little more. He went wider, spreading the weight over more area, tapering toward the sharper-than-usual kukri tip. There's a false edge that runs about 4 inches long that aids in penetration (hence, the name of this kukri—the Khuk Fighter).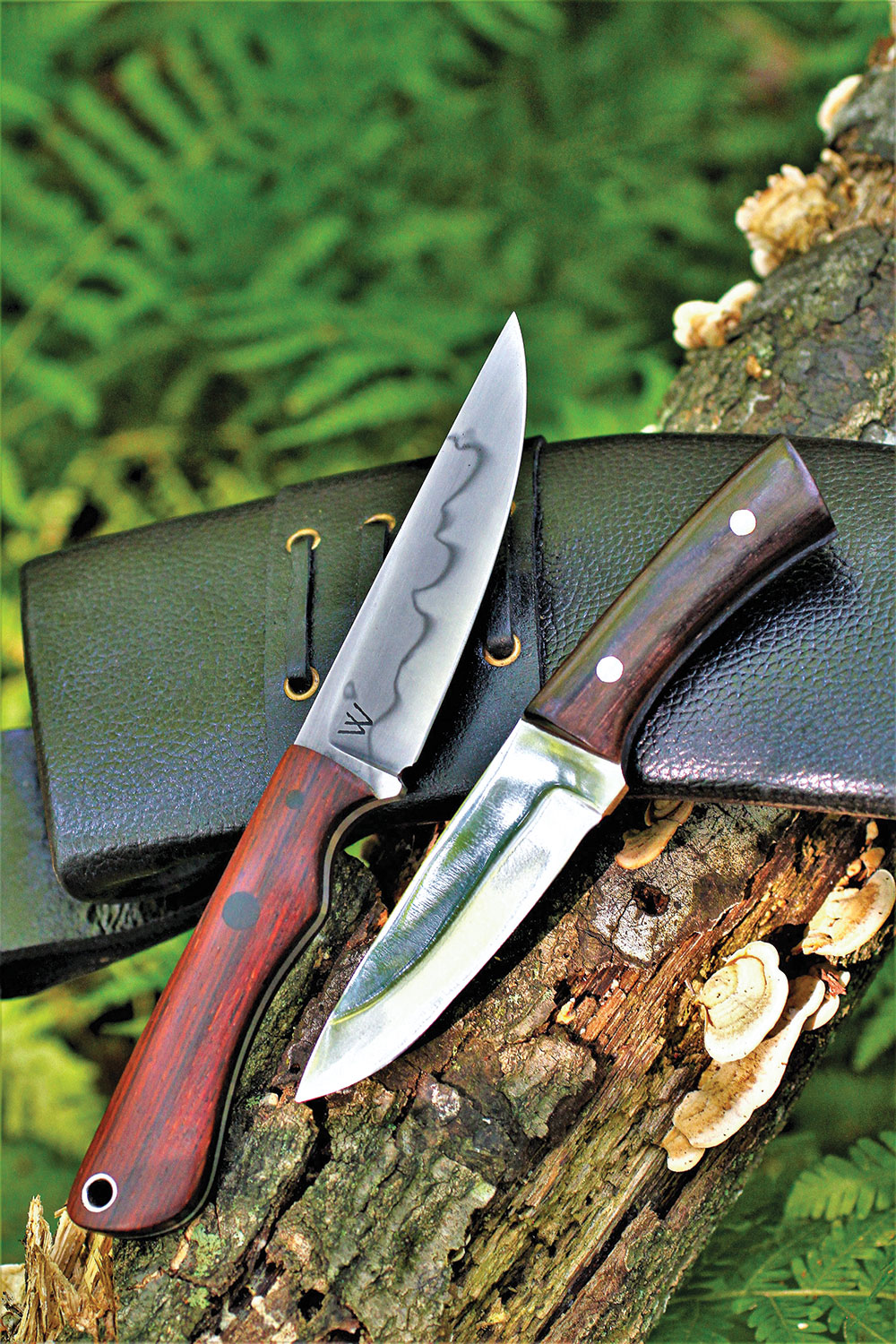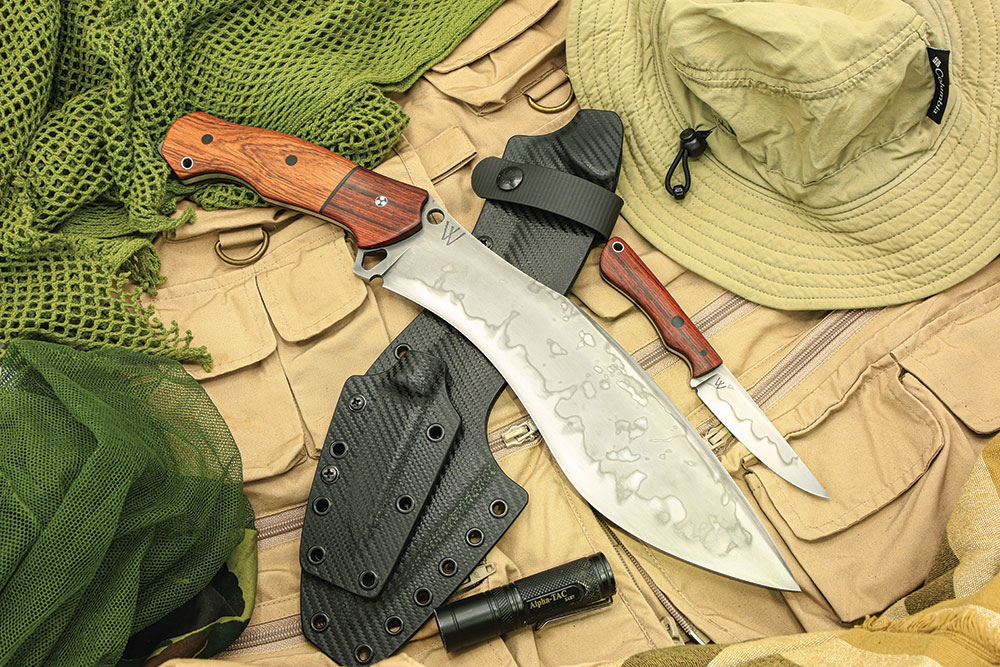 This knife is "whippier" due to its 3/16-inch thickness and tapered tip. It has a nice belly for slicing and impacting when chopping wood. I'd say that of all the kukri knives tested, this did better on thinner greenwood that was about finger thickness, especially toward its tip.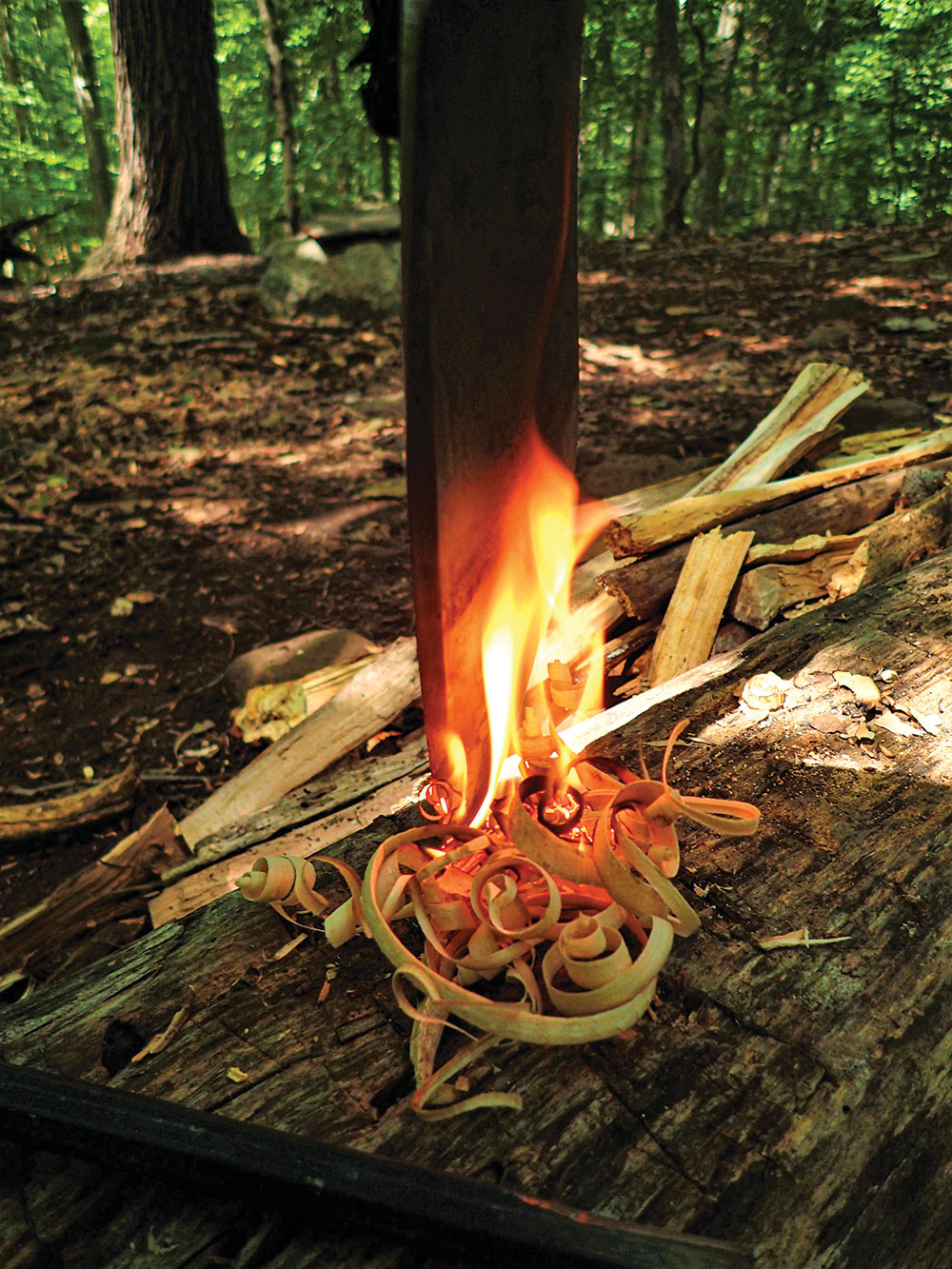 When it was time to chop hardwood, that's when the sweet spot was used. The sweet spot was above the recurve as the belly started, about one-third of the way down from the blade tip. The edge was thin, allowing the blade to bite deeply but not get stuck (as a machete might).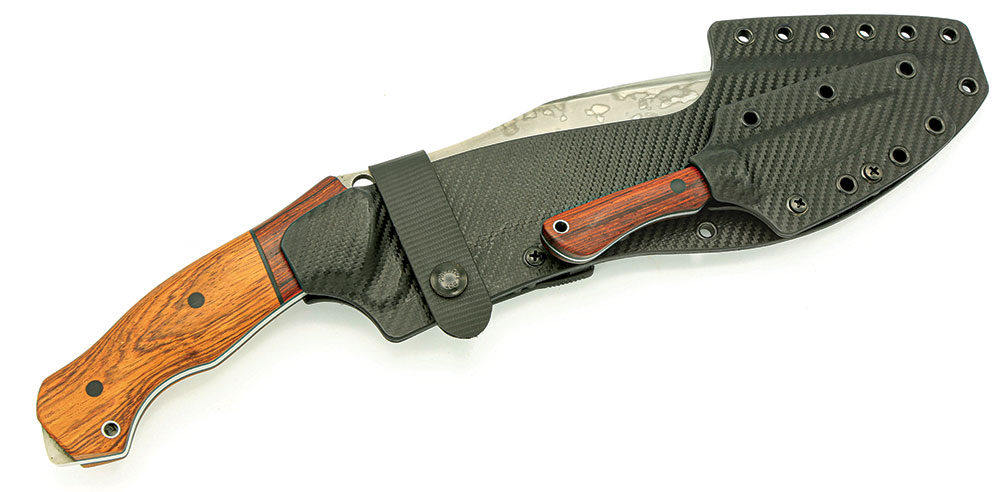 Naturally, every kukri was tested for its ability to produce fire. Every sharp tool I take to the woods needs to be able to make curls thin enough to ignite with a ferrocerium rod. I used the same methods for making feather sticks as I did with the other kukri knives, even though there was a supplied karda knife (from Norfolk Bird & Trout) for that.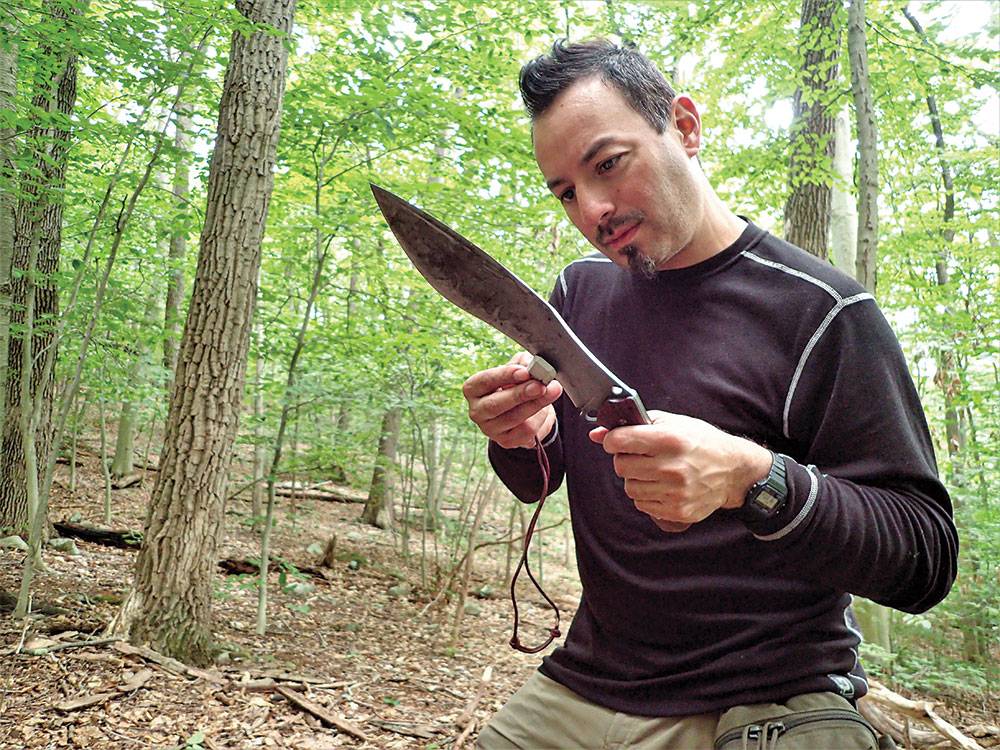 The Khuk's false edge also adds another tool intended for woods use, because it's an excellent place to strike a ferrocerium rod. To ignite the feather sticks, I used a longer, 6-inch Uberleben Hexa ferrocerium rod against the false edge. I applied some pressure with my forefinger and ripped the rod back, producing a shower of sparks that were Fourth of July-worthy!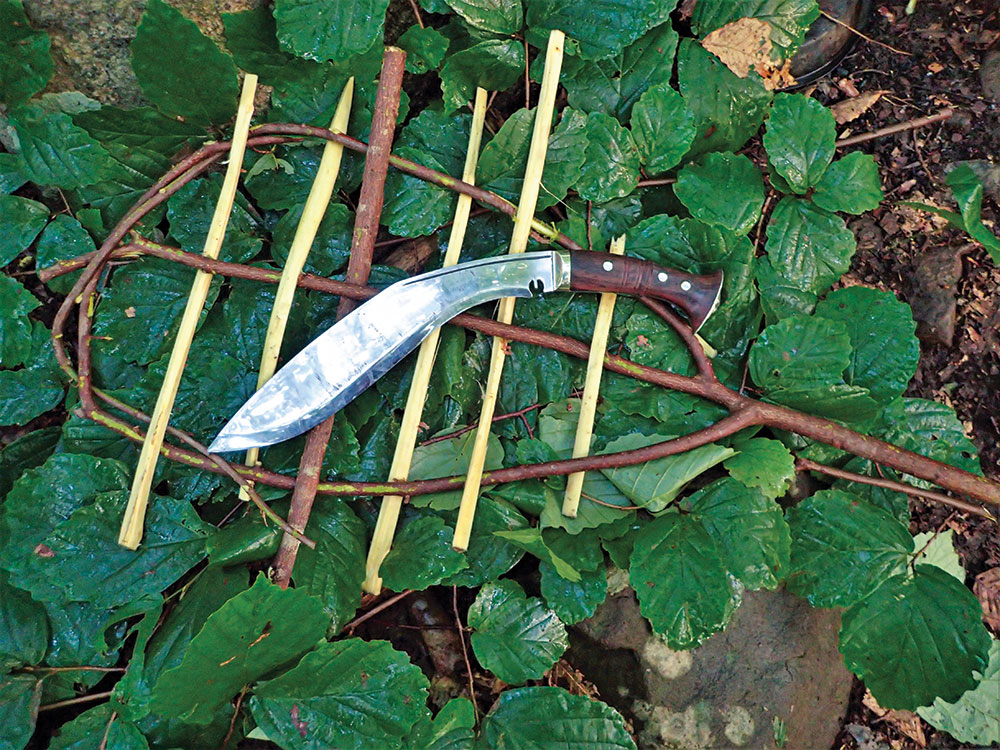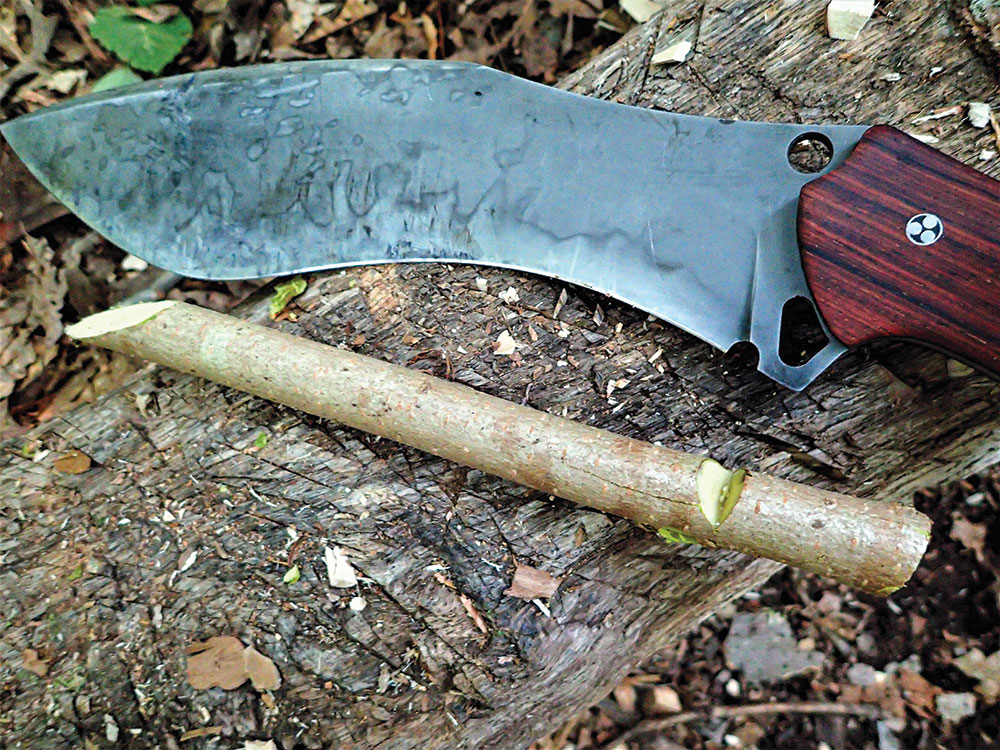 Making a four-cut stake is something I like to practice. Lopping off finger-thick pieces of greenwood from a fallen beech was easy via one properly angled chop closer to the tip, where it's thinner. This gave me an approximate 45-degree angle that served as the first cut for my stake. The second cut, much like the first, was a chop at a 90-degree angle for the top of the stake, making it about 7 inches long. The last two were controlled chops to create a "V"-notch to complete the stake. The Khuk Fighter held its own as a formidable, hard-use utility kukri.
---
3. Ryan W. Knives Khuk Fighter
Specifications
Overall length: 16.50 inches
Blade length: 10.50 inches
Blade thickness: 0.1875 inch
Blade steel: W2 high-carbon steel
Blade finish: Hamon
Handle material: Honduran rosewood and cocobolo
Knife weight: 21 ounces
Sheath material: Textured Kydex with Tek-LOK
Designer: Ryan Weeks
MSRP: $700–$1,000
---
VERDICT
The great romance and the extraordinary accounts of bravery that a kukri knife evokes are legendary. Give the kukri a try; you'll see. There are many chopping tools available that specialize in their environment and tasks. The kukri, however, outdoes them all.
---
THE CHO
The notch near the choil area is called a "cho," or "kauri," and has various meanings. A few include the genitalia of Kali, or Shiva (the sun and moon symbols of Nepal), a "kowdi" ("cow-track," because the cow is sacred to the Hindus), a blood drip and a substitute guard. Apparently, the meaning has been lost over time, so it's anybody's guess.
Purists don't consider a kukri to be a kukri without a cho; rather, these are instead considered "kukri-like objects." This doesn't mean they don't function as one, but customarily, kukris share two characteristics: They're differentially hardened and have a cho, as well as a "karda" (a small companion knife) and a "chakmak," which is a sharpener/ burnisher to smooth out dings.
---
ALAN KAY ON KUKRI KNIVES
Using his kukri knife, Alan Kay lost about 60 pounds and gained a win on the History Channel's Alone television show. For the duration of his stay on Vancouver Island, Canada, Kay used his kukri to split wood for kindling, chop branches for his shelter and build a fish trap. He carved a spoon, made feather sticks for fire and sharpened the kukri as his time-killer fallback activity. The notches in his calendar stick seemed to be the most symbolic activity: All 56 were made with his kukri.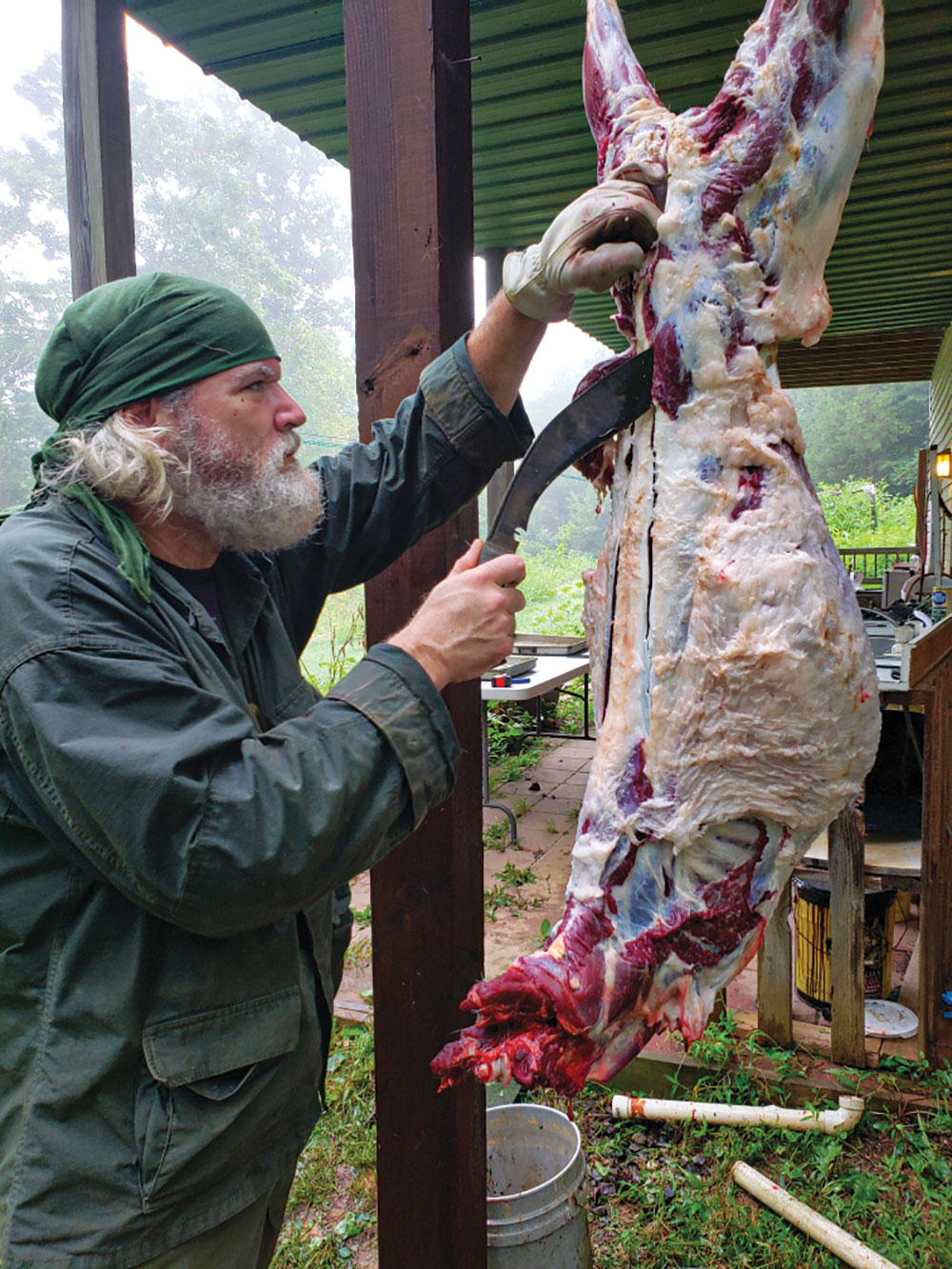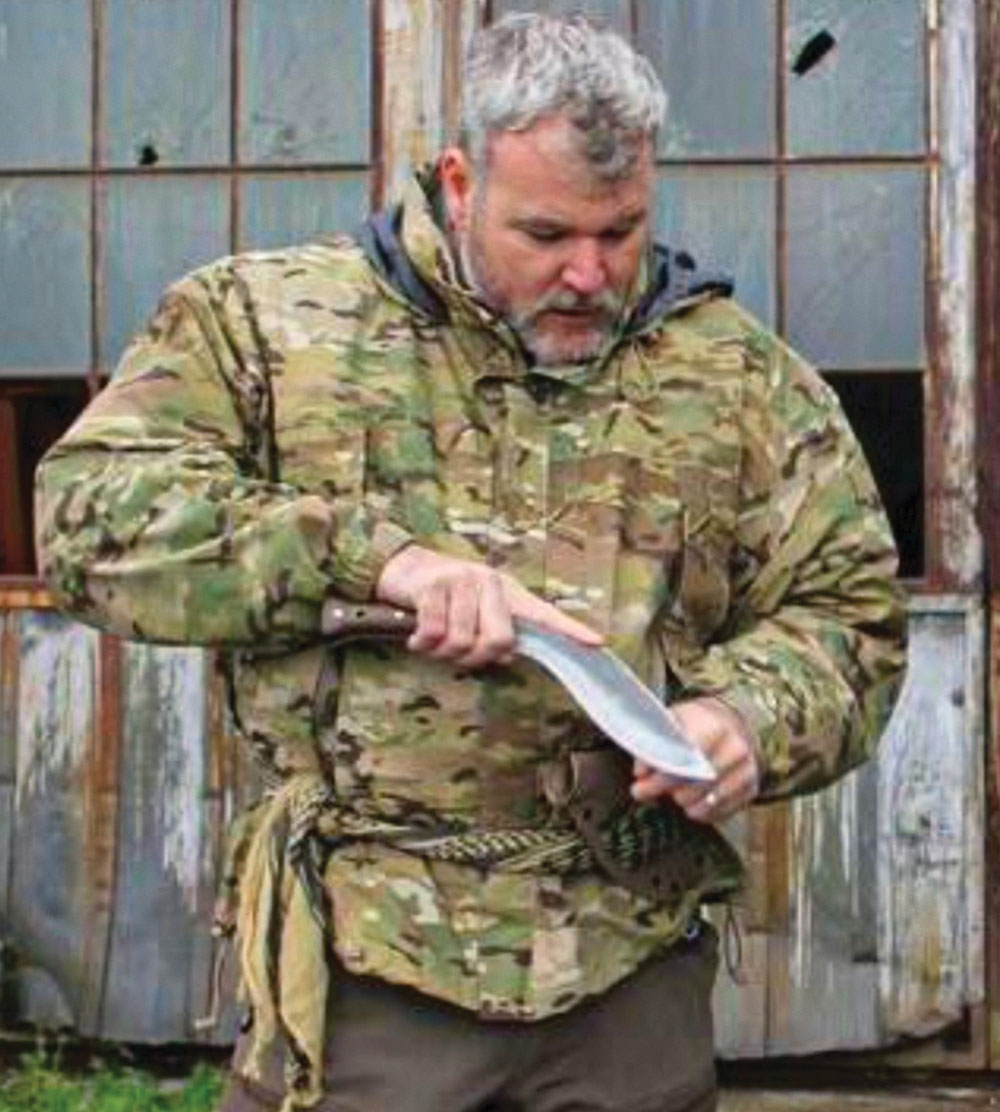 Talking with Kay and watching his kukri-use videos assured me of his passion for this time-tested tool. He's used production-made kukri knives from TOPS Knives and Condor Tool & Knife. He's also used several authentic kukris from Nepal. One of his more-recent kukri knives was the 12-inch Survival Kukri from Knives By Hand.
Kay can be seen in videos comparing axes and machetes to kukri knives, as well as showing some techniques. "If you can own something like that, you're winning the lottery of life!" he exclaimed.
---
SOURCES
Knives By Hand
2413 McFarland
Caddo Mills, TX 75135
Frank@KnivesByHand.com
www.KnivesByHand.com
Ryan W. Knives
P.O. Box 1101
Bountiful, Utah 84011
(801) 755-6789
Ryan@RyanWKnives.com
www.RyanWKnives.com
TOPS KNIVES
(208) 542-0113
P.O. Box 86
Ucon, ID 83454
www.TOPSKnives.com
Info@TOPSKnives.com
A version of this article first appeared in the January 2022 issue of American Outdoor Guide Boundless.