THE CRKT SKEGGOX IS A HANDY CHOPPER THAT CAN HANDLE THE TOUGH CHORES
Make no mistake about it, I love my big knives. But on most of my outings, I'm not limited to one knife as my only tool. When I head to the woods, I'm not barefoot, naked or afraid. I'm usually prepared with everything I need because I want my time there to be enjoyable and not a survival challenge.
As part of that "prepared" philosophy, I'm more apt to pack a mid-sized knife, a saw, and either an axe, a hatchet or a tomahawk. That size knife is better for intricate tasks, and a good saw, together with a tool designed specifically for chopping, do a much more efficient job of turning big wood into small wood.
Recently, I had a chance to work with a couple of odds-on favorites for two of the blades in any preferred tool trifecta. Both are relatively new offerings from Columbia River Knife & Tool. The first is the Skeggox axe and the second is the Ramadi fixed-blade knife.
ONE HANDY HATCHET
Is it a one-handed axe, a hatchet or a tomahawk? I'll leave the definitions to you, but the Skeggox by any name is just as sweet. That name, by the way, is derived from the Old Norse bearded axe dating back as early as the 6th Century and subsequently used by the Vikings as both a tool and a weapon.
This new CRKT Skeggox could be employed in similar applications today. It features an overall length of 12.94 inches. That's just about right as it provides enough length for good leverage when chopping, yet is compact enough for packing on just about any outing. I've never liked those little shorty hatchets that compromise most of the tool's chopping power for the sake of portability.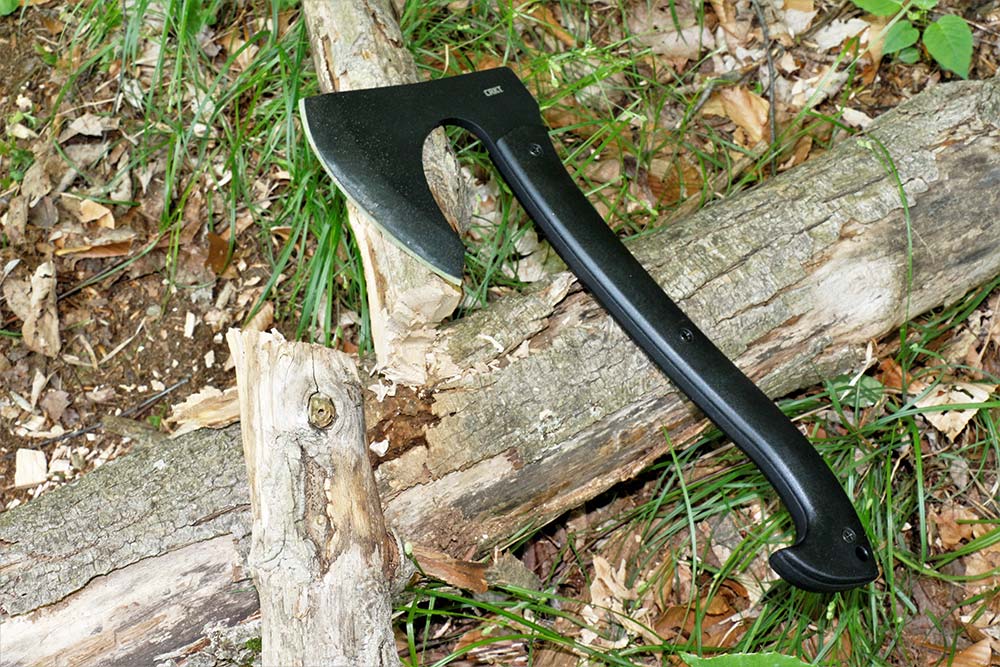 The Skeggox is a full-tang design – it's one continuous piece of metal from the toe of the bit to the end of the handle knob. It's made of SK-5 steel, 0.025-inch thick, that's powder coated for extra corrosion resistance.
I have other blades in SK-5 and I've always been satisfied with this steel's performance. The cutting edge is a generous 4.83 inches, much of that the "beard" that hangs down considerably below the head of the tool.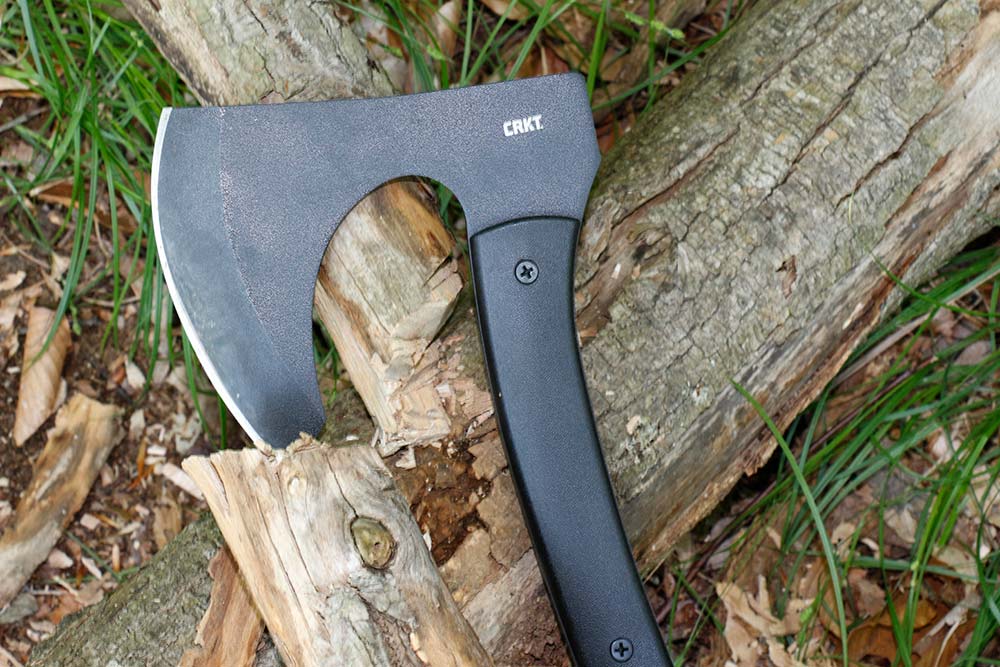 The full-tang construction means you'll never have to replace the handle, although the tool's long beard would protect the upper part of the handle from errant strikes anyway. The beard also allows you to choke up to the top of the handle for planing or shaving wood, skinning game, or even some ulu-style food processing.
As a weapon, the beard could be used to hook and parry the opponent's arm or weapon in close-quarters combat, leaving him open to a counter-strike.
CURVE AHEAD
The Skeggox was created for CRKT by James Williams of Vass, North Carolina, and I think he did an especially good job at designing the shape of the handle. It has curves in all the right places, including an upturned knob at the end that will keep your grip locked in where you have the maximum leverage for taking the most powerful swings.
The Skeggox weighs 1.63 pounds that's distributed nicely to give the impression of sufficient heft while not being so heavy that you'll want to leave it home.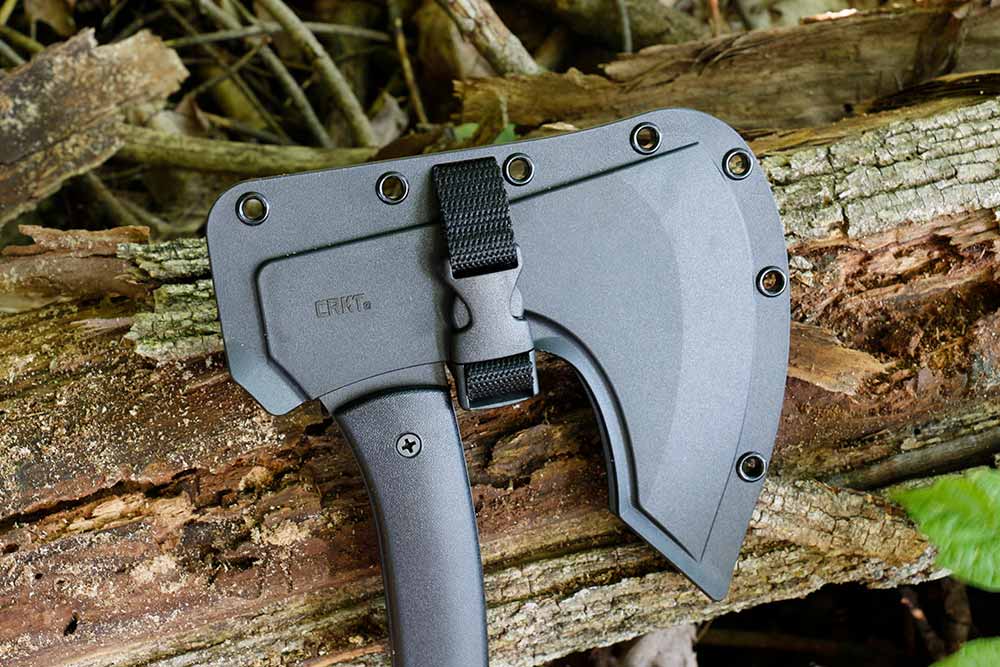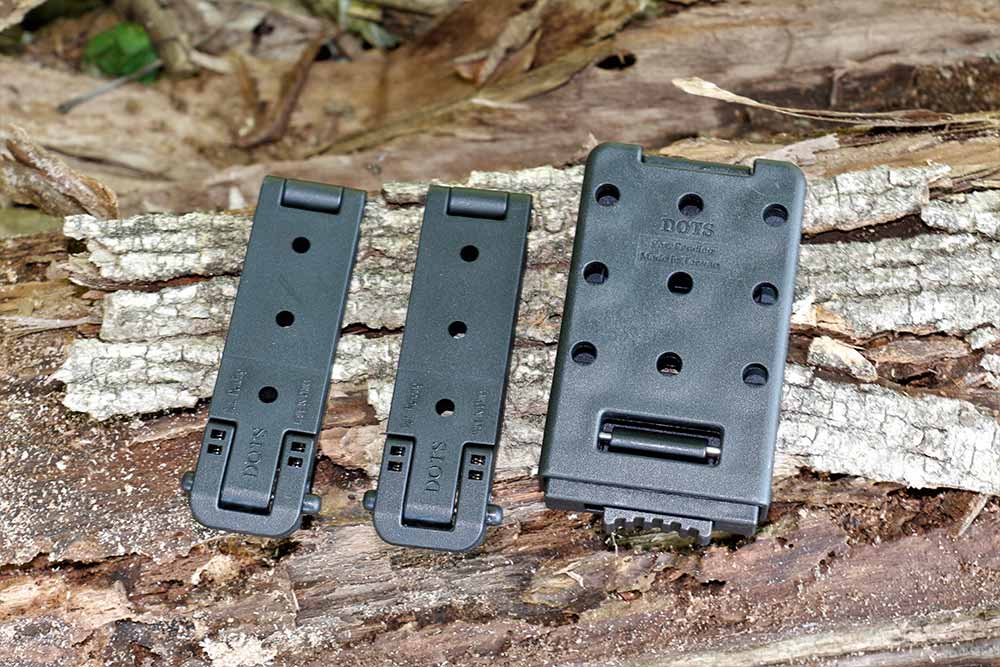 The tang is covered on each side with glass-reinforced nylon (GRN) scales that are bolted on. The scales have a bit of texturing and that's fine. But I don't want too much texturing on an axe, machete, or any chopping tool that could leave my writer's hands raw in short order. There's a lanyard hole, too.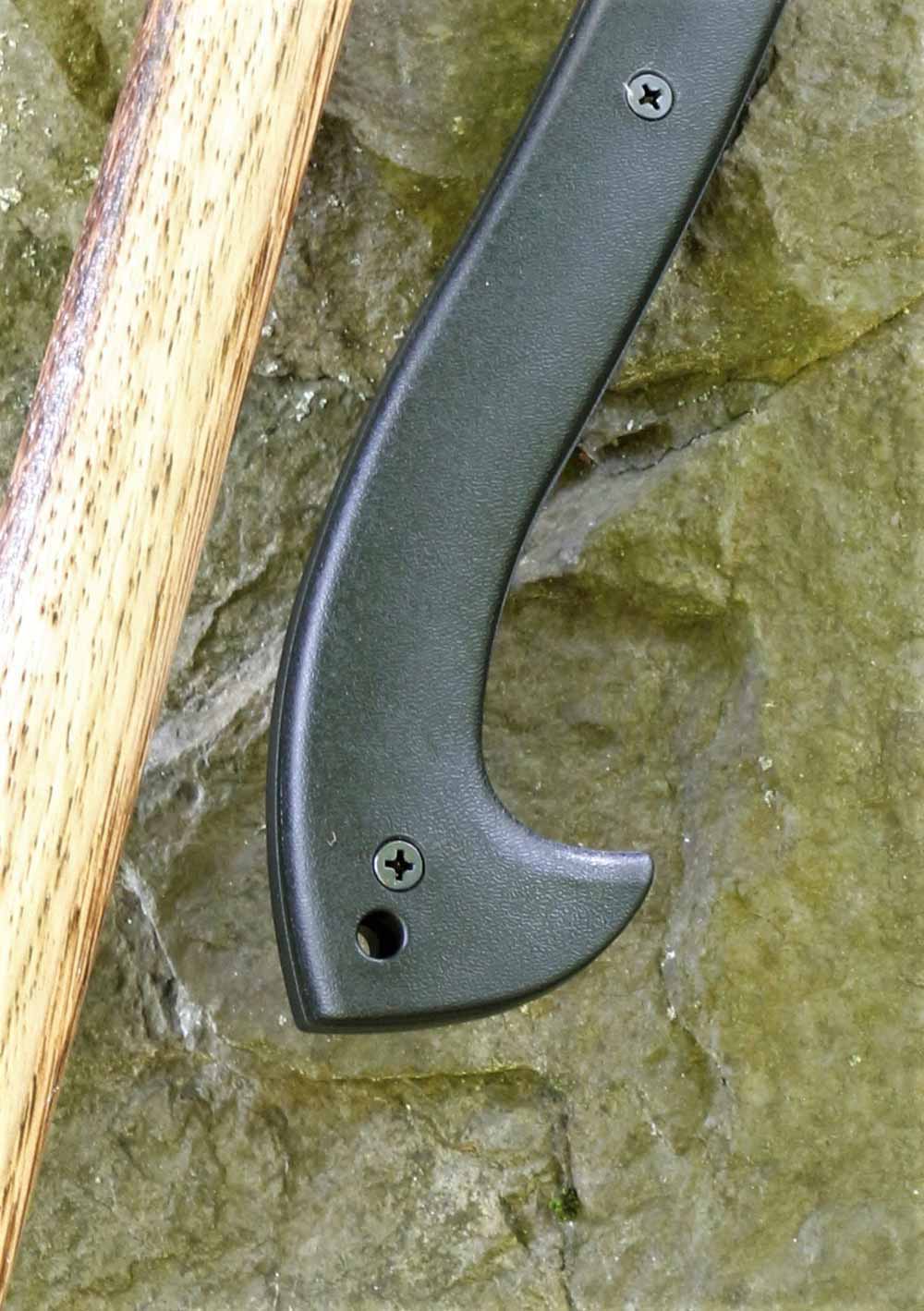 The Skeggox comes with a very nice thermoplastic sheath that should be impervious to the elements. It's good to have a nice sheath on a tool that you'll be toting along often and not just hanging on a tool rack in your garage.
The Skeggox fits into it from the opening at the bottom of the sheath and there's a nylon strap with quick-release buckle to secure it. Both a belt clip and MOLLE-style attachment clips are provided for multiple mounting options on the belt or pack.
A CLOSE SHAVE
During use, I found the Skeggox did a good job pruning limbs and taking good-sized chunks out of small logs with each contact. I split some small pieces of wood and the Skeggox performed well, but keep in mind that with its thin profile, it's not really designed for heavy-duty splitting.
You'd want a more wedge-shaped head for that, which would also provide a wider poll for hammering.
"…THE BEARD ALSO ALLOWS YOU TO CHOKE UP TO THE TOP OF THE HANDLE FOR PLANING OR SHAVING WOOD, SKINNING GAME, OR EVEN SOME ULU-STYLE FOOD PROCESSING."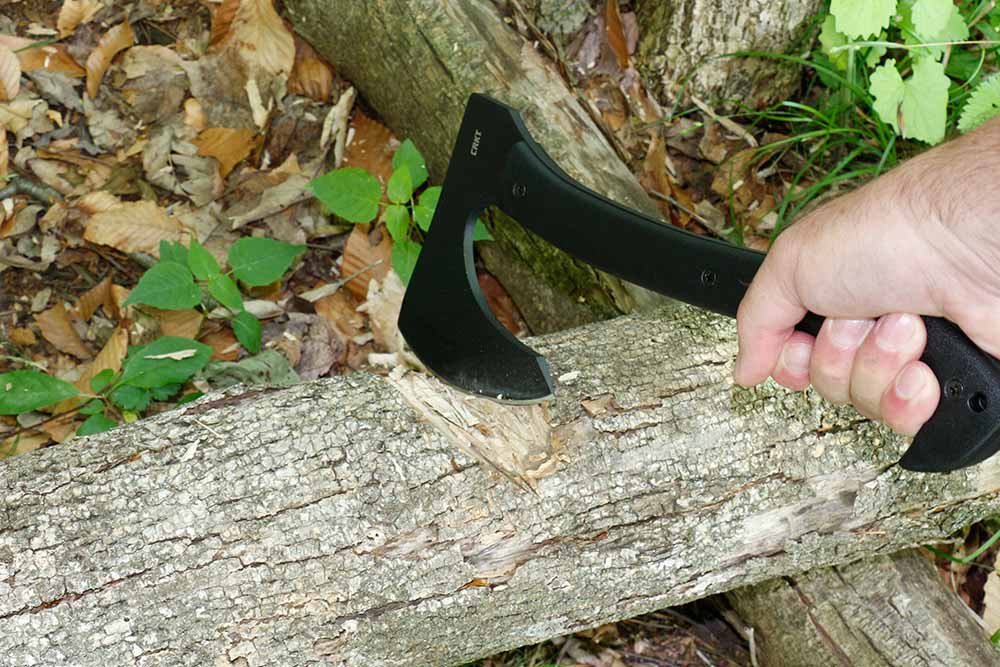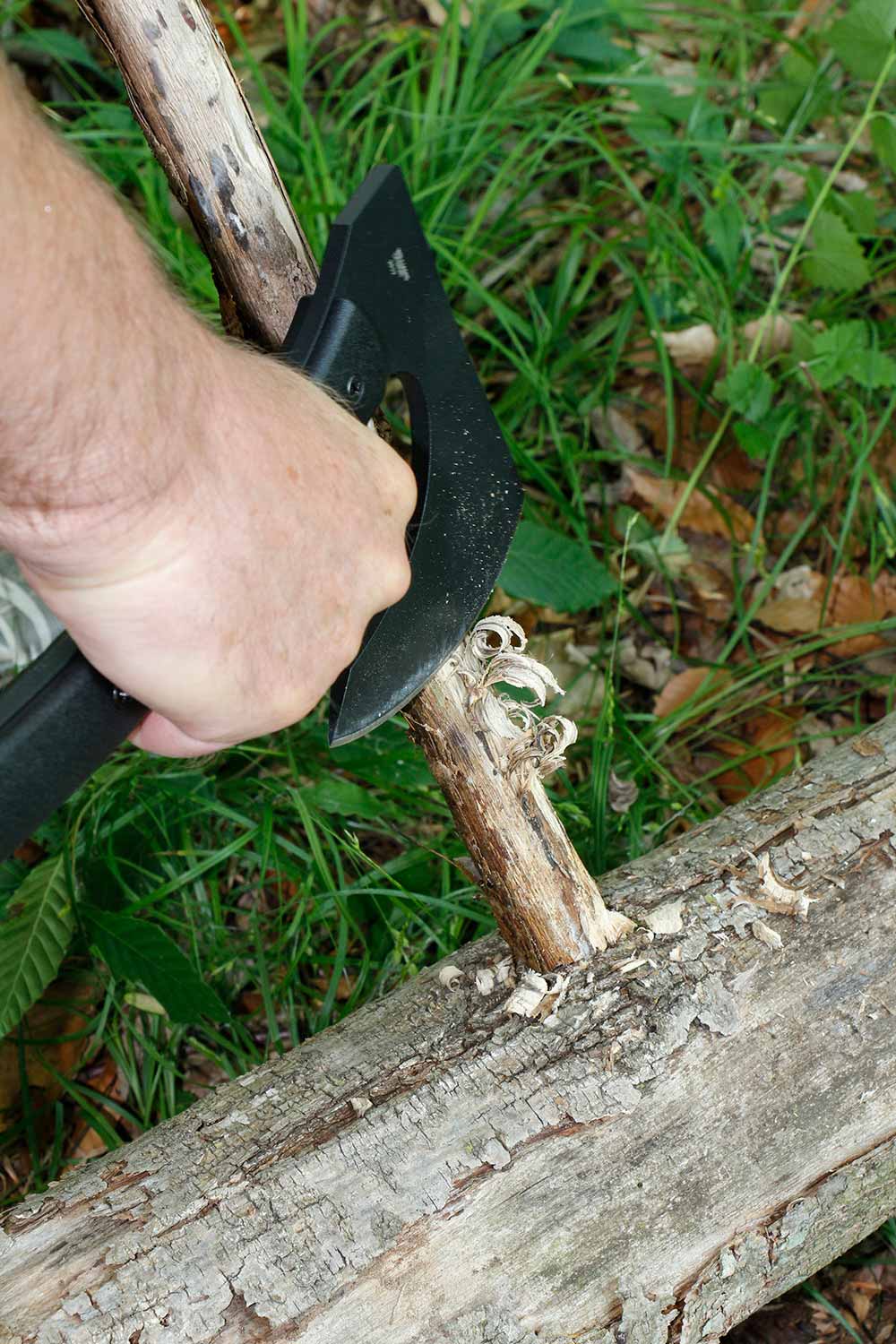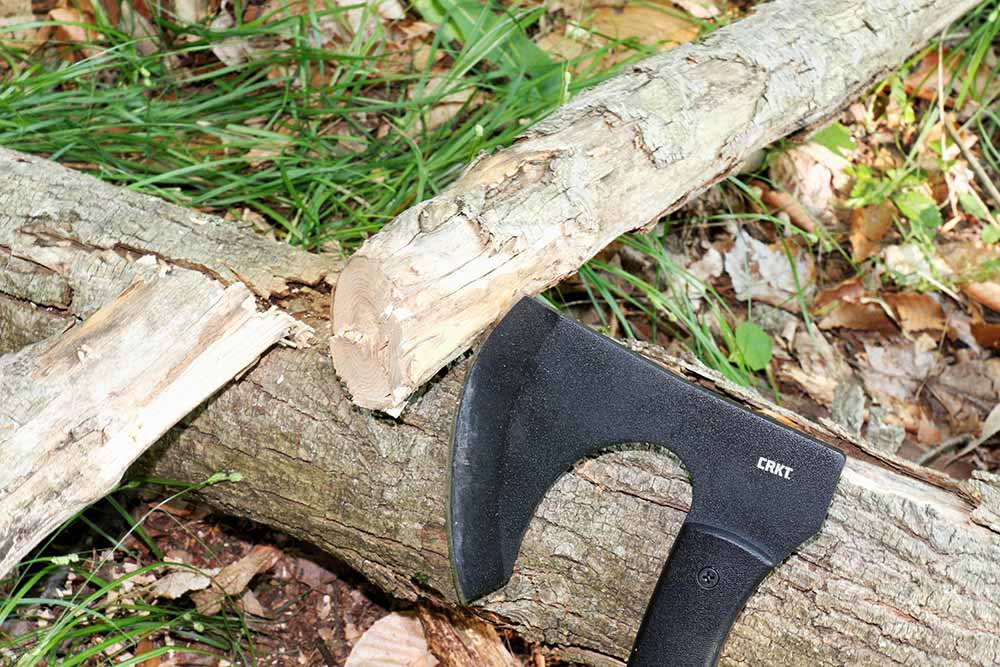 I took advantage of the Skeggox's ample beard to try shaving some wood. This tool came with a very sharp edge and when choking up on the handle that edge was easy to control. Creating tinder or rough-shaping wood for campcraft projects would be no problem for the Skeggox.
WORTHY ADDITION
If I had to stack a winter's worth of wood, this isn't the tool I'd want, and yes, there might be some few occasions when I might be better served with a machete. No, I haven't had the opportunity yet to travel to South America, where I might need to hack my way through a jungle environment, and to be honest, that's not at the top of my list of vacation destinations anyway.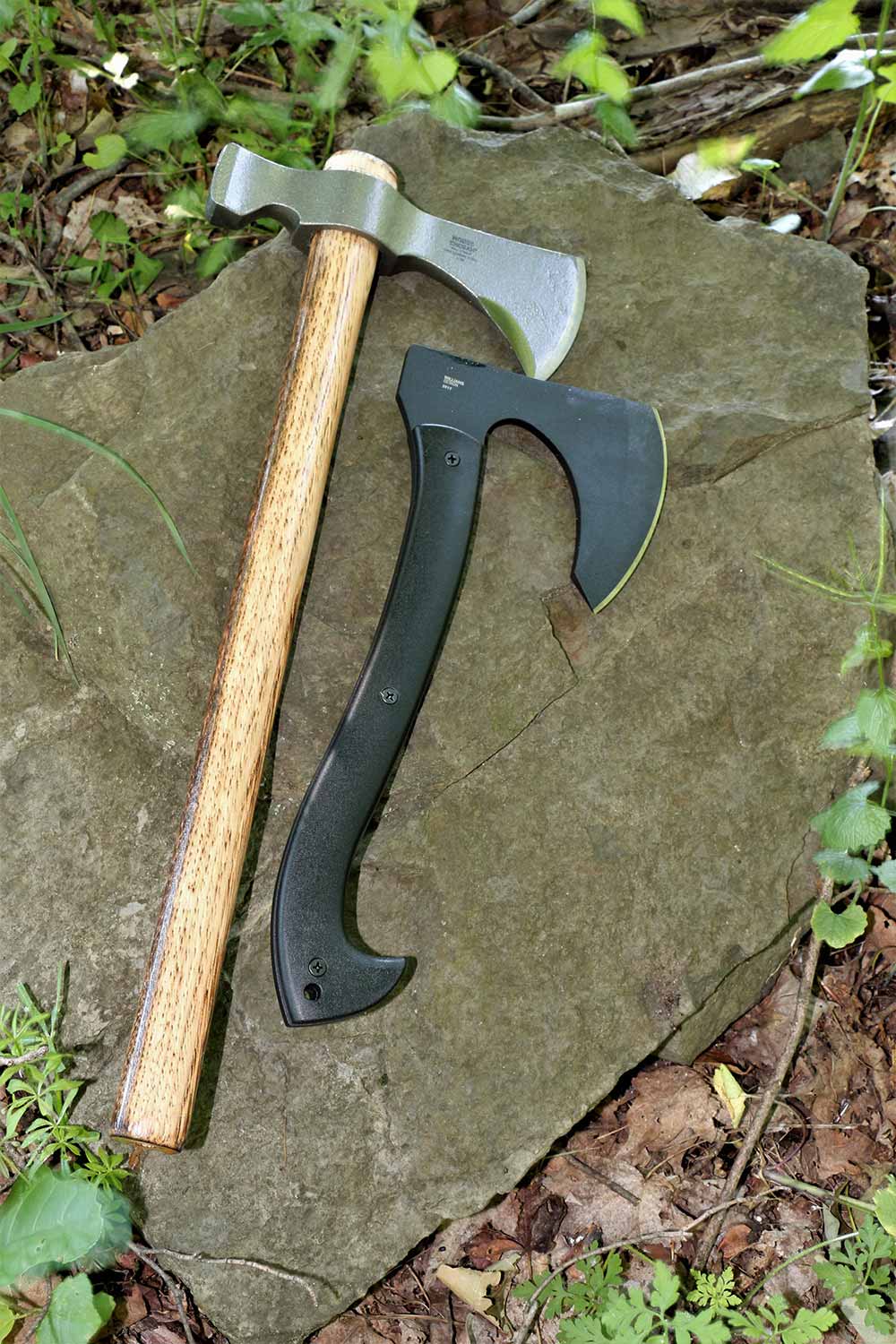 All things considered for the areas I most frequent, I'll probably stick to my three-tool kit that includes a knife, a saw and a hatchet. The CRKT Skeggox would feel right at home in that group.
Recently having the right tools paid off. My wife and I rented a cottage in Golden, Colorado for a few days and an overnight storm brought down branches all around us. Our 88-year-old hostess went outside the next morning with a pair of hedge clippers to address the problem, but wasn't faring well.
I had a folding saw and a hatchet with me because we had anticipated camping along the way on this trip. Also, I used those tools to cut the branches down to a manageable size for her so they could be removed. I wouldn't have wanted to tackle the job with a big knife alone.
---
THE SPECS
Model: CRKT Skeggox
Designer: James Williams
Type: Axe/Hatchet
Steel: SK-5 with powder-   coat finish
Overall Length: 12.94 inches
Blade Length: 4.83 inches
Blade Thickness: 0.25 inch
Handle: Glass-Reinforced Nylon (GRN) over full tang
Sheath: Thermoplastic, 5.5 ounces
Weight: 1.63 pounds 
Origin: Taiwan
MSRP: $150
---
THE CRKT RAMADI MAKES A GREAT SIDEKICK
While I might pack the Skeggox with me on many occasions, I'll always be carrying a knife. The CRKT Ramadi is an excellent choice either as a companion blade to the axe and saw or as a stand-alone blade.
Darrin William Sirois designed this fixed blade in Fayetteville, North Carolina. It measures 8.5 inches overall and is made of powder-coated SK-5 steel that's 0.17-inch thick. 
The edge measures 4.37 inches. The edge has a bit of a recurve to it that will make it a good slicer. The blade looks to be a drop point in configuration, with just a hint of an upturn at the very tip. It will be a good penetrator. The Ramadi is a knife that can handle the camp chores and self-defense duty, too.
The handle scales are G10. The thermoplastic sheath holds the knife secure and it comes with a removable belt clip for several mounting options.
---
THE SPECS
Model: CRKT Ramadi
Type: Fixed-blade knife
Designer: Darrin William Sirois
Overall Length: 8.5 inches
Blade Length: 4.37 inches
Blade Thickness: 0.17 inch
Steel: SK-5 with powder-coat finish
Handle: G10
Weight: 5.6 ounces
Sheath: Thermoplastic (1 ounce)
Origin: Taiwan
MSRP: $87
---
SOURCE
Columbia River Knife & Tool (CRKT)
Editor's Note:
A version of this article first appeared in the July 2022 issue of American Outdoor Guide Boundless.