DIVER DOWN: AMAZING SNORKELING SPOTS
If you're looking for an underwater adventure that doesn't require the training scuba diving does, consider snorkeling. All you need for warmer waters is a mask, a snorkel, and some fins. Sure, you can snorkel without the fins, but you'll tire less easily if you have fins. You can purchase new equipment for about $50-$75 dollars or simply rent it for the day if you're wary of commitment. If you're snorkeling in cooler waters, you'll want a wet suit. Most of our picks are in warm waters so that you won't need to bother.
The hardest thing about snorkeling is learning how to clear the snorkel after you've taken a dive to look around. Old school snorkels are a bit more difficult to clear. Once back on the surface, you place your tongue against the opening and breathe out in a short, hard burst. (It's like a hybrid between an exhale and a spit.) Newer style dry or "semi-dry" snorkels are much easier to clear.
WHAT LIES BENEATH
You don't have to journey to exotic ports of call to find amazing snorkeling spots. We've rounded up some good spots in the good ol' USA.
BISCAYNE NATIONAL PARK, FLORIDA

You can see the Miami skyline from the northern parts of this national park, 95 percent of which is under water.
Biscayne's clear waters resemble Caribbean waters farther south, and are teeming with fish. You can find a long, long list of all the species there if you visit Biscayne's NPS page on the Internet.
You can even snorkel a shipwreck here. Most shipwrecks on the park's Maritime Heritage Trail are accessible only to divers, but Mandalay is in 12-foot waters and therefore viewable with just a snorkel.
CRYSTAL RIVER NATIONAL WILDLIFE REFUGE, FLORIDA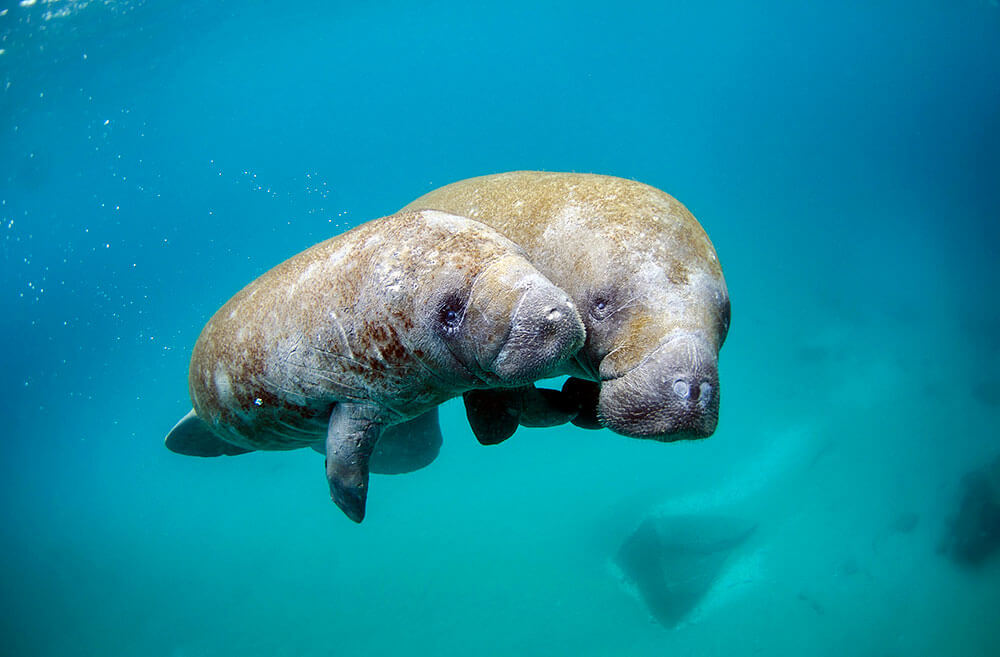 This destination has been on my bucket list since I was about 13 years old. West Indian manatees usually live in the Gulf of Mexico or Atlantic Ocean, but they can't survive in waters colder than 60 degrees. So, during the winter about 20 percent of Florida's manatees head to the clear, fresh water of Crystal River, about an hour's drive north of Tampa. The waters are so clear you can even view these "sea cows" from a kayak or boat. But if you want to view them from the water, don a wet suit and have a closer look.
Manatees are large mammals. Their closest relatives are elephants. Fully grown, they can measure as long as 10 feet and weigh up to 1,000 pounds. You shouldn't go barreling toward them, but they'll often come to you. You can increase the odds of a close encounter if you swim quietly, slowly, and deliberately.

Here's some trivia about these extraordinary creatures:
While sailing in the New World, Christopher Columbus thought he saw three mermaids. "Yesterday, when I was going to the Rio del Oro, I saw three sirens that came up very high out of the sea," he wrote in his ship's log. "They were not as beautiful as they are painted, since in some ways they have a face like a man." More likely, the misguided explorer saw three manatees. Dude was confused about this and many other things.
They spend about half their days sleeping. When resting, they need to come up for air about every 20 minutes.
When active, they surface for air every three to five minutes.
Listen closely, and you'll hear them communicate with clicks, chirps, squeaks, and squeals.
CHANNEL ISLANDS NATIONAL PARK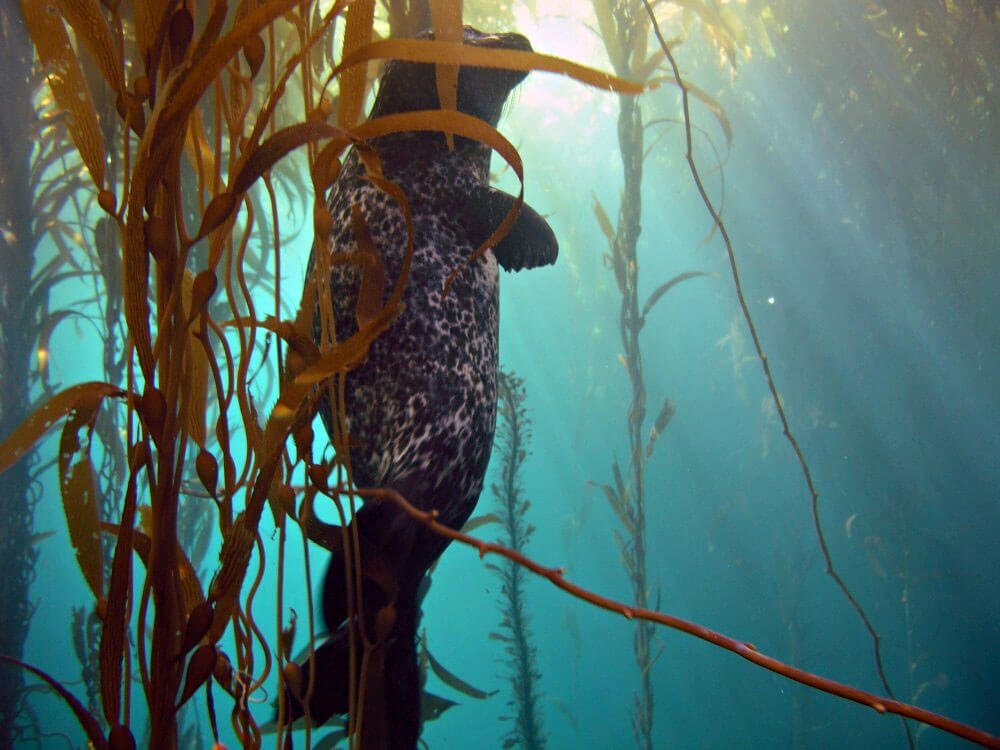 Only about an hour and a half north of Los Angeles, the Channel Islands are sometimes called "The Galapagos of North America." At places like Scorpion beach, you can swim a little way from shore and find kelp forests. You may even spot a sea lion.
Brrrrr: You'll probably want to rent a wet suit and a hood, as the water temps are 55-70 degrees Fahrenheit.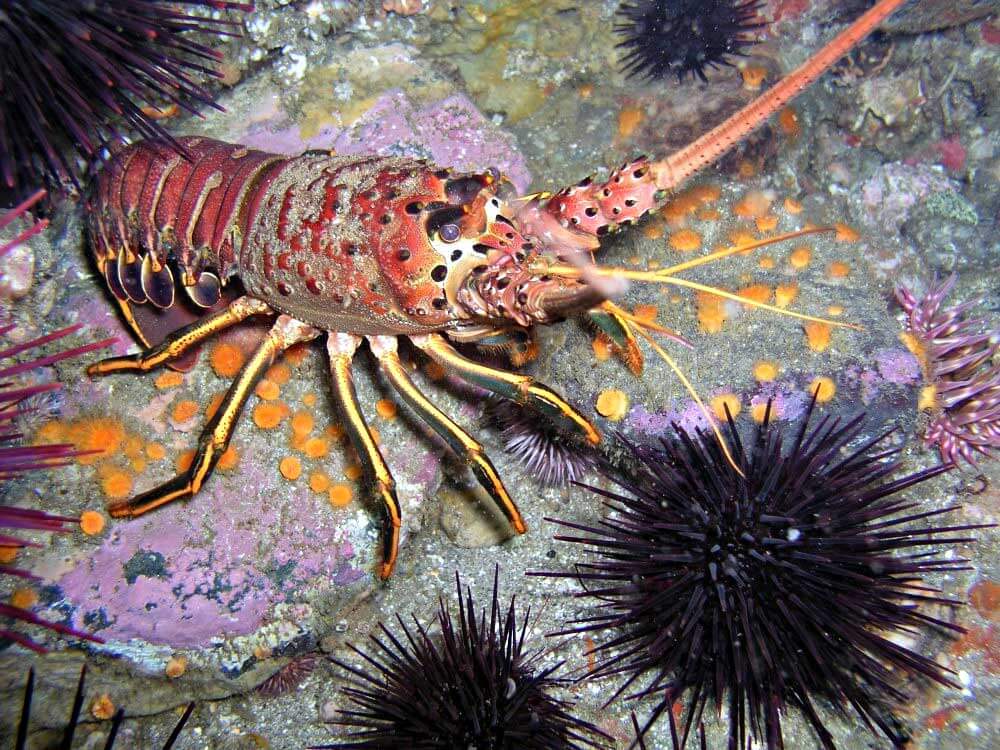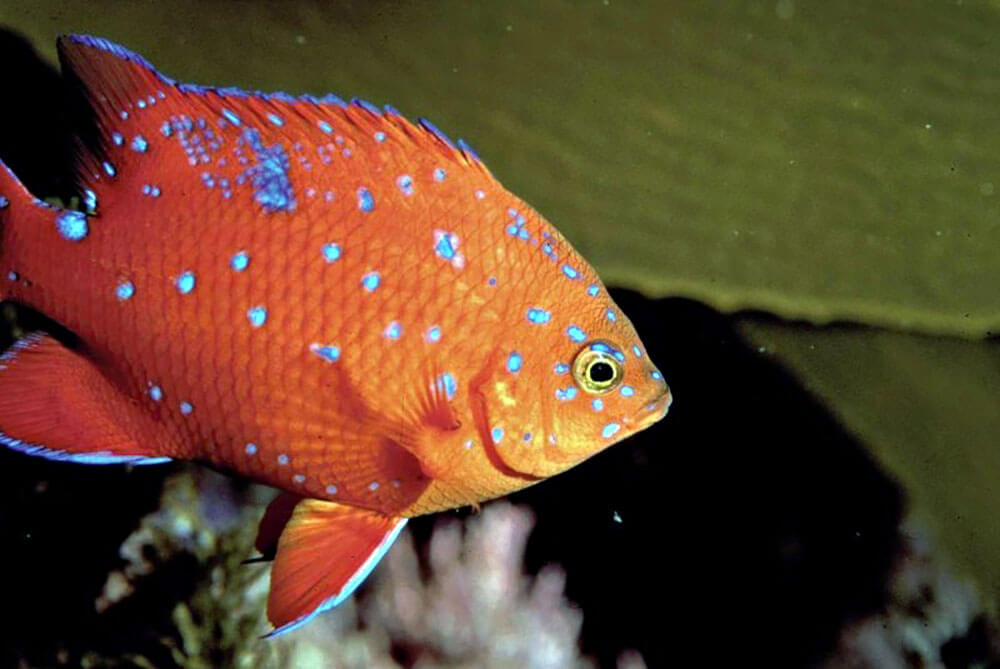 BUFFALO NATIONAL RIVER, ARKANSAS

Most of our big rivers have dams. Not so the free-flowing Buffalo River in the Ozarks. It meanders, roars, and tumbles over 135 miles.
In the summer, take a snorkel in the river and view turtles, catfish, blue gill, and other marine life in this clear, watery habitat.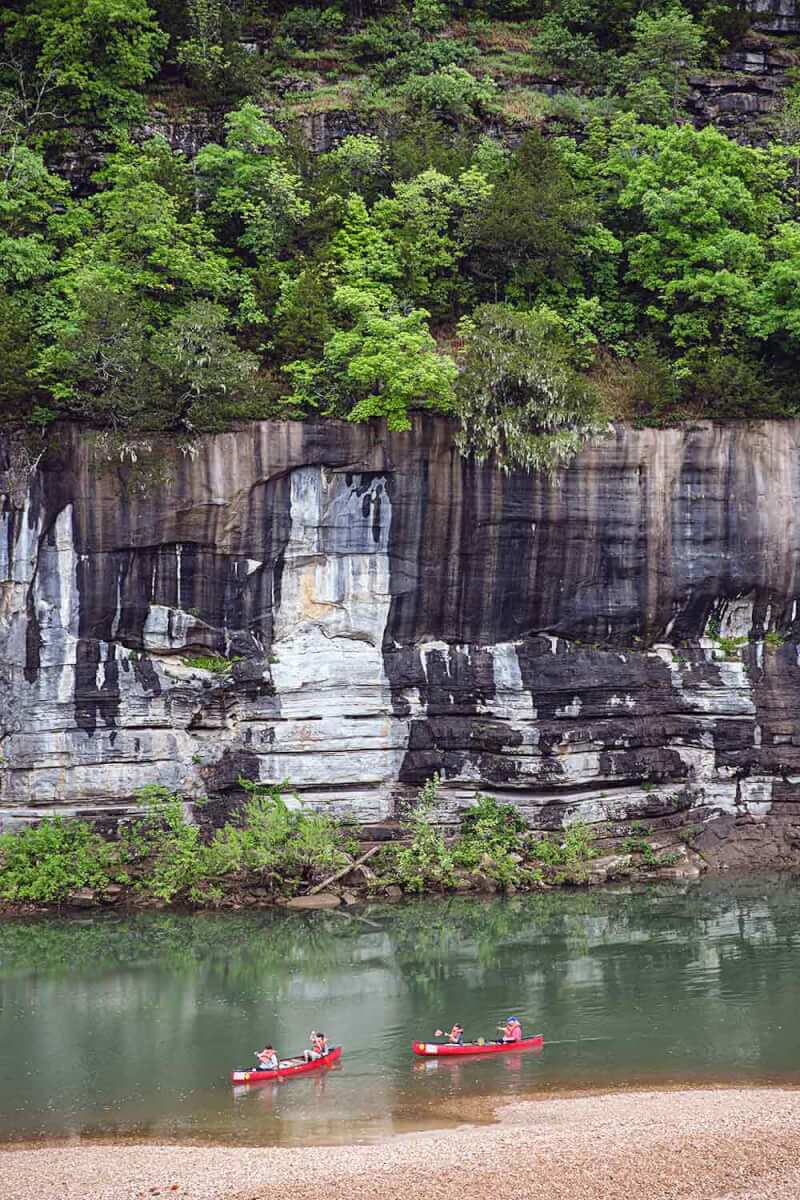 VIRGIN ISLANDS NATIONAL PARK, St. John

All the places I've listed here are bucket list items. But here, I've actually been. And yeah, it's technically overseas, on and around the American Virgin Island
St. John.
Why is it a national park? You can thank a Rockefeller for that. In 1952, Laurance Rockefeller, grandson of the Standard Oil magnate, visited St. John for the first time and fell in love with it. He was so in love with it that he bought 5,000 acres in 1956. He promptly handed over most of the land to the federal government, except for his place at Caneel Bay.
As a result, many of the forests, beaches, and coastal waters are undeveloped, which makes for fantastic snorkeling. On a trip there a decade ago, I pretty much hiked and snorkeled the whole time. I saw all the familiar Caribbean fishes I grew up with, but I'll never forget the turtles.
SNORKELING SAFETY TIPS

Without diving deep into the dos and don'ts of snorkeling, you should at least be aware of these precautions:
COVER UP
The water is cool, and what you see below you is often very interesting. This may tempt you to ignore the sun beating down on your back. Sunscreen wears off quickly and is harmful to marine environments, so wear a rash guard.
LOOK UP OCCASIONALLY
Again, what you see below is very interesting. But don't forget to look out and up every once in a while. That way, you can spot and avoid jellyfish floating near the surface. Looking up always helps you to orient yourself to the shore or to the boat and ensures you don't let a current you're not noticing carry you too far away.
PRACTICE "NO-TOUCH SNORKELING"
This strategy keeps you clear of cables, wires, nets, and fishing lines that could entangle you. It also prevents abrasions and stings from rocks, urchins, corals. Don't touch any saltwater coral, because it is very fragile. And fire corals—different from true corals—will sting you if you touch them.
LEAVE YOUR BLING IN THE BOAT
Statistically, the chances of a shark or barracuda attack are slim. You can make them even slimmer if you remove anything shiny that reflects light like a fish's scales.
STEER CLEAR OF THE LIONFISH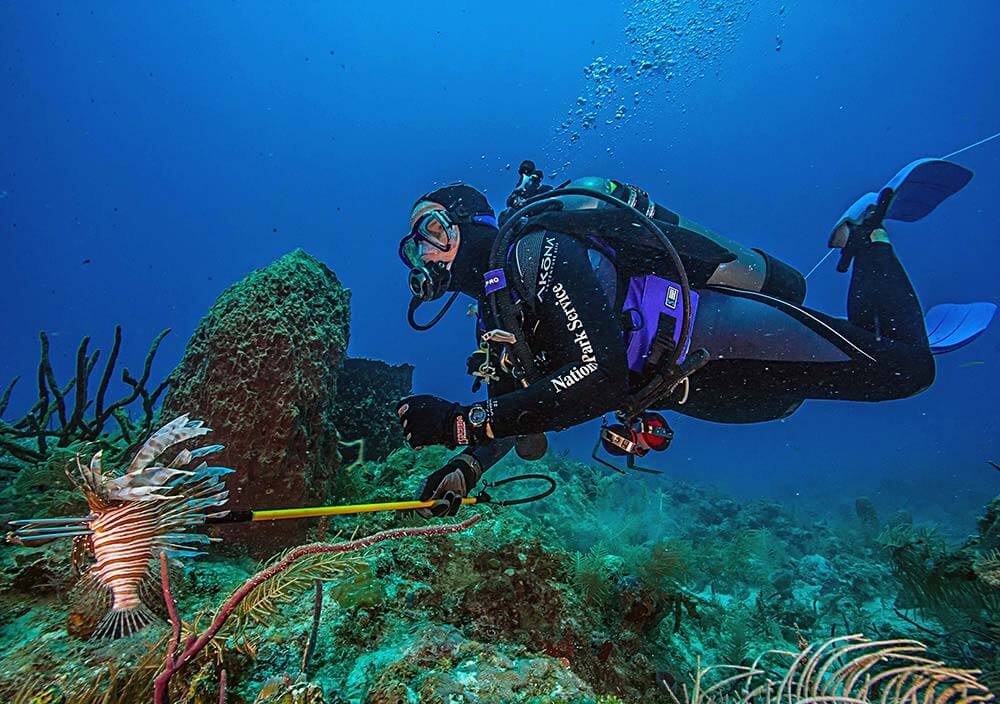 Native to Asian waters, lionfish are an invasive species that wreak havoc on Caribbean, Gulf of Mexico, and Florida's Atlantic coast.
The lionfish's spine produces a neuromuscular toxin that is similar to cobra venom. They aren't aggressive, so most stings come from swimmers brushing against them accidentally. Initial symptoms of a lionfish sting include throbbing pain, swelling, bleeding, bruising, and numbness. Some people are allergic to the venom, and can go into anaphylaxis shock.
Here's what to do if you're stung, according to Healthline:
Remove any remaining pieces of the spine from your skin, and clear the sting with soap and water or antiseptic wipe.
Control any bleeding by applying pressure to the wound.
Apply as much heat to the wound as you can tolerate for 30-90 minutes. The heat helps to break down the lionfish venom.
Take some ibuprofen or acetaminophen.
Put topical antibiotic cream on the sting and bandage the wound to reduce infection risk.
Use an ice pack to reduce swelling (after the initial heat treatment to break down). Pain will begin to subside after a few hours, and will be gone after about 12 hours.
Here's why lionfish are such pests:
They have no predators, and each female lion fish produces more than two million eggs a year.
They eat a lot, and decimate reefs. Their stomachs can expand up to 30 times their normal size to accommodate their meals.
Each lionfish lives for up to 15 years.
Lionfish tournaments—or "derbies"—are common. Removing 1,000 lion fish can save two to nine million native, juvenile fish.
The upside? Lionfish are delicious. Restaurants serve them, and you can get lionfish cookbooks.
A version of this article first appeared in the May 2022 issue of American Outdoor Guide Boundless.