CARRYING THESE 3 TYPES OF SURVIVAL KNIVES IS A WINNING COMBINATION
A man without a knife is a naked man, right?  (That goes for women too!). Well, at least I feel naked without at least one knife and preferably more.
The knife is one of the most ancient tools that mankind has manufactured, carried, and used for millennia. The idea that most of us are urban is not a reason to not carry a knife. A knife is still very much essential in modern day-to-day life.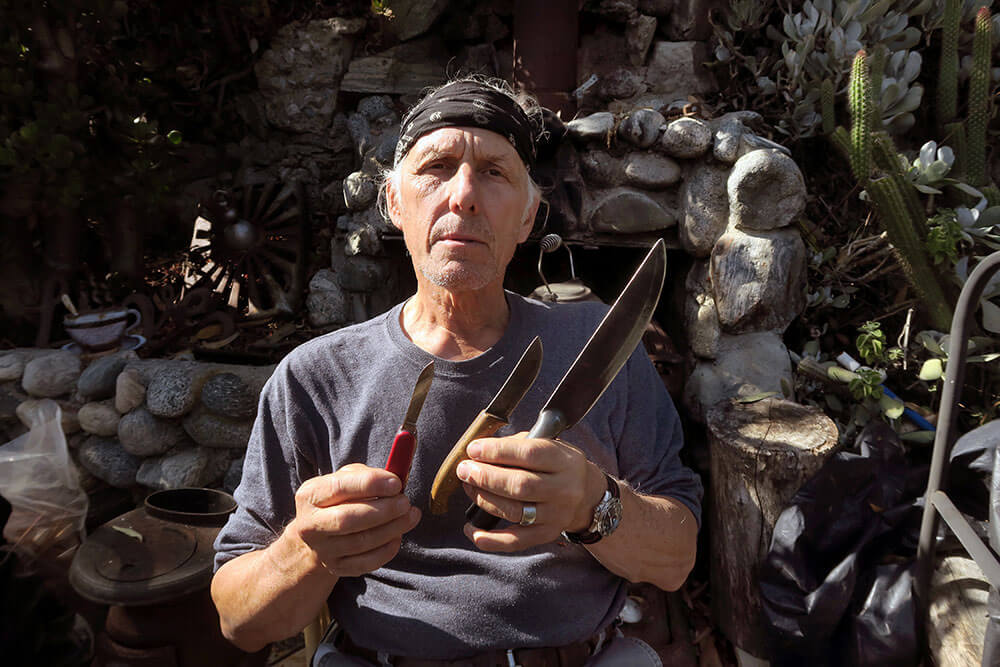 Though I have been accused of carrying too many knives, I believe that you can never really have too many survival knives. There's a knife for every purpose, and some might be for backup. You might also have a few for trade or barter. When I hit the trail, and even on a normal day around town, I find that I carry at least 3 survival knives, each filling a different niche.
Though I have quite a few survival knives for each of these three categories, under regular circumstances, I tend to carry just one knife from each of the categories.
Let's take a look at the three categories of survival knives and my uses for each.
FOLDING POCKET KNIFE
A stainless steel folding pocket knife is a must. It is easy to carry, unobtrusive, and can serve many purposes. In my case, this is usually a Swiss Army knife, and I prefer the model that has two blades, as well as a saw and scissors, both of which I also use. There is also a can opener and a bottle opener, both of which I use regularly. There is also a corkscrew. Because I am not a drinker, I really don't need this tool, but I have used it on occasion to pull the cork on other peoples' wine bottles.
At the very least, regardless of the model, when I select a Swiss Army knife, I want at least one blade, the saw, and scissors. Most come with a can opener and the tweezers and toothpick. Victorinox makes quite a few pocket folding knives, and for the money, they are probably the best knife you can carry in this category.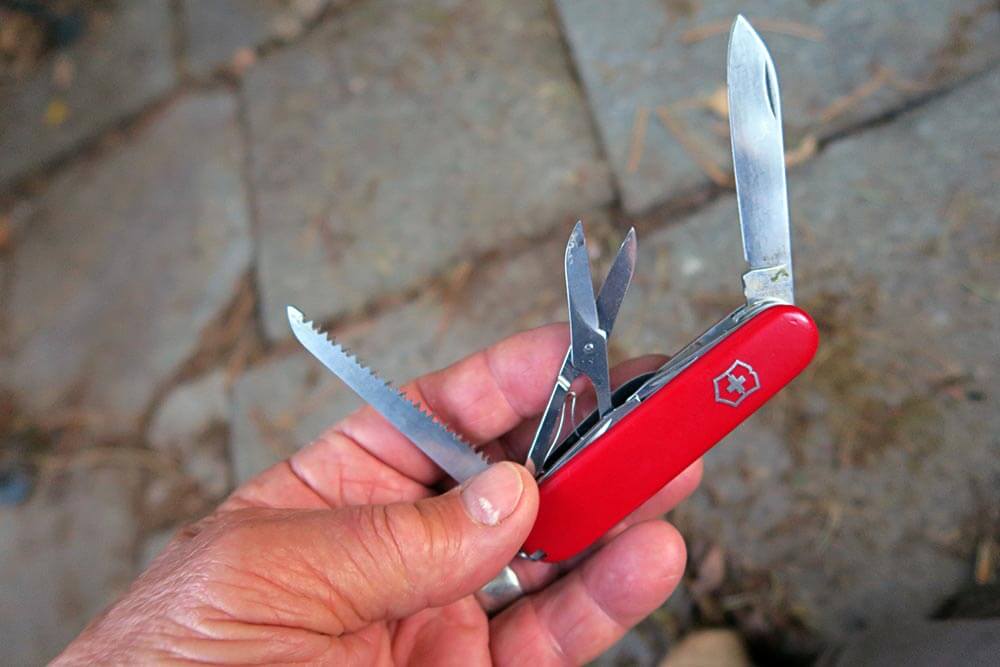 I think that a pocket folding knife is an essential everyday tool. If you're not a fan of the Victorinox Swiss Army knives, there are many others that will fit this bill. However, I do strongly encourage you to not buy one of the cheap Chinese knock-offs.
If I want to go very spartan, I might carry a folding Buck or Kershaw or a knife from any of the other hundreds of brands that are out there. I know that I have far more pocket folding knives than I can ever use, and my go-to is always the Swiss Army Victorinox knife.
I use this knife for cutting apples, oranges, sandwiches, twine, and opening envelopes. I use it to whittle branches for making fire, or for traps and triggers. I use the saw for nocks on arrow shafts, or cutting small pieces of wood. A day does not go by where I do not have a use for my Swiss Army knife.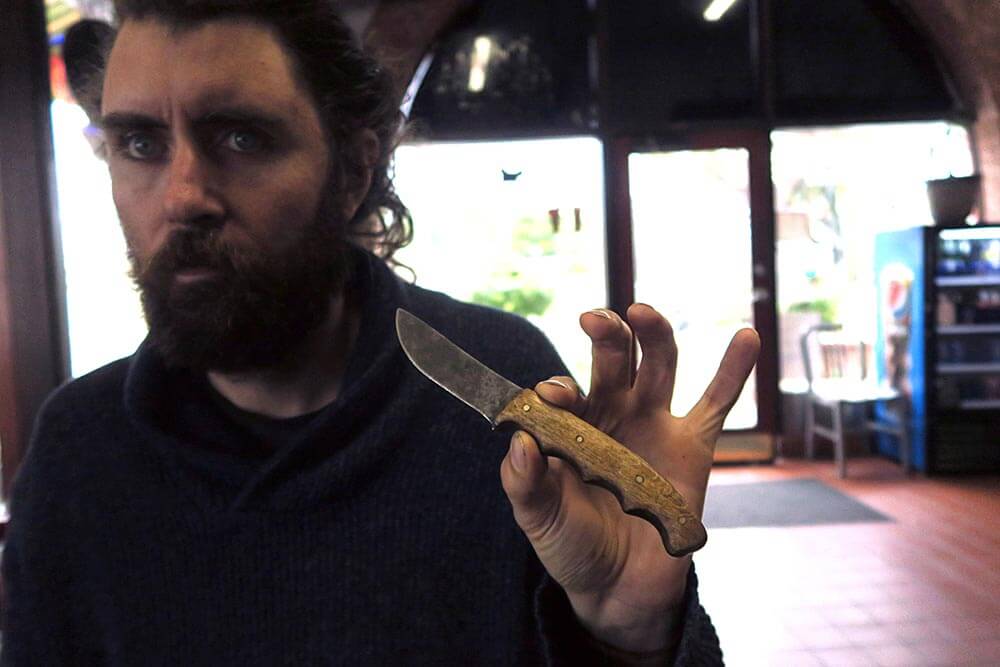 MID-SIZED FIXED BLADE
Although I have many that fit this category, my favorite is a one-of-a-kind, handmade knife by a bladesmith who sent it to me many years ago. The knife maker was Elijah Williams, who made a nice sheath knife from an old carbon steel saw blade. The blade is about four inches with an overall length of about nine inches.
"unless you want to be a collector of fine knives, buy survival knives that you don't mind beating up and using every day."
It's not heavy, and I like it because it fits my hand well. It's not what you'd call a "slick" knife, so I don't hold back when using it. I'm not concerned about cosmetic nicks or scratches as I am with some of my very expensive survival knives. Elijah's knife comes in handy for cutting sandwiches and fruit, carving wood for triggers and traps, whittling fire kits, and most camp chores. (Although this is a one-of-a-kind, you can still look at Elijah's other blades at firecreekforge.com).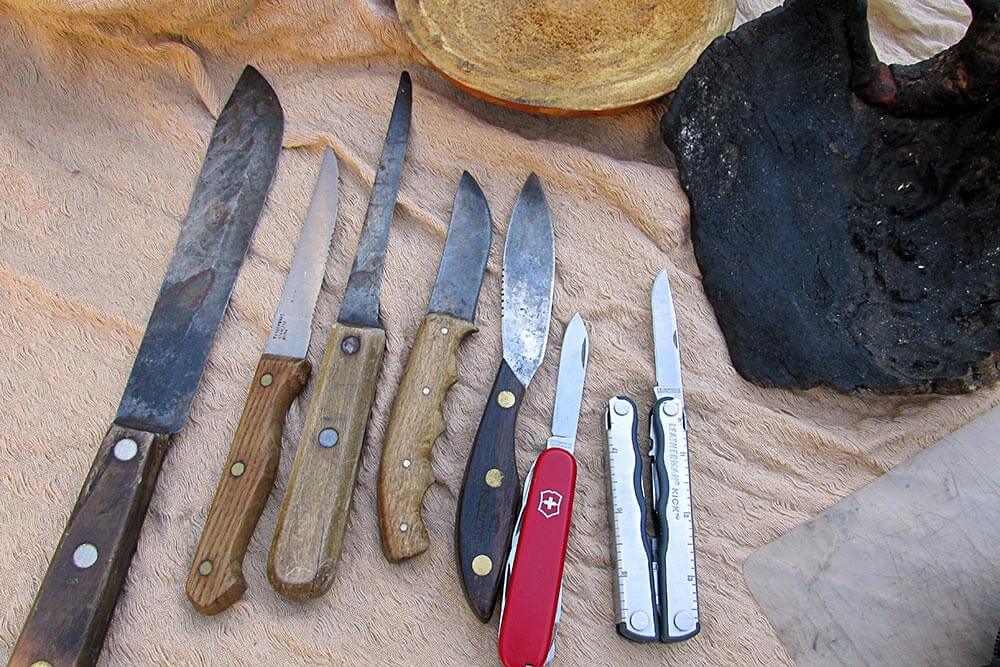 If I don't have Elijah's blade, I have several old and new Moras that fit this medium-size category, as well as a carbon steel Grohmann-Russell skinning knife. There are really many survival knives that will fit this medium-range category, including knives from Cold Steel. I think a knife in this category is indispensable and should always be carried.
In general, a sheath knife is for any of the somewhat heavier jobs where it would be safer to use a knife that can't fold on your fingers. The sheath knife gives you more leverage for certain cutting jobs—maybe carving your bow, whittling your arrows, or making a spoon. In camp, a knife in this category would get used constantly.
HEAVIER SHEATH KNIFE
On occasion, you need a bigger, bulkier knife for certain jobs. I'm not speaking about a machete – just a larger knife for bigger jobs. They are longer and heavier.
My all-time favorite is the original Bushman by Cold Steel. The price is incredibly reasonable for the quality you're receiving. It's one piece of steel, and in the approximately 30 years I've used mine, it takes an incredible amount of punishment with minimal damage. My unsheathed Bushman from tip of the handle to the tip of the blade measures a bit over 12 inches. And though it's heavier than a Mora,
for example, it's not ridiculously heavy like some of the big beastly survival knives I've seen over the years.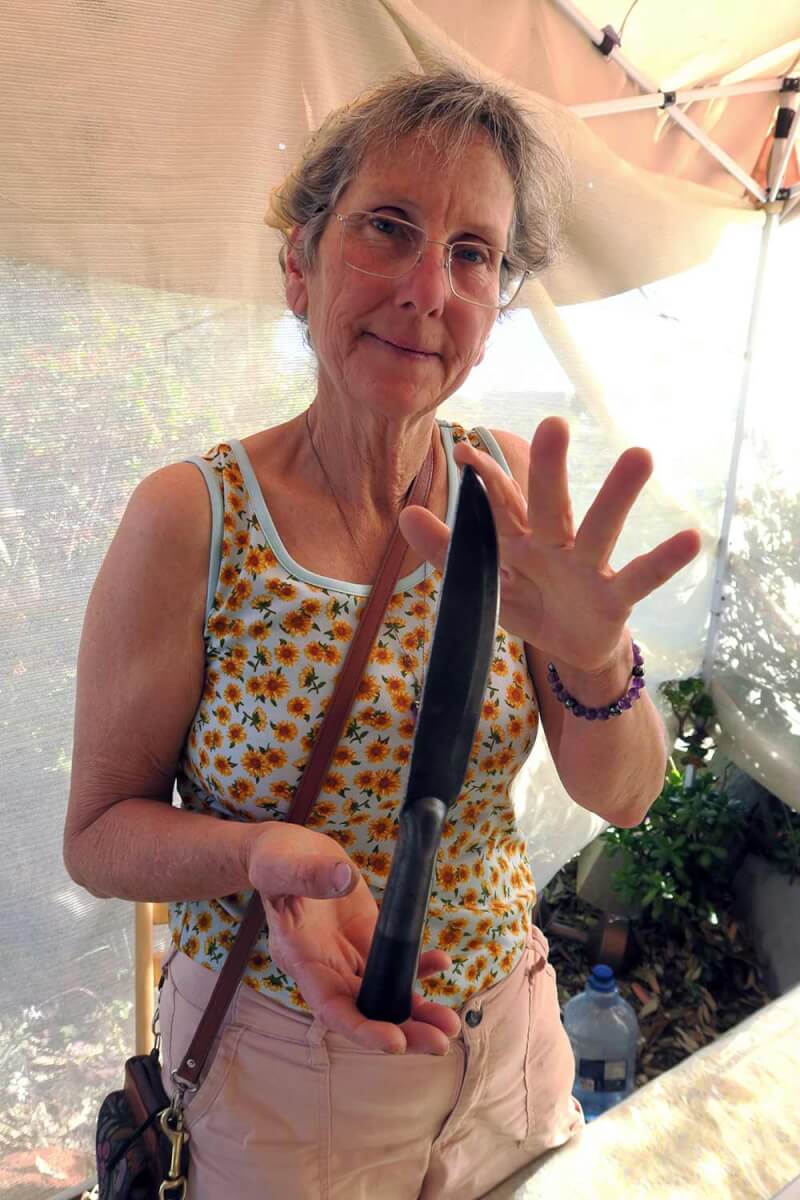 I used mine for batoning wood to create hundreds of fire hearths, and I've used it to split staves for up to maybe 50 self-bows. I use it to split firewood, and to cut burls from downed trees to carve them into cups.
I have others which fit this category, and my favorites are all handmade one-of-a-kind knives made by friends, so there is no way you could get one. But you can easily purchase a Bushman and many of the other heavier knives currently being manufactured. Which one should you carry? Choose one that fits your budget, and that you like. Hold the knife in your hand. Does it feel good to you?
Besides checking out knives at gun shows and knife shops, always ask your friends about the knives they carry. If you see one you like, ask them if you can handle it, and see how it feels to you.
FOLDING SAW AND CLIPPERS ARE GREAT ADDITIONS
Besides carrying three types of knives, there are other cutting devices that I usually carry. One is a Bahco folding saw, for those situations where the little saw on my Swiss Army knife is insufficient. Another tool I always carry is the Florian ratchet clippers, which I use for cutting wood for fire-making kits, for arrows, for herbal medicine, for crafts, etc. Florian is apparently no longer manufactured, so any of the other good clippers sold at hardware stores should work well for you.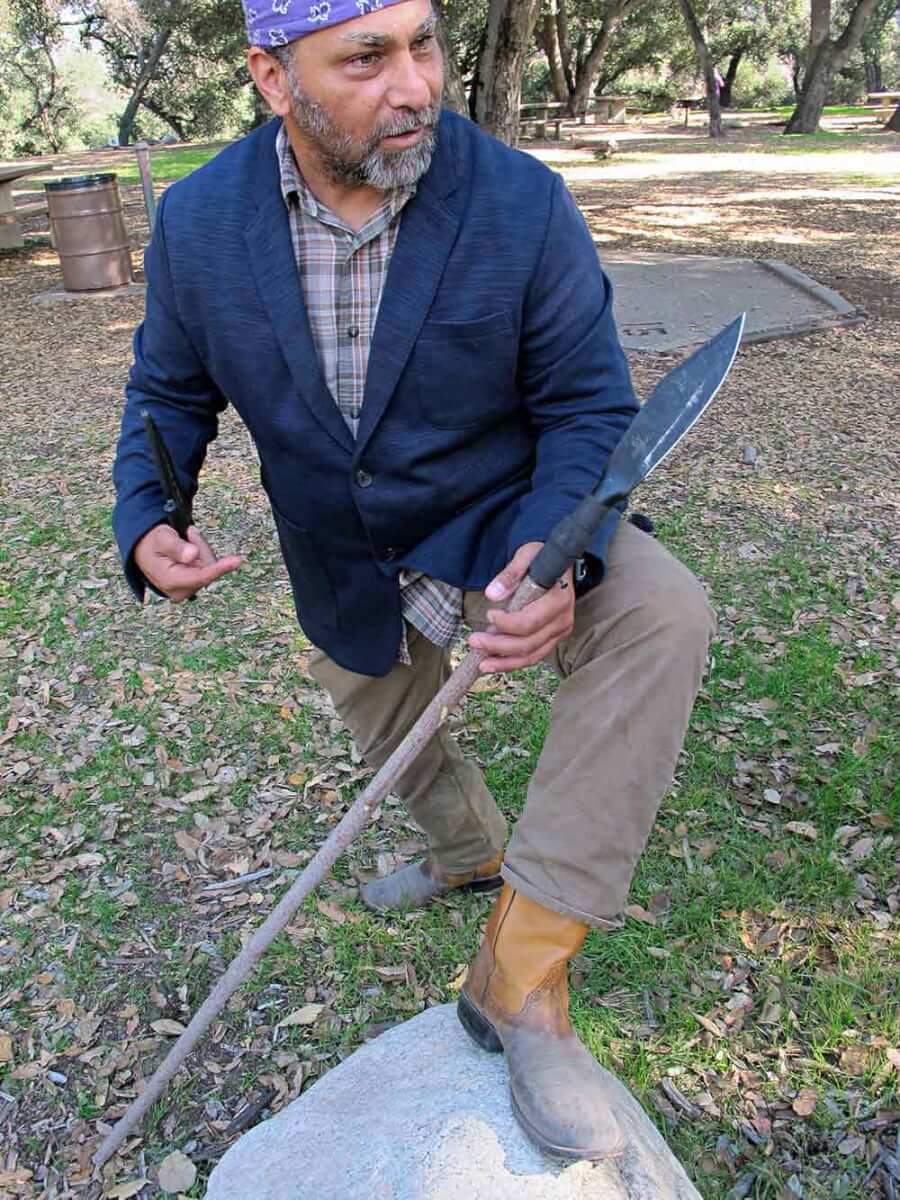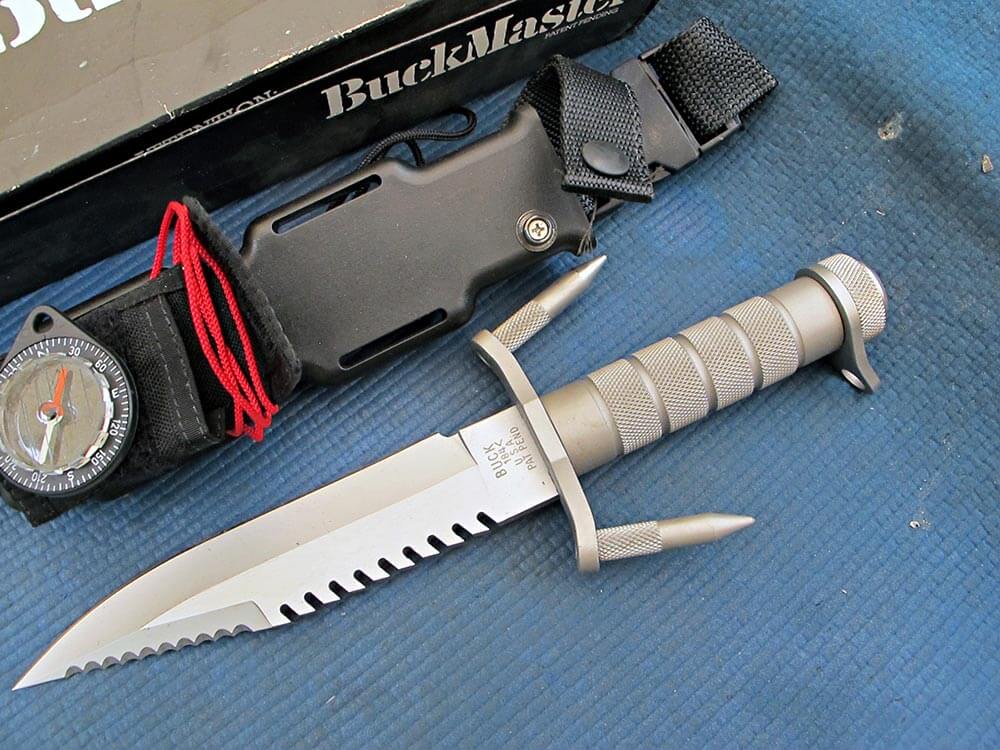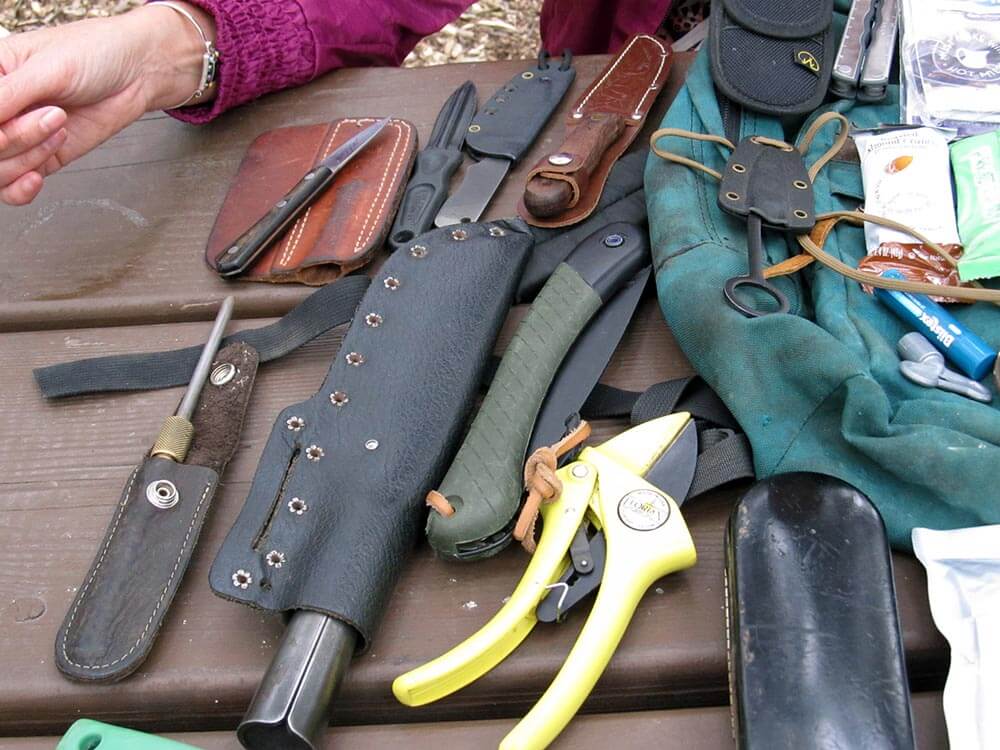 IT DOESN'T HAVE TO COST A FORTUNE
Is it essential that you "go broke" when buying a new knife? I don't think so.  Here's why. About 30 years ago, I paid a lot for a beautiful folding knife, more than I ever paid for a knife before. It even had a serial number. For a while, I wore the knife on my belt, but never ever used it. Why? I paid so much for it that I didn't want to scuff it up! It was so beautiful that I didn't want to get it damaged, and so, 30 years later, after never having used it, I sold it for way more than I paid for it.
So, unless you want to be a collector of fine knives, buy knives that you don't mind beating up and using every day. I am not embarrassed by the fact that I get many (not all, but many) of my regular use knives at thrift stores and yard sales. If you know what you're looking for, you might be amazed at how little you can pay for a quality knife.

How do you know if a folding knife that you see at a yard sale is any good?  First, just look at it. Is the tip broken? Are pieces missing? If it's just a bit rusty, that's not usually a problem, unless it's severe rust. Does the blade open and close easily? Can you rattle the blade side to side? If the random yard sale knife passes these simple tests, you might have a real keeper for $5 or so.
A version of this article first appeared in the May 2022 issue of American Outdoor Guide Boundless.