GRAYL'S GEOPRESS AND NEW SLIM ULTRAPRESS PROVIDE SAFE DRINKING WATER ANYWHERE
STORY AND PHOTOS BY MIKE TRAVIS
In the hierarchy of human needs, water ranks within the top three. On average, we can survive about three days without drinking which means, no matter who you are or where you find yourself, getting fresh drinking water is a top priority.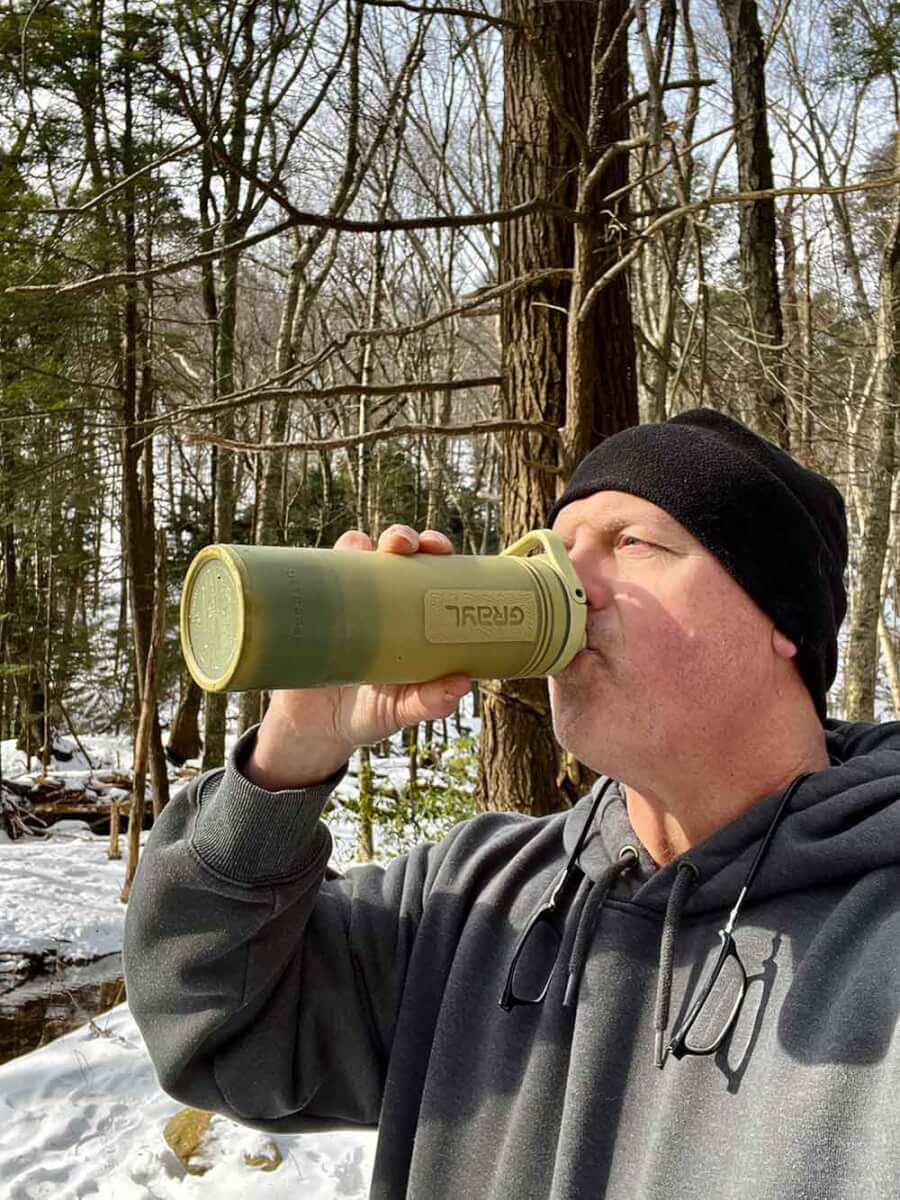 We here in the first world take fresh drinking water for granted. Unless you find yourself in the backcountry and away from civilization, it's usually pretty easy to find safe drinking water. The shelves in most stores are full of bottled water and turning on most faucets will yield an almost endless supply of it.
ENTER EMERGENCIES
If the past two years have shown us anything, it's that our systems of "first world civilization" are fragile. In the opening days of the pandemic, there was little to no bottled water on the shelves for months. Natural disasters such as the Texas ice storm and the tornadoes that ravaged Kentucky in 2021 left millions of people without power or access to safe drinking water for weeks, even months at a time.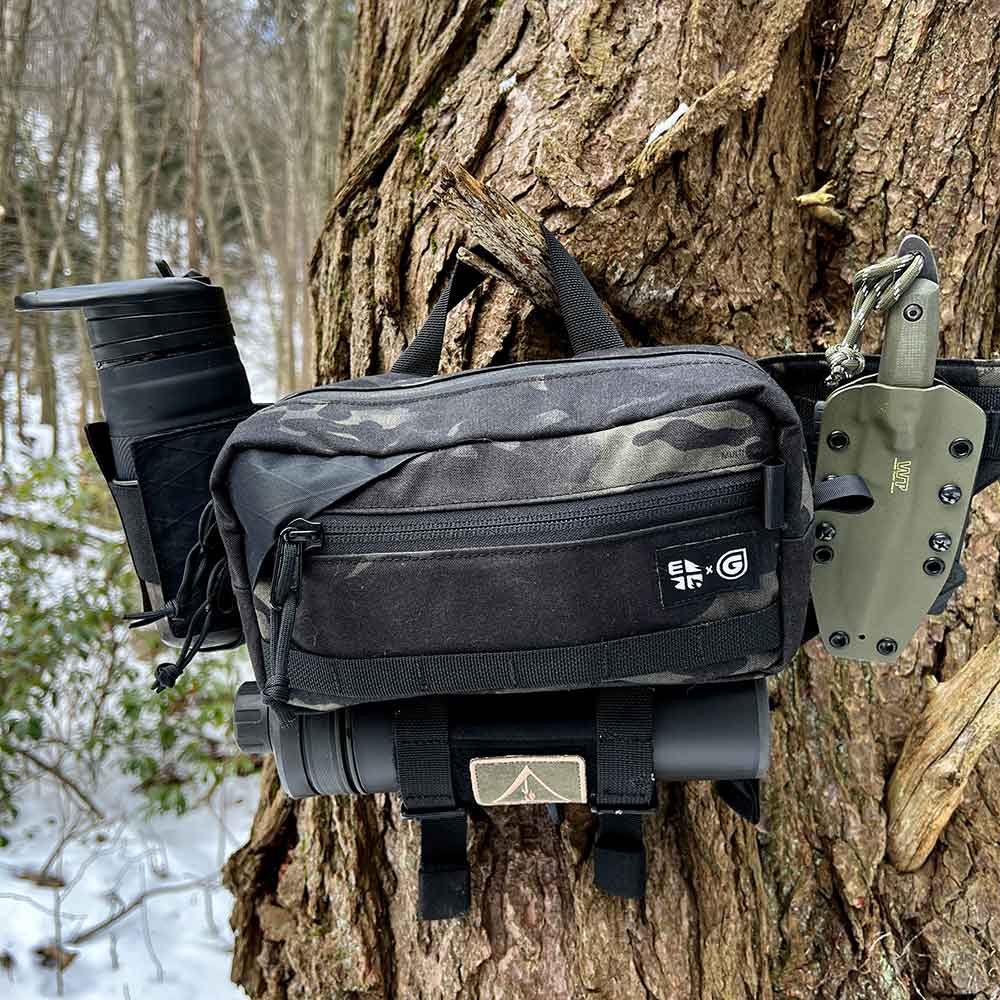 As I write this, our economy is in a precarious place. Inflation is at a record high and many people must tighten their belts and cut costs where they can. While it is nice to walk into a store and buy a bottle of water, that water can cost anywhere from $1 for 16 ounces to $5 or more depending on where you find yourself.
Those of us who like to venture into places away from civilization are accustomed to thinking about water procurement and treatment. There are many water filter systems, purifiers, and chemical treatment processes available to hikers, hunters, and campers. Unfortunately, many of these aren't readily compatible with EDC use in our everyday lives.
THE GRAYL GEOPRESS
Several years ago, I was introduced to the Grayl line of water filter/purification systems. After having used several different filters and purifiers, I was skeptical that Grayl could offer anything that I wasn't already getting from my current systems.
The original GeoPress looks like a simple sports bottle. At 10.5 inches tall with a 3.5-inch diameter, it's reasonably compact and will fit into the bottle holders on many backpacks. The GeoPress differs from some other popular systems in that it not only filters but purifies water at the same time. It kills viruses where filters alone do not.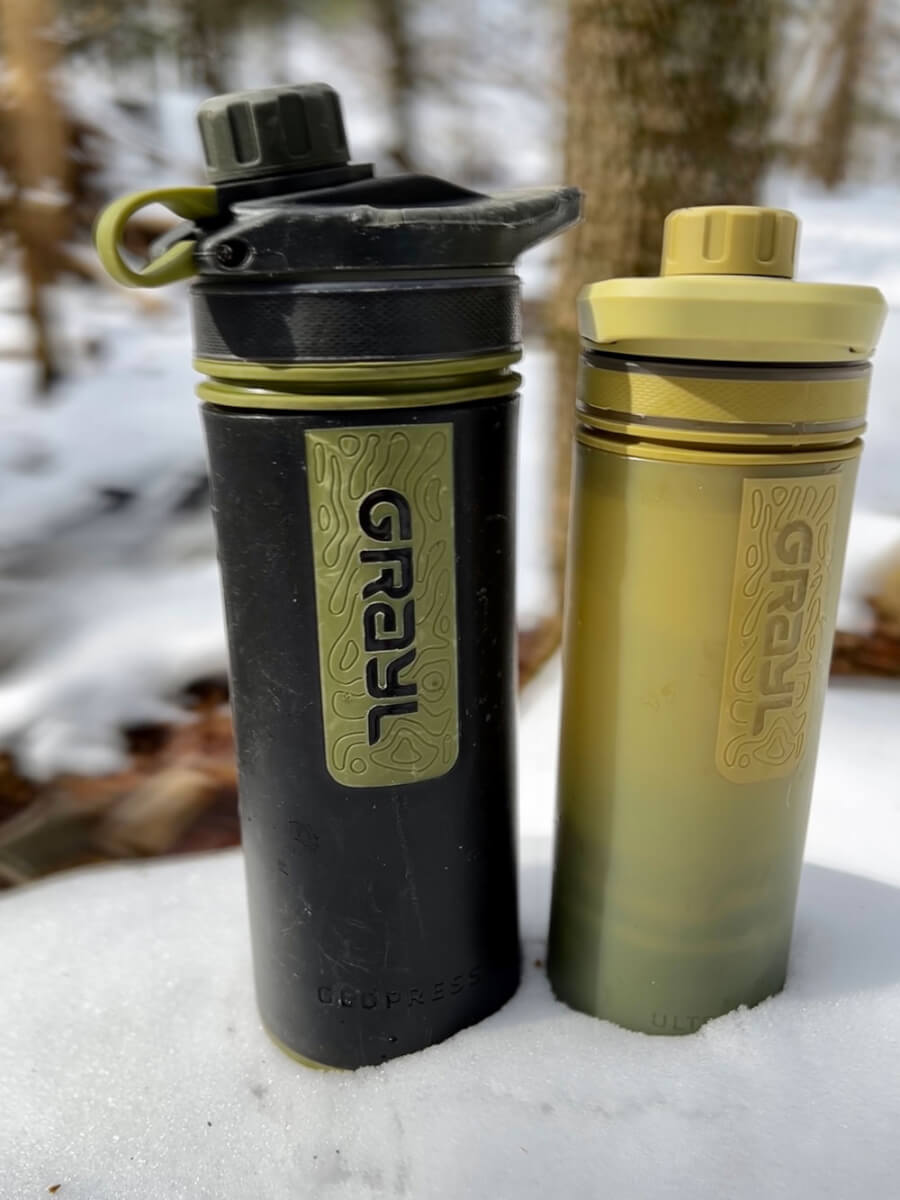 Also, instead of relying on pumps or gravity to operate, the Grayl system works in a similar fashion as a coffee press. Fill the bottle with water, insert the press that contains the filter/purifier cartridge and press it down to force the water through the cartridge. It is easy to use and will make 24 ounces of safe drinking water from most water sources. I have used my Geopress to drink from some pretty sketchy water sources and have never gotten sick.
The Grayl system uses a replaceable filter cartridge that is rated to remove 99.99 percent of viruses, bacteria, and protozoan cysts. This includes Hepatitis, Cholera, Giardia, e-coli, and many more. The cartridges will filter sediment and microplastics, while the activated carbon absorbs chemicals, pesticides, herbicides, heavy metals, and most tastes and odors. Each filter is designed to withstand a 10-foot drop onto concrete and will even maintain its effectiveness after being frozen. (If you know your filter has been frozen, it is recommended to replace it as soon as possible.)
SLIM ULTRAPRESS 
While the GeoPress continues to be extremely popular, Grayl listened to their customers who wanted a more compact purifier. The company responded and created the UltraPress. The new bottle keeps all of the same capability and functionality as the GeoPress and puts it in a shorter, slimmer package. The UltraPress features an easy-to-use Riverflow spout for direct drinking or filling secondary reservoirs, a Flipcarry handle that rotates a full 90 degrees, folding flat to be out of the way when pressing, and a SimpleVent drinking cap that allows airflow during a filter cycle while preventing cross-contamination.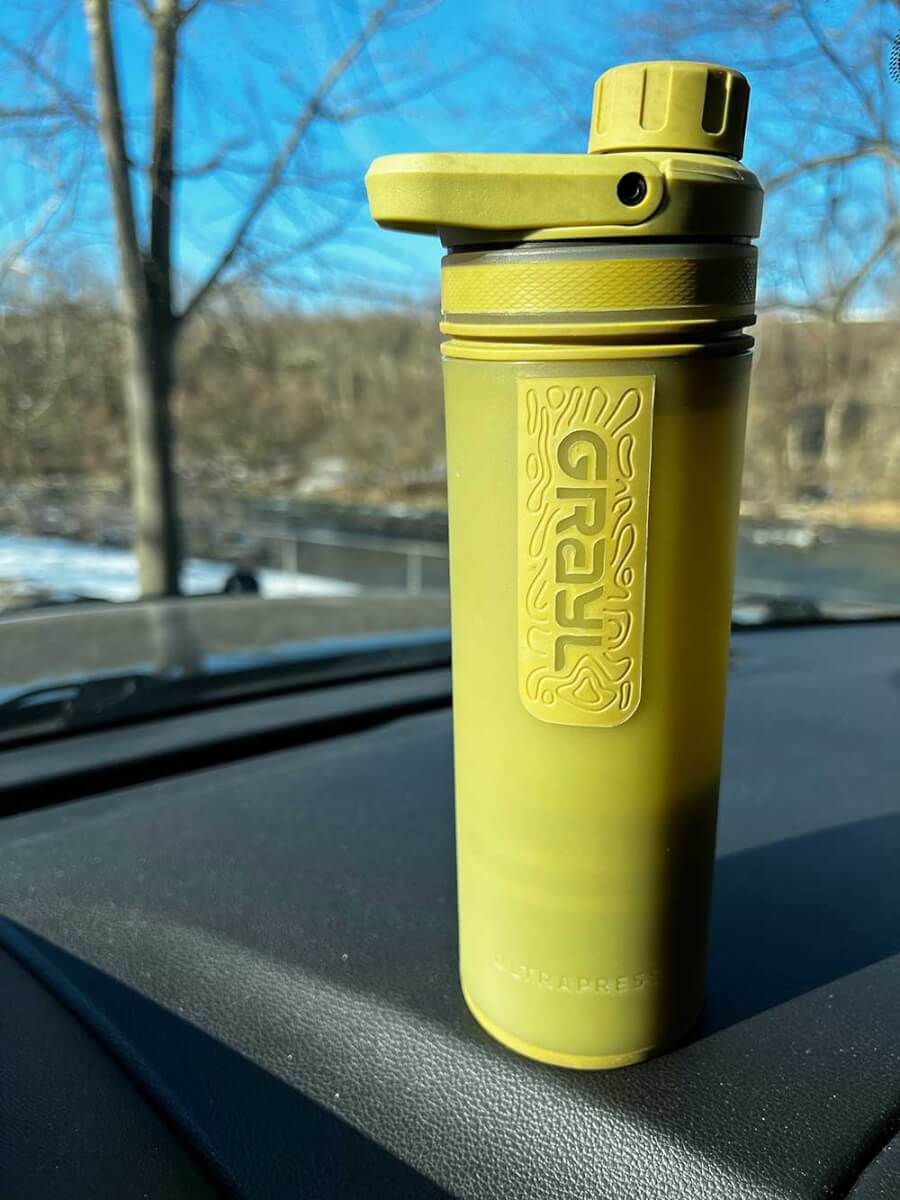 The UltraPress will provide the user with 16.9 ounces of water from each cycle and each cartridge has a lifespan of 300 presses (40 gallons). Grayl recommends that the cartridge be replaced every three years or when a single press takes about 25 seconds to complete.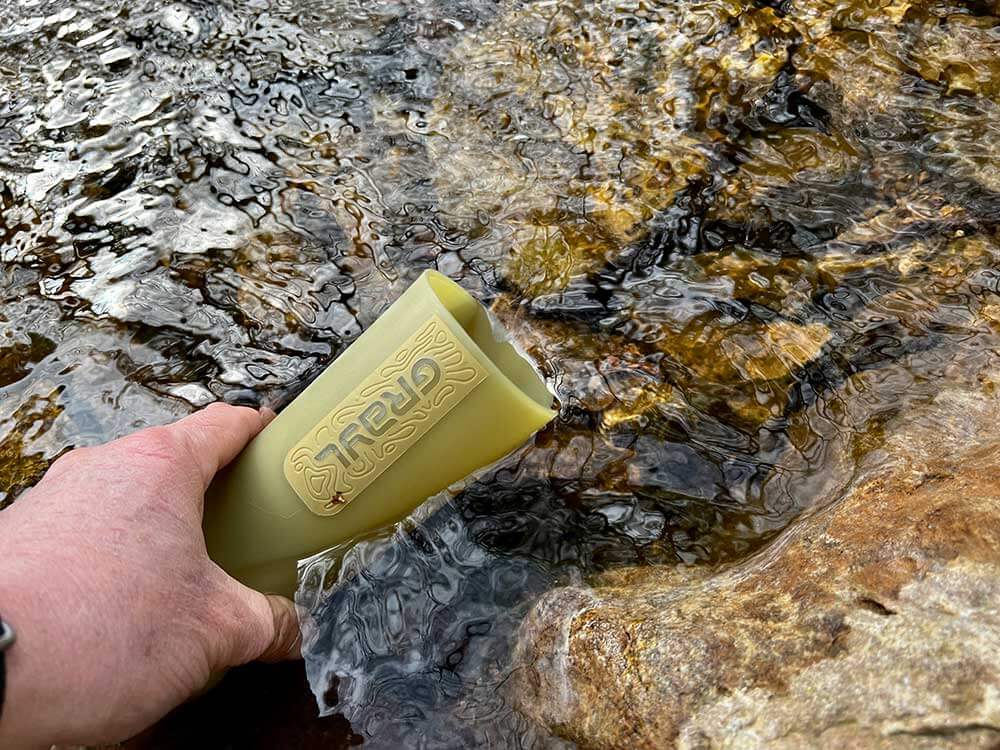 REAL WORLD USE  
Using the Ultrapress couldn't be easier. Rotate the drinking spout cap a half turn to allow airflow. Grab the FlipCarry handle in one hand and the bottle in the other hand.  Pull the press/filter from the bottle using a slight twisting action. Fill the dirty water reservoir up the fill line, reinsert the filter element/clean water reservoir, place the base on a solid surface and press the SoftPress pad until the two sections of the bottle are fully mated together. You are now ready to drink!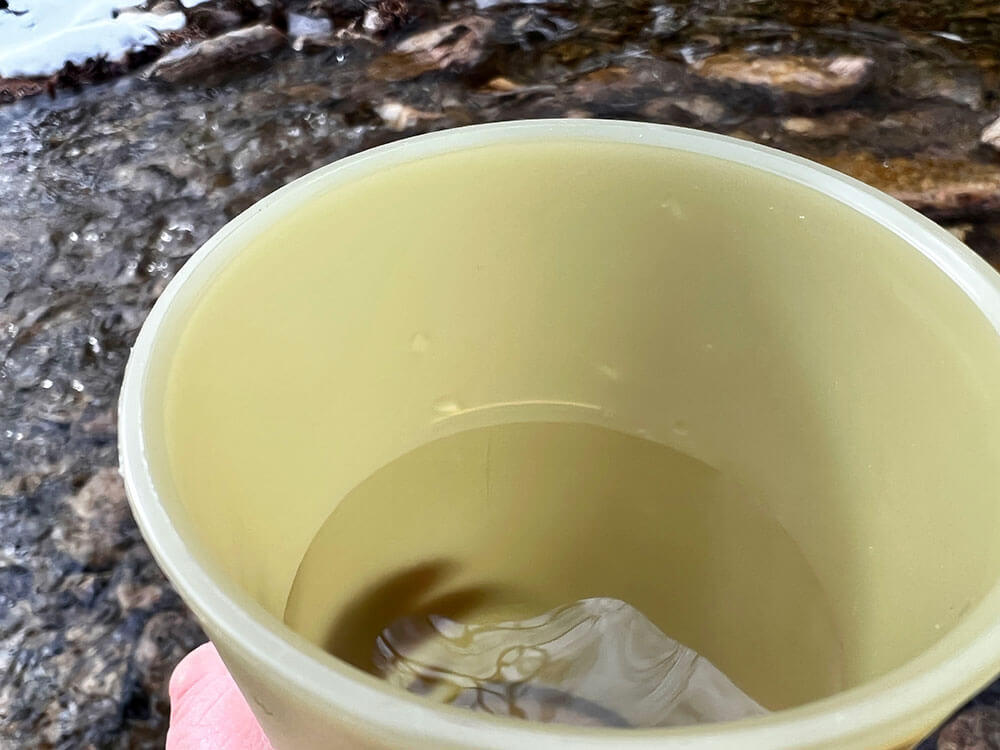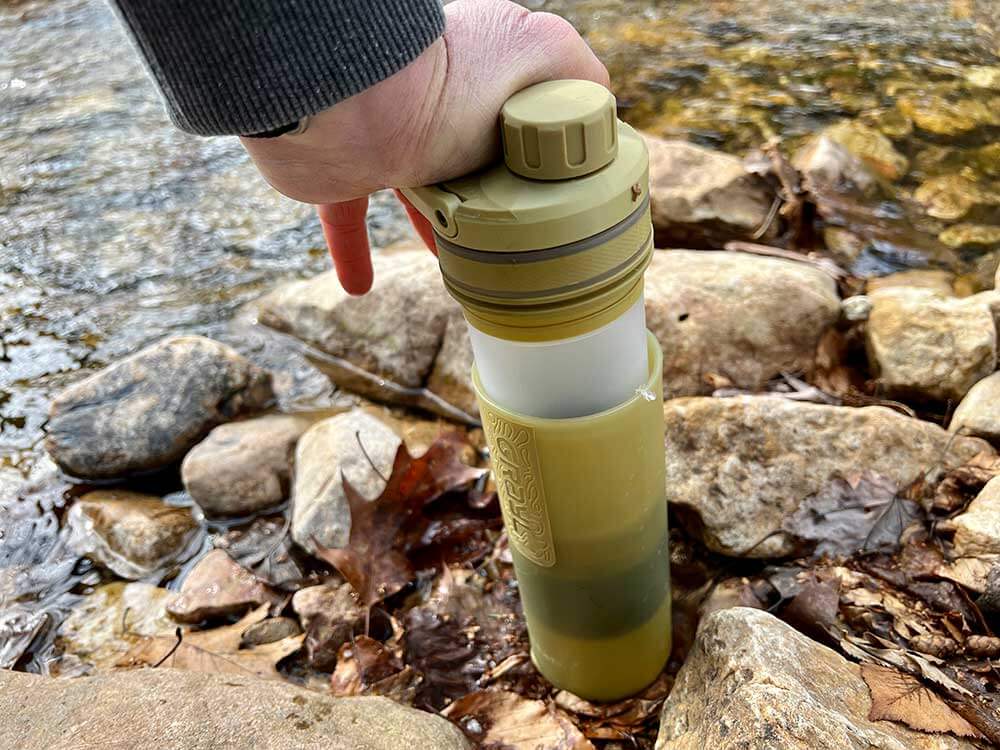 As I've mentioned before, I've used my GeoPress for years while hiking, camping canoeing, and rafting. I've also used it while traveling to cut the costs associated with high-priced bottled water. Anyone who has bought water after passing through airport security can relate. Filling the Grayl from a public drinking fountain or bathroom sink faucet costs nothing and eliminates the worry of contamination and the funky taste of many public water sources.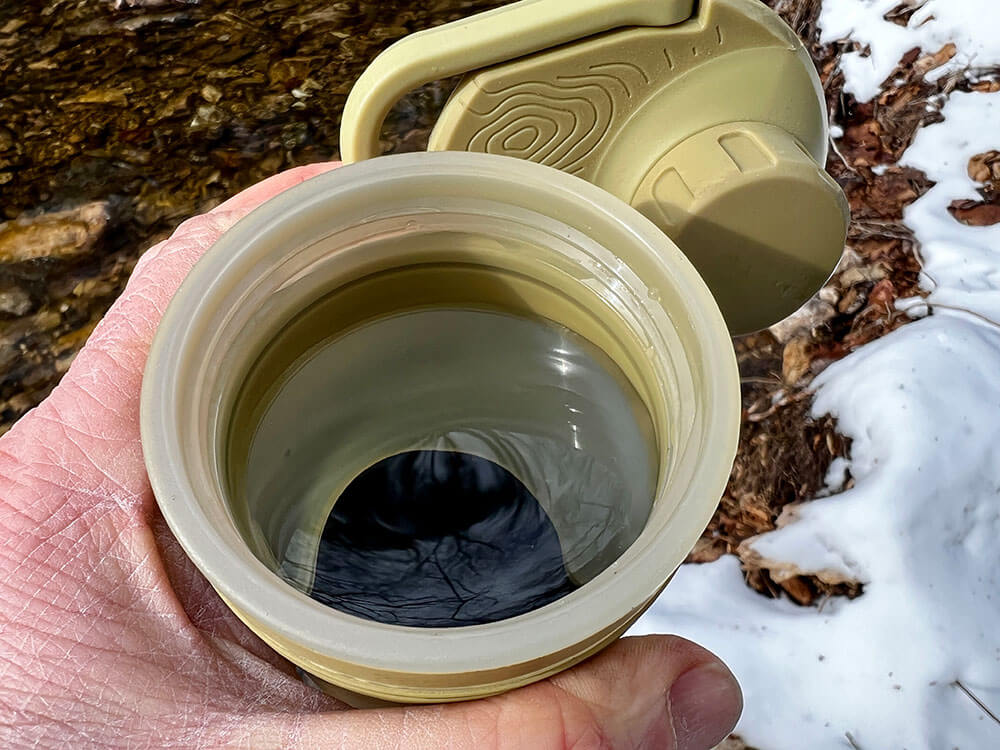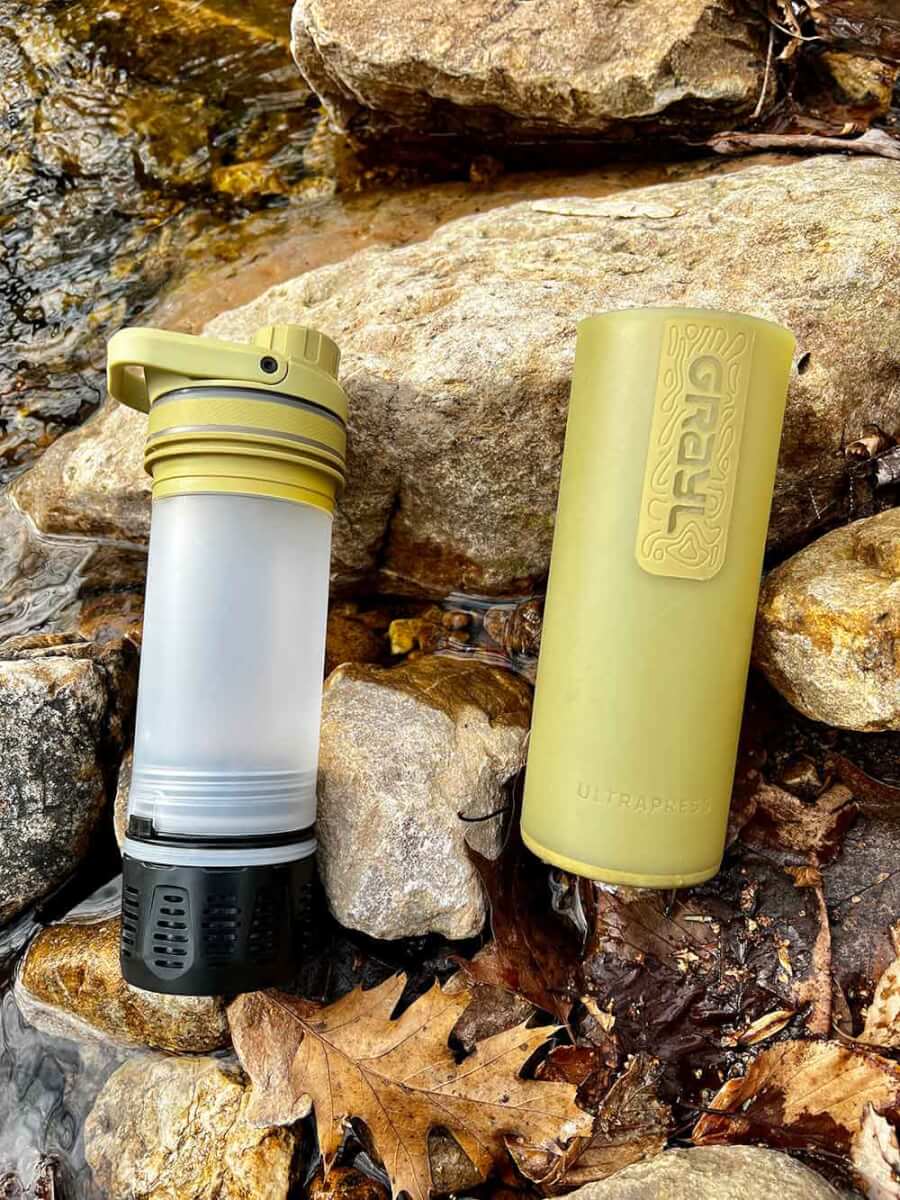 BOTTLELOCK HIP PACK
In 2021 Grayl partnered with EarthWell to create a compact but highly functional hip-pack/slingbag. Made in the USA and carrying a lifetime warranty, the BottleLock is designed to carry an UltraPress and a secondary drinking vessel.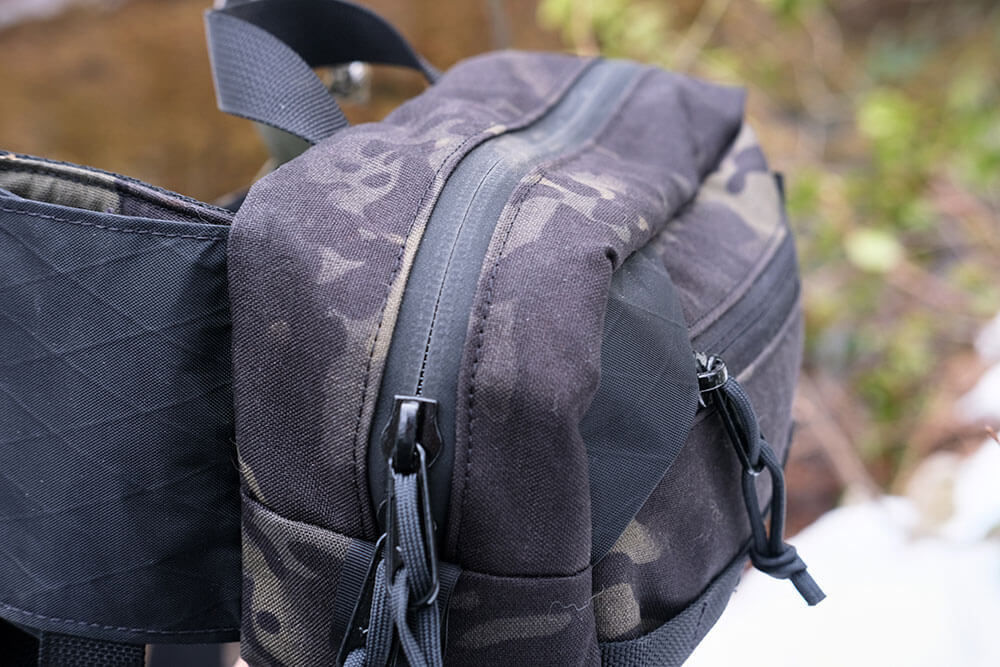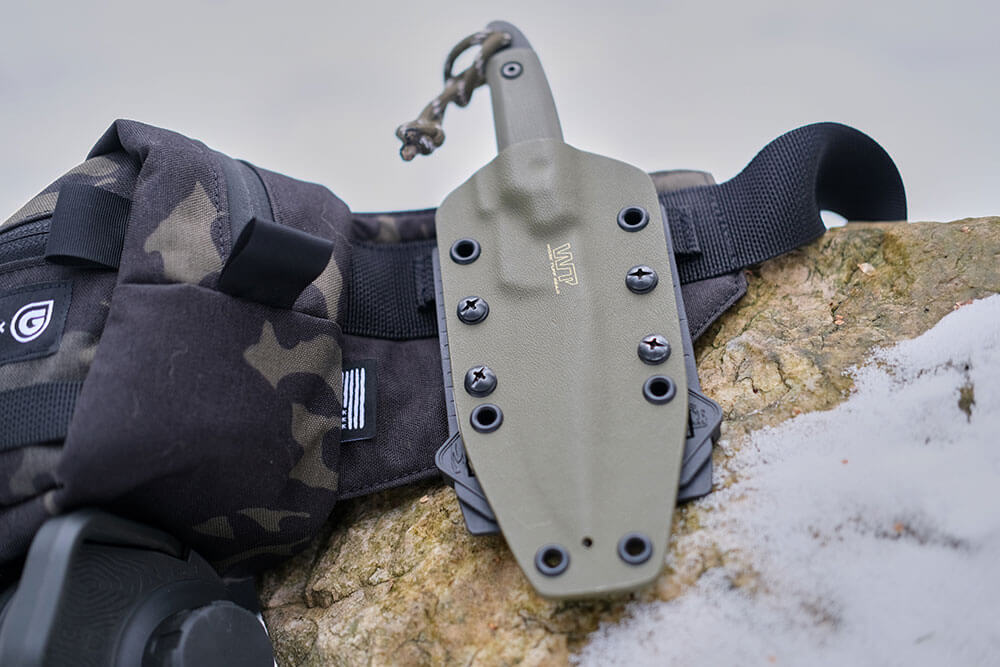 When I received the BottleLock, I was a little skeptical that it would hold the Ultrapress securely. Those concerns were unfounded. The gripping surfaces are coated in a rubberized material that locks the Ultrapress in place.
The body of the pack is made from 500D black Multicam Cordura and features YKK zippers and DuraFlex hardware. The interior of the pack features a light colored nylon liner making the contents easier to see.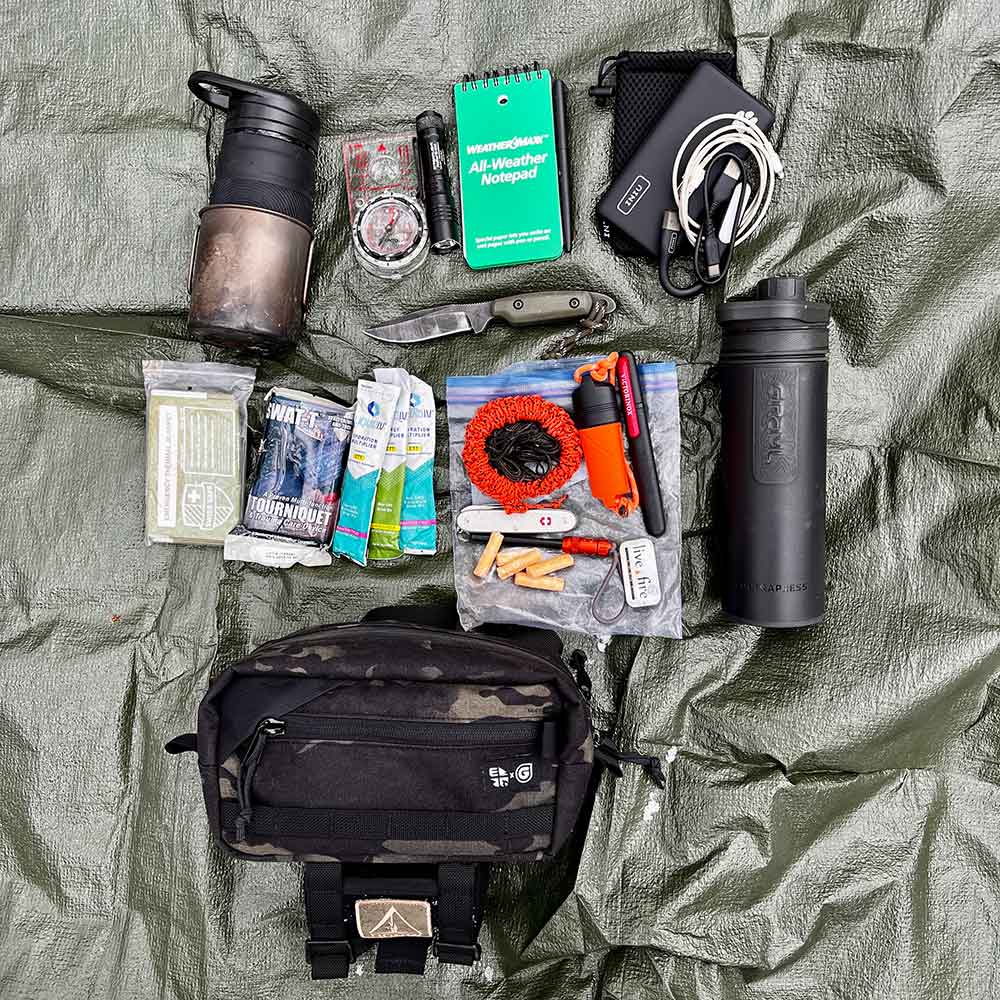 With an interior capacity of only 4.5 liters, the BottleLock can carry a surprising amount of gear. I set mine up for a day hike in the local mountains and was able to fit a 10,000 mAh battery with cables, a Swat-T tourniquet, 3 packs of Liquid IV, a space blanket, a pen and notepad, compass, Streamlight flashlight and a small survival kit with a lighter, ferro rod, tinder, cordage, Swiss Army Knife and knife sharpener.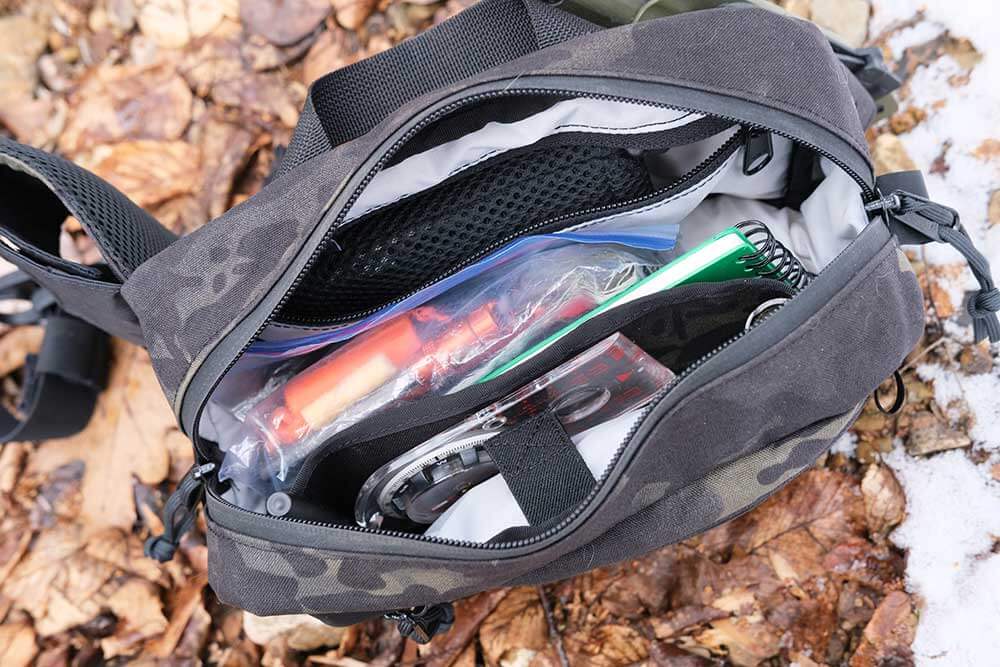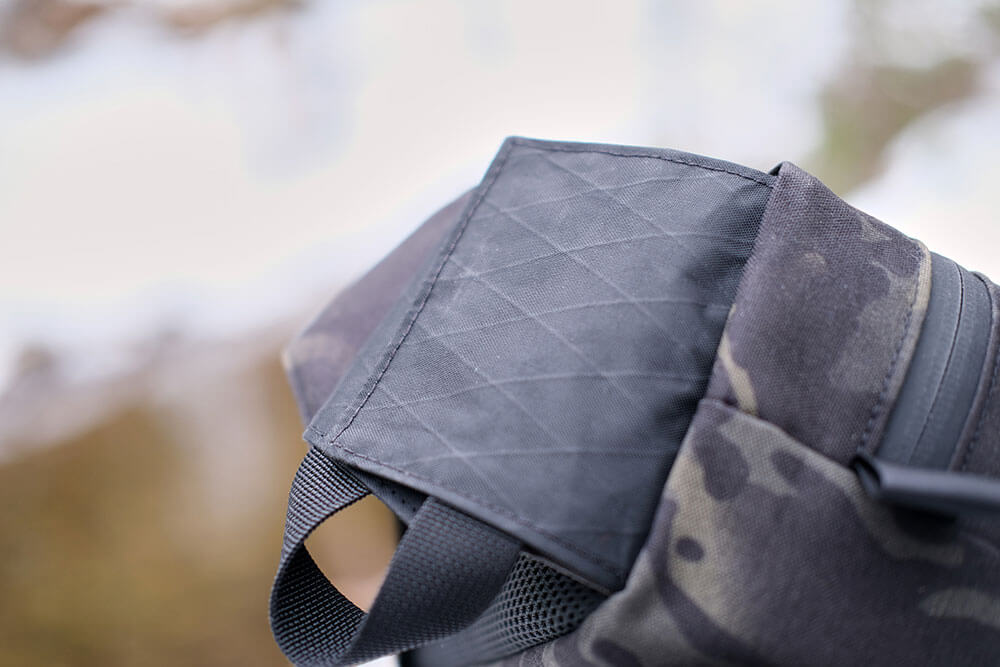 Despite all this gear, the interior of the pack is only about ⅓ full. I locked my UltraPress into its holder and the collapsible bottle pocket on the left side of the hip pad holds a small thermos of coffee and titanium cup.  The right side hip pad has two PALS webbing loops and is carrying a small Work Tuff Gear Kitsune-T belt knife.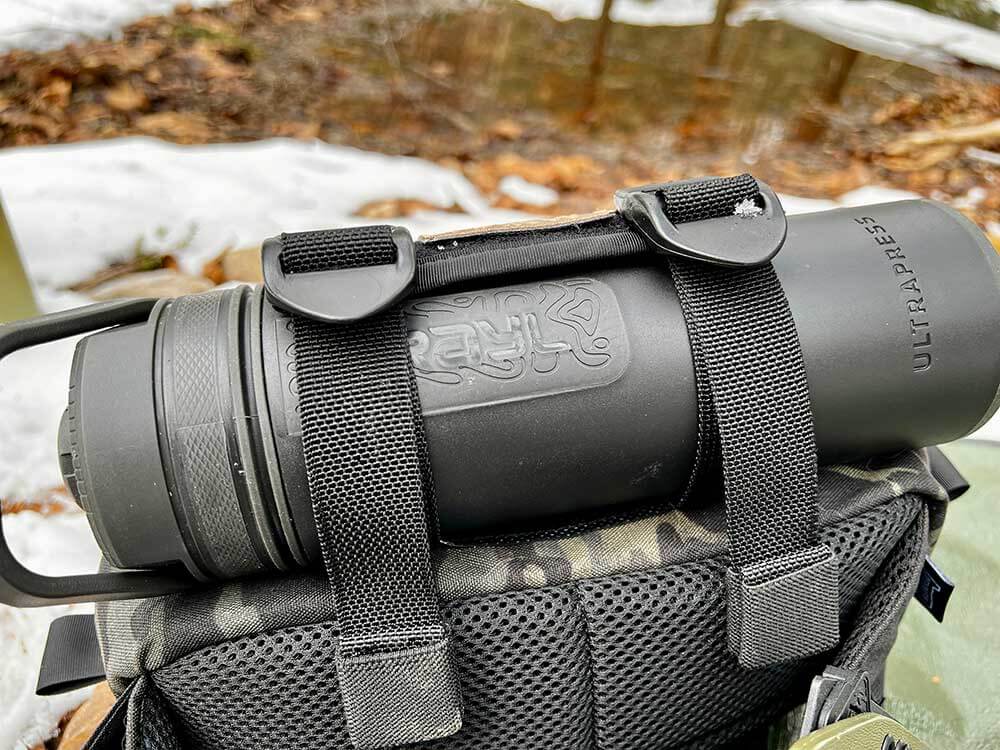 FINAL THOUGHTS
The combination of the BottleLock pack and the Grayl UltraPress is a home run. It is a compact package capable of carrying enough gear for a day hike, or setting up with an EDC loadout for travel or just conducting your daily business around town. The Grayl can provide clean, good tasting water everywhere from a public water source, to a puddle to a roadside stream or river. We all need to drink water. In a world where water quality may be compromised by location, failing infrastructure or natural disasters, Grayl can keep you and your loved ones hydrated and healthy.

THE SPECS
Model : Grayl UltraPress
Type : Cartridge press water filter and purifier
Capacity : 16.9 ounces
Weight : 12.5 ounces
Height : 9.75 inches
Diameter : 2.95 inches
Flow rate : 10 seconds for 16.9 ounces (1 liter per minute)
Cartridge life : 300 presses
MSRP : UltraPress $89.95, Replacement cartridge $24.95
SOURCE
Grayl
www.Grayl.com
---
A version of this article first appeared in the April 2022 issue of American Outdoor Guide Boundless.