Trust Exotac And Zippo When You Need To Get Your Fire Going.
You can practice fire-by-friction techniques for endless hours. You can search for the perfect hunk of flint to make beautiful, lifesaving sparks with a piece of carbon steel. But the best way to come close to a guarantee that you'll have fire when you need it most is to carry proven fire-starting gear with you whenever you step off pavement.
I Must Have Fire!
In good conditions, I rely on fire to keep me warm, to purify my water, cook my meals, generate smoke to ward off insects and keep beasts—both real and imaginary—at a safe distance in the dark.
However, in a survival situation, fire isn't merely a convenience. It can be a life-or-death matter to have it. There are innumerable reasons you might be caught out unexpectedly overnight. Fire will allow you to dry your clothes, if necessary, and help you ward off hypothermia. And, in the winter, you have the added threat of frostbite.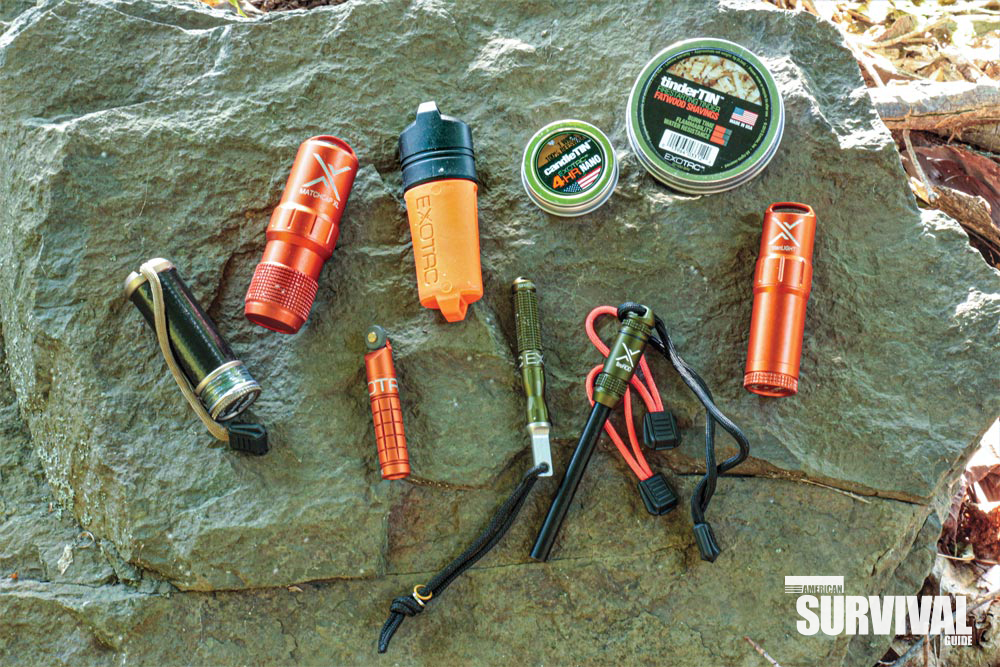 So, when your snowmobile breaks down and you're stuck miles from anywhere, you'd better have starting a fire near the top of your priority list.
Call me "obsessed" if you want, but I never go into the woods without multiple ways to make a fire. Lighters can run out of fuel. Butane lighters can be finicky in extreme cold or at high elevations. I love ferro rods, but most require two hands to operate. But what if I'm injured?
I can play the "What if?" game until I go absolutely crazy. For my own sanity, I've resolved to carry different ways to make fire. And, after many years and lots of smoke in my eyes from damp firewood, the products I've chosen are mostly from Exotac and Zippo.

New From Exotac
Exotac specializes in American-made fire-starting products. Recently, Exotac announced its new fireROD XL. This is the largest ferro rod the company has offered. Its ferro element is 3.95 inches long. If, after lighting thousands of fires, it should ever wear out, the rod, itself, is replaceable. The metal handle end of the fireROD XL features a waterproof storage compartment large enough to store four pieces of the company's quickLIGHT tinder. In addition, wrapped around the handle are about 12 inches of 1-inch-wide repair tape. The FireCord lanyard that's included also has a strand of tinder material inside.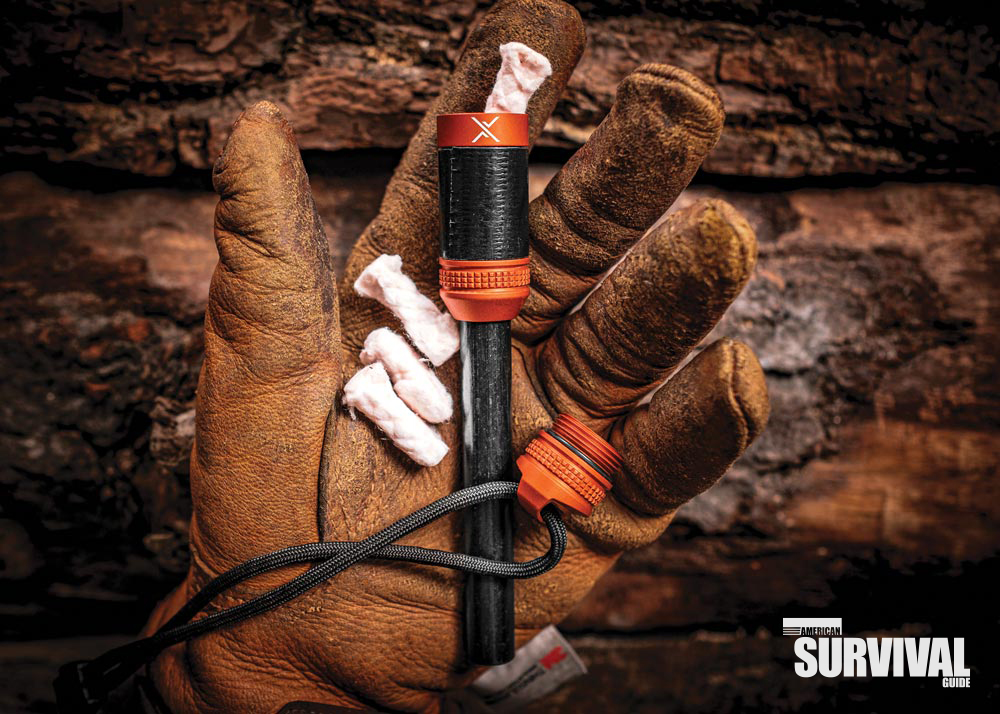 While Exotac was at it, it improved its original fireROD. This ferro rod is 5/16 inch in diameter and 3.1 inches long. Many fixed-blade knife sheaths have loops especially intended for ferro rods. The Exotac fireROD would be a good choice for stowing in one of these. Its waterproof compartment is smaller than that of the XL model, but it still holds one piece of quickLIGHT tinder. The rod is replaceable too. A FireCord lanyard is included.
Another new product from Exotac is the toolROLL. This roll-up package has pockets to keep your fire-starting gear and other survival or EDC items organized in one kit.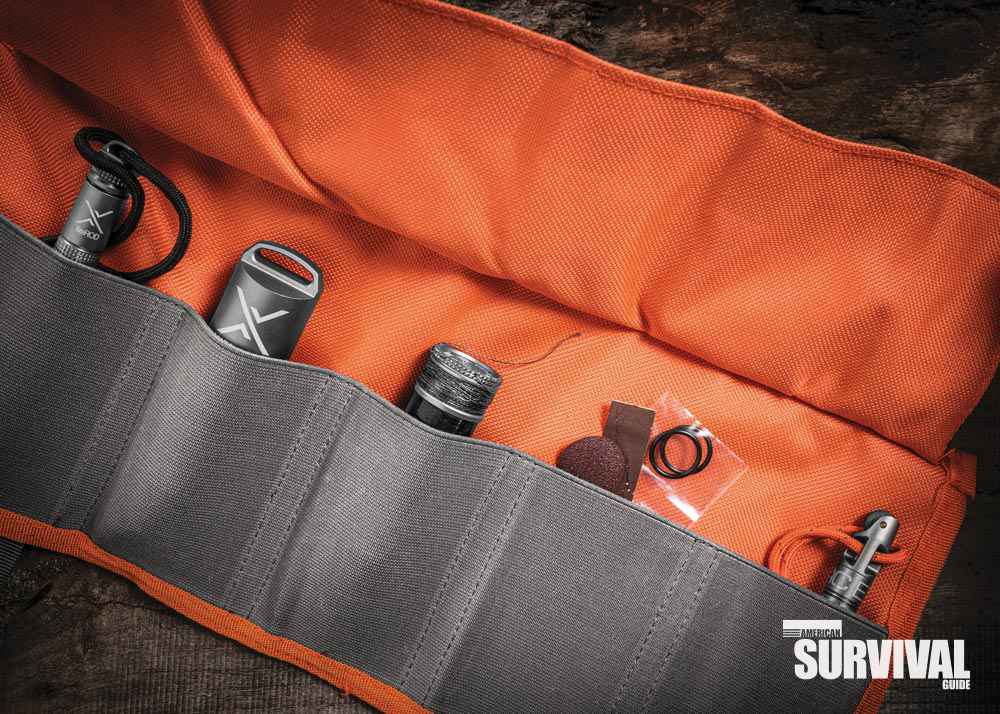 Exotac Everywhere
I must have Exotac products in every pack and bag I own. My favorites from this company are the nanoSTRIKER XL and the nanoSPARK. The nanoSTRIKER XL is a small ferro rod in a tube. I always include a ferrocerium rod in my kits because they still work after they get wet, and you can light more fires with them than anything else available for their size and weight. However, ferro rods can break, and I've had them corrode.
I like this Exotac model because it has a screw-on, protective aluminum cover and a screw-on striker. Unscrew the cover and attach it to the other end to extend the handle. It's small—3.65 inches overall, including the handle and ¼-inch-diameter rod—but that makes it easier to tuck into a pocket or include in a pocket-sized survival kit.
I love my Exotac nanoSPARK. It's a flint sparker with a metal striking wheel in an aluminum housing that has a waterproof compartment designed to contain one quickLIGHT tinder tab and a spare flint or two. It uses common lighter flints. The unit is just 2.7 inches long and can be operated with one hand. I've used it to light camp stoves and my homemade alcohol stoves, as well as natural tinder material.
" … in a survival situation, fire isn't merely a convenience. It can be a life-or-death matter to have it."
Another good Exotac fire-starter is the titanLIGHT. This is a lighter "on steroids" that uses liquid lighter fluid and produces a large flame. But, unlike other lighters, the fluid in the titanLIGHT is contained in a reservoir sealed with an O-ring. A second O-ring seals the screw-on cap that protects the flint-and-wheel mechanism. Unlike other fluid lighters, the fluid doesn't evaporate. As an experiment, I filled one with fluid about two years ago and set it aside. I take it out every so often to see if it still lights. It always does.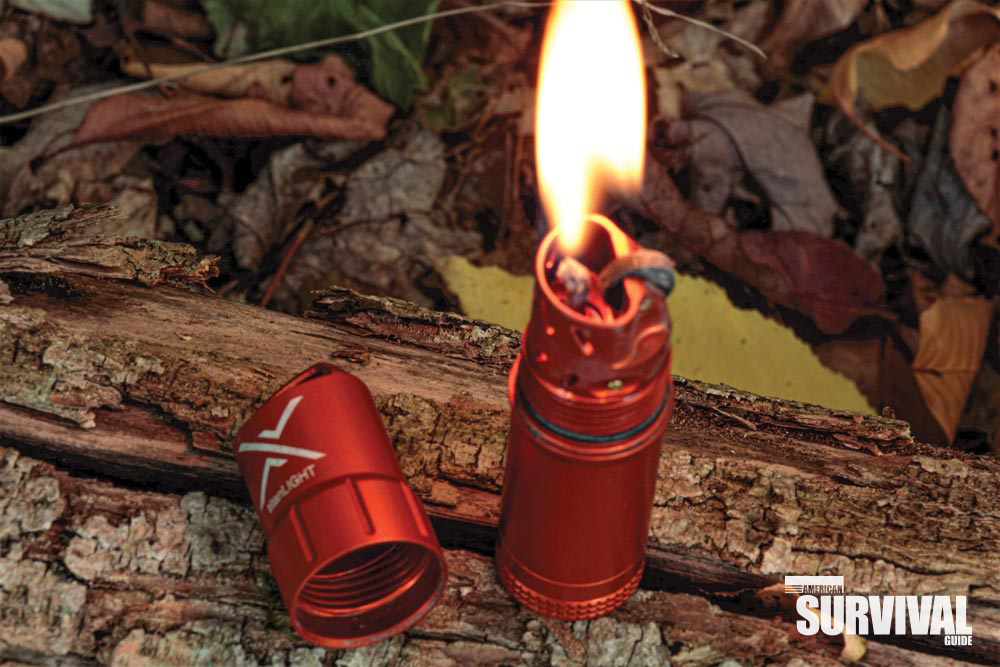 If you opt to include disposable butane lighters in your kit (I've got some of them too), you might consider the Exotac fireSLEEVE. This is a flexible plastic cocoon for a full-sized BIC lighter. It protects the lighter's flint and wheel from getting wet. A portion of the fireSLEEVE can be stretched over the lighter's fuel valve so you can keep the lighter lit without holding your thumb on the valve.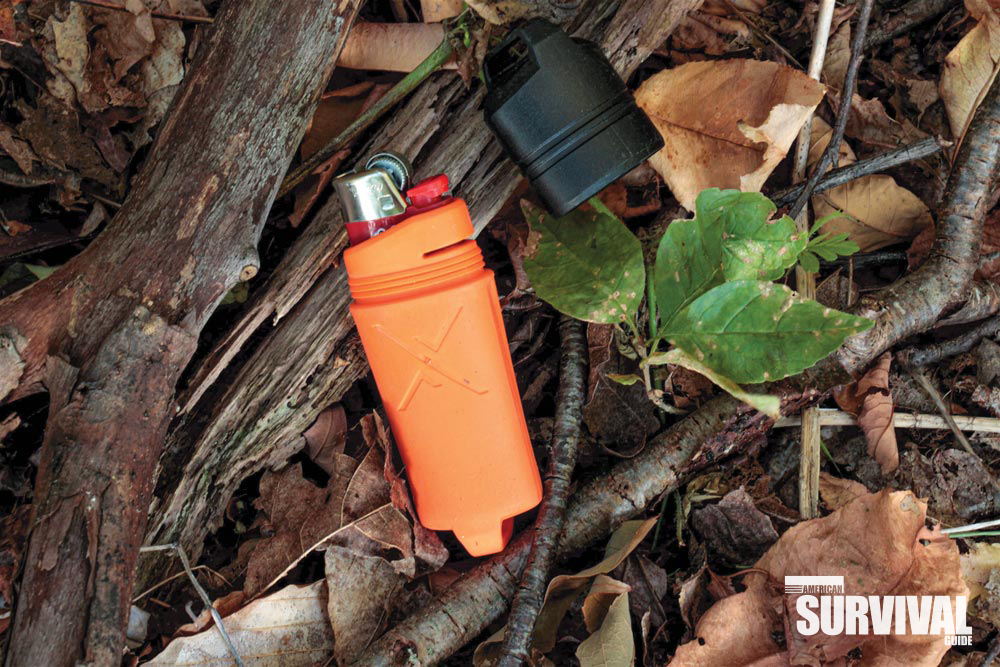 Catch the Spark
If I haven't put you to sleep yet, you might have noticed that several of the Exotac fire-starters include tinder compartments. That's a great feature. I usually keep the tinder there in reserve for emergencies or for times I'm having trouble locating sufficient dry natural tinder material. Exotac also provides tinderZIPS. These are zipper pulls that, like the company's fireCORD, have a strand of tinder material inside. I have them attached to some of the zippers on my jackets and packs.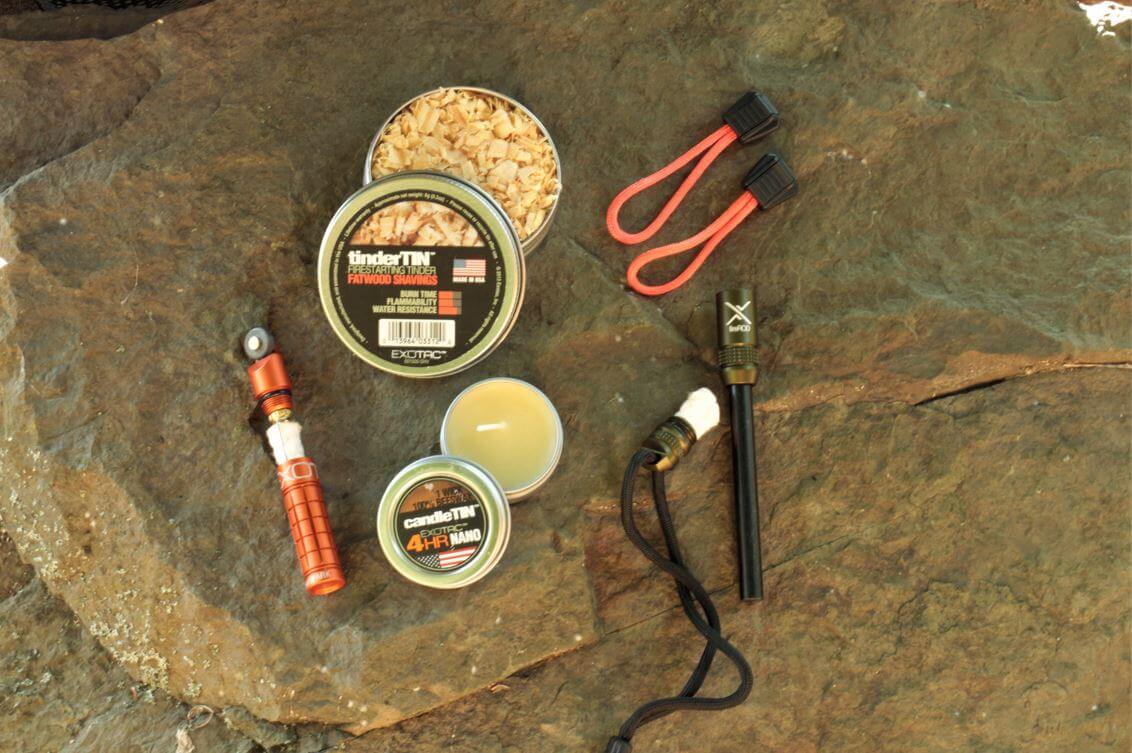 Sustain the Spark
From spark to ember to tiny flame, a fire is a fragile thing in its infancy. However, the best tinder materials to catch a spark are usually the fastest to burn to ashes. You can soak your cotton in petroleum jelly if you want to deal with that mess. For a fire extender, I usually keep it simple and include some tealight candles in my fire kit. Once I have a tiny flame, I light a candle and then push that under my fire lay.
"Maintain the discipline of gathering enough fire-making materials before striking that first spark—and remember to carry your favorite fire-starting gear."
Exotac offers its candleTINs in two sizes. I use the small Nano units that come in a three-pack. These tins have screw-on lids and contain beeswax candles that burn for up to four hours—much longer than a tealight candle that's about the same size. You can keep the empty tins to restock with candles or to store other small items.
(Another good product, but not from Exotac, is Pyro Putty. This, too, comes in tins you can reuse later. Fluff up a small piece of Pyro Putty and, not only does it catch a spark, a small ball of it will burn for about 15 minutes. It's waterproof, nontoxic and comes in four formulas: Warm Weather, Cold Weather, All Natural and Ultra Lightweight.)
Zippo, of Course
I wouldn't be a devotee of fire-starting products if I didn't also use Zippo lighters. These lighters are simple and dependable, and you don't have to keep your thumb on a fuel valve to keep them lit. Their flat shape makes them comfortable for pocket carry. The flints and wicks are easy to replace; and, if your lighter still won't work, Zippo will fix it for free.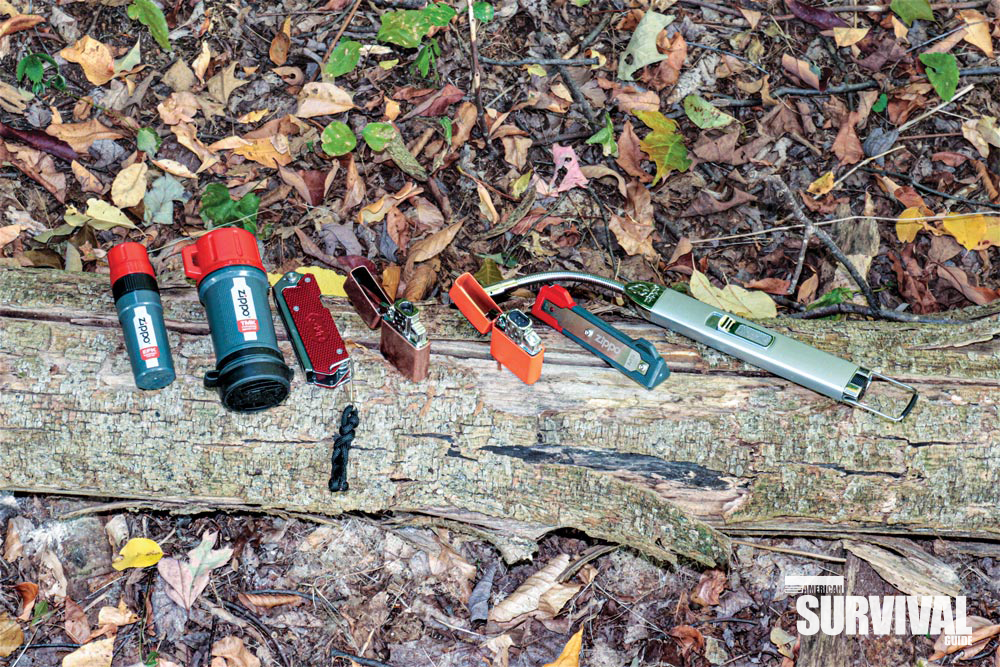 No one in the movies carries a flashlight, but everyone in the movies has a Zippo to light the way. Woods wanderers have been using them to light fires since the 1930s. (And, because they come embellished with so many variations of artwork and designs, you're making an individual "fashion statement" with the particular Zippo you choose to carry!)
No, they're not perfect. The lighter fluid used to fuel them evaporates, and you have to refill them every two or three weeks. Additionally, if you overfill one of these and put it in your pocket, fluid can seep through and give your skin a chemical burn. Nevertheless, I find one filling is usually enough for most short trips I take. For longer adventures or for inclusion in a kit that I might store for months, I include a small aluminum Zippo fuel canister that holds one lighter filling that doesn't evaporate.
Zippo Butane, Electric Inserts
If you'd rather not bother refueling a traditional Zippo regularly, Zippo still has a few answers: It now makes butane and electric inserts that fit inside any standard flip-top Zippo lighter sleeve. So, you can update your favorite Zippo with either a single- or dual-flame butane insert or with the electric insert that features a USB-rechargeable battery that powers two electric arcs used to light a fire. The electric insert is especially useful in windy conditions.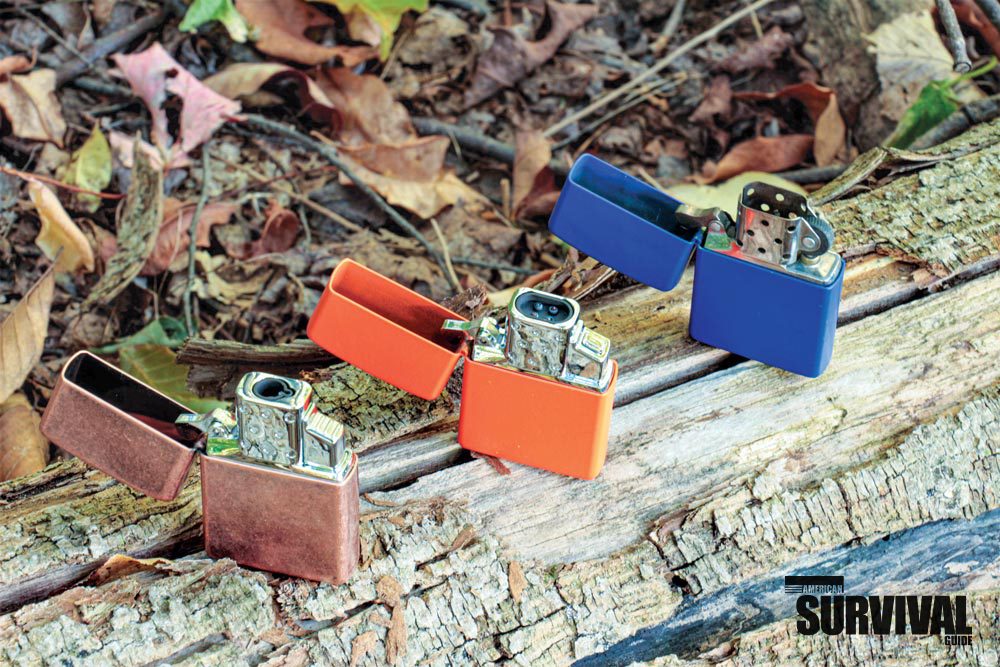 Zippo's Flex-Neck Utility Lighter is a refillable butane model that's good to have around camp when you need additional reach to light a stove, candle, lantern or grill.
(By the way, Zippo isn't the only source of electric lighters: I've used a couple models of Tesla lighters, available from Survival Frog, and have found them to be very good. They, too, feature dual electric arcs for fire-starting.)
SureFire Multi-Tool
Another recent product from Zippo is its SureFire Multi-Tool. It features a flint spark wheel that swings out from the tool like a knife blade. It has two slots for extra flints. On the other side is a foldout tool for processing tinder. It looks like a small cheese grater. It works very well for making wood shavings for tinder.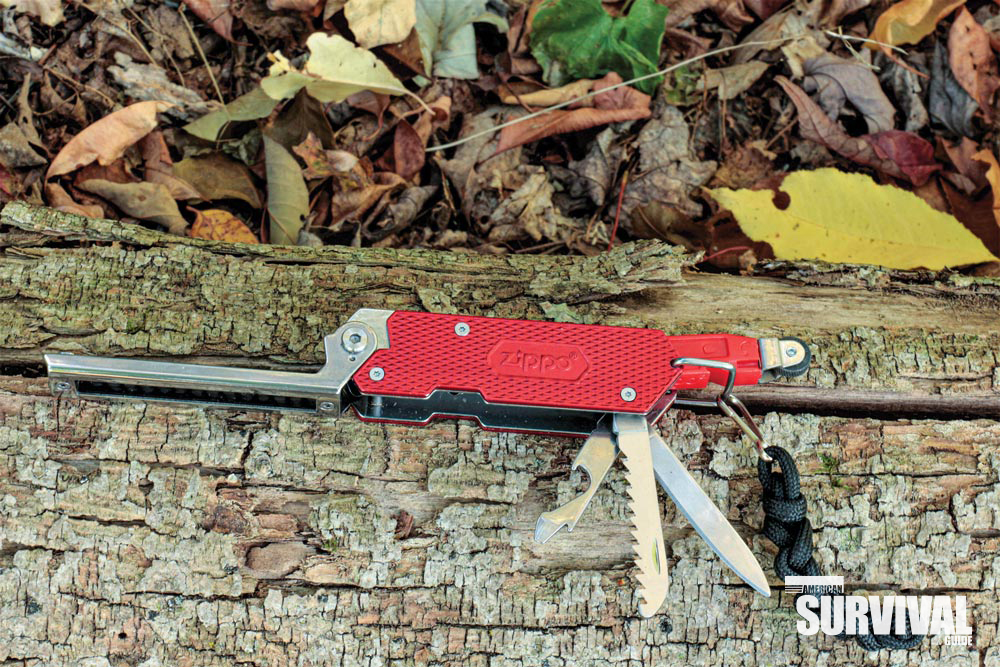 The SureFire Multi-Tool also features a knife blade, saw and a combination bottle opener and flathead screwdriver. A short length of fire paracord is attached to the lanyard ring. At its core is a strand of wax-coated tinder material. I wouldn't rely on the knife blade or saw as my primary cutting tools but, for fire-starting purposes, this is a useful tool.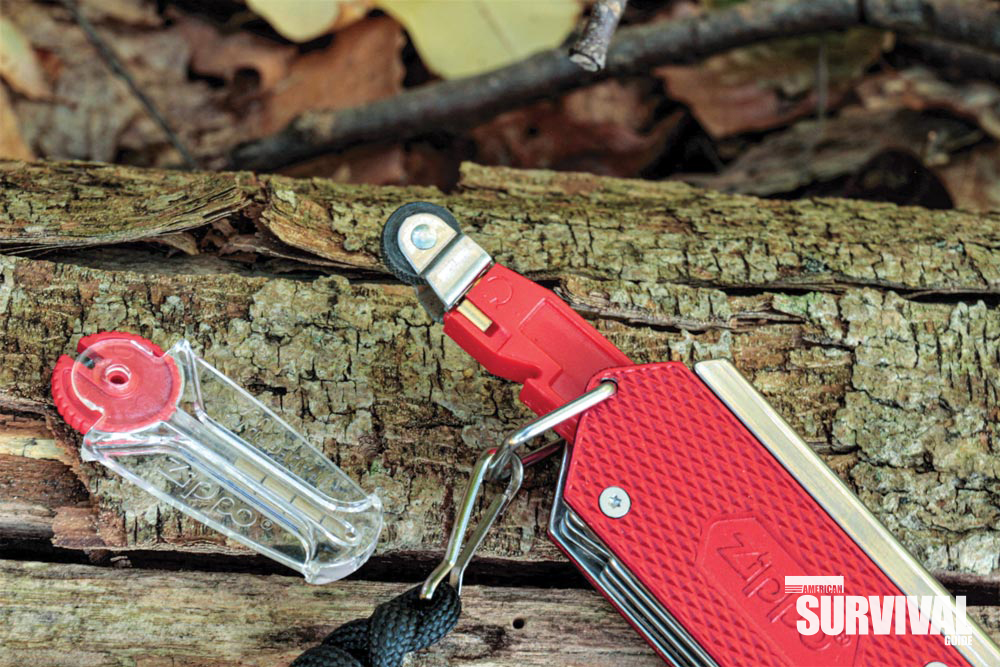 Emergency Fire Kit
Beyond Zippo's traditional lighters, the Emergency Fire Kit is my favorite Zippo product. It's an excellent piece of fire-starting gear. It's a flint-and-wheel sparker with a screw-on cap to protect the mechanism. In the bottom of the plastic housing is an O-ring-sealed compartment used to store five rolls of the company's Easy Spark Tinder. These rolls are made of compressed cotton treated with paraffin. They look like tiny rolls of toilet paper. Fluff a piece of one of these rolls, and it'll take a spark. You can insert a stick in the hole of a tinder roll so that once you light it, you can extend it into your fire lay. The kit floats too.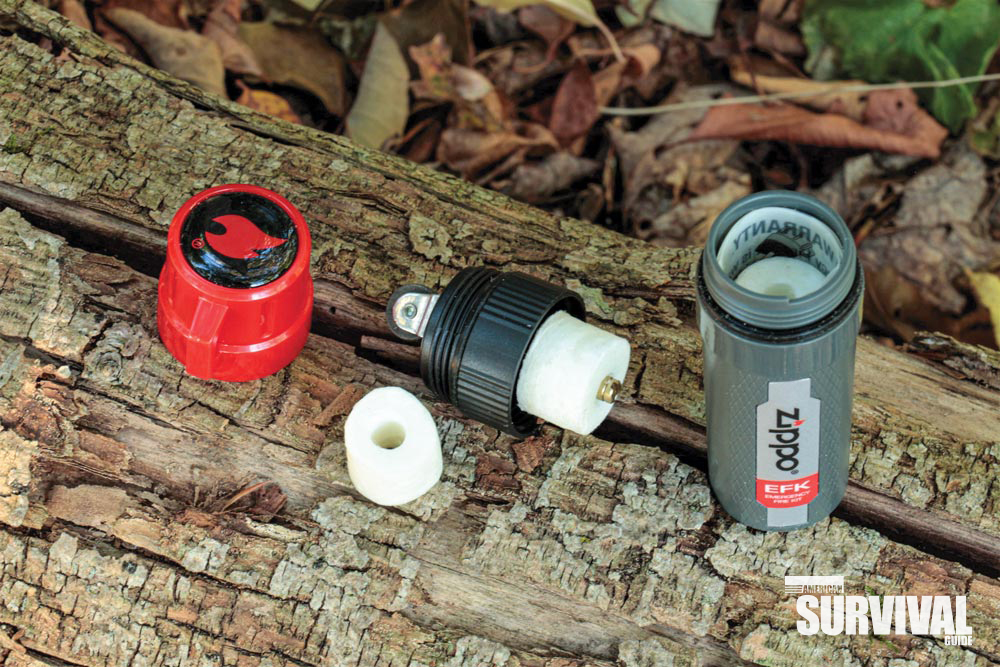 Zippo Mag Strike
Zippo also makes a ferro rod. Called the Mag Strike, it's built into a triangular plastic housing that's easy to grip. The snap-on cover that protects the ferro rod also incorporates the metal striker.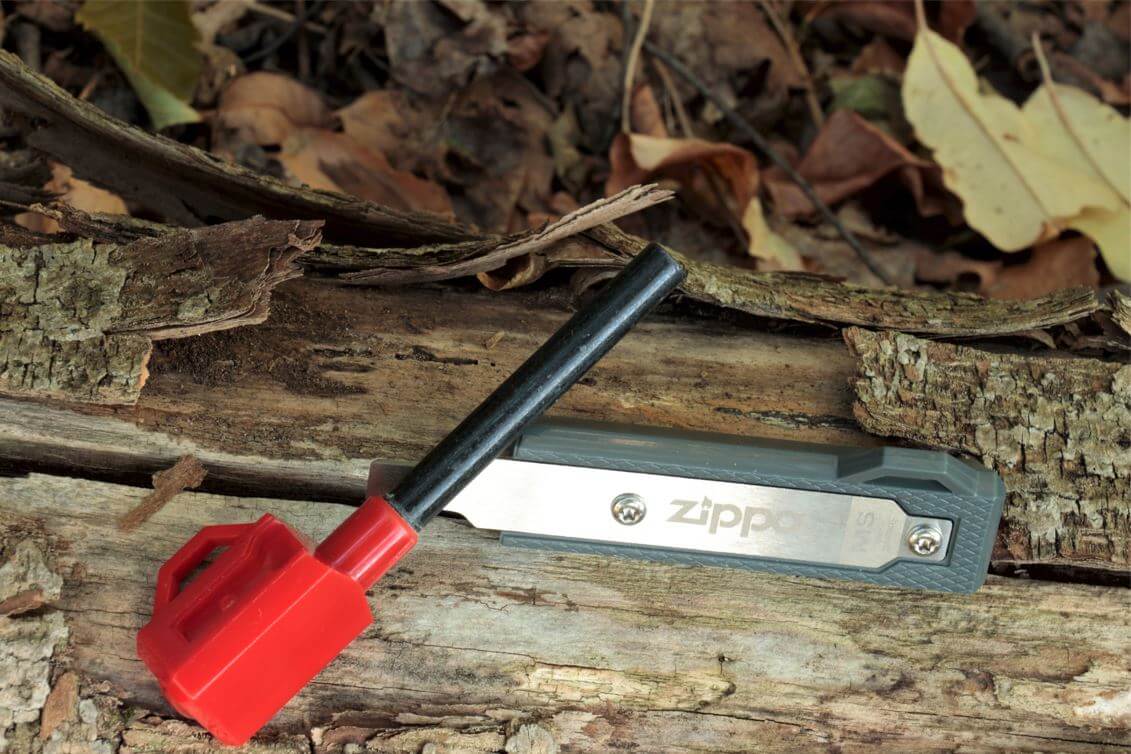 What About Matches?
One good thing about matches is that you can light one, put it in your fire lay and back off without having to hold a lighter there. However, if you opt to use matches, don't go "old school."
Exotac and Zippo both make waterproof match containers. The Exotac MATCHCAP XL is sized to hold the dependable UCO Stormproof matches. The Zippo Typhoon Match Kit is larger and stores jumbo-sized Typhoon matches that are treated to be water resistant. They burn for about 30 seconds.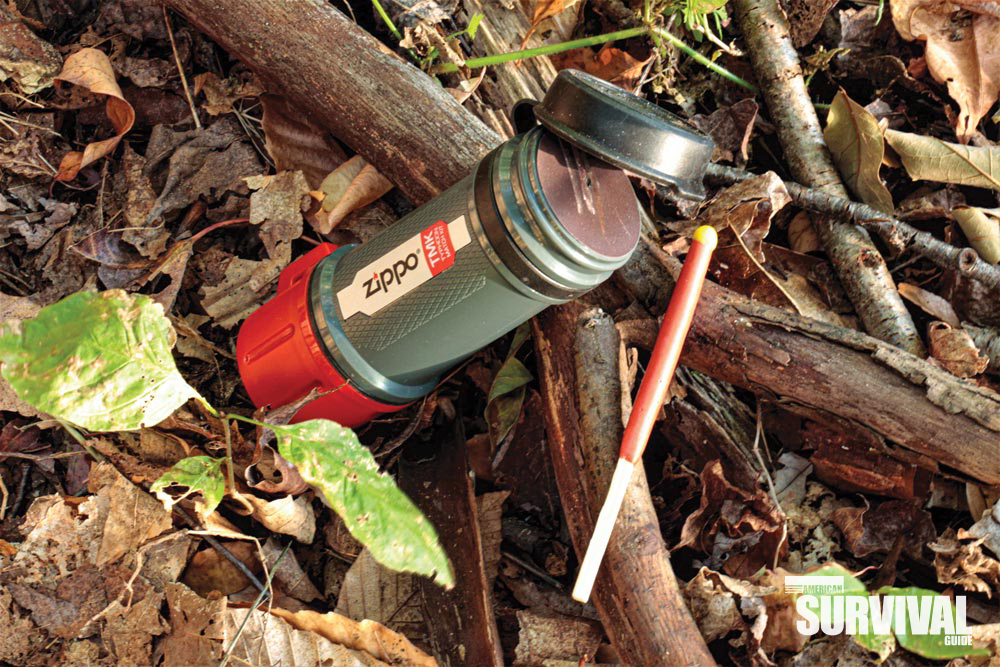 Practice Makes Proficient
You might never be perfect at starting a fire, especially in poor conditions. But the only way you can become relatively proficient at it is to practice: On any hike or hunt, train yourself to look for sources of natural tinder. Pick a couple of dried milkweed or cattail pods. Shred the thinnest layers of birch bark. In winter, look for standing dead trees above the snow. Carve away wet outer layers of wood in really wet conditions.
Maintain the discipline of gathering enough fire-making materials before striking that first spark—and remember to carry your favorite fire-starting gear.

KEY PRODUCTS
Exotac fireROD XL Replaceable Ferro Rod
Length: 3.95 inches
Waterproof storage has 4 pieces of quickLIGHT tinder
Approximately 12 inches of 1-inch-wide repair tape
FireCord lanyard
Weight: 5 ounces
MSRP: $59.95
Zippo Emergency Fire Kit
Zippo flint spark wheel
Includes 5 paraffin-coated tinder rolls
Water-resistant storage compartment for tinder
Floats on water
One-handed operation
Molded lanyard hole
Height: 4.0 inches
Diameter: 1.13 inches
Weight: 1.6 ounces
MSRP: $12.95
Zippo Plants Trees to Fight Fire With Fire
Zippo has teamed with Woodchuck USA in a "Buy One. Plant One." program to help reforestation efforts across six continents.
Here's how it works: Buy a Zippo lighter from the company's Fight Fire With Fire Collection, and the two organizations will plant a tree in a hard-hit area. In 2019, the program concentrated its efforts in Madagascar. In 2020, the focus moved a bit closer to home (Lassen National Park near Hat Creek, California, which has been hit with devastating fires).
These special lighters feature real wood sleeves with laser-cut decorative patterns and are wrapped around standard Zippo metal lighters. Each lighter comes with a special code. Enter that code at WoodchuckUSA.com/Zippo, and you can find exactly where your tree was planted.
SOURCES
BIC
ShopBIC.com
Exotac
(888) 568-9347
Exotac.com
Pyro Putty
(800) 790-4480
PyroPutty.com
Tesla Lighters
SurvivalFrog.com
UCO Gear
(888) 297-6062
UCOGear.com
Zippo
(888) 442-1932
Zippo.com
Editor's note: A version of this article first appeared in the January 2021 print issue of American Survival Guide.