In a world of compact convenience, nothing could be more essential on the go than a small, reliable lighting source. While larger lights are always helpful, having a device that can illuminate any situation while fitting in your pocket can be immeasurably valuable. The newest LED-based, handheld pocket lights from NEBO are a great solution for when the situation calls for a compact light.
The INSPECTOR 500+ Handheld Pocket Light
Coming in at $44.99, NEBO's INSPECTOR 500+ is a powerful 500-lumen inspection penlight. It is rechargeable, waterproof and features four light modes and an expandable light area. The INSPECTOR 500+ comes with a sturdy pocket clip to allow for secure, everyday carry. It has a magnetic base for hands-free use, all while featuring Flex-Power Technology, allowing it to be powered by rechargeable or AAA batteries.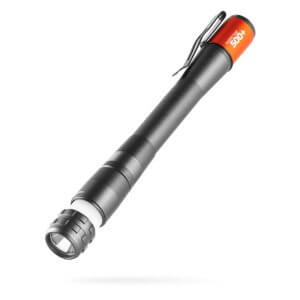 The COLUMBO Pen-sized Flashlights
Ranging from 100 to 250 lumens, each model in the COLUMBO range of inspection pen-sized flashlights features three light modes with Easy Touch Technology to cycle through the high, low and strobe modes, as well as a 4x adjustable zoom. All three flashlights have an anodized, aircraft-grade aluminum body, come with a strong steel clip and are waterproof. The COLUMBO 100 and 150 are powered by AAA alkaline batteries, while the COLUMBO FLEX 250 is powered by a rechargeable battery for up to three hours of operation. The COLUMBO FLEX 250 has an MSRP of $44.99.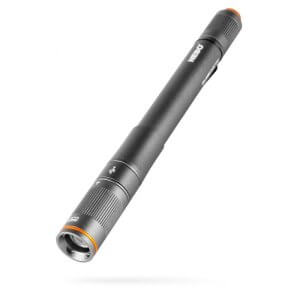 The SLYDE KING 2K
When you're in need of the utmost compact versatility in a pocket light, consider the SLYDE KING 2K for $59.99. It features a 2,000-lumen light with 4x zoom, is rechargeable and waterproof in up to one meter of water for 30 minutes. The SLYDE KING 2K has an ergonomic rubberized grip and a powerful magnetic base for hands-free use. It also serves as a 500-lumen COB work light, is dimmable with programmable memory and includes a red hazard flasher that guarantees visibility in an emergency.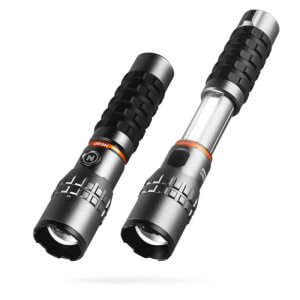 Specs
INSPECTOR 500+ Features
500 Lumens
Rechargeable
Waterproof (IPX7)
Flex-Power Technology
Four Light Modes
Expandable Light Area
Powerful Magnetic Base
MSRP: $44.99
COLUMBO FLEX 250 Features
100 Lumens
Three Light Modes
4x Adjustable Zoom
Waterproof
Easy Touch Technology
Durable, Secure Pocket Clip
Rechargeable
MSRP: $44.99
SLYDE KING 2K Features
2,000 Lumens
Rechargeable
Waterproof (IP67)
500-Lumen COB Work Light
Dimmable
Programmable Memory
Powerful Magnetic Base
MSRP: $59.99
You can explore the full line of NEBO products by visiting www.nebo.acgbrands.com and stay up-to-speed with all the latest in everything outdoors at American Outdoor Guide | America's Best Outdoor Adventure Magazine.