Holosun HE510C-GR Optical Sight For Rifles and Carbines
Holosun's HE51C-GR open reflex optical sight was created to address the needs of rifle and carbine shooters. Equipped with some of Holosun's most popular and effective innovations, this is an accurate, durable and dependable accessory you will want to have with you every time you need precision placement.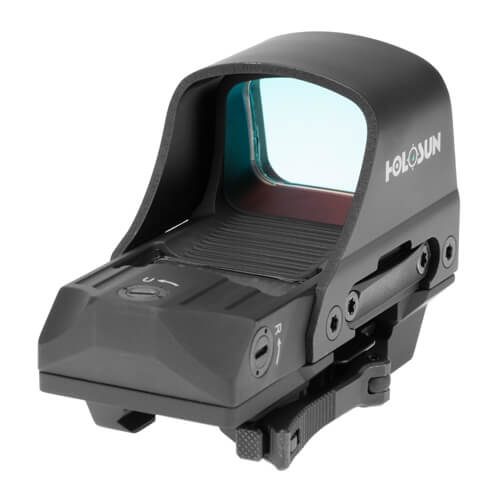 The Holosun Story
If you've been shooting for accuracy for long, you are probably well-acquainted with the commitment to driving new ground-breaking technologies that Holosun brings to the shooting optics category. But you might be surprised to know that its collection of optic and laser/infrared devices comes from a company that only started up in 2013. In that time, users whose applications range from recreational shooting and hunting to law enforcement and critical military missions have come to trust the company that has moved to the forefront of the industry. By creating important features such as Solar Fail-Safe technology, battery efficiency that lasts up to 100,000 hours and its signature multi-reticle system (MRS), to name just a few, Holosun stands out in a crowded field.
Bringing these capabilities together in cutting-edge products that offer superior durability and quality at affordable prices, adds up to industry-leading value and performance that demanding users appreciate over the lifetime of their equipment.
Function Comes With Form
The HE510C-GR is designed for deployment on rifles and carbines. Its green Multiple Reticle System includes both a 2 MOA dot and a 65 MOA circle reticle, providing three reticle choices and it is protected in a 7075 T6 aluminum and titanium housing. Holosun's technology enables adjustment of the reticle's intensity and output to a choice of 10 daylight and 2 night vision-compatible settings to suit all environments from the brightest to no-light environments.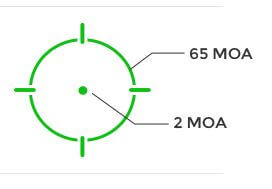 The user-friendly Shake Awake feature eliminates the need to manually protect battery life with an automatic Sleep Mode that can be programmed. Likewise, the unit's on-board motion sensor will activate the LED when it senses the slightest movement. A CR2032 lithium battery is included with the device and has a service life of approximately 50,000 hours.
The popular Solar Failsafe Technology allows the sight to remain functional even after the battery fails. This feature automatically adjusts brightness whether you're operating in sunlit or indoor environments.
Construction
The optical glass is manufactured with multilayer coatings that allow maximum light transmission and wear resistance while also reducing glare. Holosun's titanium frame and 7075 T6 aluminum housing are light and tough and includes a durable MAO finish.
The 3.3 x 1.68 x 1.78-inch HE510C-GR weighs 4.94 ounces.
Holosun HE510C-GR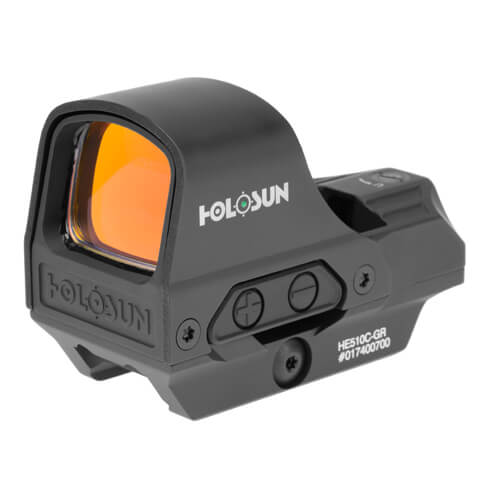 Specifications
Adjustments: Windage and elevation travel range: +/- 40 MOA
Pre-zeroed during production at the factory
Brightness settings: 10 daylight, 2 night vision
Green reticle light wavelength: 540 nm
Magnification: 1x
Parallex free
Unlimited eye relief
Sleep timer settings (4): 10 minutes, 1 and 12 hours, disabled
Brightness memory: reverts to last saved setting when turned off/on
Low battery warning: reticle blinks slowly when voltage reaches 2.2 volts
Window size: 0.91 x 1.26 inch
Water resistance rating: IP67
Working Range: -22 to 140 degrees (F)
Included with the optic:

Absolute cowitness QD mount
T10 L key functions: Adjusts elevation and windage, Torx driver, battery tray and screw removal
CR2032 lithium battery, disposable
Lens cloth
User manual
MSRP: $399.99