TOP 5 REASONS THIS PORTABLE POWER GEAR SHOULD BE ON YOUR WISH LIST
STORY BY CRAIG CAUDILL, DIRECTOR OF NATURE RELIANCE SCHOOL; PHOTOS BY JENNIFER CAUDILL
There are numerous technology and engineering accomplishments that are rapidly advancing and useful. With the widespread use of handheld devices, portable power has been one of these advancements that has been fun to watch and experience.
I have been researching and reviewing various products in this field for several years now. I have settled on Jackery as my go-to brand as I have been most pleased with their use and performance. Here are the top five reasons why I believe you should consider them:
WEIGHT AND SIZE
The first thing I noticed when I unboxed the Jackery 1500 was how light it was. At just a hair above 35 pounds, this power station is incredibly light for such a powerful package. It has an ergonomic integrated carrying handle that makes it easy to grab and move anywhere you want to take it. It has rubberized bumpers on the bottom which makes it easy to place it where you need it, and it does not slide off.
It measures 14 x 10.4 x 12.7 inches, which is about the same size as typical toolbox. I have put it in my truck's toolbox, in the storage space of my wife's Jeep, and carried it around on the back of my farm ATV. I know it is there, but not in my way or anything of the sort. It rides well, does not take up that much space and is easy to remove and use wherever power is needed.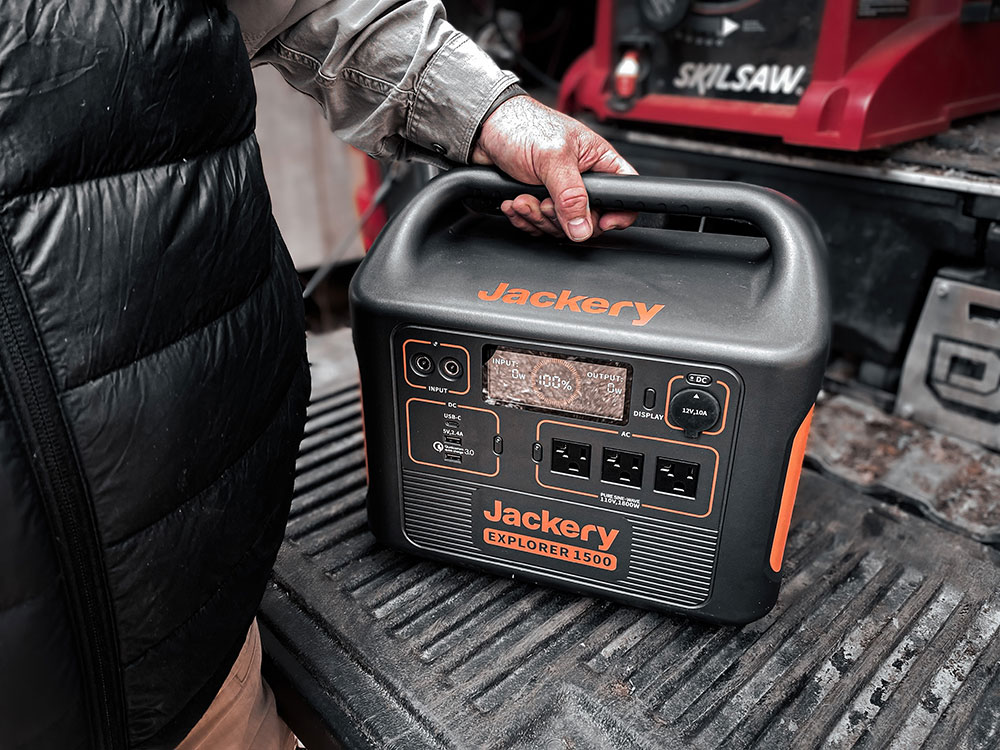 POWER
I will give you all the technical stuff in a moment but let us go ahead and get the important stuff out of the way first. This unit will recharge your cellphone more than 60 times, your tablet more than 45 times, and the typical ham radio about 30 times.
I used the smallest of the bunch to write my first two books in the backcountry. By that I mean that I would charge it at night at home, go to my cabin and use it to keep my laptop going all day. The battery is a lithium-ion at 1534Wh (25.2V 60.9Ah) for those who want to know the technical aspects of it.
Lithium-ion type batteries are important to have on a unit such as this because they have secondary cell construction enabling them to be recharged numerous times. I have also used this to power a dormitory-type mini-fridge in disaster situations. We do this to keep life-saving medicines cool when the grid goes down. It has worked well for this and on its own it can keep this fridge going for three days with extremely limited opening/closing of the refrigerator door.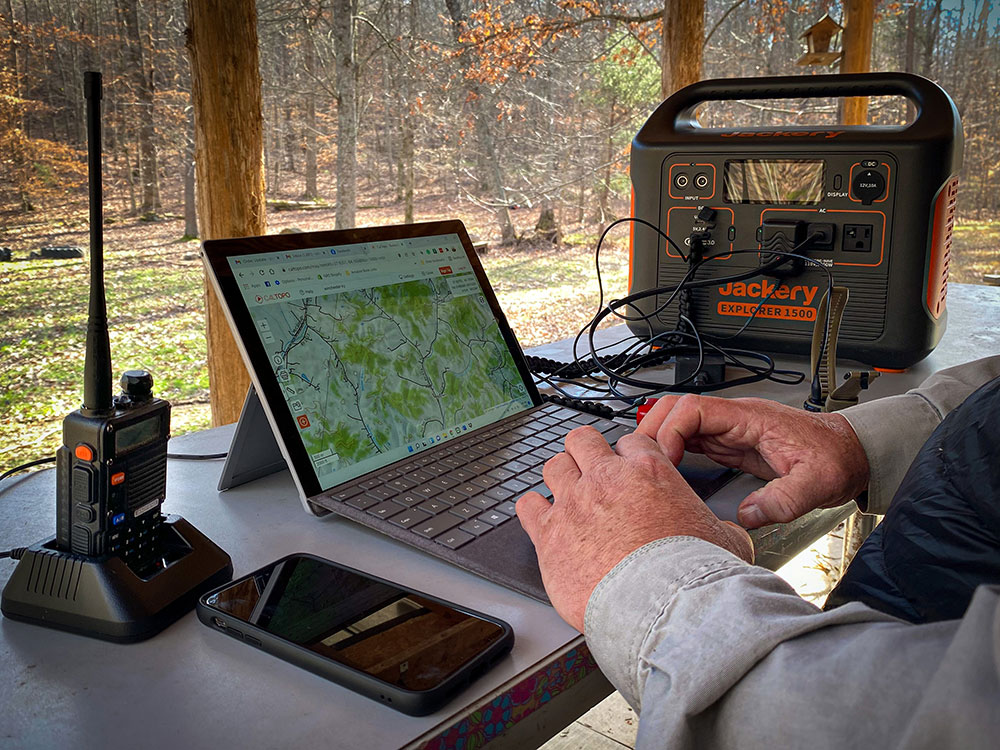 RECHARGING
Recharging is another fantastic aspect to the Jackery line of products. There are multiple and extremely straightforward ways to get the power station charged back up and ready to go again. The easiest to use is the AC adapter that plugs into your wall then plugs into one of the input ports on the unit.
Charging from zero to 100 percent takes approximately six hours in this manner. When you are away from your house, you have two options. The first is to use the 12V car adapter which takes about 15 hours to fully charge. Be sure you start your vehicle occasionally, so it does not drain your car battery in the process. The last and coolest way is to use the solar panel chargers. With four panels, you can re-charge the 1500 in about five hours of full sunlight. With two panels it will be ready to go after about ten hours of full sunlight.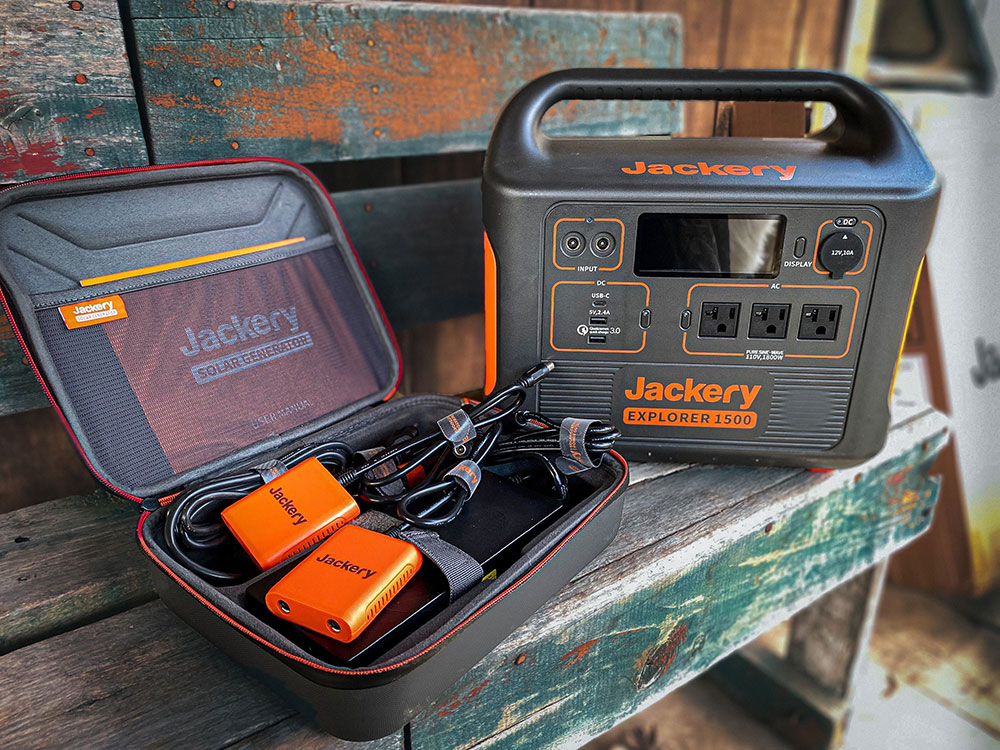 SOLAR PANELS
I mentioned their recharging ability above, but I also want to mention some important things in general about the Jackery solar panels as well. One of the beautiful things about these babies is the materials used in their construction. PET is a polyester-based plastic resin. This makes each panel incredibly light at only nine pounds. It also makes them very tough and less likely to be broken as the glass solar panels. You should take care of them, but you do not have to baby them in use.
These solar panels have an integrated pocket on the back which houses the connection hardware to the power station as well as integral kickstands so you can easily lean them towards the sun for full exposure. Like the power station, the handles are ergonomic, which makes these panels easy to carry. All of this serves for easier and more comfortable setup, even when doing so is far from your storage area or your vehicle.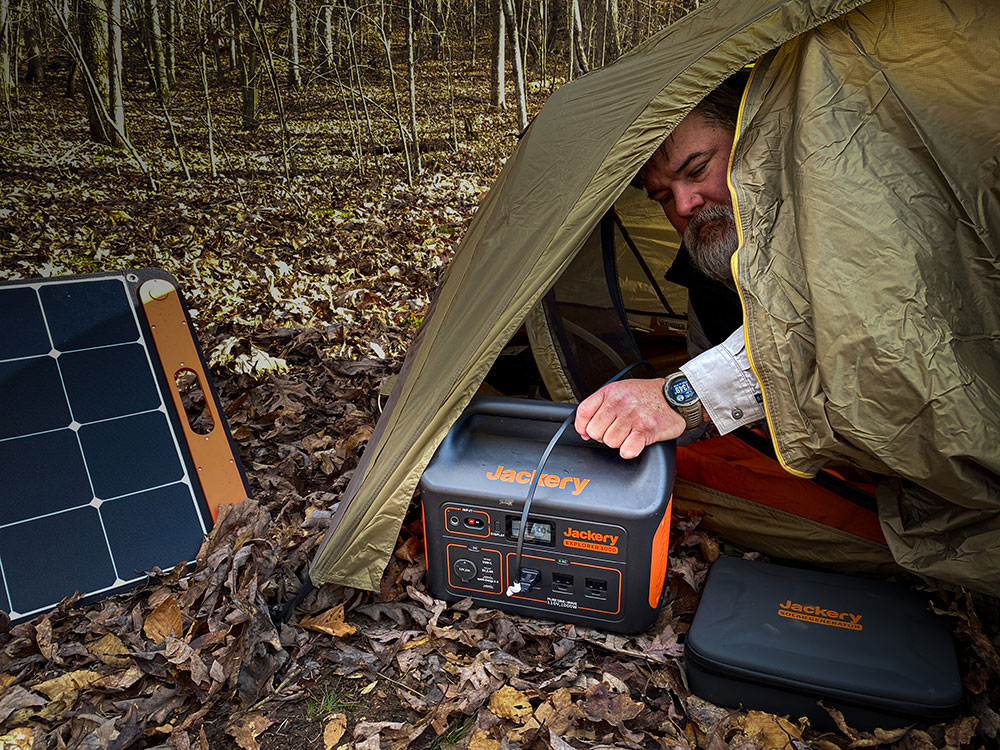 FUNCTIONALITY
So, I must admit that I have plugged in items on every port possible and just ran with it. I've used the quick charge port for my phone, one of the three-prong AC outlets for a laptop, another for a ham radio, and another for a small fan. I've used one of the other USB ports to charge my watch. After about two hours of powering all these small items, I still only used about two percent of the battery. Plenty was left for whatever I needed moving forward.
JACKERY SUPPORTS DISASTER RECOVERY EFFORTS
As I write this, we are just a few short weeks past a devastating tornado that destroyed two small towns in my home state of Kentucky. I have some inside information that is worth noting regarding that disaster. Jackery donated several power stations to emergency responders so they could keep staying in the business of saving lives there. The units were used to power phones, and computers at mobile incident command centers as well as used to help get necessary supplies to those in need.
I have boots-on-the-ground feedback from many who have used them there and they absolutely loved them. Kudos to Jackery for their charity and their incredible and powerful units. They made a terrible situation less so with some added modern conveniences.
Mobile power is a necessary part of disaster readiness. It is not time to forego all other means out there. However, units like Jackery are an asset to any family, unit or agency's mobile power needs. Keep an eye on the Jackery website as it regularly has deals pop up that you do not want to miss. I have focused heavily on the Jackery 1500 as it is my latest acquisition. However, there are multiple units in varying sizes to meet your budget and power needs. Check them out.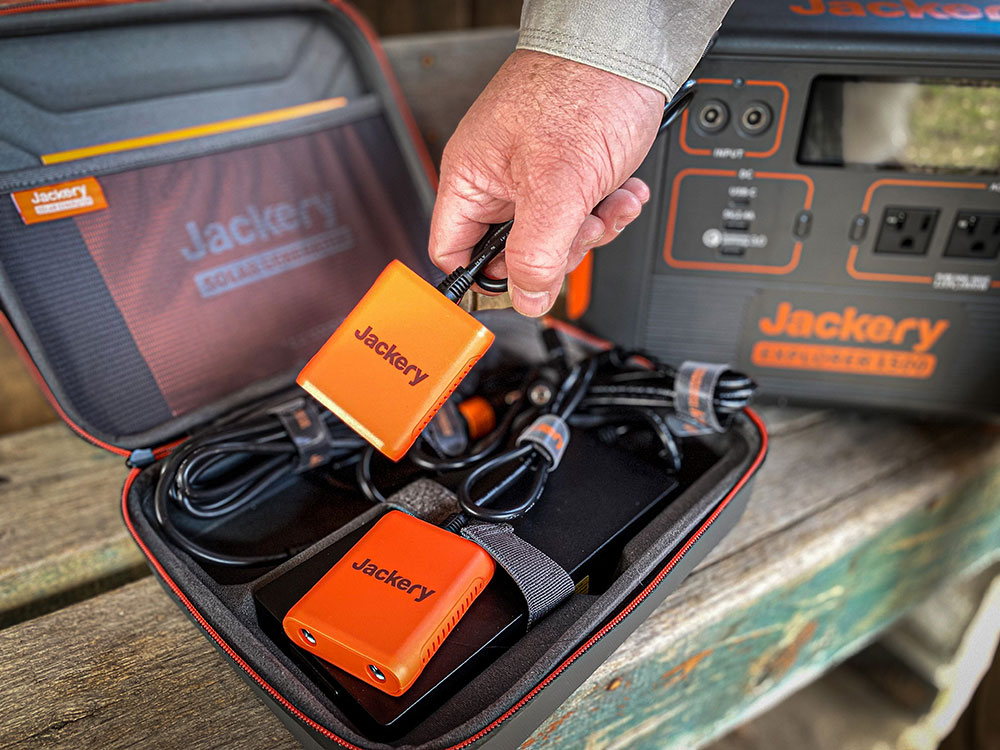 SOURCE
Jackery Generators
www.Jackery.com
---
 PORTABLE POWER: WHAT'S IT COST?
 No matter what you have as far as available space or budget, Jackery has a unit that is right for you. The time it takes for each of these units to charge a typical cell phone can give us a baseline of how much power they have on tap. The 1000 and 1500 units can also charge small coolers, fridges, even a microwave.
Solar Generator 240 – 24 charges – $199.99
Solar Generator 1000 – 100 charges – $999.99
Solar Generator 1500 – 150 charges  – $1599.99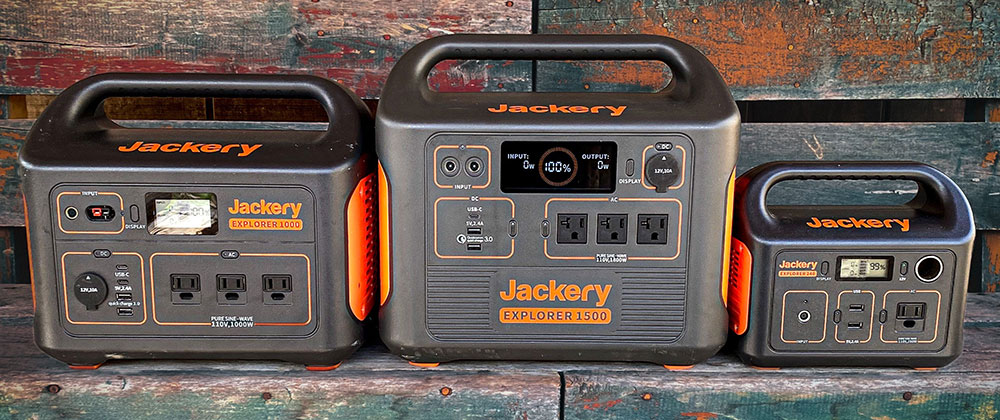 A version of this article first appeared in the March 2022 print issue of American Outdoor Guide.