Sea to Summit has just released their most versatile and complete camp cookware set yet: the compact X-Set 32. This camp cookware set by Sea to Summit is an addition to the X-Pot collection, which aims to please space-conscious campers with collapsible, efficient designs for every outdoor occasion.
Perfect for two people, this new set includes a generous 2.8-liter X-Pot made with a hard anodized aluminum base and food-grade silicone sidewalls. The 1.3-liter X-Kettle has two glass-reinforced nylon 66 handles for easy pouring. Then there's the X-Pan, which is polished on the inside to prevent food from sticking, with silicone-wrapped side handles that flip neatly underneath for transport.
All this collapses to create a small disc-sized set that slides easily into your backpack for all your outdoor adventures. The complete set comes in either Olive/Sand or Charcoal/Lime colors with a MSRP of $139.95. Check it out at www.SeaToSummit.com. And be sure to check back with AmericanOutdoor.guide for more great outdoor news.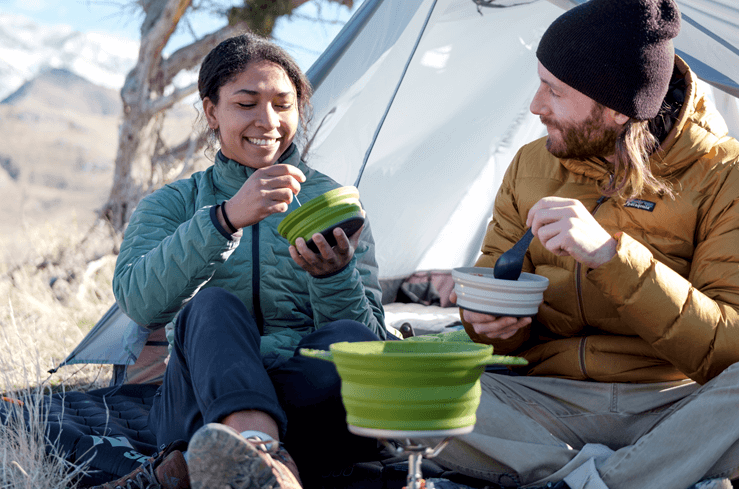 THE SET
For MSRP $139.95, includes: 2.8L X-Pot, 1.3L X-Kettle & 8″ X-Pan.
The set nests completely together for ease of transport and storage.
X-Pot and Kettle are made from BPA-free, food-grade heat resistant silicone.
X-Pot and Kettle have measurements molded into the sidewalls.
Hard anodized aluminum base conducts heat really well for outdoor gourmet cooking.
Durable, translucent pot lid shortens boil time—no need to lift the lid to check the boil.
Three-piece cooking set collapses to 1.8″.
X-PAN
Constructed of hard anodized aluminum.
Heat-resistant, silicone grip handles for non-slip lifting and holding.
X-POT
Stainless steel ring embedded in the rim provides stability.
X-POT KETTLE
Two glass-reinforced nylon 66 handles support the upper rim and improve control when pouring.