ESSENTIAL GEAR, TOOLS, AMMO, AN AWESOME KNIFE, AND MORE
Here's the list of 5 essential gear you should always have in your survival gear pack:
1. FIX IT STICK RATCHET TOOL KIT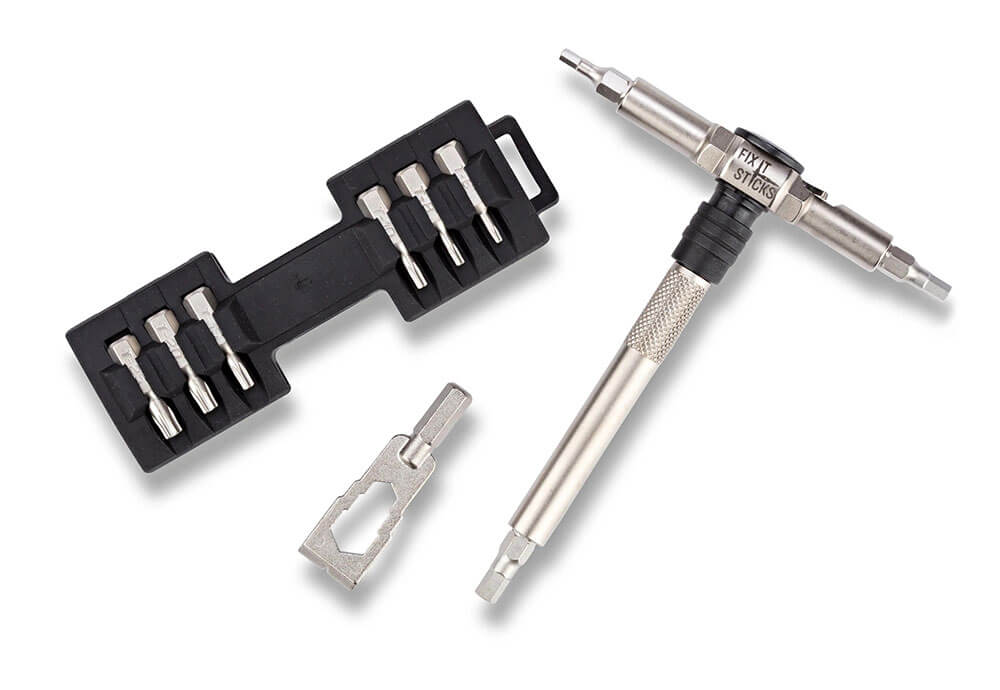 Fix It Sticks makes a wide range of innovative tools. Many are geared specifically for gunsmithing, while others have a much wider range of use. One of their best in the latter category is the new Compact Ratcheting Multitool.
This multitool is actually a full kit that consists of a reversible T-way ratchet wrench, 15 hex bits and a mini pry bar. It all stores in a rubbery polymer holder for easy packing in a range bag, vehicle glove box or backpack. The wrench holds tools magnetically and it will accept standard ¼-inch bits. It's excellent for working in tight spaces.
Specific bits in the kit include: 3mm, 4mm, 5mm, 5/64, 5/32, and 3/32 hex bits; T6, T8, T10, T15, T20, and T25 Torx bits; a 5mm screwdriver bit; #1 and #2 Phillips bits and a mini pry bar with 3 box wrench tools.
MSRP: $80
2. SPEER GOLD DOT NOW IN 30 SUPER CARRY

Speer Gold Dot ammunition has been a top choice for law enforcement agencies and private citizens for many years. Now Speer has added the 30 Super Carry to the Gold Dot line.
With the continued growth and popularity of concealed carry firearms, the 30 Super Carry, with its .313-caliber bullet, comes into the market as an ideal choice for everyday carry. The cartridge greatly outperforms the 380 Auto, while offering the same muzzle energy as the 9mm Luger, but with more magazine capacity.
With this newly designed cartridge, users don't have to choose a smaller firearm with reduced bullet performance or a larger firearm with more magazine capacity. The 30 Super Carry combines the best of performance and size.
A 20-round box of Speer Gold Dot hollowpoint ammo with 115-grain bullets in the new 30 Super Carry sells for a suggested $35.99. For more information on all the company's products, visit their website.
MSRP: $35.99
 3. Wicked Ridge Unveils Raider 400 De-Cock Crossbow

The new Raider 400 De-Cock from Wicked Ridge Crossbows features the revolutionary ACUdraw De-Cock and D1 Trigger. It's the lowest-priced safe de-cocking crossbow on the market.
This ultra-lightweight crossbow combines that convenience of de-cocking with speeds up to 400 feet per second. All Wicked Ridge crossbows are American-made, designed, and built by TenPoint Crossbow Technologies in Mogadore, Ohio.
A simple push of a button moves the trigger to "de-cock" mode and allows the user to safely de-cock the crossbow with the built-in ACUdraw De-Cock crank cocking device or to manually de-cock the crossbow with a traditional rope-cocker. The system features the company's Auto-Brake Gear System that eliminates the potential of losing control, which can lead to injury or costly bow damage during the de-cocking process. While de-cocking with the ACUdraw De-Cock, the user can remove their hand from the handle at any point and the handle will stop in place. In addition, the easy-to-operate ACUdraw De-Cock reduces the effort required to cock the crossbow to just five pounds.
The D-1 Trigger is Wicked Ridge's smoothest trigger ever. This 2-stage, zero-creep design includes a new DFP (Dry-Fire-Prohibitor) and delivers a consistent crisp, 3.5-pound pull. The bow assembly measures a narrow 15-inches wide. The entire setup weighs just 6.5 pounds. The crossbow comes in a ready-to-hunt package that includes a TenPoint Multi-Line Scope, three carbon arrows, and a quiver. For more information, visit their website.
MSRP: $799
www.WickedRidgeCrossbows.com
4. NEW ADVENTURE MEDICAL KITS

Adventure Medical Kits has introduced updated models in its Coast Guard Approved Marine Series. The newly improved Marine series offers a full range of medical kits curated for professional and recreational boaters. These seven premium medical kits created specifically for boating offer a solution for consumers ranging from everyday recreational kayakers up to large-scale commercial fishing vessels. With a high-grade waterproof design and approval by the United States Coast Guard, boaters can feel safe and prepared for any excursion.
The first three base models have a dry-bag design for lightweight packability on smaller boats that can carry six people or less, while the four larger models come in a shockproof dry-box container, better suited for larger vessels with more crew members. The contents vary by model and offer a robust assortment of supplies, tools, and instructions needed to treat a variety of injuries and ailments. Prices range from $64.99 for the Marine 150 to $849.99 for the Marine 3500.
A popular size from the collection, the Marine 600 (MSRP $209.99), is ideal for six or less people on an extended trip up to six hours away from professional care. The kit's waterproof and shockproof case features stainless steel hardware and a seal to keep the first aid supplies dust-free and dry, even if submerged for 30 minutes in up to one meter of water.
Contents include a wide range of wound, burn, and blister care items, along with medications, fracture and sprain supplies, and an emergency blanket to prevent hypothermia. In addition, a copy of Marine Medicine: A Comprehensive Guide by Eric W. Weiss, MD and Michael Jacobs, MD is included as a detailed resource to help identify and treat over 200 injuries and illnesses specifically related to marine medicine. For more information, visit the website.
Marine 600 MSRP: $209.99
 5. BEAR OPS BEAR TAC III

Bear Ops, a division of Bear & Son Cutlery, has introduced the Bear Tac III fixed-blade knife, designed with military and special operations teams in mind. This rugged, American-made full-tang knife is forged from D2 steel and features a 4.8-inch cutting edge. The blade has a black, anti-glare finish. The knife is fitted with black stainless steel bolsters and black G10 handle scales. The knife measures 10 inches overall and weighs 7.8 ounces.
The knife comes with a ballistic nylon sheath with Kydex insert and can be mounted easily to duty and pants belts as well as MOLLE-compatible gear both vertically and horizontally.
MSRP: $129.99
A version of this article first appeared in the May 2022 issue of American Outdoor Guide Boundless.