Maintaining communications is just one of the many challenges AT hikers face when traveling the 2,193 miles of the Appalachian Trail from Springer Mountain in Georgia to Mount Katahdin in Maine.
Naturally, hikers want to keep in touch with loved ones back home to ensure them that they're fine and still trudging along. But hikers, anticipating coming to a town, also need to be able to contact hostels to reserve accommodations. They need to set up times and places for shuttle drivers to pick them up. The hikers need trail information too, so they know about weather and trail conditions ahead, water sources, shelters, and which towns might have outfitters who can provide critical gear replacements.
AT Hikers Always Looking For Bars
While many hikers might welcome a cold beer when getting to a town, the bars they're searching for more often are the bars that indicate signal strength on their cell phones.
From remote mountain tops to deep ravines, much of the AT is out of cell phone range. So, hikers will periodically check their phones and will often take advantage of any cell signal they have to send texts to family members or to arrange the particulars of their next stay in town.
Tracking AT Thru-Hiker Number 2 Pencil
At American Outdoor Guide Boundless, we continue to follow the progress of the AT thru-hiker with the trail name Number 2 Pencil in his quest to hike the entire length of the trail. About 3,000 hikers attempt to complete the trail each year, but only about one in four succeed. Number 2 Pencil has posted 81 videos to date on his YouTube channel, The Heard Hiker.
At Hikers Look to Power Up
Hikers will often power off their phones or at least put them in airplane mode to save battery power on the trail. Most carry rechargeable power banks too because it might be as much as a week before their next stay in town. Recharging electronic devices is just as important to these hikers as shower and laundry facilities, and a roof over their heads when in town.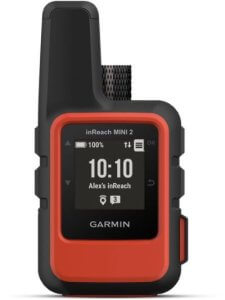 Garmin inReach Mini 2
Many hikers also carry satellite communicators, such as the Garmin inReach Mini 2. The inReach Mini 2 provides for two-way text messages and is not dependent on a cell phone signal. Hikers can send messages that also will automatically include links that plot their exact locations that are view on online topo maps by the recipients. The device has an SOS feature too that will send an emergency message with location coordinates to first responders.
FarOut App Provides Valuable Trail Information
Much information is spread along the trail through the hiker grapevine when hikers meet along the trail, at shelters, or in town. But these days, many hikers will also make use of a phone app called FarOut. FarOut provides digital maps of many trails, not just the AT, and you download them so that you're not dependent on a phone signal. These interactive maps provide information on the locations of shelters, water sources, road crossings, shuttle services, hostels and much more. Hikers also have the ability to post comments on the app to provide fellow hikers with updated trail news.
Follow Number 2 Pencil
In Episode 81 his video journal, Number 2 Pencil discusses contacting a shuttle driver to arrange a ride and his issues with trying to keep his devices charged. Click on the video below to see what The Heard Hiker Number 2 Pencil has to say and get links to all of this trail videos. And be sure to check AmericanOutdoor.Guide for more great outdoor adventures and how-to resources.
(Lead photo credit:  Jon Bilous / Dreamstime.com)
---
Wanna follow the progress of the AT thru-hiker dubbed Number 2 Pencil? Click here to read:
 How AT Thru-Hiker is Dressed for Success
How Hostels Welcome Haven for Weary at Thru-hikers
How Appalachian Trail Shelters are becoming a Home for Hikers
How An AT Thru-Hiker Selects The Food He Needs