Check out these amazing new products featured in January 2022 issue of American Outdoor Guide Boundless.
01) Lems Chillums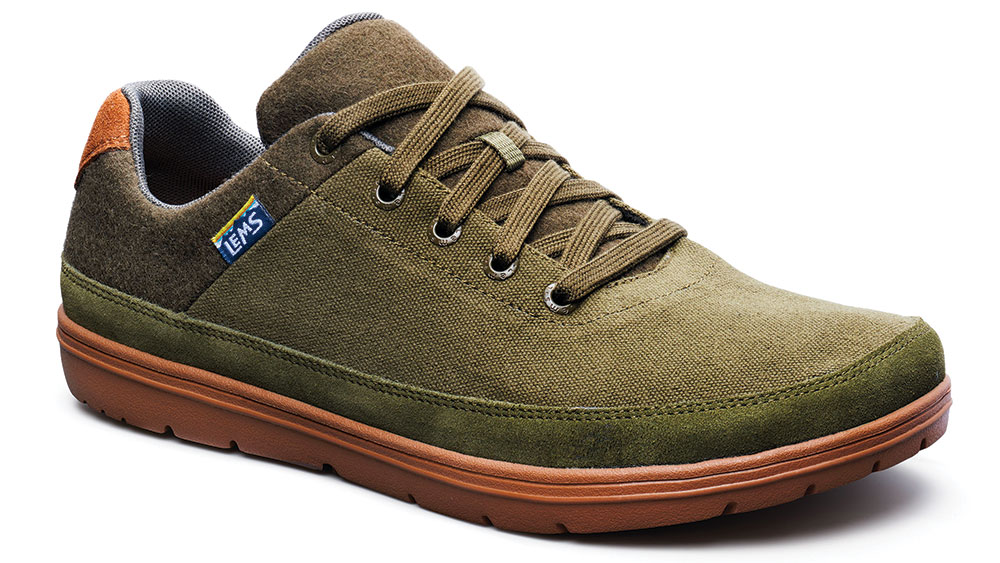 Lems earned its reputation as a premium outdoor shoe manufacturer with its Lems Boulder Boots. These boots feature the wide toe box and zero-drop construction preferred by many and are loved for their solid construction and light weight.
The new Chillums retain the same outsole as the Boulder Boot and combine it with a low top, lightweight upper made of canvas, suede and wool. Inside the Chillums is a naturally antimicrobial cork footbed. Each Chillums boot weighs only 8 ounces. They're available for both men and women in several color options.
MSRP: $105
www.LemsShoes.com
02) GiantMouse GMF2

GiantMouse is proud to present the GMF2—the newest fixed blade in the GiantMouse lineup. Inspired by the knives commonly used in the designer's native home in Denmark, the GMF2 is perfectly at home in the field and around camp. The 3.62-inch blade is made from .157-inch-thick Bohler N690 stainless steel.
The canvas Micarta handle is contoured for extreme comfort and is available in either green or black. Each knife is delivered with an expertly crafted, deep-carry leather dangler sheath. The GMF2 and its sheath are manufactured to exacting tolerances in Maniago, Italy.
MSRP: $195
www.GiantMouse.com
03) Sharps Bros. HeatSeeker Chassis

Sharps Bros. has recognized the demand to upgrade the highly popular Ruger American Short-Action Bolt Rifle by bringing the affordable HeatSeeker Chassis system to the market. The chassis is designed as a direct replacement for the stock on the short-action Ruger and requires no modification to the rifle.
The receiver is machined from a billet of 6061-T6 aluminum and is delivered with a 14-inch, MLOK-compatible forend, as well as all the tools and hardware needed for assembly. The chassis is designed to be used with Magpul AICS-style magazines, an AR-style pistol grip, buffer tube extension and stock system. The HeatSeeker is lightweight—only 1 pound, 13 ounces—and can be customized to suit the customer's needs.
MSRP: $436.95
SharpsBros.com
04) SRM Asika 1411-TZ

The SRM Asika is one of the latest offerings from SRM knives. Designed as a large—but classy—tactical folder, the Asika doesn't compromise on materials, execution or construction. The Asika features a 3.9-inch blade of premium 154CM stainless steel.
The blade has been expertly heat-treated to HRC 59-61 for uncompromised toughness and edge retention. The handle is made from TC4 titanium and features a steel-reinforced framelock design. The blade is easily deployed with an integrated flipper tab via ball-bearing washers. Despite its size, the Asika weighs only 4.52 ounces.
MSRP: $119.95
SRMKnives.com
05) SRM Unicorn 7415-TZ

The SRM Knives 7415-TZ is designed to be an EDC blade that'll virtually disappear into your pocket. The 2.76-inch, trailing-point blade is crafted from cryo-treated 154CM stainless steel that's been heat-treated to HRC59-61.
The handles are made from skeletonized TC4 titanium, and lockup is achieved via an integral framelock and steel-reinforced locking surfaces. The 7415-TZ is designed for right-hand, tip-up carry and uses a deep-carry stainless pocket clip. The blade rides on ball-bearing washers and opens easily with the integrated flipper tab. Best of all, the 7415 weighs only 1.69 ounces.
MSRP: $84.95
SRMKnives.com
06) Leatherman Curl

The new Curl is a feature-packed tool affordably designed for new Leatherman owners. Inspired by the iconic Leatherman Wave, the Curl includes 15 tools in a compact form factor. The 420HC blade and wood/metal file are both accessible without opening the pliers.
Opening the Curl provides access to the pliers, wire cutters, scissors, screwdrivers and a can opener. The Curl is delivered with a removable pocket clip for those who prefer pocket carry. The Curl has a closed length of only 4 inches and weighs in at 7.5 ounces.
MSRP: $79.95
www.Leatherman.com
07) Leatherman Bond

The brand-new Leatherman Bond packs a ton of features into a compact, lightweight package. Inspired by the original Leatherman PST, the Bond features 14 tools in a package that weighs only 5.8 ounces and is a mere 4 inches long when closed. The Bond features a pair of needle-nose pliers, wire cutters, 420HC blade, a wood/metal file, multiple screw drivers, awl, can opener and ruler, all housed in a contoured, stainless steel handle.
MSRP: $49.95
www.Leatherman.com
08) Thyrm Cellvault 5M

Thyrm has taken battery storage to the next level with its Cellvault 5M. The Cellvault 5M is made from a durable polymer in black, Olive Drab, Flat Dark Earth and Safety Orange. It features a hinged clamshell design that's gasket sealed and secured with an over-center locking latch.
The interior has four built-in wells for 2032 batteries and uses modular inserts for up to 10 CR123, five 18650 or six 18350 batteries. This modularity allows users to carry a variety of different battery combinations to suit their needs. Integrated straps on the back of the Cellvault allow for easy attachment to MOLLE gear.
MSRP: $54.99
Thyrm.com
09) Beyond Clothing Yuba Ultralite K6 Rain Anorak

Beyond Clothing has made its reputation as a provider of premium-quality, high-performance technical gear. Designed to be ultra-lightweight and packable, the K6 weighs only 8 ounces and stows away in its own integrated pocket for easy storage in a pack or vehicle.
Made from three layers of premium Pertex material, the K6 maintains breathability while being rainproof and windproof. The K6 is offered in a variety of colors in sizes from S to 2XL.
MSRP: $285
BeyondClothing.com
10) Ultimate Direction Fastpack 40

Ultimate Direction specializes in creating high-performance, lightweight gear for endurance athletes. The new Fastpack 40 provides 40 liters of capacity for those seeking longer adventures in rugged terrain.
Despite its large capacity, the Fastpack 40 weighs only 1.58 pounds. It features a roll-top enclosure, a large front storage pouch, external, side-mounted mesh pockets and front storage pockets built into the unique, vest-style harness system. The built-in compression system keeps your load secure and your pack as compact as possible.
MSRP: $194.95
UltimateDirection.com
11) Nature Reliance School Vital Survival Course

Craig Caudill, owner of the Nature Reliance School, has been teaching survival, land navigation and tracking for many years. Having written four books on the topics of survival, gear and navigation, he's considered an expert in the field.
Vital Survival is a comprehensive, interactive, online course designed to teach all the skills necessary to survive nearly any disaster. The course consists of a series of videos, books and manuals developed to prepare even the most unprepared amateur.
The content is comprehensive and very easy to understand, and the initial course price includes all future updates and additions to class. Use code "AOG" for an exclusive discount for readers of this magazine.
MSRP: $297
www.VitalSurvivalCourse.com
12) Kifaru Deluxe Field Quiver

The Kifaru Deluxe Field Quiver was designed from the ground up to be the perfect, modular hip quiver system for all types of archers. The quiver, itself, features a wide arrow pocket with multiple internal tabs to help keep arrows segregated, as well as secondary tabs for attaching items such as range finder pouches. A full-length pocket is secured with a YKK zipper for storage of other small pieces of gear.
The outside of the quiver is covered with a PALS grid for attaching additional pouches. The "deluxe" option includes an adjustable belt, a Gen2 water bottle pouch and a Gen2 mini belt pouch.
MSRP: $52–$168
Kifaru.net
13) WaterLily Turbine

The WaterLily is the world's most versatile, portable power turbine. It allows you to charge with water, wind and via the emergency hand crank. Unlike solar, the WaterLily allows you to charge your batteries and devices 24/7.
Designed and manufactured in Canada to withstand a harsh climate, the WaterLily is built to last and is backed by a 90-day, no-hassle return policy and a one-year manufacturer's warranty. The Waterlily is capable of charging via USB or 12V systems and can output up to 15V in water and 24V in wind.
MSRP: $199–$299
www.WaterLilyTurbine.com
14) 5.11 Atmos Insulator Jacket

5.11 has released its new Atmos Insulator Jacket just in time for winter. The Atmos is both waterproof and breathable due to its rugged, nylon hard-shell exterior. The 5-ounce Primaloft insulation layer ensures the wearer stays warm in harsh conditions.
The Atmos features an adjustable hood, storm flap and zipper, internal sleeve gators and an adjustable hem for a customized fit. It also has two external hand warmer pockets and two internal mesh storage pockets. The Atmos is available in black and Ranger Green in sizes XS to 2XL.
MSRP: $180
www.511Tactical.com
15) Book: Surviving the Wild

Josh Enyart is a retired U.S. Army Ranger and Green Beret. As a result, he knows a thing or two about surviving in austere conditions. Surviving the Wild: Essential Bushcraft and First Aid Skills for Surviving the Great Outdoors is Josh's first publication—and it's a great one!
This book covers topics such as survival mentality, first aid, navigation, plant ID and much more. Whether you want to learn how to build a fire, trap game, avoid a survival situation or survive an unavoidable event, Enyart provides a logical, systematic approach that's clear, easy to understand and supported by lots of great photos. Whether you're a beginner or a seasoned survival expert, Surviving the Wild is a great resource to add to your library.
MSRP: $24.95
https://GrayBeardedGreenBeret.com
16) 5.11 Tactical EDT-Hex

The 5.11 Tactical EDT-Hex provides a small, lightweight solution for those who often find themselves in need of a few small tools. Built from stainless steel and designed to be clipped to a key chain, the EDT-Hex includes a removable bit holster that holds a T6 and T8 Torx bit. The bit driver houses a #1 Phillips and 3/16-inch flat bit. The tool also includes an integral pry tip, a split ring and a micro carabiner.
MSRP: $12
www.511Tactical.com
Editor's Note:
A version of this article first appeared in the January 2022 issue of American Outdoor Guide Boundless.